A crowd retraces the Highland Park Fourth of July parade route on July 4, 2023, one year after a mass shooting in the suburb left seven dead. (Eunice Alpasan / WTTW News)
A crowd that stretched for blocks walked together Tuesday morning in downtown Highland Park, retracing the normal route of the town's traditional Fourth of July parade.
But this July 4, one year after seven people were killed and dozens more wounded in a mass shooting, the sounds of marching bands and cheers were replaced by a much more solemn gathering.
"It was a pretty powerful feeling," said Highland Park resident Debbie Kravitz about walking down the route on Central Avenue. "I thought it was an important thing to do."
Highland Park officials say this year's Fourth of July events were planned with the aim of offering community members time and space to remember those lost while also giving residents a chance to gather and connect during the Independence Day holiday.
Many of those in attendance on Tuesday were also present during last year's parade.
Before the march, a moment of silence was held during a remembrance ceremony in front of Highland Park City Hall around the exact time the first shots were fired a year ago.
During the ceremony, Highland Park Mayor Nancy Rotering read aloud the names of the seven people killed. Their names were also written on plaques on a temporary memorial not too far away: Katie Goldstein, Irina McCarthy, Kevin Michael McCarthy, Stephen Straus, Jacki Lovi Sundheim, Nicolás Toledo and Eduardo Uvaldo.
After the morning ceremony and walk the town hosted an afternoon community picnic with a concert and drone show planned for the evening.
"It was important for us to say that evil doesn't win, and this is our parade route, and this is our community that we are taking back," Rotering said.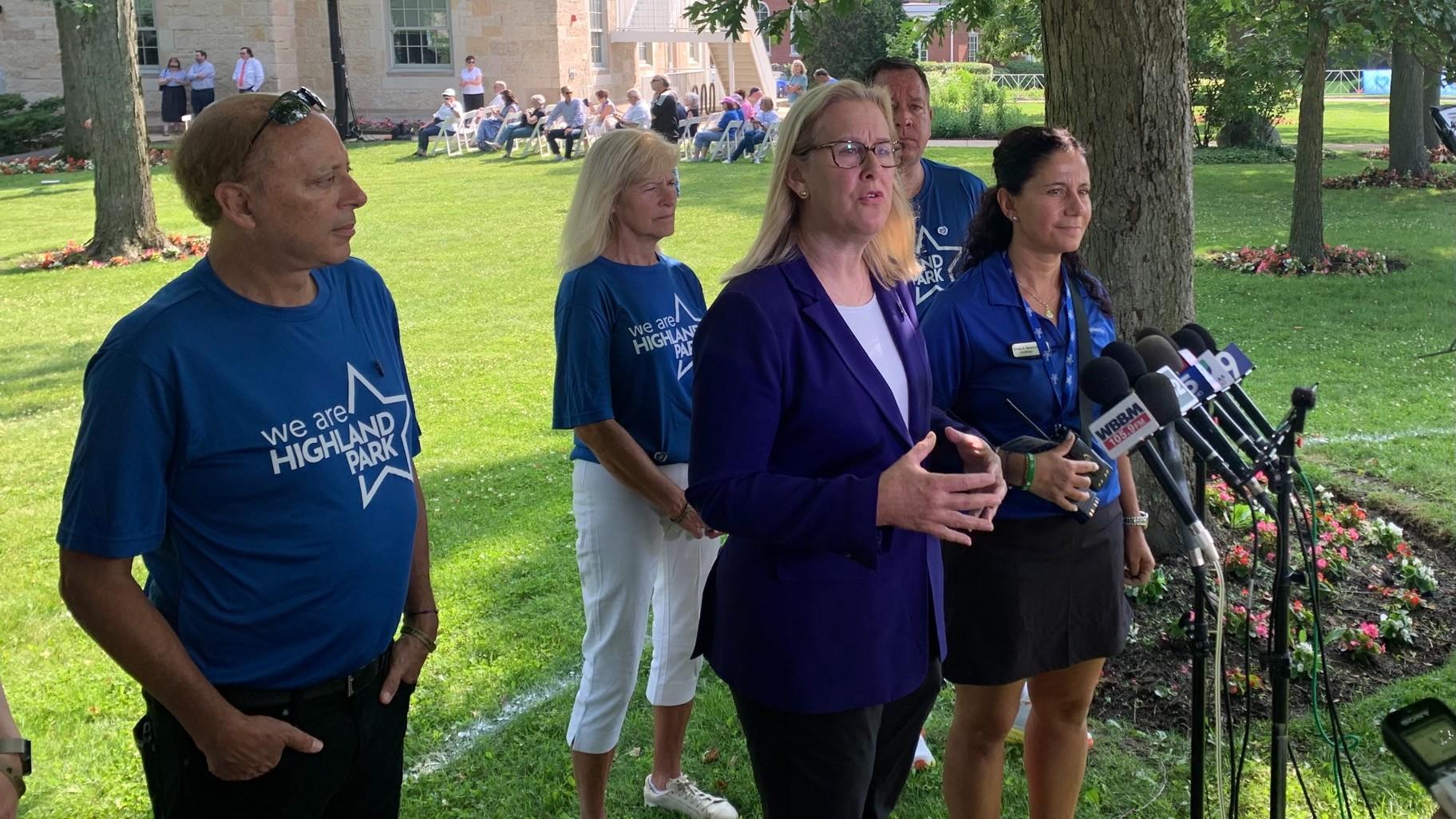 Highland Park Mayor Nancy Rotering speaks with the media before the town's remembrance ceremony on July 4, 2023. (Eunice Alpasan / WTTW News)
For the ceremony and walk, attendees were required to sign up ahead of time and show a QR code at one of the three designated check-in points to get into the barricaded event area.
City Manager Ghida Neukirch said there were more than 50 agencies providing support, including police from several different jurisdictions. Critical response team members wearing green vests and support dogs were found throughout the route of the walk.
Community members of all ages walked down the road going through downtown Highland Park where the shooting took place. Blue banners lined the barricades with the words, "We Are Highland Park," which was the city's chosen theme for the day. Many also wore the words across their chests in a scattering of blue T-shirts among the crowd.
Groups of family and friends conversed amongst themselves along the route, some pushing children in strollers and some using canes. The route ended at Sunset Woods Park, where people were met with food trucks and music, as the community picnic was underway.
James Casner, assistant crisis response coordinator with Lutheran Church Charities in Northbrook, said some of the comfort dogs in attendance were the same ones providing support following the shooting last year.
"A lot of times it helps people, to give them a release for a short time, to help let go of the pain or the anguish that they're carrying," Casner said.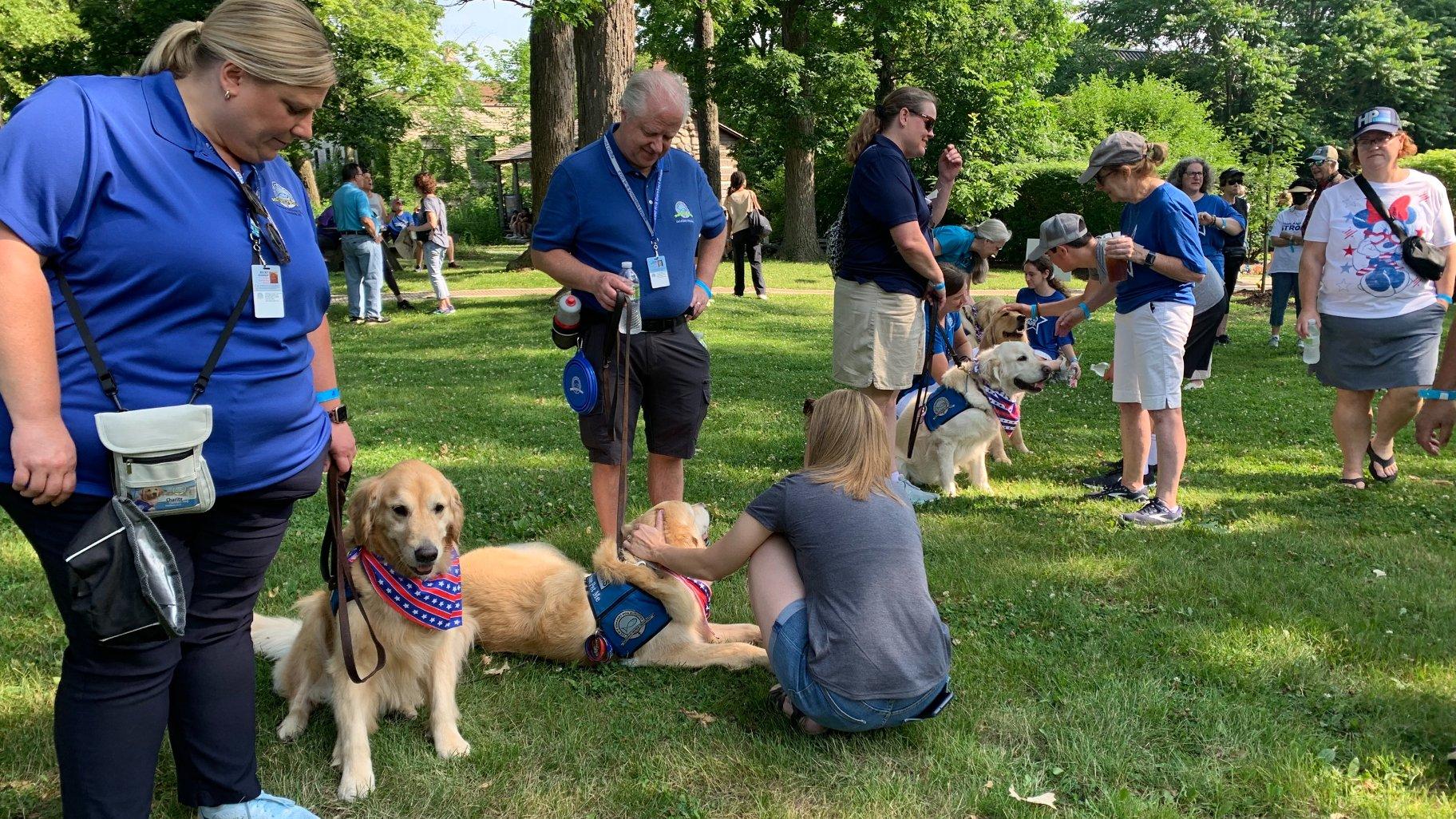 Support dogs were on hand at the Highland Park remembrance ceremony and walk on July 4, 2023. (Eunice Alpasan / WTTW News)
The Highland Park mass shooting also reenergized calls by elected officials and other advocates statewide for stricter gun laws and tighter restrictions for firearms. A month after the shooting, the Highland Park City Council passed a resolution calling for a state and federal ban on semi-automatic weapons.
President Joe Biden highlighted those efforts in a statement issued Tuesday, noting how last year a tradition of "patriotic pride became a scene of pain and tragedy."
Biden also remarked on steps taken to tighten Illinois gun control measures after the shooting. 
"Their achievement will save lives. But it will not erase their grief. It will not bring back the seven Americans killed in Highland Park or heal the injuries and trauma that scores of others will continue to carry. And as we have seen over the last few days, much more must be done in Illinois and across America to address the epidemic of gun violence that is tearing our communities apart," the statement reads. 
Ashbey Beasley, a Highland Park resident who attended the parade last year, said that activism helped in her healing process. She's a volunteer with the nonprofit organization Brady, which advocates for gun control.
Beasley said she has a stack of bills from attending therapy following the aftermath of the shooting and her son will have an Individualized Education Program next year because his school needs extra resources to help him with PTSD.
She said she wants the conversation around gun violence to also take into account the economic impact that survivors experience, so that they can get the help and resources that they need.
"The seven people who were killed that day could have been any of us," Beasley said. "We are still healing from what happened, but we came together."
---