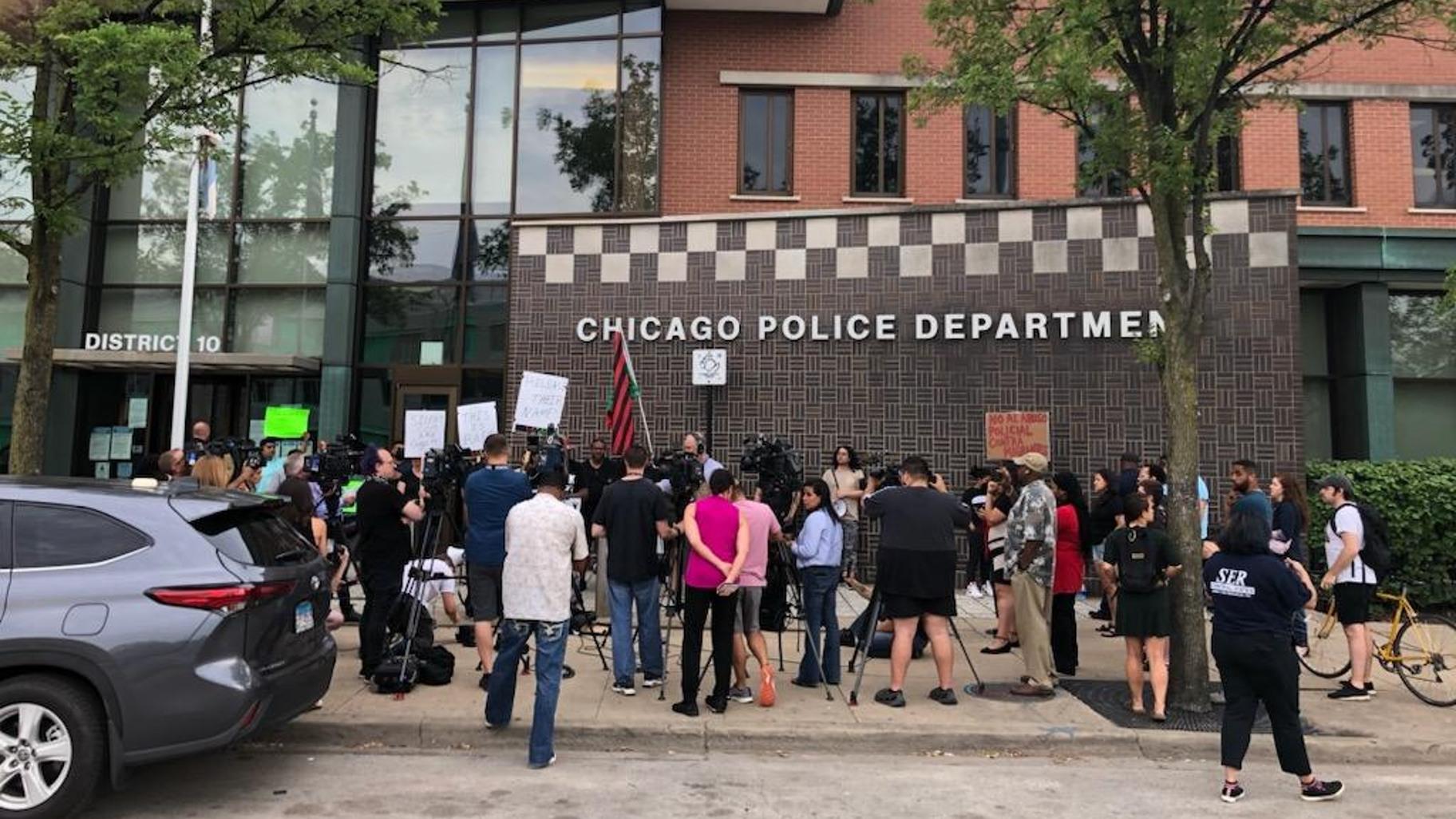 Protesters gather outside the Ogden (10th) Police District headquarters on July 7, 2023. (Marc Vitali / WTTW News)
Days after sexual misconduct accusations were made against Chicago police officers in the 10th District involving migrants, interim Police Superintendent Fred Waller said migrants who remain housed at various police stations need more permanent accommodations.
Waller declined to discuss the allegations during a Tuesday news conference, saying an investigation to determine whether any officers assigned to the 10th District had sexual contact with one of the migrants housed at that station remains ongoing.
"We can't speak about that exactly, or specifically," he said, adding that, in general, the Chicago Police Department has been "very welcoming and accommodating" to migrants housed at police stations.
The Civilian Office of Police Accountability last Friday acknowledged it had launched a sexual misconduct probe into 10th District officers.
Mayor Brandon Johnson confirmed in a statement last week that the allegations involve a girl who recently arrived in Chicago from the southern border, as first reported by the Chicago Sun-Times, as well as "other allegations of sexual misconduct."
Hundreds of men, women and children are still sleeping on the floors of police stations across the city and at O'Hare International Airport, more than two months after Chicago officials declared a renewed surge of migrants from the southern border had created a "humanitarian crisis."
"When you see the kids there that's what really breaks your heart," Waller said. "The kids, they didn't ask to be there, and those kids are kind of running around playing, doing what kids do, and they don't have any expectations of sleeping on floors, blankets, pallets (or) what have you."
In all, more than 11,000 people, most of them from Central and South America, have arrived in Chicago since Aug. 31, when Republican Texas Gov. Greg Abbott sent the first bus of migrants to Chicago, according to city data.
City officials are developing plans to open up as many as five new shelters to prevent new arrivals from being sent to police stations.
Waller noted that it has sometimes been "disruptive" to keep migrants in police districts, but added that officers have brought them food, water and clothing. He said the city needs to find a "real solution."
"I think something more permanent has to be had," he said. "Until that time, the stations are kind of the transition post."
Heather Cherone contributed to this report.
---