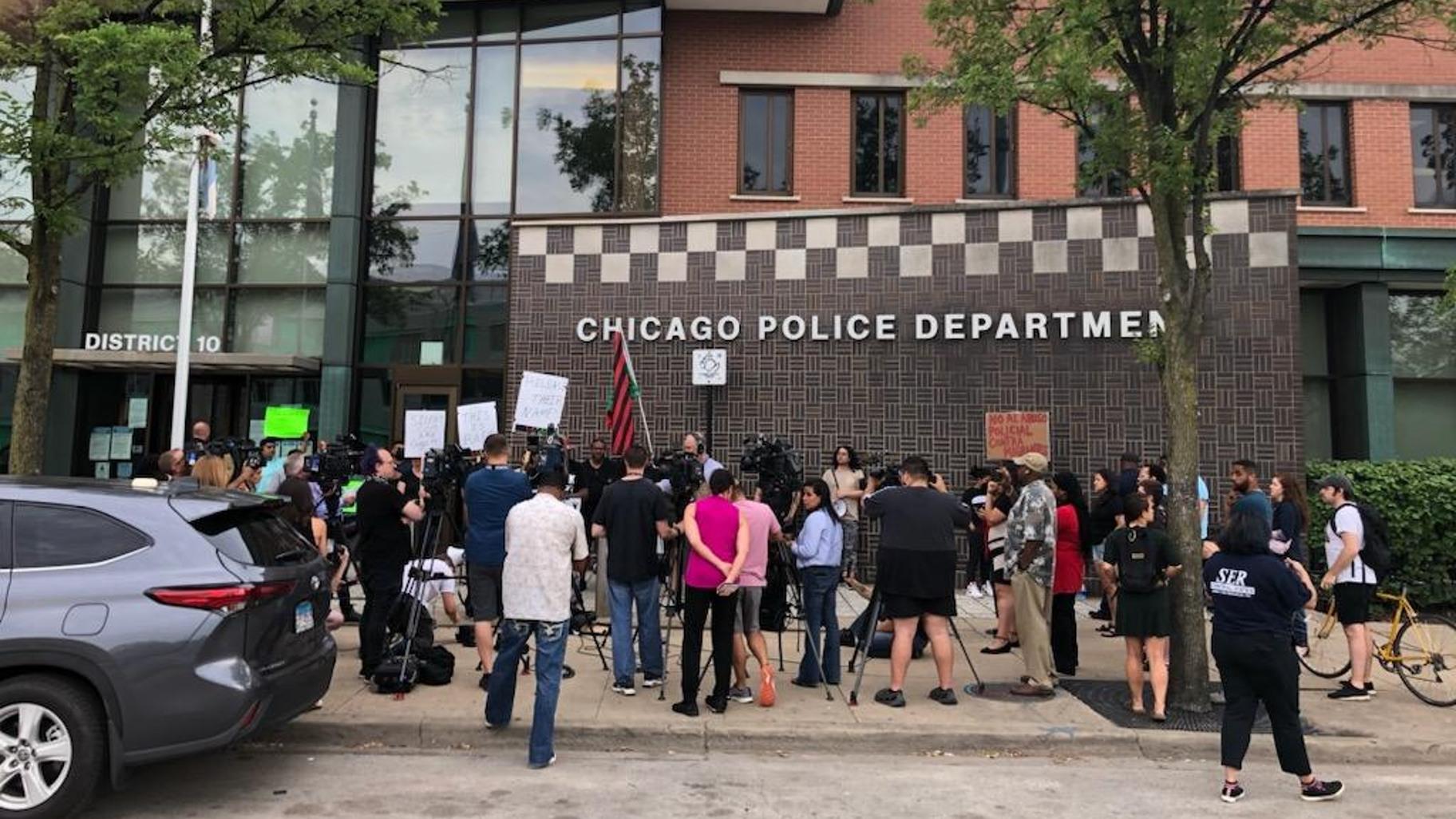 Protesters gather outside the Ogden (10th) Police District headquarters on July 7, 2023. (Marc Vitali / WTTW News)
Investigators began probing allegations on Thursday that more than one officer assigned to a West Side police station had sexual contact with at least one of the migrants forced to sleep on the floor of the station after arriving in Chicago from the southern border, the agency charged with investigating police misconduct announced Thursday.
A spokesperson for the Chicago Police Department declined to respond to questions from WTTW News about whether Interim Police Supt. Fred Waller would strip the officers facing the allegations of their police powers during the probe by the Civilian Office of Police Accountability, known as COPA.
"All allegations of this nature are of the highest priority and COPA will move swiftly to address any misconduct by those involved," COPA First Deputy Chief Administrator Ephraim Eaddy said in a statement released Friday.
Mayor Brandon Johnson confirmed in a statement late Friday that the allegations involve a girl who recently arrived in Chicago from the southern border, as first reported by the Chicago Sun-Times, as well as "other allegations of sexual misconduct."
Officials with COPA, the Chicago Police Department or the mayor's office did not confirm a report that one of the officers is accused of impregnating a teen forced to live in the police station alongside other migrants, who are all in the country legally after requesting asylum, while waiting for beds to open up in one of 12 city shelters.
The Johnson administration is "intensely focused on the deeply troubling" allegations, according to a statement from the mayor's office.
"The administration is also committed to working with CPD to ensure there are protocols in place to keep migrants at police stations safe while they wait for more adequate shelter, and to hold any officers and/or staff involved accountable upon the determination of the investigation," according to the statement.
The officers under investigation were assigned to the Ogden (10th) Police District headquarters, which patrols Lawndale and Little Village, according to COPA's statement.
All of the migrants who had been living in the Ogden Police District are being moved to temporary shelters, a process that will be completed by Saturday morning, according to the mayor's office.
Nearly 800 men, women and children are sleeping on the floors of police stations across the city and at O'Hare International Airport, more than two months after Chicago officials declared a renewed surge of migrants from the southern border had created a "humanitarian crisis."
That represents an increase of more than 21% in eight days, officials said.
Ald. Mike Rodriguez, whose 22nd Ward includes Little Village, called for the allegations to be taken very seriously and investigated fully.
"We are a welcoming city for migrants, and we need to make sure our public officials and public spaces are held accountable to honoring this value," Rodriguez said.
U.S. Rep. Jesús "Chuy" García, D-Chicago, called the allegations "completely unacceptable."
"Our migrant neighbors came to Chicago seeking safety and stability," García said in a statement. "Police officers are sworn to protect our communities, not engage in illegal sexual conduct with teenagers and others in their care. I expect the city's investigation to be timely, thorough, transparent, and lead to accountability for all who are found guilty."
The allegations are another black mark for the already beleaguered Chicago Police Department, which is under a federal court order to reform itself after a 2017 federal investigation found officers routinely violated the rights of Black and Latino Chicagoans.
In all, more than 11,000 people, most of them from Central and South America, have arrived in Chicago since Aug. 31, when Republican Texas Gov. Greg Abbott sent the first bus of migrants to Chicago, according to city data.
The allegations will ramp up the pressure on Johnson to move all of the migrants out of O'Hare and police stations and develop a comprehensive plan to handle the migrants expected to arrive in the coming weeks and months, while caring for those who are already here.
City officials are developing plans to open up as many as five new shelters to prevent new arrivals from being sent to police stations.
Between January and June, Chicago officials spent $101.3 million to care for the migrants, including the $51 million the City Council agreed to spend from the city's 2021 budget surplus, officials said.
Contact Heather Cherone: @HeatherCherone | (773) 569-1863 | [email protected]
---