The appointment of Chicago Public Schools teacher Natalie Toro to represent a wide swath of Chicago's Northwest Side in the Illinois Senate sets up a fierce battle next spring as the progressive political organizations and labor unions that helped elect Mayor Brandon Johnson push to consolidate their electoral political power.
Toro will represent the 20th District in the Illinois Senate, replacing Cristina Pacione-Zayas, who resigned last month to become Johnson's first deputy chief of staff. Toro, who has never before held elected office, said she plans to run for a full term in office in March's Democratic primary.
In next year's primary, Toro is likely to face Graciela Guzman, who has the support of the political movement that not only elected Johnson in April but also notched a series of victories in the 2022 Democratic primaries, winning six of seven contested races.
Guzman served as the district director for Pacione-Zayas, who was also supported by the coalition of progressive groups when she was appointed in December 2020 to replace Iris Martinez, who resigned after winning the election for Cook County circuit court clerk, despite not being endorsed by the Cook County Democratic Party.
A kindergarten teacher at Goethe Elementary School, Toro now has a leg up in the contest to win a full term representing the heavily Democratic district.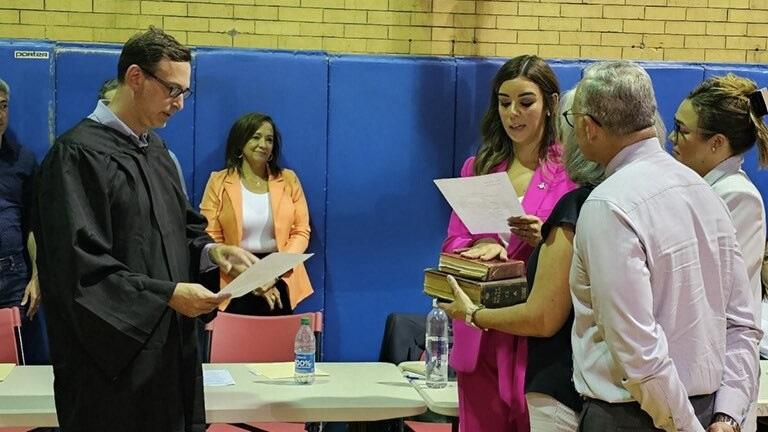 State Sen. Natalie Toro, in pink, takes the oath of office as the representative of the 20th District as Cook County Circuit Court Clerk Iris Martinez, in orange, looks on. (Credit: Illinois Senate Democrats)
Toro won the appointment with the backing of 32nd Ward Ald. Scott Waguespack, who is also the ward's Democratic committeeperson, and Martinez, who also is the Democratic committeeperson for the 33rd Ward, along with 45th Ward Ald. Jim Gardiner and 36th Ward Ald. Gilbert Villegas, who both serve as their wards' representatives to the Cook County Democratic Party. 
Martinez and Gardiner endorsed Chicago Public Schools CEO Paul Vallas in the mayoral election, while Waguespack and Villegas did not endorse a candidate. After his election, Johnson removed Waguespack as Finance Committee chair, sending former Mayor Lori Lightfoot's closest ally to the political hinterlands.
Gardiner was rebuked by Cook County President Toni Preckwinkle in October 2021 for using "misogynistic, homophobic and obscene language" and verbally harassing another alderperson, a city staff member and his own constituents. Gardiner was stripped of his positions on four Democratic Party committees.
Ald. Carlos Ramirez Rosa (35th Ward) and Ald. Daniel LaSpata (1st Ward), who also serve as their wards' committeepeople and are close allies of Johnson, backed Guzman — the only other candidate to win support from the committee made up of 11 Democratic commiteepeople.
After Toro's appointment, U.S. Rep. Delia Ramirez — whose victory over Villegas in the June 2022 Democratic primary to represent Illinois' 3rd District in Congress created a template for Johnson's triumph over Vallas — tweeted her support for Guzman in next year's primary.
Ramirez helped lead Johnson's transition team, and in June 2022 ousted Martinez as a member of the Democratic State Central Committee, making her one of the state's most powerful Latina politicians.
During the 2022 Democratic primary, Martinez, Villegas and Toro campaigned alongside John Catanzara, the president of the Fraternal Order of Police, Lodge 7, after he compared a requirement that Chicago police officers be vaccinated against COVID-19 to the Holocaust and resigned before he could be fired for making "obscene" and inflammatory social media posts between 2016 and 2018.
In addition to Ramirez-Rosa, LaSpata and Ramirez, Guzman also has the support of Ald. Rossana Rodriguez Sanchez (33rd Ward), who defeated a candidate in February's aldermanic elections who was supported by Martinez.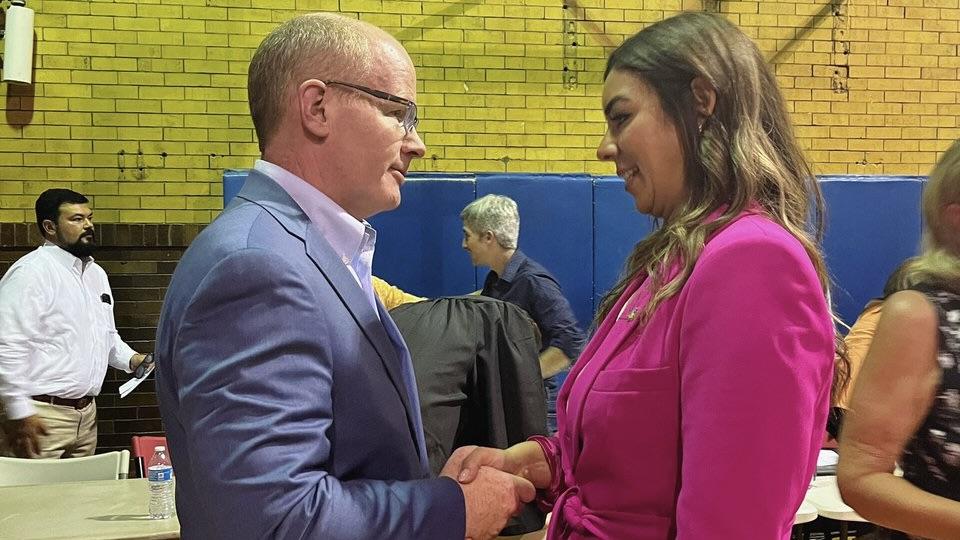 Illinois Senate President Don Harmon congratulates State Sen. Natalie Toro after her appointment as the representative of the 20th District. (Credit: Illinois Senate Democrats)
Toro ran unsuccessfully in June 2022 to represent Cook County's 8th District on the Board of Commissioners, losing to incumbent Luis Arroyo Jr. and Anthony Quezada, who became the board's first Democratic Socialist member. Quezada is a close ally of Ramirez-Rosa.
In that race, Toro raised approximately $51,000, according to records filed with the Illinois State Board of Election. In addition, United Working Taxpayers, a political action committee that got the bulk of its funding from the Fraternal Order of Police, Lodge 7, boosted her campaign with independent expenditures of more than $13,700, records show.
United Working Taxpayers also spent $11,400 to support Martinez, even though she was not on the ballot in June 2022. 
However, the biggest independent expenditure by United Working Taxpayers was the more than $19,300 the group spent to oppose Ramirez' bid for Congress, which she nevertheless won with approximately 66% of the vote, records show.
Martinez could face two challengers in her bid for reelection: Eira Corral Sepulveda and Mariyana Spyropoulos, who are both members of the Metropolitan Water Reclamation District Board of Commissioners. All three have asked the Cook County Democratic Party for their backing.
Contact Heather Cherone: @HeatherCherone | (773) 569-1863 | [email protected]
---