The Chicago City Council handed Mayor Brandon Johnson his first victory Wednesday, voting 41-9 to ratify his plan to create 20 committees and elevate his closest allies into positions of power.
That vote represents a reversal from March 30, when nearly two-thirds of the City Council voted to approve a declaration of independence — five days before Johnson defeated former Chicago Public Schools CEO Paul Vallas in the April 4 runoff.
The vote ousted several allies of former Mayor Lori Lightfoot from their plum positions of power as committee chairs, which come with an average budget of approximately $300,000.
Eight of the alderpeople who voted against the plan will likely make up the core of the opposition facing Johnson as he works to pass his ambitious agenda: Alds. Raymond Lopez (15th Ward), Anthony Beale (9th Ward), Marty Quinn (13th Ward), David Moore (17th Ward), Silvana Tabares (23rd Ward), Anthony Napolitano (41st Ward), Brendan Reilly (42nd Ward) and Jim Gardiner (45th Ward.)
Moore and Lopez said they should have been consulted before the plan was crafted, while Gardiner — who faces a federal corruption investigation — said the powerful positions should have been awarded based on seniority.
They were joined by Ald. Scott Waguespack (32nd Ward), the former head of the City Council's Progressive Caucus who was Lightfoot's staunchest ally. Johnson ousted Waguespack as Finance Committee chair after Waguespack publicly warned Johnson not to attempt to change the plan approved by the City Council in March, which would have created 28 committees and forced the mayor to negotiate with many of those who opposed his candidacy to even get a hearing on major pieces of legislation.
Before voting no, Waguespack congratulated his replacement, Ald. Pat Dowell (3rd Ward), on becoming the first woman to lead the City Council's most powerful committee — and vowed to be an independent voice on the City Council.
Dowell endorsed Johnson on Feb. 3, giving his campaign a much-needed endorsement from a moderate member of the City Council's Black Caucus. Dowell had also been a close ally of Lightfoot, serving as her budget chair for four years.
Ald. Jason Ervin (28th Ward), who endorsed Johnson in the runoff after backing Lightfoot, is set to become chair of the Budget Committee.
Ald. Michelle Harris (8th Ward) will remain chair of the Rules Committee, even after backing first Lightfoot and then Vallas, only to see Johnson win an overwhelming majority of votes in her South Side ward. Harris also served as Lightfoot's floor leader.
Ald. Carlos Ramirez Rosa (35th Ward) will not only lead the powerful Zoning Committee but also serve as Johnson's floor leader, making Ramirez Rosa the most powerful member of the City Council. That represents a remarkable rise to prominence for Ramirez Rosa, who was just 26 years old when he defeated a powerful incumbent politician tied to the City Council's Democratic machine in 2015, and was once the only Democratic Socialist on the Chicago City Council.
Immediately after the vote, Beale announced he would resign from the Zoning Committee, but did not offer an explanation.
After the meeting, Beale said he did not want to work with Ramirez Rosa.
"I can't sit through eight hours of Carlos Rosa," Beale said.
The City Council now has seven Democratic Socialists, including the newest member of their caucus, Ald. Angela Clay (46th Ward).
Including Ramirez Rosa, five Democratic Socialist members of the City Council are set to lead committees starting in May, a massive expansion of their power at City Hall. Under Lightfoot, no members of the Democratic Socialist Caucus served as committee chairs.
Eleven of the 20 committees are set to be led by City Council members who endorsed Johnson.
Ald. Brian Hopkins (2nd Ward), a prominent supporter of Vallas, is set to lead the City Council's Public Safety Committee.
Johnson offered an olive branch to Ald. Walter Burnett (27th Ward), who endorsed Lightfoot and then Vallas. Burnett, who has led a committee since Daley was mayor, will now serve as vice mayor, which had historically been a ceremonial position with no real power — or budget.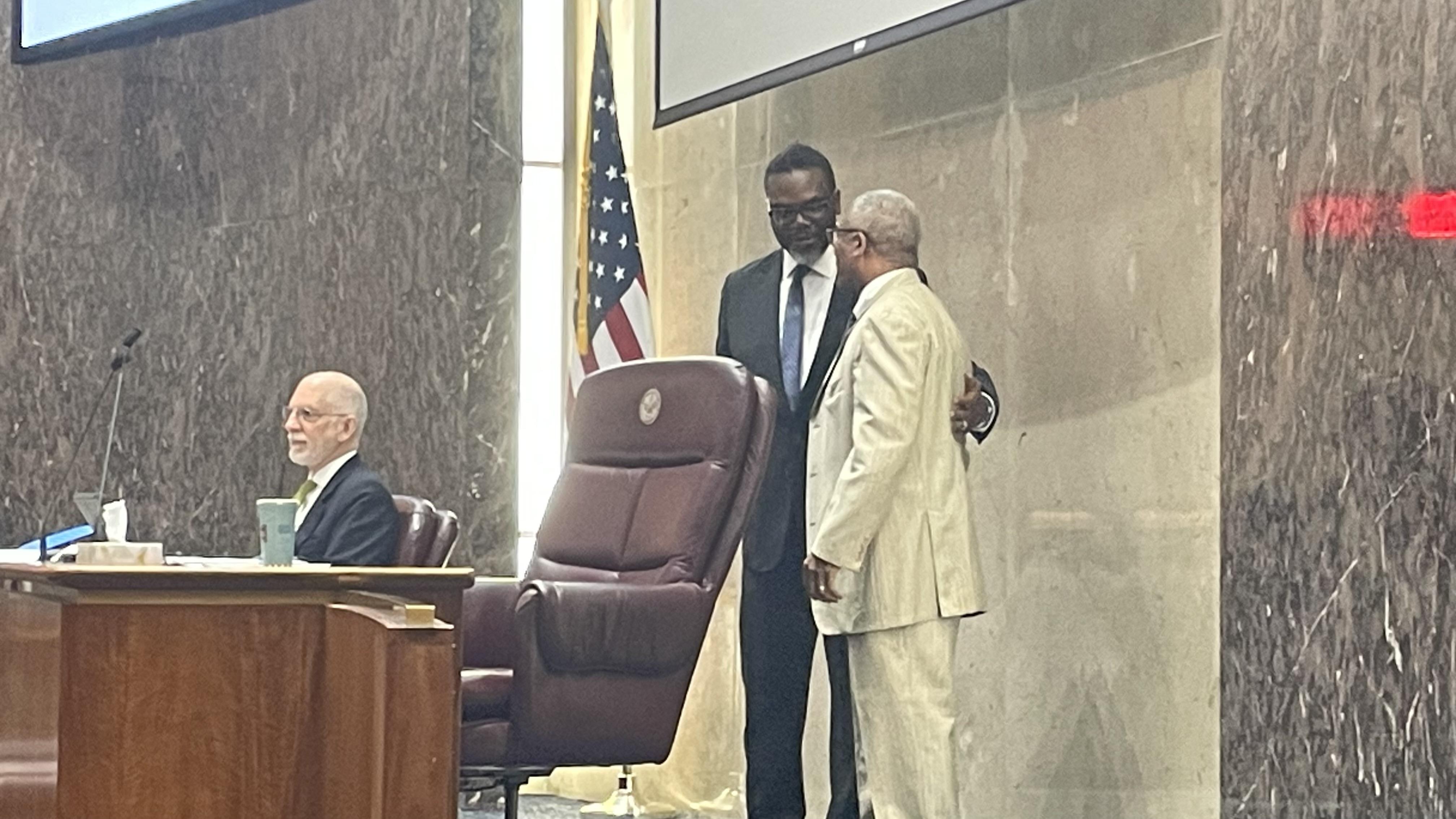 Mayor Brandon Johnson greets Ald. Walter Burnett (27th Ward), who will serve as vice mayor. (Heather Cherone/WTTW News)
However, Johnson on Wednesday introduced a measure to change that, and give Burnett a budget of more than $400,000 as vice mayor — averting the need for Burnett to terminate his staff, many of whom have been with him for many years. As first reported by Crain's Chicago Business, Burnett's role as vice mayor will include new duties as a community liaison for Johnson.
The newly created Police and Fire Committee, led by Ald. Chris Taliaferro (29th Ward), is set to get a budget of $231,000, according to the mayor's proposal.
In addition, the budgets for the Health and Human Relations, the Immigrant and Refugee Rights, and the Workforce Development Committee are set to grow. All are led by allies of Johnson.
Wednesday's City Council meeting is also the first for 13 rookie members of the City Council, who have shifted the balance of power at City Hall to the left. Alongside Johnson, they represent a generational shift of political power in Chicago.
Six Black, Latina and Asian American women replaced veteran City Council members, all of them men. Eighteen members of the City Council are women, tying a record.
Nine alderpeople identify as lesbian, gay or bisexual, the most in Chicago's history. The City Council also has 14 Latino alderpeople, an all-time high. There will also be 14 White alderpeople, the fewest in Chicago history. Twenty members of the City Council are Black, a tally that is unchanged since 2019.
For the first time, two Asian American City Council members will take their seats Wednesday. Ald. Nicole Lee (11th Ward) is the first Chinese American to serve on the City Council, and became the first female Asian American alderperson when she was appointed in 2019.
Lee took office alongside Ald. Leni Manna-Hoppenworth (48th Ward), the City Council's first Filipina member.
Contact Heather Cherone: @HeatherCherone | (773) 569-1863 | [email protected]
---