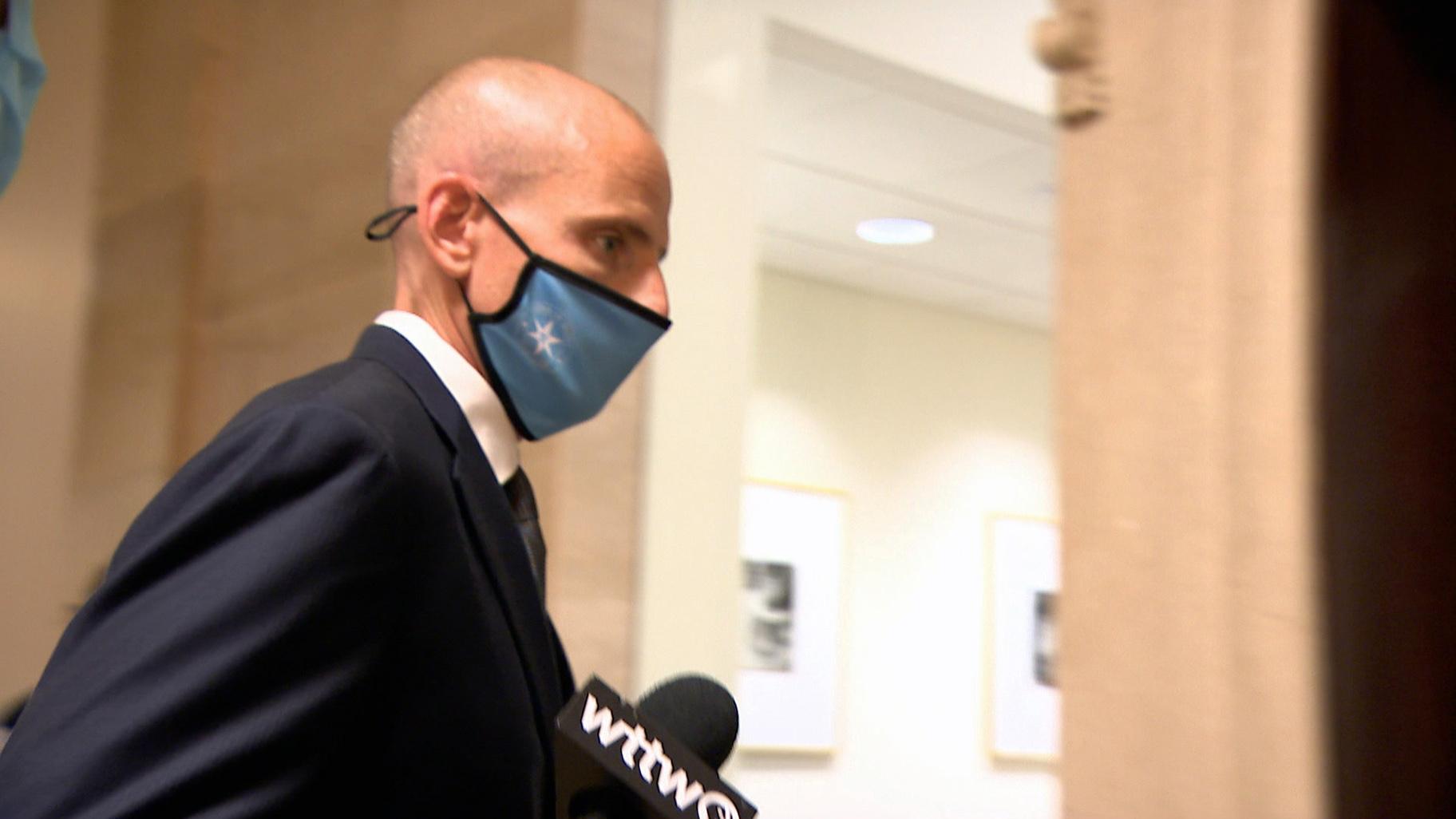 Ald. Jim Gardiner declined to respond to questions from WTTW News about the reports of an FBI probe while at City Hall on Sept. 14, 2021 for a meeting of the Chicago City Council. (WTTW News)
The Cook County Democratic Party rebuked Ald. Jim Gardiner (45th Ward) on Monday for using "misogynistic, homophobic and obscene language" and verbally harassing another alderperson, a city staff member and his own constituents.
As a result of the probe, party Chair Toni Preckwinkle stripped Gardiner of his positions on four committees, preventing him from having any say on who the Cook County Democratic Party should endorse in upcoming elections, including for the appellate court, circuit court or Supreme Court.
In addition to being elected in 2019 to represent parts of the far Northwest Side on the City Council, Gardiner was elected in 2020 to serve as one of the party's top leaders and help pick candidates for other races.
However, Gardiner's actions disgraced all Cook County Democrats, according to a statement from the political party.
"There are numerous examples of personal invectives and insults, uncontrolled rants, and verbal abuses — accompanied by boorish, obnoxious, repugnant, rude, and vulgar conduct — over the past two years," according to the statement. "These actions — the epitome of incivility — are abhorrent and despicable, have no place in public discourse, and bring disrepute upon our party."
Gardiner did not respond to a request for comment from WTTW News about the probe's findings and Preckwinkle's actions.
In each of Chicago's 50 wards, two unpaid committeepeople — one Republican, one Democratic — oversee voter registration, work to boost voter turnout and ensure elections run smoothly.
In many wards, the alderman — or his or her close ally — serves as the committeeperson to consolidate power. The position is often used as a stepping stone to the City Council, or as a way to boost allies and punish enemies.
Gardiner apologized on the floor of the City Council on Sept. 14 for his statements. 
The messages were first published by The People's Fabric, an anonymous blog that has targeted Gardiner with a series of articles and requests for records using the Freedom of Information Act.   
In one text, Gardiner refers to Ald. Scott Waguespack's (32nd Ward) chief of staff Anne Emerson as the alderman's "b----." In another text, Gardiner refers to Ald. Tom Tunney (44th Ward) as a "b----" and notes that he stayed until the end of an unidentified meeting. "F--- him," the text concludes.  
In a text first reported by CBS2-TV, Gardiner called Joanna Klonsky, a political communications consultant who works with Lightfoot, a "dumb b-tch." 
Other texts obtained by WTTW News show that Gardiner obtained the criminal records of a 45th Ward resident who organized a protest against him, and told his aide to "leak" those records. That prompted the Cook County Circuit Court Clerk to request that the office's watchdog probe how the alderperson got those records. 
"I want to make it clear that I have never acted on those rants, however, they should not have been expressed and it certainly was not my intention to demean anyone," Gardiner said in his apology.
In an email to party leaders published by The People's Fabric, Gardiner told them that he made the comments before he was elected as committeeperson, and blamed his political adversaries for trying to "assassinate my character by any means necessary." 
"Because this continuing course of conduct has no home in our party, we will not stand silent in the face of such bigotry," according to the party's statement. "These words and actions by an elected public and party official do not represent the values and vision of the Cook County Democratic Party. We make it abundantly clear that we will not condone this type of behavior from one of our members and consequently officially and formally rebuke and disapprove of his actions."
In addition to the probe by the Cook County Circuit Court Clerk inspector general, Mayor Lori Lightfoot called for Chicago's inspector general to probe Gardiner's conduct.
In addition, the Chicago Board of Ethics found in September that there was probable cause to believe that Gardiner violated the city's Governmental Ethics Ordinance by using his office to retaliate against his political foes.
Federal officials are probing allegations that Gardiner took bribes and demanded payments before taking official actions, sources told WTTW News.
Contact Heather Cherone: @HeatherCherone | (773) 569-1863 | [email protected]
---