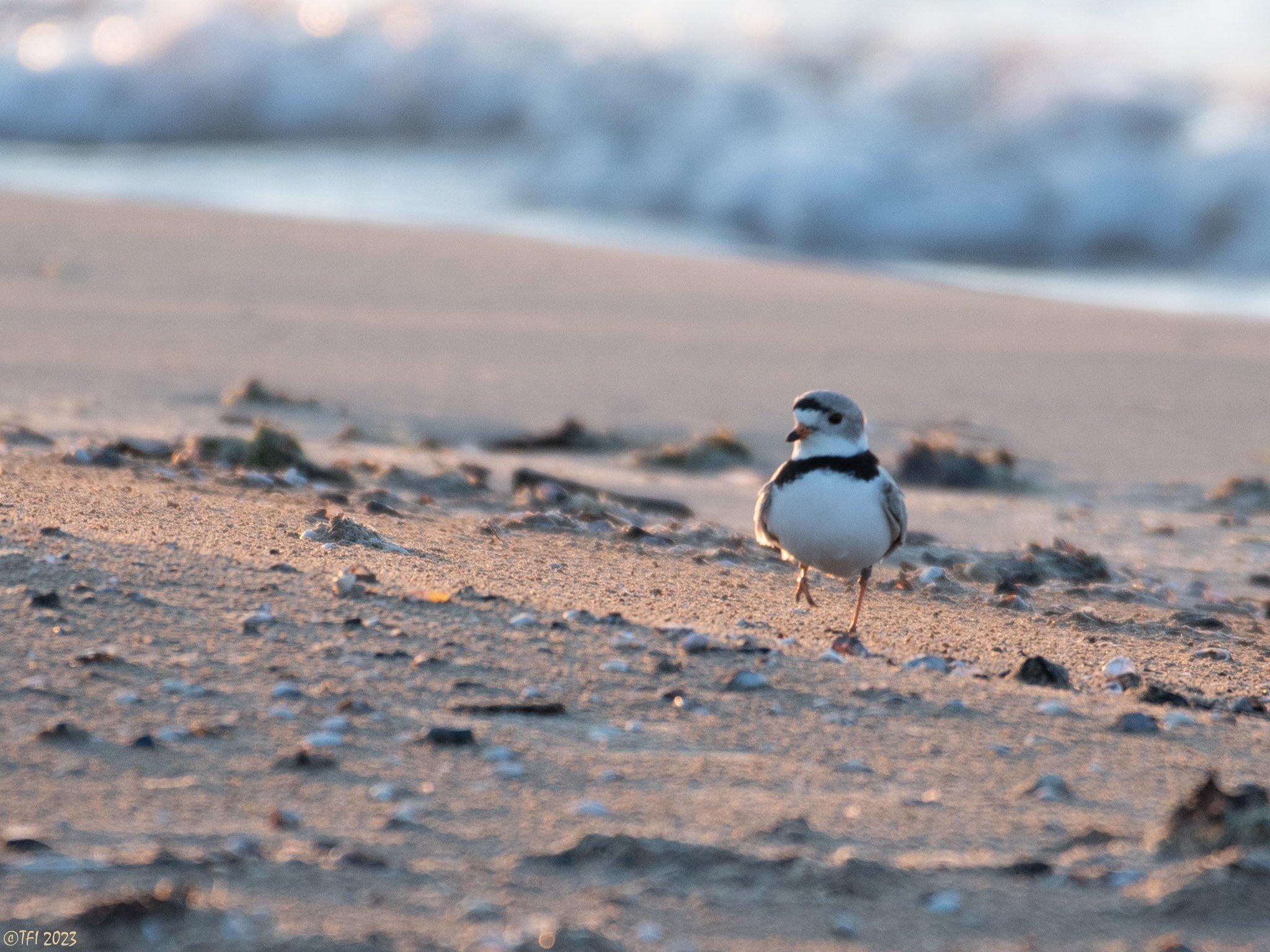 Imani, photographed in April 2023 at Montrose Beach. (Courtesy of Tamima Itani)
After an initial frenzy over the return of Chicago's own Imani, it's been a quiet start to summer, at least for plover watching, at Montrose Beach.
Imani is still batching it on the beach — a hoped-for mate never materializing — but it's a different story elsewhere across the Great Lakes. Bigger picture, 2023 is shaping up as a banner breeding year for plovers.
The Great Lakes Piping Plover Recovery Effort reported 71 breeding pairs as of June 7, a sizeable jump from the 44 pairs counted on May 22.
"And it's still early June, when we usually find a few more pairs out there," the group posted to social media. "Fingers crossed we reach or even surpass our 76 pair record! Time will tell. Either way, we are ecstatic to have our pair count in the 70s again this year."
Historic piping plover breeding locations, top; piping plover breeding locations in 2021, bottom. (Courtesy of Great Lakes Piping Plover Recovery Effort)
The Great Lakes piping plover population was listed as federally endangered in 1986, its nesting pairs having plummeted to a dozen or so — all of them in Michigan — down from historic numbers of 500 to 800 pairs. 
Conservation actions, particularly the use of cages to protect eggs from predators, have helped the plovers regain some of their lost ground. More than 70 pairs nested in 2015 and 2016, and in 2018, for the first time in decades, nests were recorded on all five Great Lakes. 
But numbers have dipped in recent years, due to high water and storms, which is why this year's rebound is especially encouraging to members of the recovery effort.
The first chicks of the season have already hatched, in Green Bay on May 29, with many more to come, though "many," for plovers is a relative term. Somewhere in one of those clutches could be Imani's future soulmate. 
The long odds of a chick surviving to fledging, and then migration south, and then winter, and then migration north, puts into perspective the challenges Imani is up against in securing a mate. It's also a reminder of how many stars needed to align for Monty and Rose to find their way not just to Chicago but each other.
It's Your Daily Imani!
Tuesday, June 6, 2023
Imani is confirmed present and just as adorable at Montrose this morning.

Lin Johnston (Imani, Montrose Beach Dunes, Chicago, June 1, 2023) #piperwatchchi2023 #pipingplover #plover #bird #chicago #birdwatching #birdphotography pic.twitter.com/PkKOvtnvWF

— Chicago Piping Plovers (@ChicagoPiping) June 6, 2023
---
Contact Patty Wetli: @pattywetli | (773) 509-5623 |  [email protected]