A sure sign that summer is on the way is the opening of the annual blockbuster exhibition at the Art Institute of Chicago. This year the focus is on Vincent Van Gogh and his contemporaries.
"Chicago Tonight" visited an early preview of "Van Gogh and the Avant-Garde: The Modern Landscape" to get a sense of Van Gogh on the go.
The star attraction is Van Gogh, and he has a stellar supporting cast — including the painters George Seurat, Paul Signac, Emile Bernard and Charles Angrand. The exhibit features landscapes from the suburbs of Paris in the 19th century.
"The big idea of this show is that this period in Van Gogh's career — the three months that he spent in the northwest suburbs of Paris — is in many ways the missing link in his artistic development," Art Institute of Chicago curator Jacquelyn Coutré said.
"It was in these outskirts of Paris where there was the moment of leisure rubbing up against the moment of industry," Coutré continued. "And he learned to see color by engaging with artists such as George Seurat, Paul Signac, Emile Bernard and Charles Angrand."
The changing landscape outside Paris provided a new visual vocabulary for the artists, including factories, trains, bridges, boats and parks along the River Seine — even a fairground.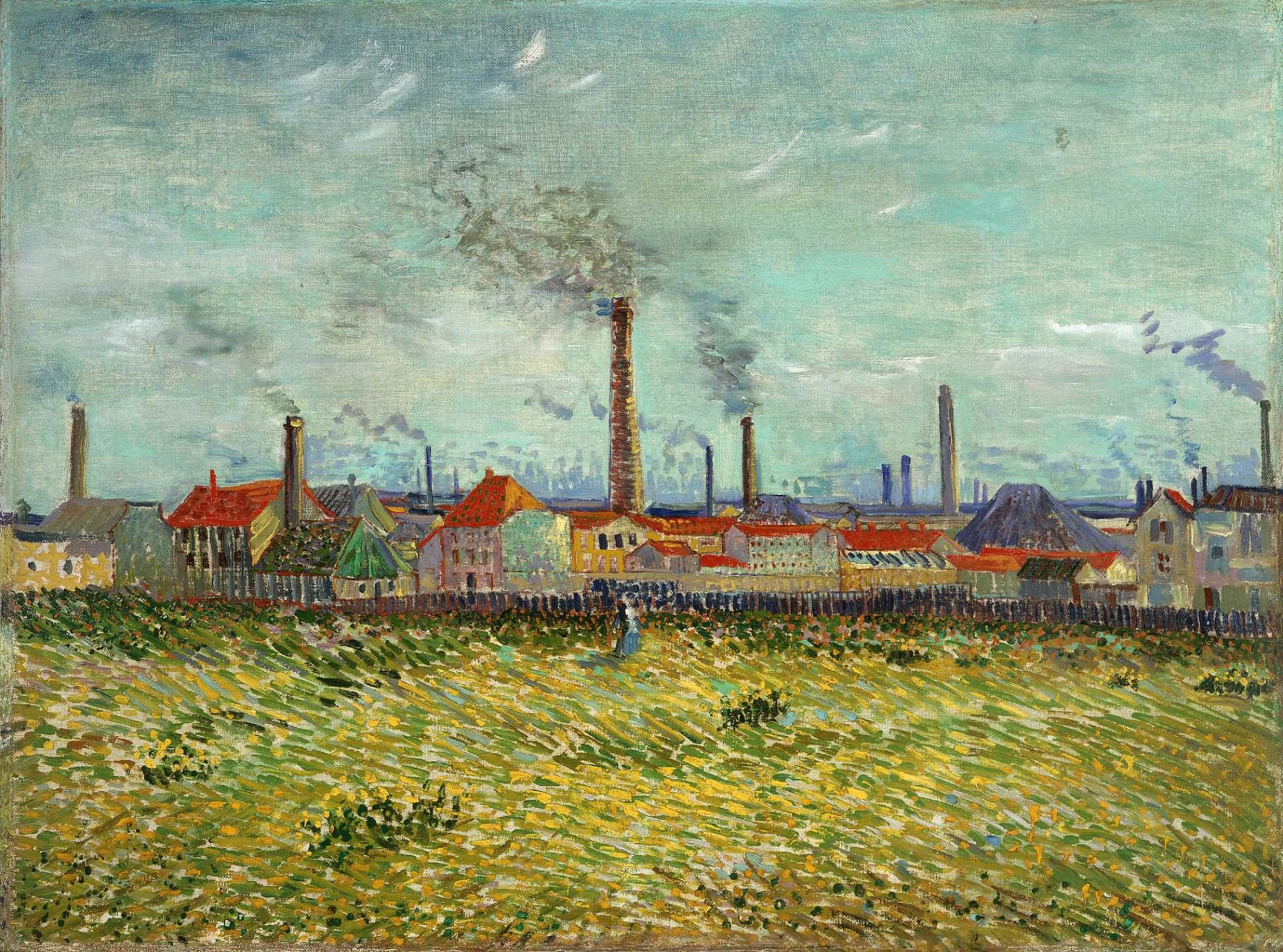 Vincent van Gogh. Factories at Clichy, 1887. Saint Louis Art Museum, Funds given by Mrs. Mark C. Steinberg by exchange 579:1958. (Courtesy of Art Institute of Chicago)
"These artists were young and ambitious, and they were looking for something new to stimulate their creativity," Coutré said. "… and so these landscapes, which were produced to a certain degree by the changes in Paris through the modernization of the city to make it what we know today — large boulevards, grand sidewalks, radiating streets and big parks."
Perhaps the most famous example is Seurat's "A Sunday on La Grande Jatte," which is in the museum but not the exhibition because it is never moved. But there are studies of "La Grande Jatte" in the show and similar canvases from other painters.
"This exhibition could not have taken place without the mutual influence of these artists," Coutré said. "We know that some of them painted alongside each other in these suburbs; others simply were in communication or visited each other's studios. I think this exhibition demonstrates the power of creative exchange to really expand the definition of painting."
"They are taking painting beyond what the impressionists have already done," Coutré said. "They are seeking to create a very methodical approach to painting, as opposed to the fleeting impressions that their colleagues were seeking to capture."
The exhibition runs through Sept. 4. It was co-organized by the Van Gogh Museum in Amsterdam.
---