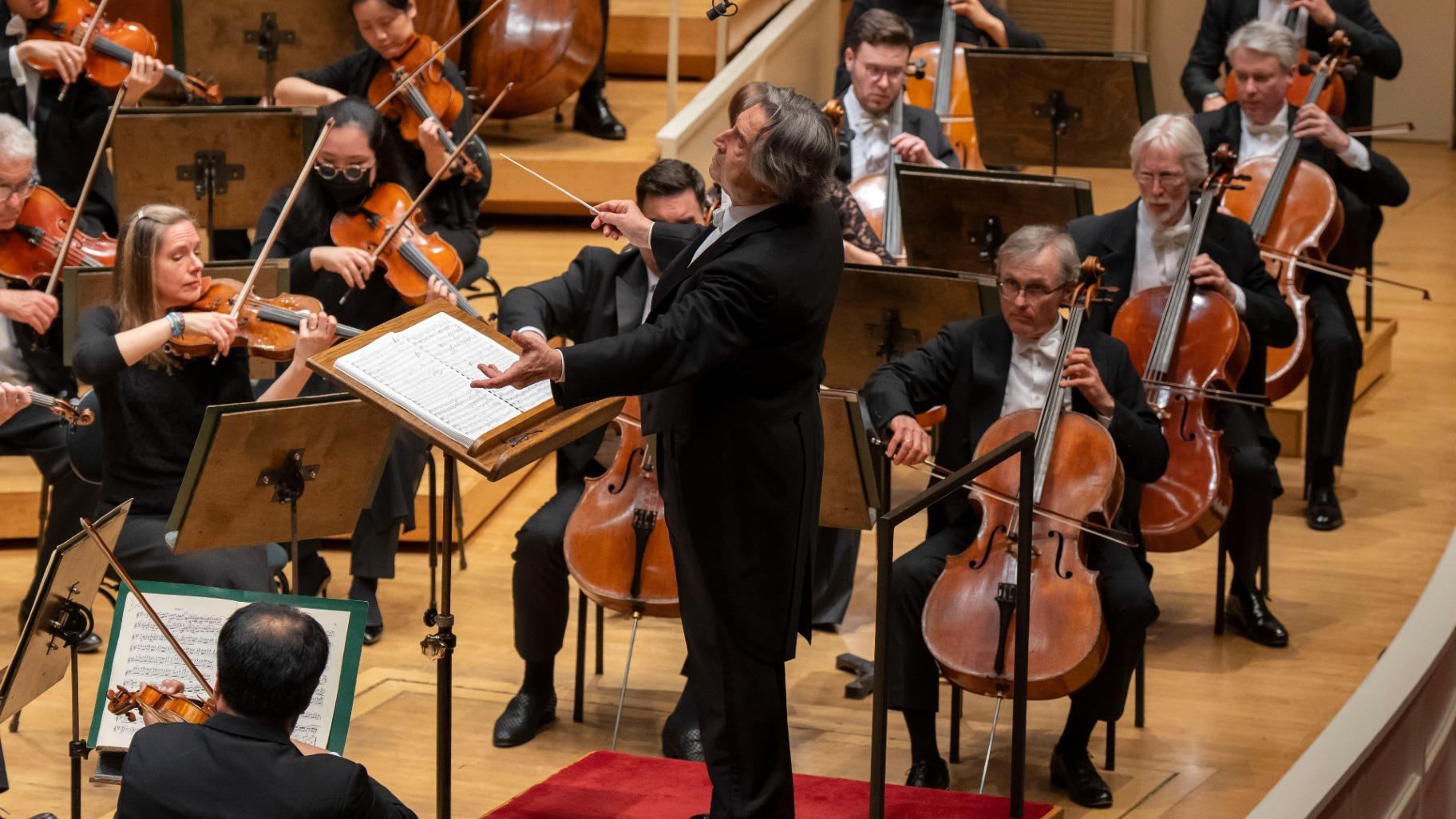 The Chicago Symphony Orchestra performs at Orchestra Hall. (Todd Rosenberg)
Something magical happens when Maestro Riccardo Muti arrives on the podium at Orchestra Hall to lead the invariably superb musicians of the Chicago Symphony Orchestra.
True, several of the guest conductors who have led the orchestra during the past season have overseen some superb performances. Muti, who in 2010 became the 10th music director of the CSO, is not "retiring" (a word he detests) but will officially end his tenure after several more programs in May and June, including three performances of Beethoven's monumental "Missa solemnis" from June 23-25. He also will lead the CSO's annual free "Concert for Chicago" (June 27 at 6:30 p.m.), which last year attracted an audience of 12,000 people. And he is already scheduled to lead the orchestra for three weeks of concerts this fall (Sept. 22-Oct. 8) and will, of course, be the toast of the CSO's Symphony Ball on Sept. 24.
Muti no doubt also will make return visits as a guest conductor in coming seasons. But anyone in the audience for this past week's superb concert of works by Richard Wagner, Jessie Montgomery (the CSO's immensely gifted Mead-Composer-in-Residence) and Sergei Rachmaninov will surely be left wishing that the powers that be at the CSO had done everything possible to keep Muti on the podium as music director.
At the concert I attended Thursday evening, the maestro was in his usual rare form, moving with a dancer's grace and eliciting a formidable clarity of sound and emotional intensity in three notably different yet alluring works.
Opening the program was the widely familiar overture to "Tannhauser," Wagner's 1845 opera about the poet/musician character of the title who falls in love with Venus, the pagan goddess of love, but ultimately yearns to return to his love in the human world.
While Wagner's repugnant history as an anti-Semite comes to mind whenever his name appears on a program, there is no denying that the man was a remarkable composer. The opening passage to this overture alone — from the sound of the brass, to the lyrical passage of the bass section and cellos, to the addition of all the strings that builds to a monumental, yet richly singing sound — is emblematic of the way he could create a simultaneously lush and poetic atmosphere and seamlessly shift from a poetic passage to an intensely stormy and celebratory one. And in his own particular way, Muti subtly infused the piece with an Italian beauty.
Next came Montgomery's ideally titled "Transfigure to Grace," in the world premiere of a CSO commission. (Its earlier version took the form of a chamber music piece designed for the Dance Theatre of Harlem, and by the end of this performance all I could think of was that the Joffrey Ballet should tap a choreographer to create a work for the company set to this hauntingly beautiful concert version of the piece.)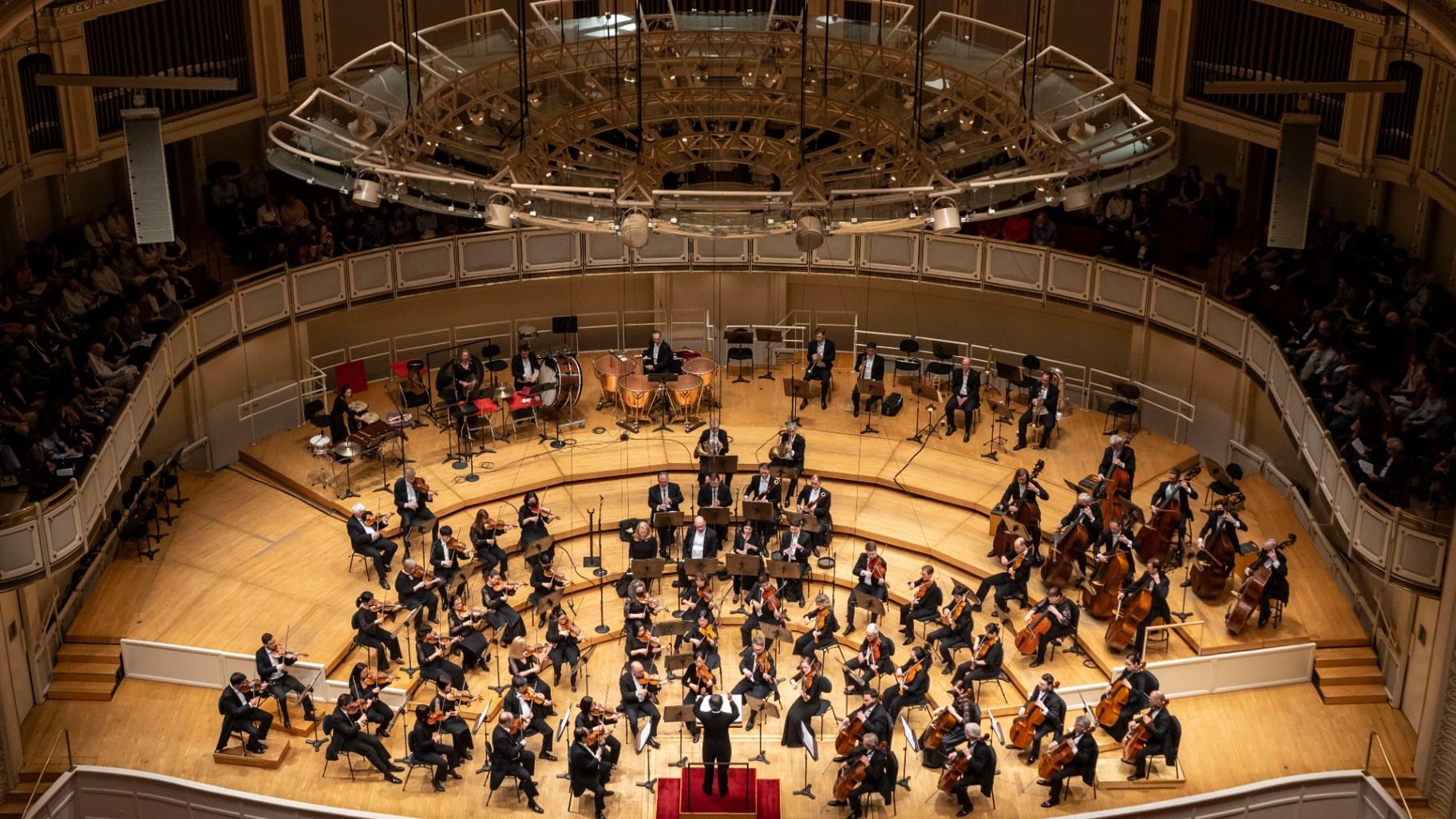 The Chicago Symphony Orchestra performs at Orchestra Hall. (Todd Rosenberg)
It begins with what might be described as a beautiful warmup, with the high strings creating a sense of an echo in a breeze, an interesting use of the cellos and a series of rhythms and changes in mood and intensity that had Muti almost stamping his foot at one moment for emphasis in this work that is an intriguing mix of the classical and the modern.
A French horn solo, a blend of percussion and strings and an overall seamless mix of the rhythmic and melodic — at times pensive, at other times almost combative — creates an aura of change and uncertainty. And the composer's intriguing use of each section of the orchestra generates a score rich in mood shifts and a true sensation of transfiguration. (Of note: Montgomery, a New York native, has gone through her own "transfiguration" by recently moving to Chicago.) 
The second half of the concert was devoted to a magnificent performance of Rachmaninov's massive, emotionally thrilling (and in a particular way most timely piece) "Symphony No. 2 in E Minor." It was first performed in 1908, at a time when the composer/pianist was rising out of a personal depression, was unhappy with the political situation in Russia and left for Europe and the U.S.
The work opened with a deeply emotional sound by way of the French horn and strings before moving into a heightened sense of nervousness blended with a singing quality, with the sound growing powerfully and then retreating to a lyrical quietness in a series of waves that were capped by a big drum roll and a great surge of sound generating a sense of urgency and danger in the offing.
These radical shifts in mood — from a stormy roar, to the richly romantic intensity of the strings, to a big blast of sound that suggests something is coming — drive the work from start to finish, with a great use of the violins and violas in a furious chase, ravishing romantic passages, the use of percussive accents at certain moments and then a timely silence. And after all the excitement a romantic sequence begins and swells into feverish passion.
Throughout, the sweep of emotional transitions is wonderfully compelling. And in the work's final movement there is a sense of joy and celebration, a fullness of sheer beauty, a sudden shift into an aura of fire and fury (and the clash of cymbals) and an exuberance that had Muti almost dancing in place as this symphony — a rapturous, thrilling, deeply emotional carousel of sound — came to an end and had the audience on its feet and applauding wildly.
Note: This program had its final performance Tuesday, May 16. Next up with the CSO and Muti will be three different programs highlighting the brilliance of several invaluable CSO musicians: concertmaster Robert Chen (on violin), David Herbert (principal timpani) and Gene Pokorny (principal tuba).
For tickets, visit cso.org or call 312-294-3000.
Follow Hedy Weiss on Twitter: @HedyWeissCritic
---