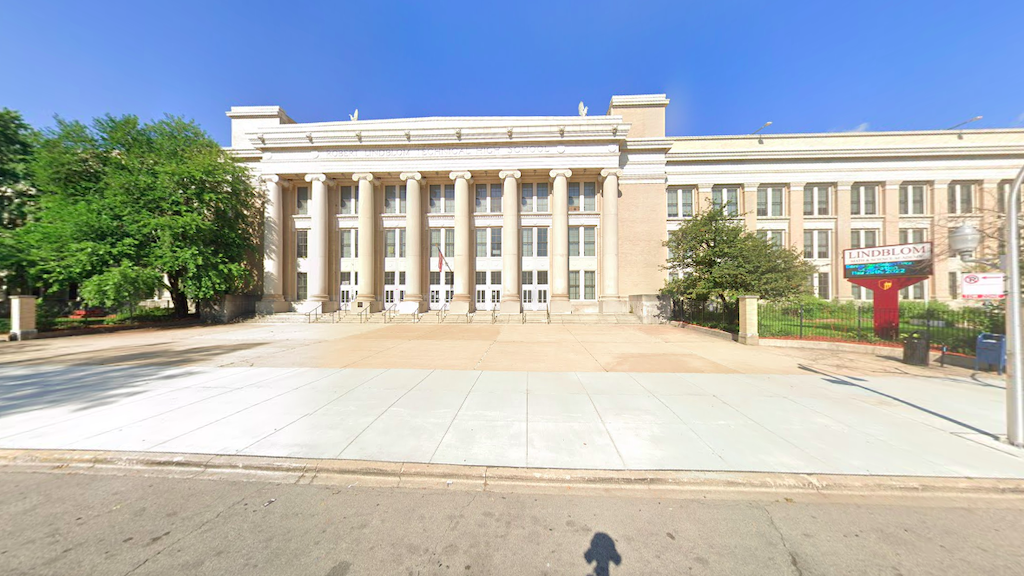 Lindblom Math & Science Academy (Google Earth)
Chicago Public Schools officials are continuing to back the district's decision to remove the leader of a prominent West Englewood school after some parents and community members called for more transparency.
CPS removed Lindblom Math & Science Academy principal Abdul Muhammad from his position in March, citing "an investigation that substantiated findings" against him. But weeks later, exact details of why he was removed remain unclear.
CEO Pedro Martinez did not get into specifics while speaking before the Chicago Board of Education Wednesday, but reiterated that Muhammad "had to be pulled" from the school "for multiple reasons."
"We never pull an employee unless it's something serious," Martinez said.
Muhammad has since been moved to the Network 16 Office and CPS assigned an administrator to oversee Lindblom until a permanent replacement can be named. CPS Chief Education Officer Bogdana Chkoumbova said the district is working closely with that administrator to maintain the culture and climate of Lindblom.
She said the district has given "as much communication as we can provide" to community and staff members about the situation.
Quentin Arnold, the father of a Lindblom student, said school families have received "disturbing" emails in recent days that sought to elicit parent testimony against certain teachers at the school and alleged collusion between CPS and the Chicago Teachers Union in what the email referred to as a "public lynching" of Muhammad.
"The vacuum of information is igniting conspiracy theories," he said. "I call on you, the board, and anyone listening to put in place leadership — temporary or permanent — that would allow the teachers the room to operate free from this acrimony because they are the holders of Lindblom's history and they will guide it to a continued future of excellence."
Lindblom serves nearly 1,400 students across grades 7-12.
Some students walked out from Lindblom at the start of the school year last August after Muhammad decided not to retain assistant principal Karen Fitzpatrick Carpenter. The Board of Education had also repeatedly delayed a proposed four-year contract for Muhammad the months before his removal.
Martinez said he was "disappointed" to see public attacks, particularly against Lindblom teachers, adding that he's shared that information with the district's legal counsel.
He noted that while investigations into district employees can be lengthy, it's because CPS wants to provide them with "due process" before making any decisions.
"It takes a long time for us to finish out these investigations because we want to make sure the evidence is clear," he said. "Sadly, when it does happen, it's always because there's substance there, and that's what I've seen."
Wednesday's meeting was a first-of-its-kind for the board, which recently opened up its agenda briefing sessions to the public. Board members had previously been briefed by CPS staff behind closed doors on the items they would then consider at their monthly meetings.
Under the new model, the public can view these sessions or participate by attending in person and providing public comments — giving them a chance to weigh in before the agenda is finalized and votes are held.
"This agenda review committee is another effort by this board to be more transparent to the public about the items being considered by the board well in advance of the vote," board president Miguel del Valle said.
---
Contact Matt Masterson: @ByMattMasterson | [email protected] | (773) 509-5431
---