Video: Trent Ford, Illinois' state climatologist, appears on "Chicago Tonight" on April 17, 2023. (Produced by Eunice Alpasan)
---
In true springtime-in-Chicago fashion, last week's record-setting summer-like temperatures gave way to a winter return Monday, as people woke up to snow-covered cars and below-freezing wind chills.
"Hold on tight! We'll see a roller coaster in temperatures this week with a cold start, warm middle and cooler end," the Chicago office of the National Weather Service shared on social media. 
Temperatures to be 20 degrees below normal today & accompanied by strong winds. Snow showers area-wide this morning, becoming more scattered this afternoon. Winds ease tonight, with lows at or below freezing, with highest confidence in sub-freezing for northern IL. #ILwx #INwx pic.twitter.com/sqdnfWGgw9

— NWS Chicago (@NWSChicago) April 17, 2023
---
It was a rude awakening for Chicagoans who had basked in last week's 80-degree heat.
I strenuously object. pic.twitter.com/gHkHzfiE6V

— pantagrapher (@pantagrapher) April 17, 2023
Why it gotta snow though? pic.twitter.com/o0ylSZLwxD

— Charles Preston (@_CharlesPreston) April 17, 2023
---
The return of slippery road conditions wreacked havoc on the morning commuter.
A look at the lousy weather and back-up on WB I-80 before 355, due to a multi-vehicle crash with injuries at US 30. US 30 is the road you want to avoid stopped #ChicagoTraffic through #NewLenox.@WBBMNewsradio @IDOT_Illinois pic.twitter.com/vAI5RzDlwM

— #ChicagoTraffic NewsRadio 105.9 WBBM (@WBBM1059Traffic) April 17, 2023
---
But local hero Dan O'Conor, who's been jumping into Lake Michigan daily since summer 2020, wasn't bothered by the cold — the water was warmer.
Monday April 17,2023 …
33 Degree Air/ 43 Degree Water Foggy with Snow Flurries …#GreatLakeJumper …
Dedicated to Bob Marley @bobmarley pic.twitter.com/PFNXj045mv

— Great Lake Jumper (@TheRealDtox) April 17, 2023
Last week's warm temperatures and today's cold are related, said Illinois State Climatologist Trent Ford. The swing comes from a jet stream, he said. Its ridge brought warm air from the south, which was then followed by a dip in the jet stream that brought cooler air.
"April is the most common time of the year when we do get these big weather shifts, and that's because areas further to our south are warming up and areas further to our north are still very cold from the winter time so you get kind of those clashes of air," Ford said.
While day-to-day changes in weather are fairly common this time of year, Ford said the rarity was how persistent the warm weather was last week, making today's weather seem that much more anomalous.
Ford said it's looking like the cooler weather will stick around for the rest of April. It won't be as cold as today, but still below normal temperatures.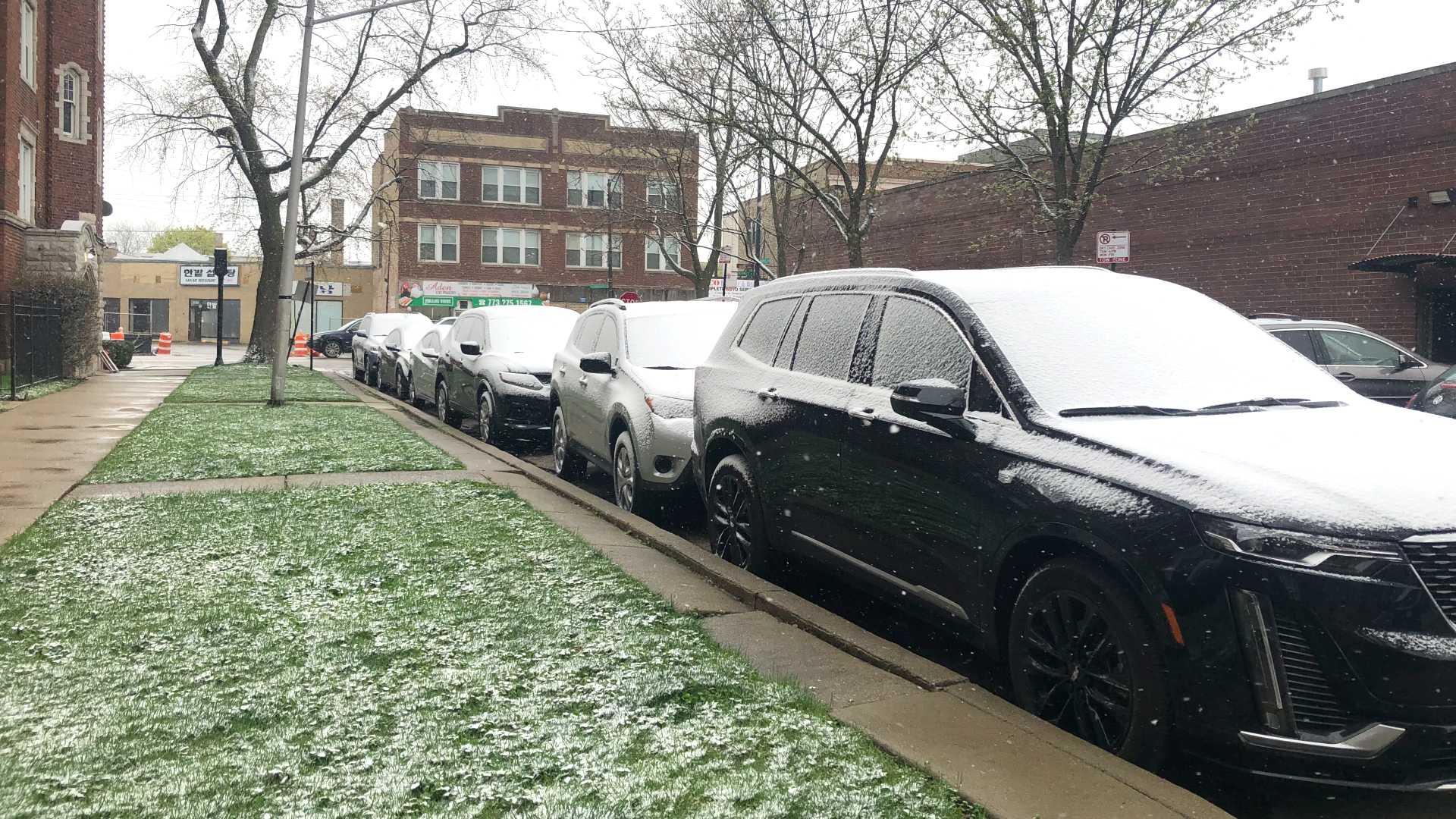 Snow-covered cars, April 17, 2023. (Patty Wetli / WTTW News)
---
Contact Patty Wetli: @pattywetli | (773) 509-5623 |  [email protected]