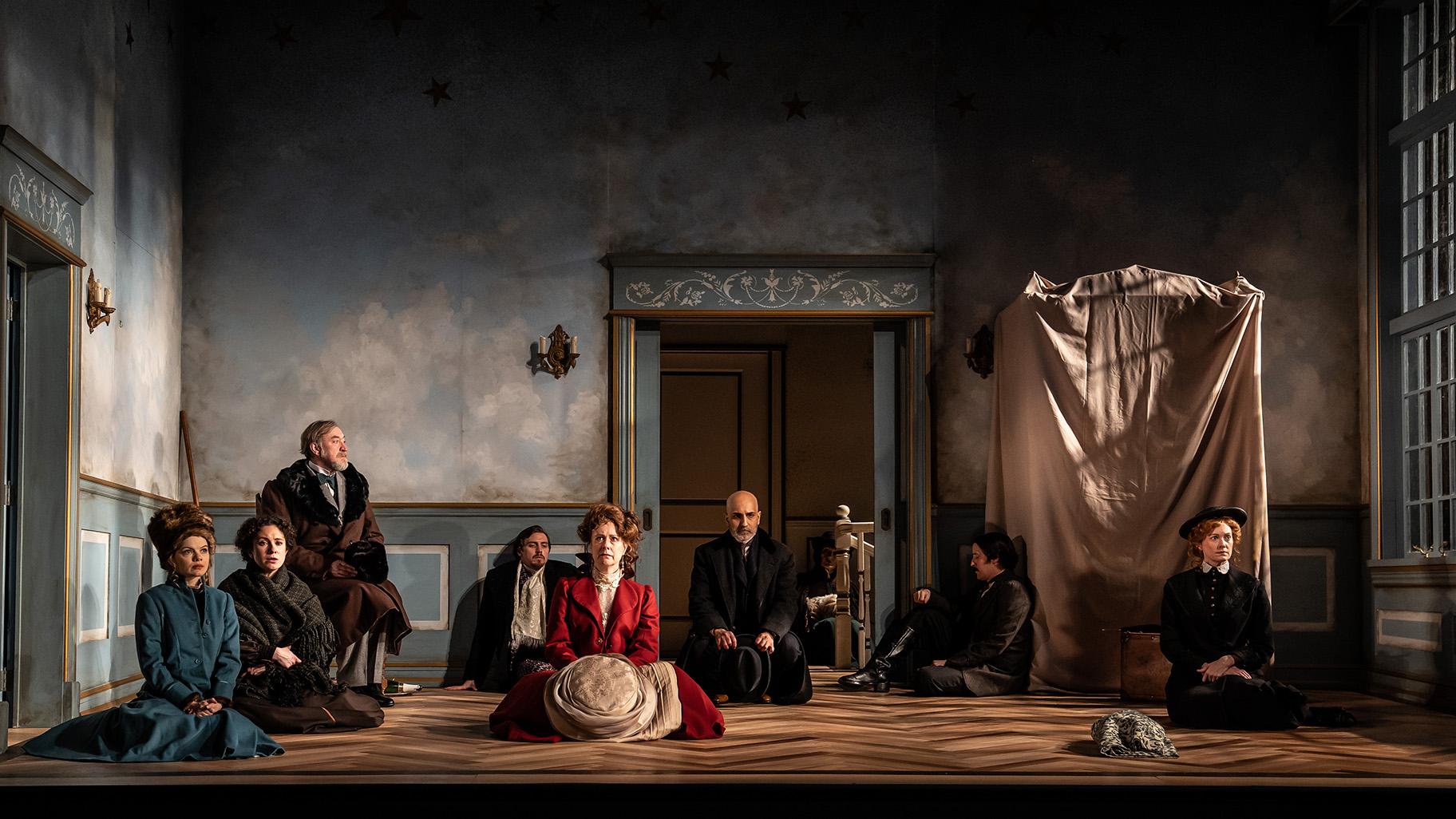 From left, Raven Whitley, Alejandra Escalante, Christopher Donahue, Felipe Carrasco,Kate Fry, Kareem Bandealy, Will Allan and Amanda Drinkall in Anton Chekhov's "The Cherry Orchard" at Goodman Theatre. (Credit: Liz Lauren)
"The Cherry Orchard," Anton Chekhov's masterful play (which had its world premiere in 1904, six months before he died of tuberculosis at the age of 44) is about change — social, historical, financial and emotional.
And change is of the essence at the Goodman Theatre too, with this production marking the retirement of Robert Falls, who has served as its artistic director since 1986. Falls has been a major force in the formidable legacy of the Chicago theater scene.
"The Cherry Orchard" is set at the very start of the 20th century, 40 years after serfdom was abolished in Russia but 17 years before the start of the Russian Revolution. As Falls' production suggests, the play can be seen as either a comedy, which is what Chekhov is said to have intended, or a tragedy. Given the upheaval in the lives of its many eccentric characters, "tragicomedy" might be the best description of this work. And its large cast — that captures characters ranging in age from teens to old age, and who are variously troubled, lovesick, rebellious and upended by both unexpected losses and gains — suggests the full spectrum of existence in a dramatically changing society.
At the center of the play is Lyubov Ranevskaya (Kate Fry), a still glamorous woman who is the owner of a grand estate in Russia that is renowned for its beautiful cherry orchard. She has spent years living in Paris with her difficult lover, but now, in a state of denial, she has returned home, hoping to get a loan of some sort, and unable to fully face the fact that she no longer will be able to support the beloved home in which she grew up.
The suggestion that she might sell her beloved orchard, and have it cut down so that cottages can be built for summertime tourists as a means to generate enough money to cover her expenses, is out of the question. Fry brings a lovely wistfulness to Renevskaya's sense of connection to the home and orchard, and to the privileged life she is losing. But a more intense sense of loss (and even bitterness) is needed to anchor this play.
Stepping in to take over her property is Yermolai Lopakhin (in an ideal turn by Kareem Bandealy). The son and grandson of serfs, he is now a prosperous, nouveau riche businessman who is somewhat astonished yet at ease with his new status. At the same time, he is quite respectful of Ranevskaya who he is trying to convince to save her house by selling the orchard.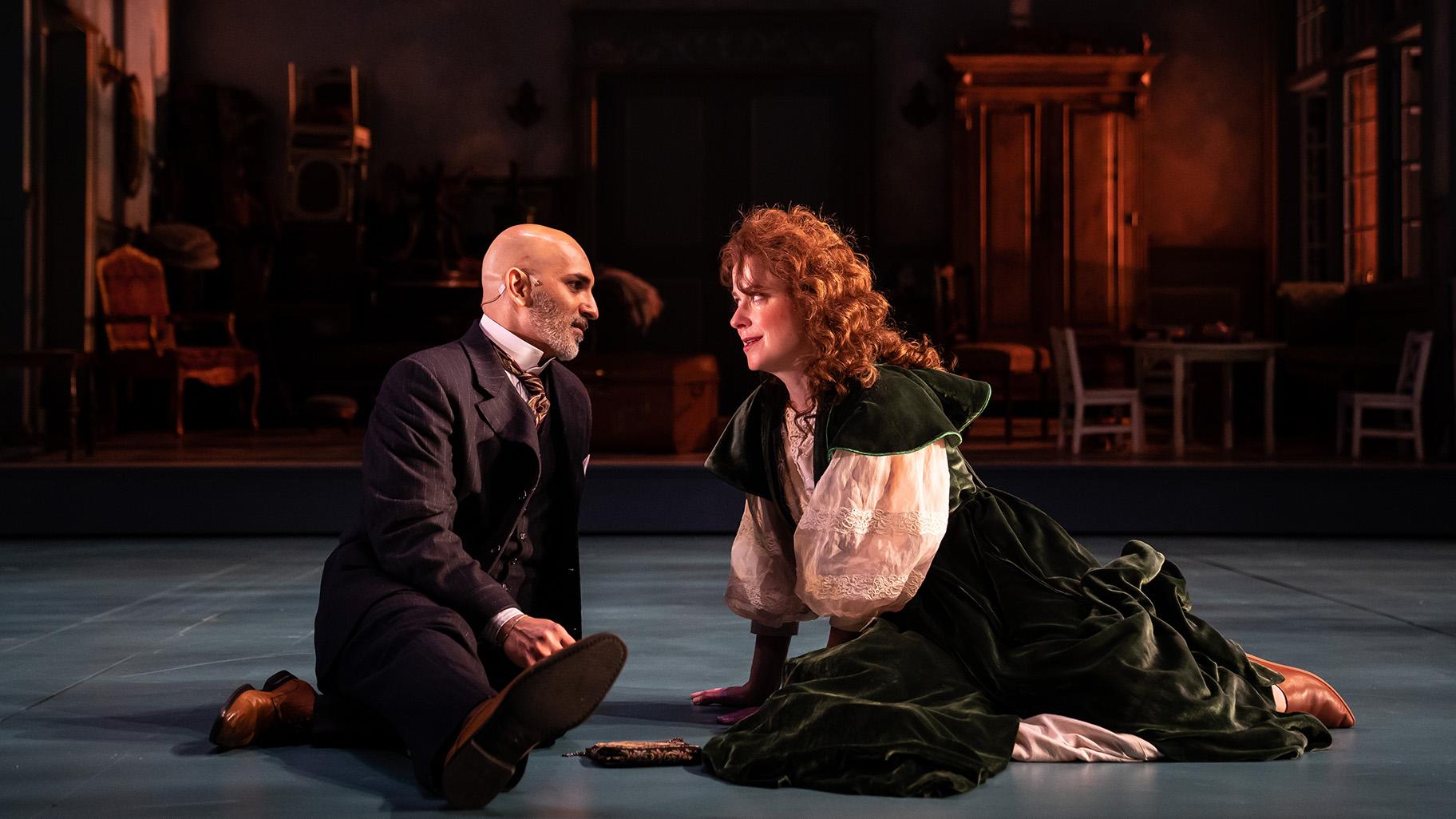 Kareem Bandealy and Kate Fry in in Anton Chekhov's "The Cherry Orchard" at Goodman Theatre. (Credit: Liz Lauren)
Moving in and out of the manor are a slew of characters, each with his or her own loyalties, quirks and desires. There is the family's 87-year-old butler, Firs (in a wonderful turn by a heavily bearded Francis Guinan), a man who in many ways is still living in the past. There is Anya, Ranevskaya's daughter (Raven Whitley), who has brought her mother home from Paris, and might or might not want a relationship with Petra Trofimov, the somewhat nerdy intellectual and devoted student steeped in left-wing politics (played to comic perfection by Stephen Cefalu Jr.).
Also part of the mix is Anya's high-spirited governess, Charlotta (in a terrific turn by Janet Ulrich Brooks, who carries off some magic tricks and acrobatics). And there is Varya, Ranevskaya's adopted daughter (Alejandra Escalante), who has been overseeing the estate, and who might seem like a potential future wife for Lopakhin, although that doesn't quite seem to be in the cards.
Ranevskaya's brother, Leonid (played by Christopher Donahue), is another character living in the past, suggesting a man who has never had to work, and who is clearly out of touch, or in denial about the dramatic changes taking place. And there are others in the house, including the feisty, upscale maid, Dunyasha (Amanda Drinkall), and Yasha (Felipe Carrasco), the young servant, and Semyon (Will Allan) the bookkeeper, who are both interested in her.
Todd Rosenthal's set suggests the emptiness of the house that is soon to be abandoned, and, in one grand scene, the estate's elegant ballroom where a dance scene choreographed by Tommy Rapley is set to music (a lush klezmer-infused waltz by Richard Woodbury that is played by the off-stage Maxwell Street Klezmer Band).
Given all the dramatic changes that have taken place in Russia over the past 120 years, a somewhat darker take on this production might have been more fitting. But perhaps the sound of the train whistle that opens the play suggests there is always a next stop.
"The Cherry Orchard" runs through April 30 at the Goodman Theatre, 170 N. Dearborn. For tickets visit goodmantheatre.org or call (312) 443-3800.
Follow Hedy Weiss on Twitter: @HedyWeissCritic
---