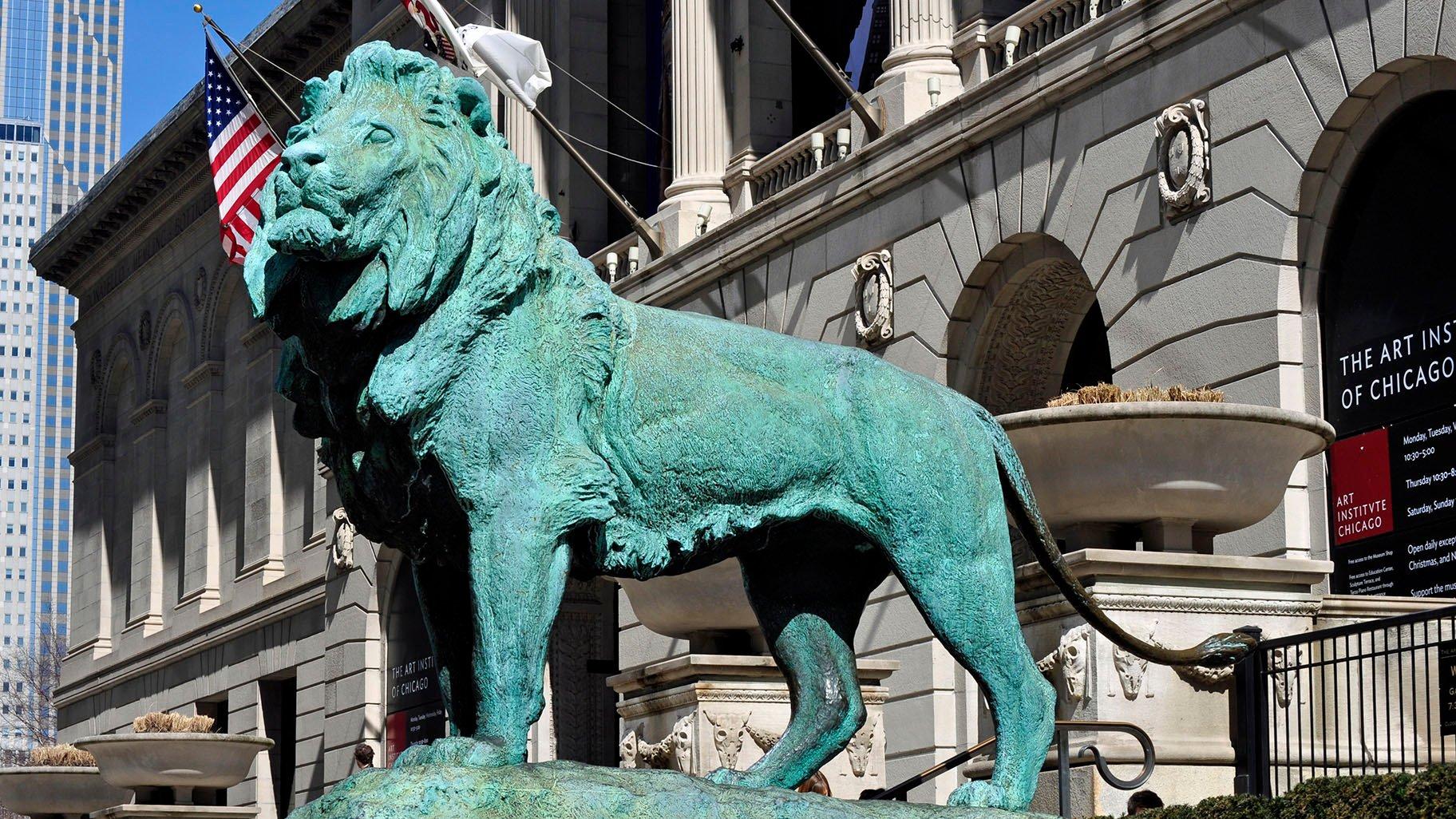 South lion at the Art Institute of Chicago. (Heather Paul / Flickr)
Sometimes it pays to be a Chicagoan.
Fee hikes were approved for both the Art Institute of Chicago and the Museum of Science and Industry at Wednesday's meeting of the Chicago Park District Board of Commissioners. The good news for folks who live within the city's limits is that the new price of admission only applies to out-of-towners.
In making their case to commissioners, leaders of both museums cited inflation and the higher cost of wages and benefits among the reasons for raising admission fees.
For MSI, which hasn't increased fees since 2018, CEO and President Chevy Humphrey also said the funds were needed for maintenance of the 129-year-old building. Admission fees represent 19% of the museum's annual budget of $48.7 million.
The Art Institute, which has held the line on fees since 2015, noted it's down $4 million in admissions revenue due to the pandemic, while at the same time operating costs have gone up $6 million.
As the board OK'd the requested fee hikes, commissioner Jose Munoz thanked the museums for "not doing it on the backs of Chicago residents." At the same time, commissioners emphasized to museum leaders the need to continue to focus on providing free admission to Chicago students and to expand the attendance figures of residents from the South and West sides.
"Exposure is so important," said Board President Myetie Hamilton.
At MSI, children under the age of 2, regardless of residency, receive free admission. Chicagoans ages 3 to 11 will still pay $9.95, and admission for adults remains $16.95.
MSI's new fees for non-residents will take effect May 1. Admission for children 3-11 will be $14.95 (up $2), and for adults it will be $25.95 (up $4).
The Art Institute's admission fee structure has three tiers: one for Chicago residents, one for Illinois residents and one for out of state. Chicagoans under 18 are admitted for free; admission for students and senior citizens is still $14; and for adults, the cost remains $20.
For Illinoisians, children under 14 are admitted for free. Students, seniors and adults will all see a $5 increase in the cost of admission: The new price is $21 for students and seniors, and $27 for adults.
The hike is even steeper for out-of-state visitors, with increases of $7: The new admission is $26 for students and seniors, and $32 for adults. Children under 14 are free.
Contact Patty Wetli: @pattywetli | (773) 509-5623 |  [email protected]
---