Community-driven development centered around future CTA stations.
That's the idea behind a new "transit-supportive development" plan to revitalize South Side neighborhoods that are part of the proposed Red Line extension to 130th Street, developed by the CTA and the city's Department of Planning and Development.
The 5.6-mile extension of the Red Line is an idea long in the making — it was talked about as far back as the 1950s. In recent years, the CTA has been working in earnest to come up with concrete plans for getting it done, and to drum up local and federal funding.
While the extension isn't a done deal, transit advocates are confident the project is moving forward, with $350 million for the project in President Joe Biden's latest budget proposal.
Read More: Biden Proposes $350M Federal Grant to Fund Far South Side CTA Red Line Extension
Part of that process is thinking through not just the stations themselves, but what kind of development could happen in the half mile or so around those stations.
Among the big ideas on the list are improving the local housing stock by rehabbing existing property and building on vacant land; creating commercial, retail and mixed-use buildings; and improving public space.
The overarching idea is called equitable transit-oriented development. In simpler terms: "affordable homes, grocery stores, health clinics, public art and many other wishes and desires driven by (the) community," said Roberto Requejo, executive director of Elevated Chicago.
Elevated Chicago helped with the plan, bringing together residents to talk about what they'd want to see around future stations. Requejo said being proactive is key, because development around transit has often focused on well-off or gentrifying communities.
"Hundreds of thousands of Black families have left the city of Chicago," Requejo said. "Let's stop that depopulation and that displacement and that diaspora. Let's make sure that we build homes, small businesses, community centers near transit to retain our African American residents in Chicago."
This kind of planning hasn't always happened on the front end. Melvin Thompson, executive director of the Endeleo Institute, was part of the community development plan. His group has been working on revitalizing the area around the existing 95th Street terminal, which he hopes can be a model for future development.
"I think that retail in our communities and in those four stations are going to look vastly different in terms of community ownership," Thompson said. "Seeing African American businesses surrounded by the new development near those stations creates community buy-in, and that is sustainable."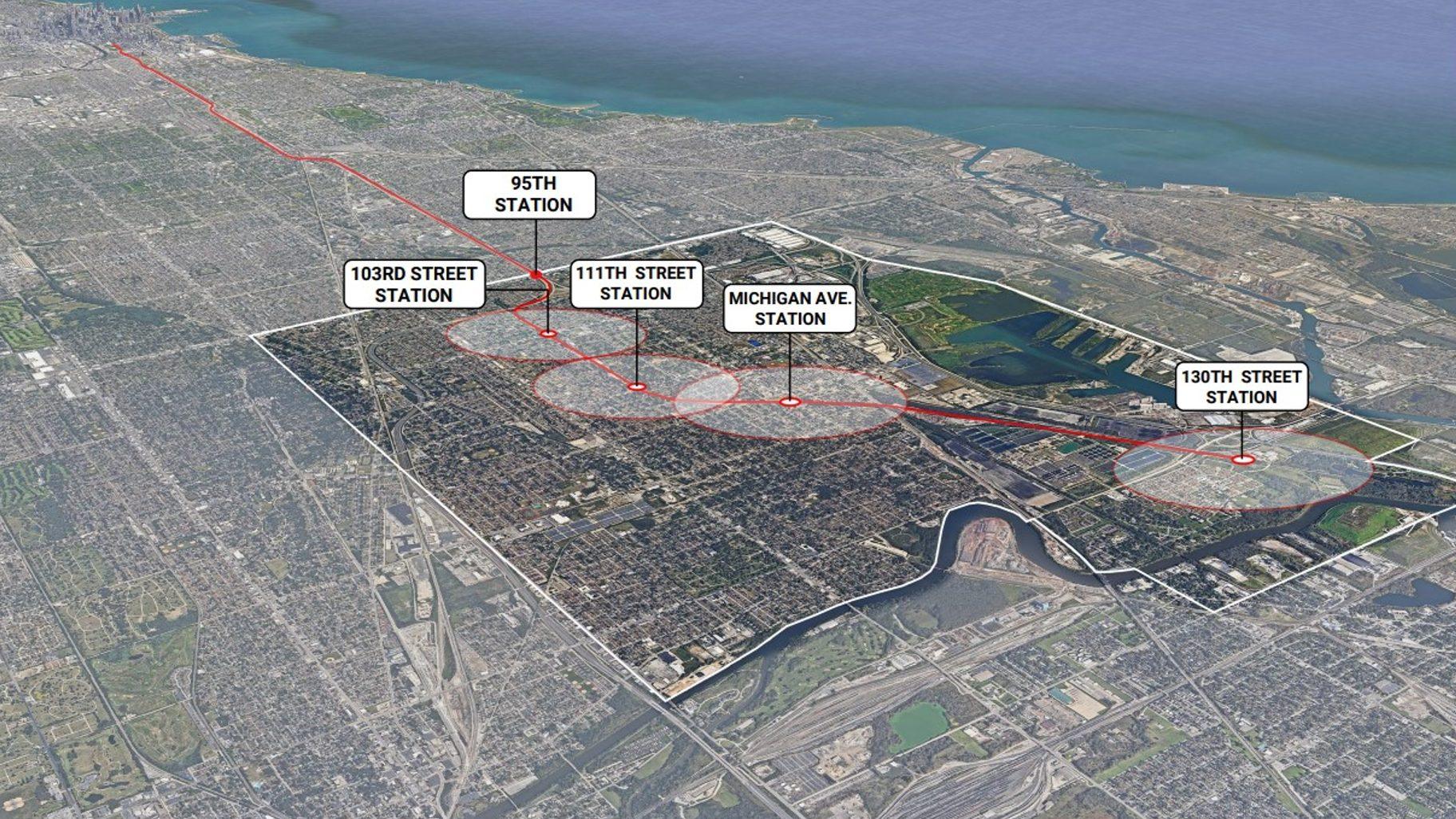 A graphic of proposed Red Line extension stations. (CTA)
In addition to economic opportunities, community leaders are also excited about the planned Roseland Community Medical District. It's tied in with the proposed 111th Street station and aimed at improving access to care and health outcomes for neighbors.
But planners said just having good transit access with the extended train line would also improve health and wellness.
"This will really create opportunities for families to visit one another much more easily," said Katanya Raby, vice president of planning and development with the Far South Community Development Corporation. "It'll allow high school students to travel into downtown for internships. I think about even the festivals and the fun activities that happen throughout our summers."
Raby also said it's key to fill vacant land and attract residents to combat population loss without creating unintended consequences.
"We are doing the work to encourage families to come back to the South Side, and also in that, making sure that (we) support policies that don't encourage the type of displacement that other residents across the city are experiencing," Raby said.
The CTA had been scheduled to present the project at this week's meeting of the Chicago Plan Commission, but that was deferred. A spokesperson said the agency doesn't yet have another date on the calendar.
As for the Red Line extension itself, Congress needs to approve the $350 million in the proposed federal budget. The city also created a TIF district expected to fund up to nearly $1 billion of the project. Leaders are working toward securing the rest of the funding.
Read the CTA's presentation on the community development plan and view the full plan below.
---