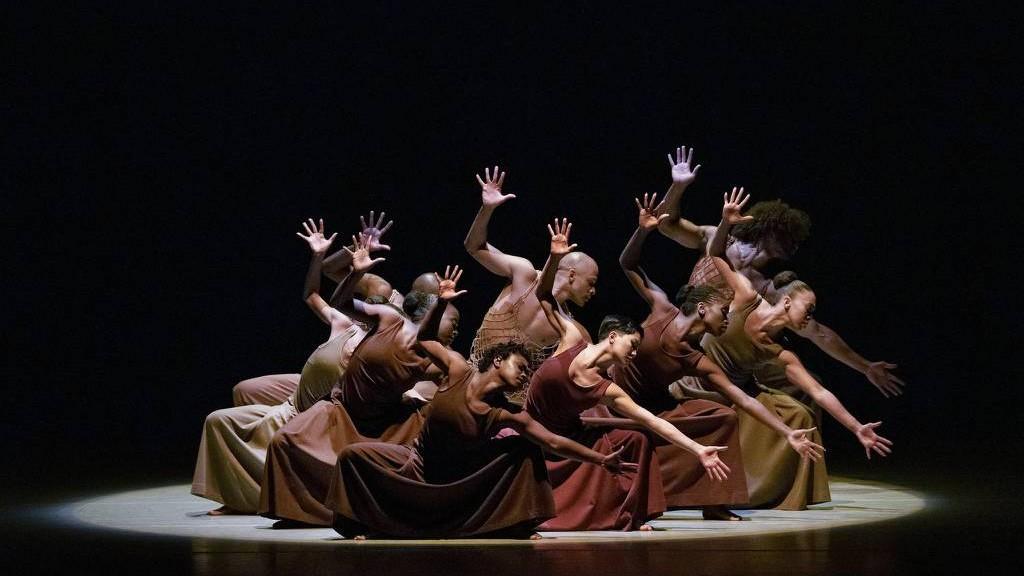 The Alvin Ailey American Dance Theater performs "Revelations." (Credit: Paul Kolnik)
There is a palpable electricity in the air whenever the Alvin Ailey American Dance Theater arrives on stage at Chicago's Auditorium Theatre. And it has been working its magic on that stage (and countless others around the world) for more than five decades.
The latest proof of the company's enduring power came at Wednesday's opening night performance, which drew a large, wonderfully engaged audience of about 3,000, to a program featuring works by Robert Battle (the company's artistic director and choreographer), Kyle Abraham, and, as always, topping it all off with "Revelations," Ailey's 1960 masterwork celebrating Black life by way of spirituals, gospel and the blues.
Opening the program was Abraham's "Are You in Your Feelings?," an intriguing piece (created in 2022, and now receiving its Chicago premiere) about a wide range of amorous relationships that are set to an eclectic "mixtape" of soul, hip-hop, R&B and even some bits of spoken word.
In a highly varied series of interactions, Abraham captures complex interactions between men and women; the male pursuit of women and their various degrees of success and failure; the forging of a romantic bond between two men; and an array of other situations that suggest people who are either sadly alone or who finally forge an intense connection. The work's 11 dancers brought both their own emotional and physical prowess to each encounter.
Next came Battle's "Unfold" (created in 2007), an exquisite, emotionally complex love duet set to an "Depuis la jour" from Gustave Charpentier's opera, "Louise," sung by Leontyne Price, the fabled African American soprano (now 96) who had a long and groundbreaking career with the Metropolitan Opera. Battle said he was transfixed by Price's voice when he first heard it on a videotape, and he created this piece in her honor. The work was beautifully danced by Jacquelin Harris and Kanji Segawa.
And then, of course, came Ailey's "Revelations," a 36-minute epic in three sections ("Pilgrim of Sorrow," "Take Me to the Water" and "Move, Members, Move"), that never fails to leave the audience in a state of high exultation.
The beautiful opening scene, with its congregation of dancers lifting their arms to heaven, sets the tone. Then comes the fluid, high-spirited "Wade in the Water," with the dancers dressed in white, as one moves across the stage holding a giant umbrella, and a river of water (in the form of silk panels), becomes the baptismal site.
The work's final section, "Move, Members, Move," includes "Sinner Man," the rip-roaring male trio brilliantly danced by Jeroboam Bozeman, Chalvar Monteiro and the remarkable Segawa. And it culminates with the work's iconic grand scale Sunday morning gathering for a church service, with the women — decked out in wide-brimmed hats and waving fans in the heat — eventually joined by the men who are dressed in their Sunday best and are ready to playfully engage with the women. Well done by all, but I miss some of the subtle, attitude-defining signaling that was such a natural part of this scene when performed by earlier generations of the company's dancers.
One final note: On the opening night of the company's Chicago visit, Battle made a most engaging speech noting the impact of the pandemic, and how the loss of live performance made people realize "the importance of the arts and their crucial way of celebrating our common humanity."
The Ailey company is performing three different programs through Sunday, with the opening night Program A ("Ailey Anew") repeated March 10 at 7:30 pm. Program B ("Ailey Allies," on March 11 at 8 p.m.), features new productions of Twyla Tharp's "Roy's Joys" and Ailey and Mary Barnett's "Survivors" (about Nelson Mandela and his wife). And Program C ("Ailey Always," on March 11 at 2 p.m. and March 12 at 3 p.m.), is devoted to Ailey's "Night Creature," "Cry" and "The River."
Of course as always, Ailey's "Revelations" is the closing work performed on every program.
Performances are at the Auditorium Theatre, 50 E. Ida B. Wells Drive. For tickets visit Auditorium Theatre.org or call 312-341.2300.
Follow Hedy Weiss on Twitter: @HedyWeissCritic
---