Violinist Julia Fischer joined Riccardo Muti and the CSO for a performance of Schumann's "Violin Concerto" on Feb. 23. (Todd Rosenberg)
There is a phrase I cannot recall ever using in a review until this moment. But the concert I attended this past Friday afternoon — with the Chicago Symphony Orchestra led by Maestro Muti playing Schumann's "Violin Concerto in D Minor" (featuring guest violinist Julia Fischer) and Tchaikovsky's fiercely dramatic "Manfred Symphony" — was the musical equivalent of a religious experience.
Not only were Muti and the CSO's extraordinary musicians in absolutely stellar form — but the beauty and dramatic energy of both works were wholly captivating and clearly mesmerized the Orchestra Hall audience, which was packed to the rafters.
Opening the concert was Schumann's "Violin Concerto." It was written in 1853, but, as the result of a complicated history, was not performed until 80 years after the composer's 1856 death in a mental institution.
Muti and Fischer shared an ideal sense of how to interpret this immensely challenging concerto with its vivid mood changes and technical demands that Fischer finessed with seeming ease. (Born in Germany in 1983, Fischer is a pianist, as well as a bravura violinist.)
The work began with a solemn tone but soon moved into a section of lyrical warmth and intensity, with Fischer's golden tone launching into passages of sheer beauty that were so clear, expressive and thoughtful that her playing almost seemed to be a unique form of speech. And the orchestra, along with Muti's crystalline conducting, connected ideally with her passionate, exquisitely controlled tone and wholly easeful, fluid playing of this most challenging piece.
Schumann's deeply moving music draws you in with its warmth, delicacy, fluidity and bursts of fiery speed. It makes you listen intently, with the intense bowing of the strings, the eloquent playing of John Bruce Yeh on clarinet and the impeccable sound of every member of the ever-dazzling orchestra.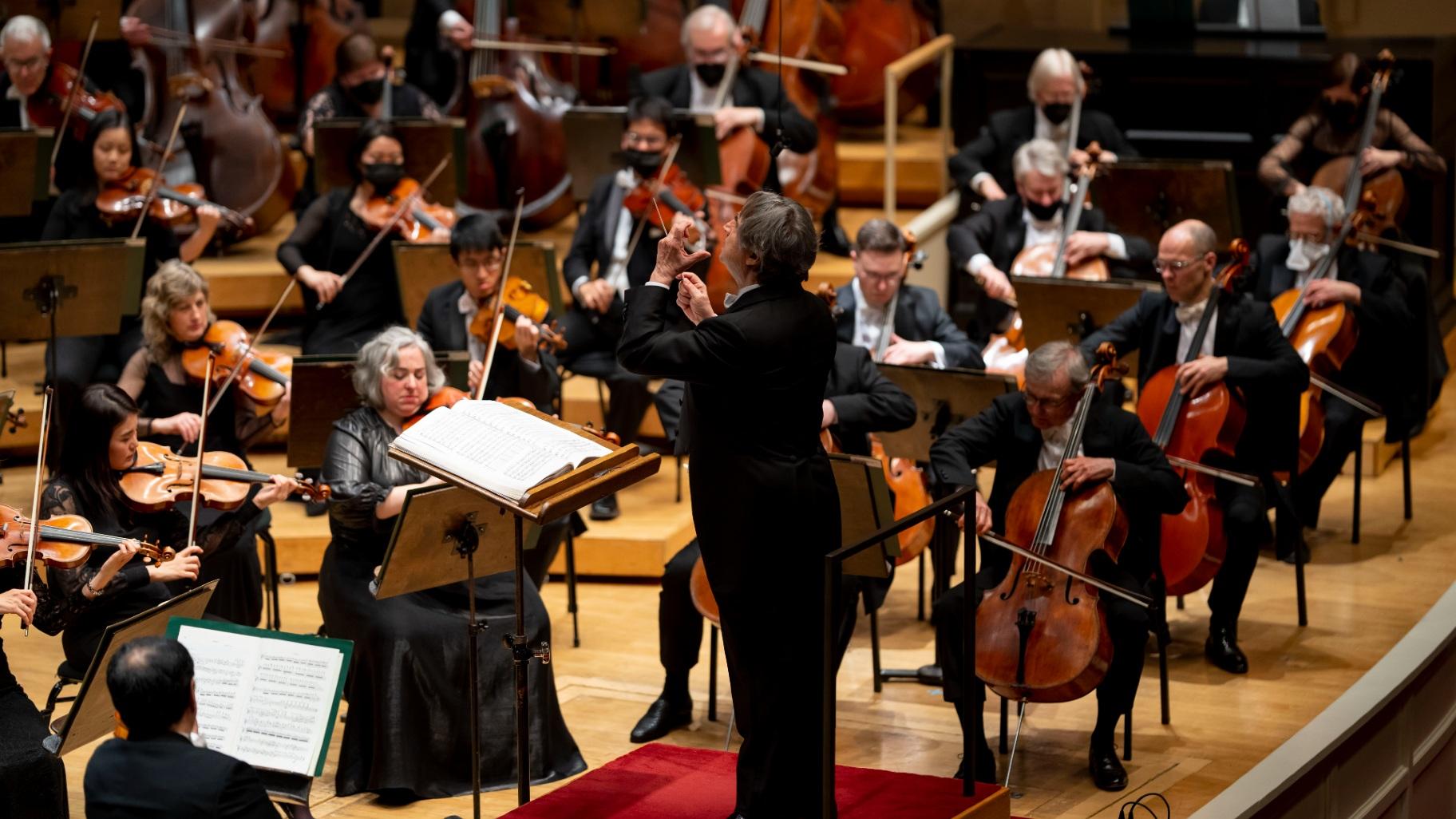 Music director Riccardo Muti leads the orchestra in a performance of Tchaikovsky's "Manfred Symphony." (Todd Rosenberg)
The second half of the concert was devoted entirely to Tchaikovsky's monumental 1885 "Manfred Symphony," a feverish work inspired by a dramatic poem by Lord Byron about a man haunted by guilt who, when unable to find redemption, is driven to suicide.
The song opened to the haunting voice of a French horn, a clarinet, the hard bowing of the low strings and the big sound of timpani (as ever, boldly sounded by David Herbert) — all a warning of what was to come. A growing intensity and a frenzied blast of sound followed, and as the sound of the orchestra exploded, in this listener it triggered thoughts of what is now taking place in Ukraine. And then a quiet, lyrical passage took hold as various sections of the orchestra moved into what seemed like fervent emotional conversations with each other.
The subtlety of the mood shifts, whether a lyrical and romantic riff or a fierce pounding, were continually finessed by Muti's subtly evocative and graceful movement. He swept the music along and assured the orchestra sang, whether quietly or as it generated a great, ferocious crescendo. Of course, Tchaikovsky's genius was at work whether conjuring a mood of romance or ecstasy, a hint of birdsong or church chimes or an enchanting sense of beauty in stark contrast to the work's far darker and more feverish passages. And those passages drew on the full and mighty orchestra that included a vast assemblage of percussion instruments, two harps and, for a brief but evocative moment near the end, an organ.
As I said, this concert was the musical version of a religious experience.
The CSO is now heading off on the second half of its U.S. tour this season, with brief stops in Kansas City and Orlando, Sarasota and Naples, Fla. Muti will then return to Chicago to lead the orchestra in performances in May and June, including a recently announced free concert to take place in Millennium Park on June 27. Meanwhile, there are a slew of concerts scheduled at Orchestra Hall in the coming months. For details, visit cso.org or call (312) 294-3000.
Follow Hedy Weiss on Twitter: @HedyWeissCritic
---