Victoria Jaiani and Alberto Velazquez in the Joffrey Ballet production of "Anna Karenina" by choreographer Yuri Possokhov. (Credit: Cheryl Mann)
Leo Tolstoy's classic novel "Anna Karenina" was turned into a stunningly feverish, quasi-cinematic work for the Joffrey Ballet by choreographer Yuri Possokhov, set to an evocative score by Ilya Demutsky and winningly designed by Tom Pye.
The work, which received its world premiere by the Joffrey in early 2019, has now returned to the stage. Only this time it is being performed on the Lyric Opera House stage (rather than at its former home, the Auditorium Theatre). The performance is a fascinating hybrid of ballet technique, modern drama and evocative projection design (the work of Finn Ross). And bringing it fully to life is both the technical polish of the Joffrey dancers and their exceptional gift for acting that so vividly captures the difference between love and passion as explored in Tolstoy's masterful story.
It all begins at a train station in St. Petersburg, Russia, circa 1874, as an elderly station guard falls onto the tracks and is killed by an oncoming train. Witnessing this terrible accident are two strangers. The first is the impossibly elegant Anna Karenina, who happens to be married and the mother of a young son (portrayed in a breathtaking opening night turn by Victoria Jaiani, who danced the role in the ballet's original production and once again brought her impeccable technique and feverish intensity to every moment of Wednesday's opening night). Second is the dashing Count Alexey Vronsky (in an excellent turn by Alberto Velazquez), who becomes instantly obsessed with Anna.
A brief but powerful connection is forged between the two, yet they each go their separate ways until, as fate will have it, they encounter each other again at a party held by the elite Shcherbatskys, whose spirited young daughter, Kitty (a deft turn by Anais Bueno), has clearly captured the heart of a lovestruck young man and family friend, Konstantin Levin (a wonderfully expressive performance by Yoshihisa Arai). Kitty, however, is captivated by Vronsky, while Vronsky is obsessed with his brief encounter with Anna. At a ball later, as Vronsky clearly pursues Anna, Kitty realizes she is not the focus of his passion, just as Konstantin is devastated by Kitty's rejection.
The marriage between Anna and her husband (ideally portrayed by Dylan Gutierrez) soon begins to fall apart, with their son caught in the middle. And while there are many twists and turns from there on, suffice it to say that Anna's relationship with Vronsky falls apart. She turns to morphine to dull the pain, and she ultimately dances a long, frenzied, wildly despairing solo before turning to suicide.
Yet there is a happy ending, too, as Kitty and Konstantin are seen to have been married and are shown living happily on a farm, playing in the hay and reveling in nature.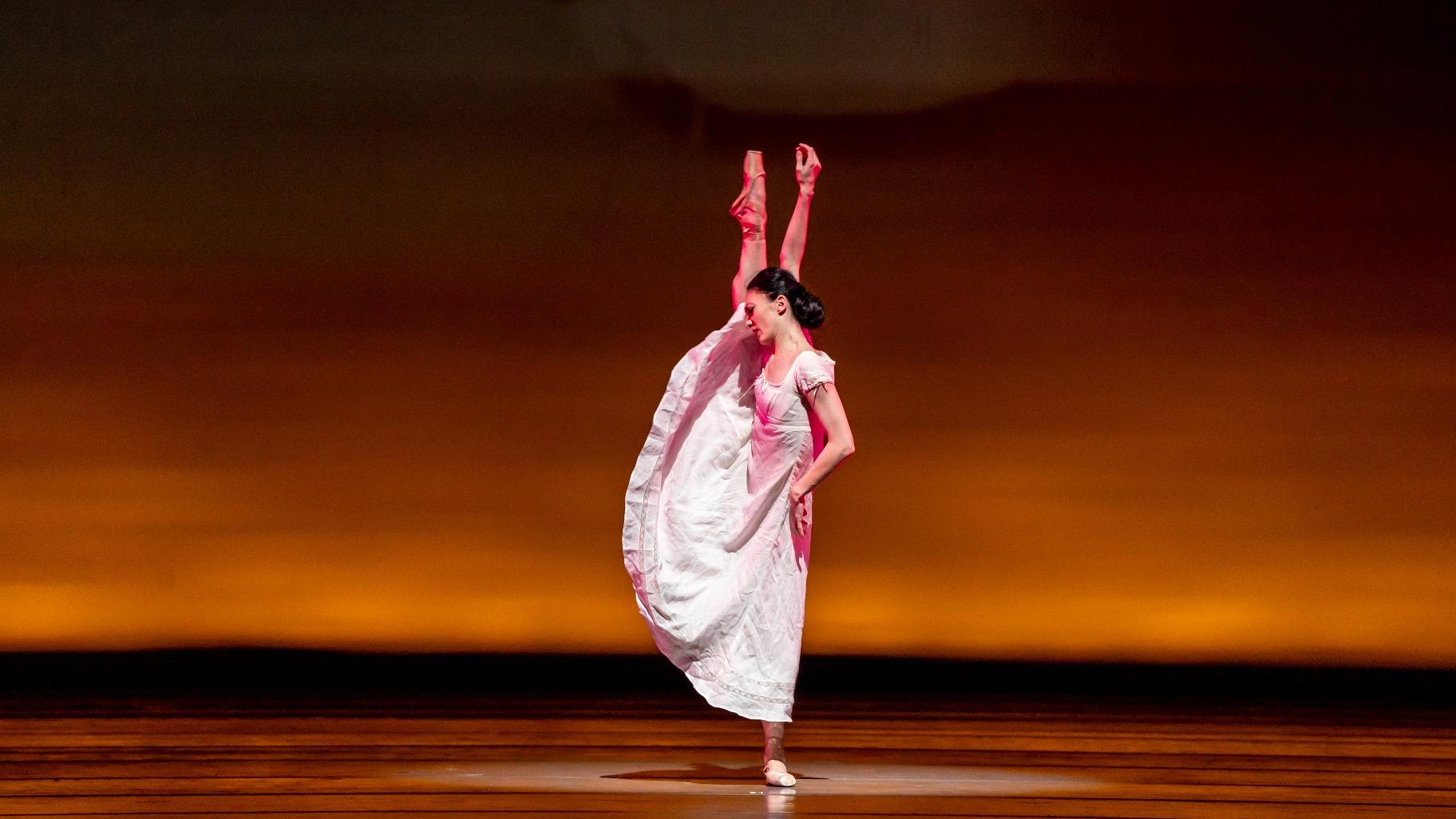 Victoria Jaiani in the Joffrey Ballet production of "Anna Karenina" by choreographer Yuri Possokhov. (Credit: Cheryl Mann)
The Lyric Opera Orchestra was impeccably led by conductor Scott Speck, a master of dance accompaniment, with soprano Lindsay Metzger adding her powerful voice to the drama at several moments.
Finally, it should be noted that there was an important prelude to the evening that erased any concern about the Russian roots of "Anna Karenina," a classic novel from a radically different historical period. In addition to the orchestra's performance of a beautiful, heartrending work by Ukrainian composer Myroslav Skoryk and a quote from Tolstoy about "perpetual kindness," there was this statement: "Tolstoy's compelling words still ring true. He reminds us that the more thoughtful we are, the more compassion we can find in others. The Joffrey Ballet holds all Ukrainians in our hearts as we hope for a better world and an end to oppression for all people. We dedicate this performance to the people of Ukraine."
"Anna Karenina" runs through Feb. 26 at the Lyric Opera House, 20 N. Wacker Drive. For tickets, visit joffrey.org or call (312) 386-8905.
Note: The next Joffrey production will be "The Little Mermaid," a ballet by John Neumeier running April 19-30 at the Lyric Opera House. And next week (Feb. 23-25), the Hamburg Ballet of Germany will bring another Neumeier ballet, "The Glass Menagerie," to the Harris Theater. For tickets, visit harristheaterchicago.org.
Follow Hedy Weiss on Twitter: @HedyWeissCritic
---