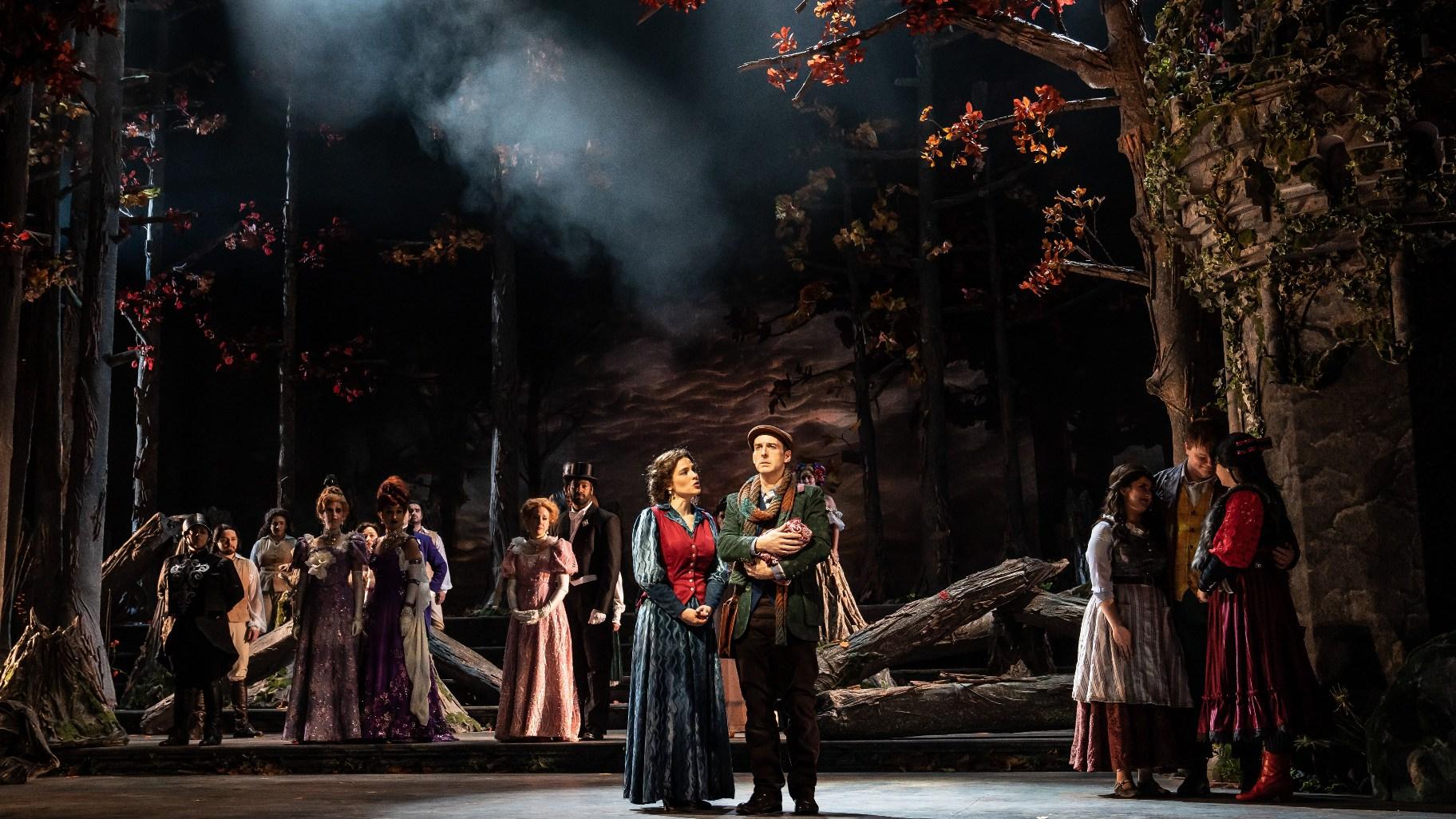 Sarah Bockel (center, left) plays the Baker's Wife and Stephen Schellhardt is the Baker in Paramount Theatre's "Into the Woods." (Credit: Liz Lauren)
Enter Aurora's beautiful 1,800-seat Paramount Theatre, delight in its Art Deco walls, and you will soon find yourself wholly bewitched by the magnificent forest and stone towers planted on its vast stage by set designer Jeffrey D. Kmiec (with added magic supplied by Jose Santiago's shimmering lighting and Paul Deziel's projections).
And that set is only the entrancing backdrop for the magic that will unfold over the course of the grand-scale, three-hour production of "Into the Woods," the 1988 Tony Award-winning musical with a score by Stephen Sondheim. The book by James Lapine features such fairy tale icons as Cinderella, Jack (of Beanstalk fame), Little Red Riding Hood, Rapunzel, a very wicked Witch and a slew of others who cross paths in their often frustrating yet enlightening pursuit of various forms of freedom and happiness.
Ideally cast and co-directed by Jim Corti (the Paramount's Artistic Director) and Trent Stork, with a large, expert orchestra led by Music Director/conductor Kory Danielson, the production is almost operatic in scale, as are some of the voices. And of course, Sondheim's character-defining lyrics are pure genius — alternately satirical, sardonic, angry, poetic, loving, laugh-inducing and heartrending.
Leading the way through the characters' many overlapping quests is a Narrator, played by the ever-impeccable Larry Yando (who audiences undoubtedly know as the Goodman Theatre's veteran Ebenezer Scrooge). Those characters include the ideally portrayed Baker (Stephen Schellhardt), and his Wife (Sarah Bockel), a couple whose desire to have a child is thwarted by the curse of a very wicked Witch (the spot-on Natalie Weiss), and whose relationship, as in many marriages, is alternately contentious and supportive. To break the Witch's curse, they must gather a number of things ("a cow as white as milk, a cape as red as blood, hair as yellow as corn and a slipper as pure as gold") from a variety of different people whose own quests for happier lives are also far from easy to realize.
Among them is Cinderella (the rich-voiced Hannah Louise Fernandes), who is desperate to break free of her oppressive Stepmother (Kelli Harrington), and her nasty step-sisters (Ann Delaney and Landree Fleming), who treat her as their maid. Determined to attend a royal ball, she receives help from the ghost of her Mother (Dana Tretta), meets a Prince (Alex Syiek) who, along with his brother (played by Devin DeSantis), happens to be a philanderer. And in the process she loses one of her golden slippers.
Then there is Jack (played with great heart by Will Koski), whose demanding, money-strapped mother (Christine Bunuan) orders him to sell his beloved Milky White Cow (embodied by a sad puppet winningly designed by Jesse Mooney-Bullock and ideally manipulated by Adam Fane).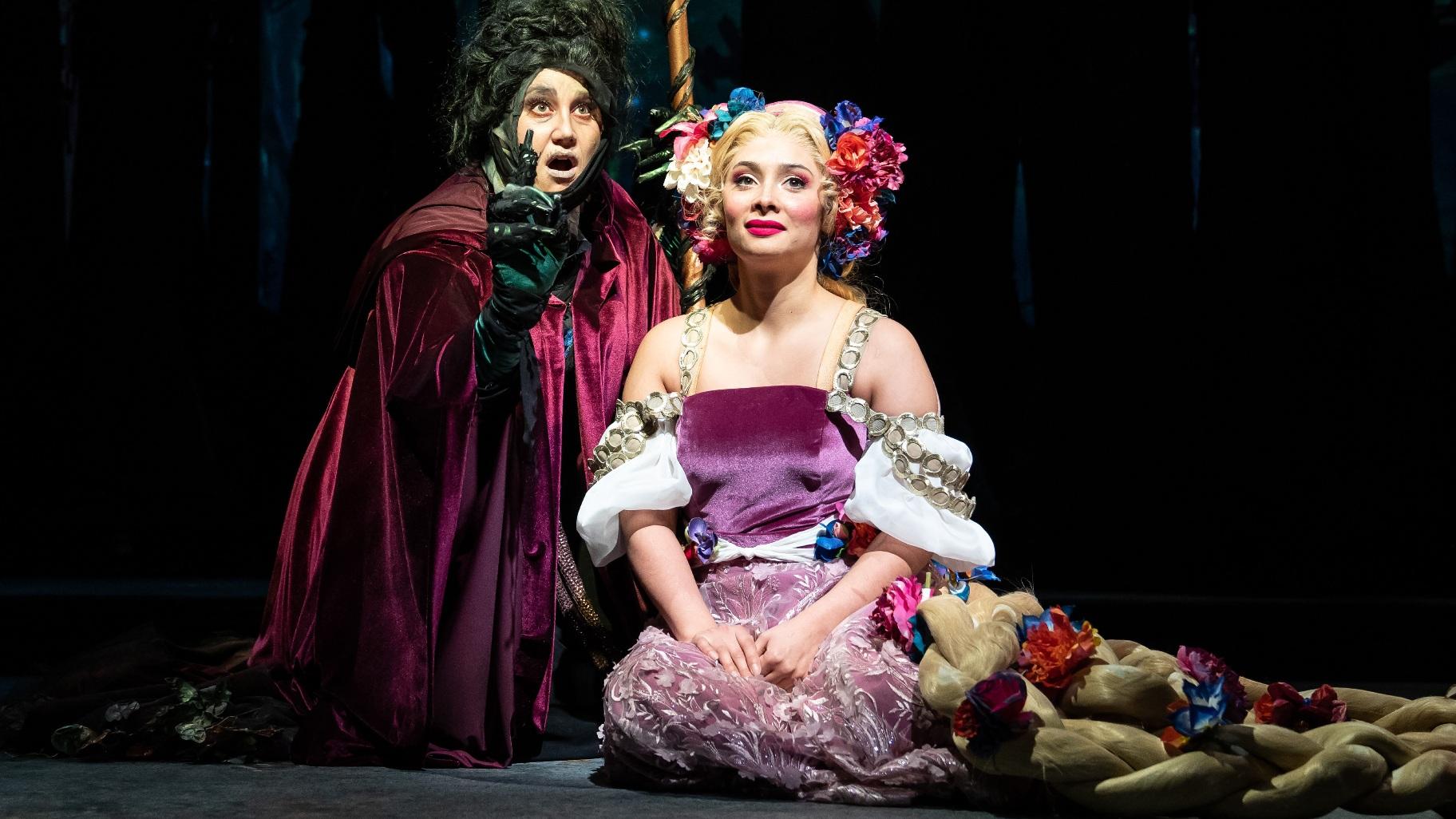 Natalie Weiss (left) plays the Witch and Molly Hernández is Rapunzel in Paramount Theatre's "Into the Woods." (Credit: Liz Lauren)
There also is Rapunzel (Molly Hernandez), the girl with long blonde hair who has been imprisoned in a tower by her mother. And there is the strong-willed Little Red Riding Hood (sassy Lucy Panush), who turns out to be quite taken with her erotic encounter with the Wolf (ideally played by Syiek). Along the way there also is the matter of "the beans" that have a currency all their own.
All this is what unfolds in the show's first act. What follows after an intermission is less fairy tale than reality as Sondheim and Lapine lead us into the future of the surviving characters as betrayal and loss are countered by hope, and the anthem that claims "No One is Alone." The final words belong to the Witch whose wise reminder is to be "careful the things you say" in a most moving song titled "Children Will Listen."
All in all, this is a production that not only entertains but also pays a winning tribute to Sondheim, who died at the age of 91 in November 2021, leaving behind a treasury of musicals that will, unquestionably, live on for generations to come.
"Into the Woods" runs through March 19 at the Paramount Theatre, 23 E. Galena Ave., in Aurora. For tickets visit paramountaurora.com or call 630-896-6666.
One final note: The team of Corti and Tim Rater (Paramount's CEO), deserve immense credit for creating the theater's successful Broadway Series (along with many other theatrical and educational programs) that not only easily compete with "that other Broadway" but have served as a formidable economic, cultural and social boon for Aurora.
Paramount's final production of the current Broadway Series season will be "School of Rock" (April 12 - May 28). Its recently announced 2023-24 season will include productions of "Little Shop of Horrors," "Charlie and the Chocolate Factory," "Billy Elliot" and "Beautiful (The Carol King Musical)". In addition, its lineup for the stage of the intimate Copley Theatre (directly across the street from the Paramount), will include "Next to Normal," "What the Constitution Means to Me" and "A Streetcar Named Desire."
Follow Hedy Weiss on Twitter: @HedyWeissCritic
---