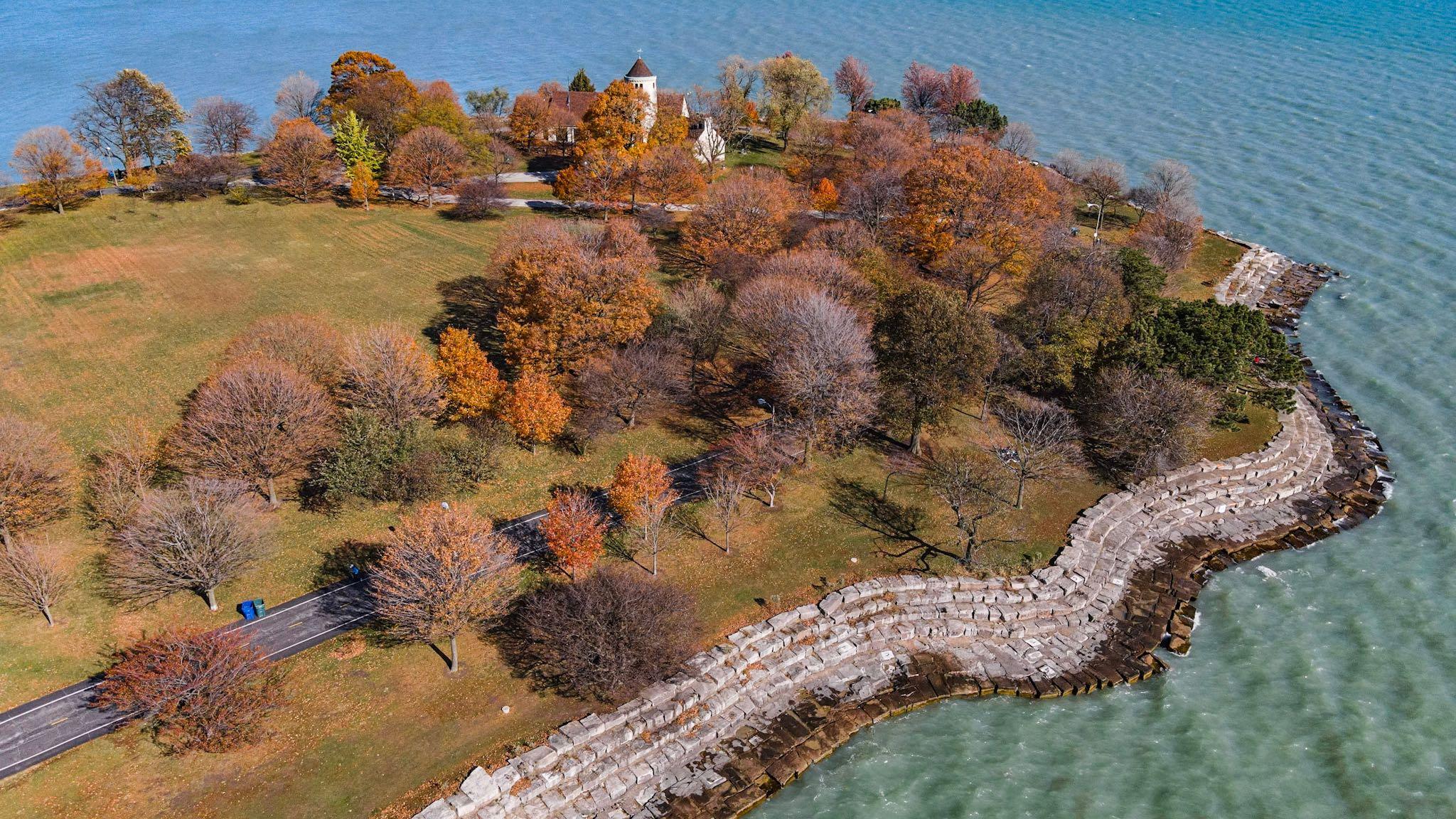 Promontory Point, on the south lakefront, is beloved for its natural aesthetic, designed by noted landscape architect Alfred Caldwell in 1937. (Preservation Chicago / Eric Allix Rogers)
Promontory Point's road to Chicago landmark status hit a bit of a speed bump Thursday.
The peninsula, which juts out into Lake Michigan between 54th and 56th streets, has already been accepted for preliminary landmark determination. At Thursday's meeting of the Commission on Chicago Landmarks, the Department of Planning and Development reported its findings that the proposed landmark designation for the Point meets its threshold.
The next step in the landmark process is to obtain a "consent to designate" from the property's owner. In this case, that owner is the Chicago Park District.
Fans of Promontory Point have a fraught relationship with the Park District and its partners in lakefront management — the U.S. Army Corps of Engineers and the Chicago Department of Transportation. Specifically, the Save the Point movement objects to any plan to remove the Point's historic limestone stair-step revetment and replace it with concrete.
The Promontory Point Conservancy sent out an email blast to its followers in advance of the commission meeting, urging people to fire off letters of support for landmarking to Park District board members.
The Park District already had a response ready, having sent a note to the commission's vice chairman, Gabriel Ignacio Dziekiewicz, which he read during the meeting.
The statement said, in part, that the Park District is committed to working with the community on maintaining the historic nature of the Point. As property owner, the district's board "may grant its consent," and expects to consider the matter at its next meeting, scheduled for Feb. 15.
The Park District was not able to immediately provide a copy of the complete statement to WTTW News.
Ward Miller, executive director of Preservation Chicago, said it's likely the consent of the Park District is a formality, but Hyde Park neighbors and members of the Promontory Point Conservancy would be wise to keep up the pressure.
It's not unheard of, Miller said, for an owner to withhold consent to landmark. In that case, the matter goes to a public hearing, where things tend to "get messy," he said.
"I don't think they want the bad press," Miller said of the Park District and CDOT.
Obtaining consent is only the midway point in the landmark process.
If and when consent is granted, a site then comes up for a final vote by the Commission on Chicago Landmarks. Next the matter goes to City Council Committee on Zoning and if it passes there, it heads to the full council for a vote.
Usually landmark designations coast through these final steps, Miller said, but some have been stopped in their tracks. In 2020, a move to create a Pilsen Landmark District was squashed in committee.
Contact Patty Wetli: @pattywetli | (773) 509-5623 |  [email protected]
---