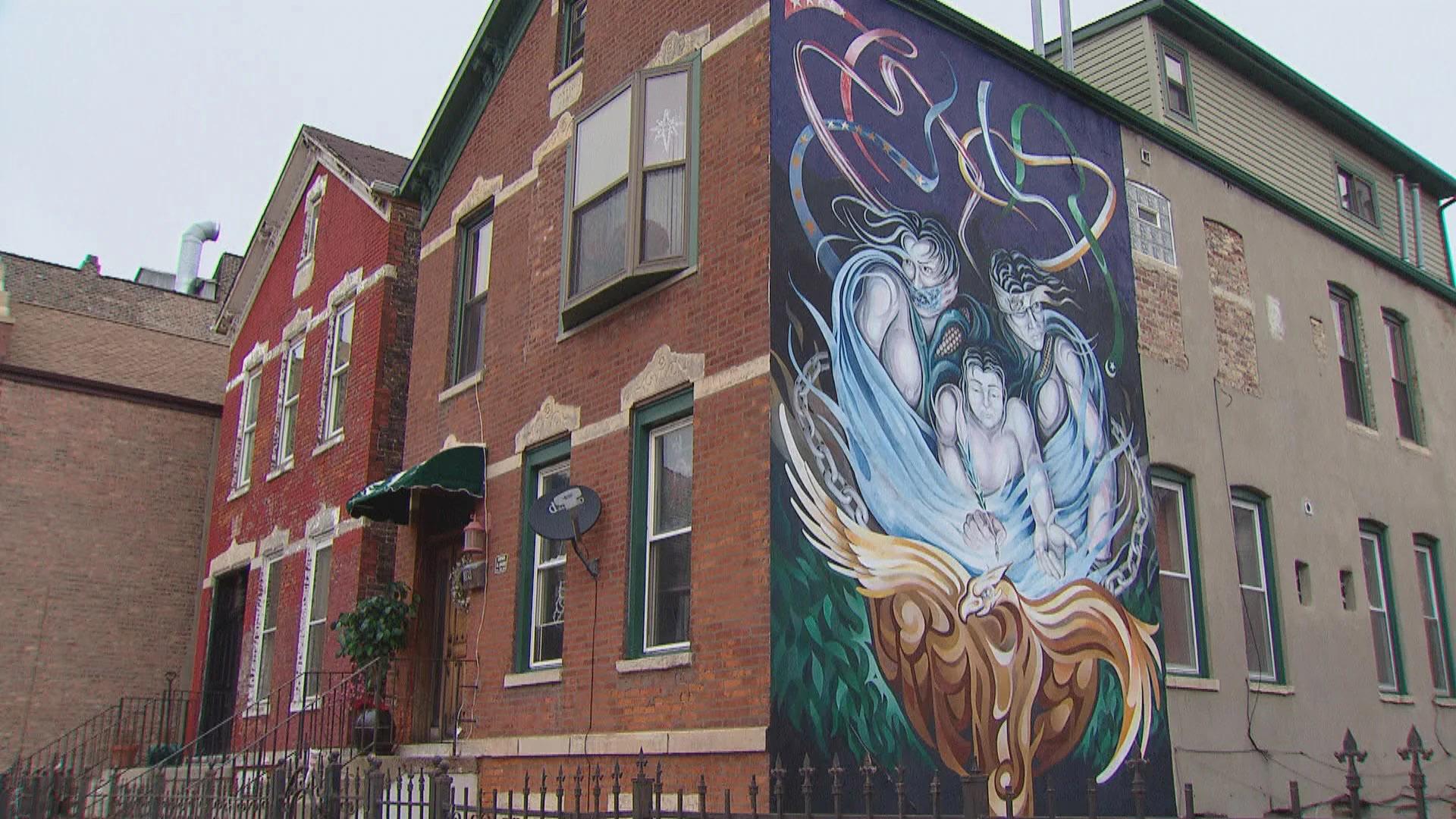 A mural in Pilsen photographed in August 2019. (WTTW News)
A rancorous debate that stretched for more than 18 months ended Tuesday with a unanimous vote of the City Council's Zoning Committee to reject an effort to landmark more than 900 buildings and murals in Pilsen.
All 18 members of the committee present for Tuesday's virtual meeting voted against the landmark designation that was launched by former Mayor Rahm Emanuel before he left office in 2019, and championed by disgraced former Ald. Danny Solis (25th Ward).
Ald. Byron Sigcho-Lopez (25th Ward) fiercely opposed the designation, which he said would force many Latino homeowners to sell their homes and businesses because they would not be able to pay to restore the Baroque-inspired buildings constructed between 1875 and 1969 along 18th Street and Blue Island Avenue.
The designation would have also protected dozens of murals and public art pieces that represent the area's culture and history as home to a wave of immigrants from Mexico.
Sigcho-Lopez said the landmark plan was poorly conceived by Emanuel and Solis, and would only fuel the gentrification that has swept Pilsen and displaced longtime Latino residents in recent years.
"What you have in front of you is the choice to support the status quo and the corrupt administration from which this was conceived, or support a new era when we listen to our constituents and listen to researchers," said Sigcho-Lopez, citing deep and widespread opposition from residents of the district and community organizations.
The vote represented a "pivotal moment" for Pilsen, after a recent history marred by "corruption" as well "as a lack of inclusion and accountability," Sigcho-Lopez said.
In July, Maurice Cox, Mayor Lori Lightfoot's pick to lead the Department of Planning and Development, urged aldermen to approve the landmark designation, despite the opposition of Sigcho-Lopez, telling them it was the only way to save Pilsen's historic style.
"I simply cannot watch another community be lost when all the handwriting is on the wall," Cox said during the July committee meeting. "I don't want to wake up 10 years from now and see a neighborhood like Pilsen demolished before our very eyes because of our inaction."
However, Cox on Tuesday washed his hands of the proposal, acknowledging that three additional community meetings found united opposition from Pilsen residents and community groups.
Ald. Mike Rodriguez (22nd Ward), who represents neighboring Little Village, called the landmark district proposal "a square peg in a round hole."
The vote to kill the landmark district served as a reaffirmation of aldermanic prerogative — the largely unwritten, decades-old practice giving aldermen a veto over ward issues was woven throughout the hundreds of pages of the municipal code that would take much more than a few strokes of a pen to undo.
Zoning Committee Chair Ald. Tom Tunney (44th Ward) indicated during the July meeting that he would uphold aldermanic prerogative and vote with Sigcho-Lopez and terminate the Department of Planning and Development's effort to landmark Pilsen's historic district.
But despite Sigcho-Lopez's victory in ending the city's efforts to landmark much of 18th Street in Pilsen, his effort to impose a six-month moratorium in a much larger part of Pilsen was rejected on a 7-11 vote.
Sigcho-Lopez said he needed six months to develop a plan to prevent longtime residents from being displaced from Pilsen, where affordable housing is at a premium. Sigcho-Lopez said the measure was no different than the demolition ban in place along the 606 trail until February.
"I simply ask for more time," Sigcho-Lopez said.
Department of Buildings Commissioner Matthew Beaudet said a moratorium covering approximately 5,200 buildings on 704 acres would be impossible to manage in the city's permit management system. In addition, Assistant Corporation Counsel Lisa Misher said the city's Law Department had determined the ban would not pass legal muster if challenged in court.
City officials processed six demolition requests in 2020 and seven in 2019.
Ald. Brian Hopkins (2nd Ward) said the ban would be "bad policy" that harmed the rights of property owners.
Contact Heather Cherone: @HeatherCherone | (773) 569-1863 | [email protected]
---