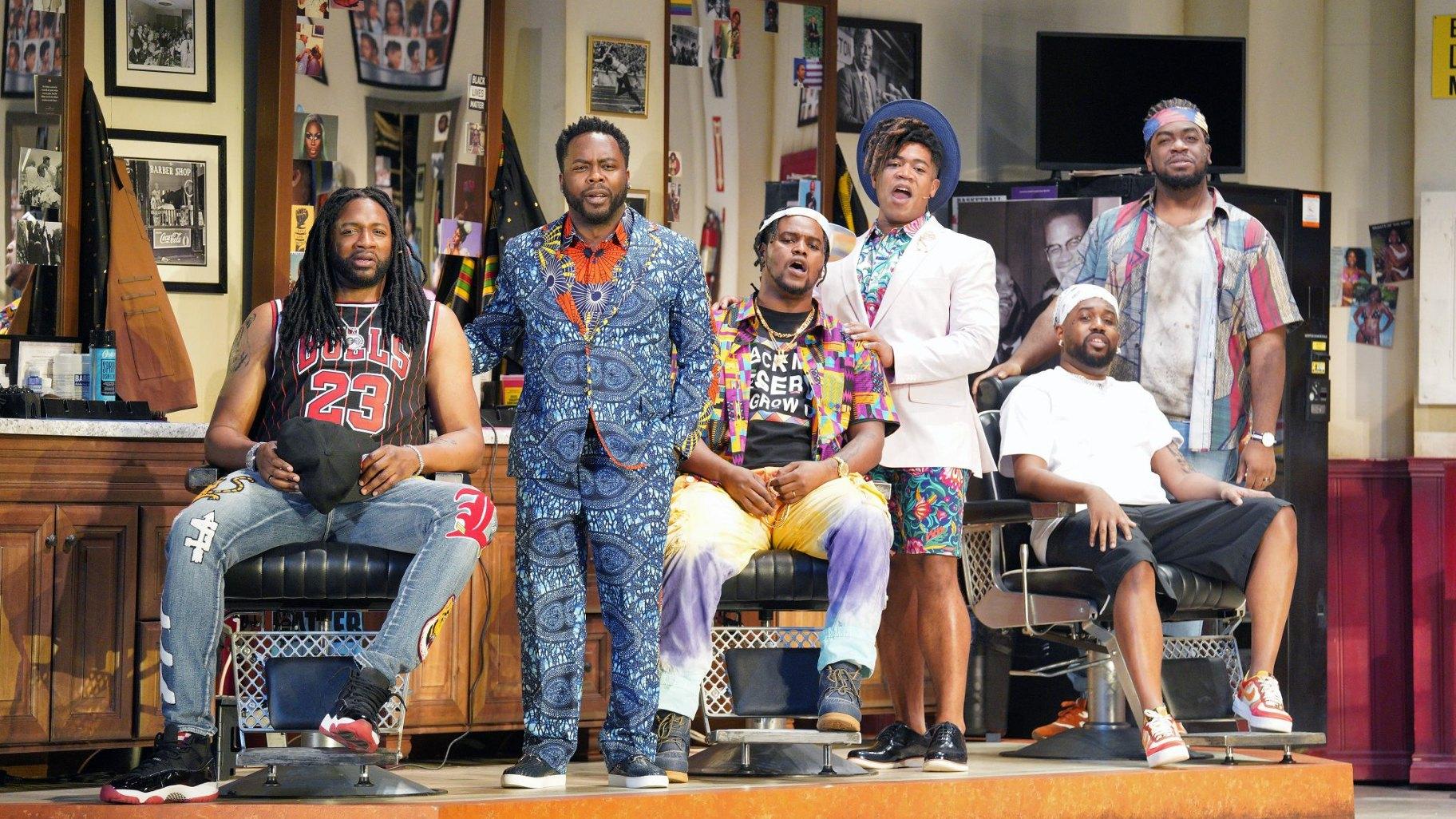 The cast of the "The Factotum," which made its world premiere at the Lyric Opera. (Credit: Cory Weaver)
Talk about setting records. All you need do is say the words "The Factotum," the name of the groundbreaking world premiere opera produced by Lyric Opera that debuted Friday evening at the Harris Theater for Music and Dance.
Conceived and scored by Will Liverman (the young operatic baritone), and DJ King Rico (a true DJ and recording artist), its book is the work of both those men in collaboration with director Rajendra Ramoon Maharaj. The opera has been brought to life with exuberant choreography by Maleek Washington, a terrific orchestra conducted by Kedrick Armstrong and a cast that is street-wise in its characterizations and intensely operatic in its vocal work.
The title of the opera can be defined as "a master of everything," or "a person with many jobs and responsibilities." And that could easily define Liverman, who also has a starring role in this work, and whose long list of credits includes the much-heralded world premiere of "Fire Shut Up My Bones," which debuted at the Metropolitan Opera and then at Lyric last year.
And true to that definition of "factotum," this opera is not only a brilliant hybrid of a vast range of seamlessly interwoven musical styles, dance moves and personalities, but it also suggests that a new opera can master the art of becoming an instantaneous commercial as well as artistic success. For as it happens, "The Factotum" opened with a completely sold-out run, filling the Harris Theater's 1,499 seats for each of its five performances even before opening night.
The true magic of this opera is rooted in its seamless interweaving of countless musical styles that take operatic voices into the realm of funk, rap, hip-hop, gospel, R&B, barbershop quartet and even electronic (with King Rico perched atop a platform on a side of the stage operating his CDJ/laptop).
Set in a present-day popular Black barbershop on Chicago's South Side called Master Kutz, the opera pays subtle homage to the Rossini classic, "The Barber of Seville." But it is definitely no "opera buffa." For as entertaining as it can be at certain moments, its essential story is about the profound tension between two brothers who have radically different values. And, in an uncannily timely scene, it captures the brutal treatment of a wholly innocent young teenage girl by a group of police officers.
The barbershop at the show's center was founded years earlier by a true striver. He handed the business down to his two sons — Mike (ideally played by baritone Liverman), a deeply decent man who wants to keep the place alive and law-biding, and his older brother, Garby (baritone Norman Garrett), who, much to Mike's consternation, uses the shop as "headquarters" for the illegal but thriving, money-making numbers game that he runs after hours. It's an operation that puts Mike in constant fear that the place will be raided by the police and shut down.
Morals or money? As Garby notes, some of the money he has made with his illegal gambling business has secured the barbershop, and he also will use it to pay the college tuition for CeCe (expertly played by Nissi Shalome), the brothers' smart, spirited niece whose mother has recently died.
Shalome, a notably deft dancer, helps set the scene of the opera by means of introducing the characters via movement before the singing ever fully begins. (Among those characters is Neil, Chantel's young son, ideally played by Di'Aire Wilson, a super sharp 9-year-old dancer/actor.)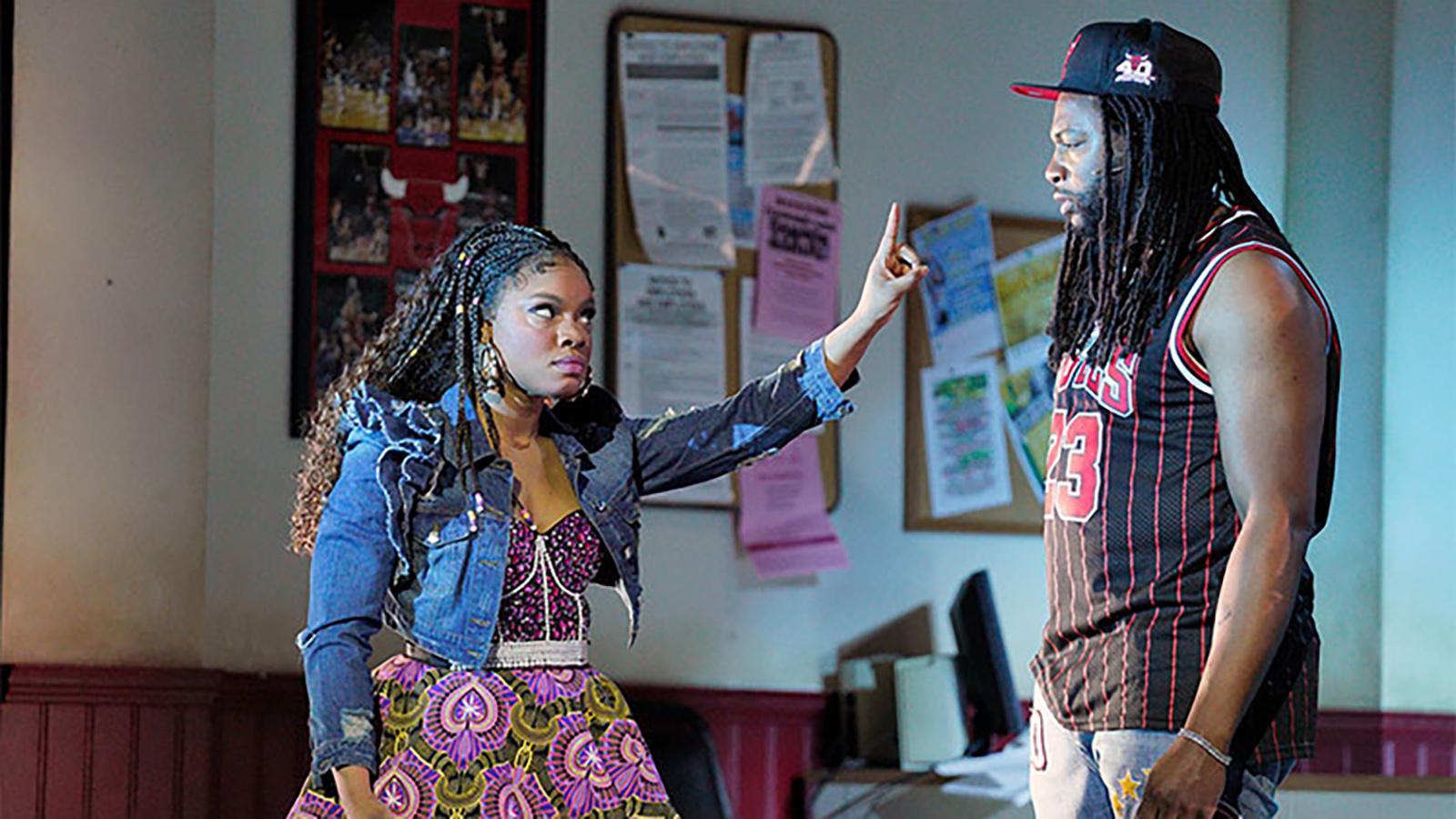 Nissi Shalome and Norman Garrett in "The Factotum." (Credit: Cory Weaver)
Mike is a truly decent man and workaholic who fends off the romantic advances of the shop's chief beautician, Chantel (in a spirited turn by Melody Betts). But much to his delight, a young man known as CJ (Martin Luther Clark, a fine actor whose beautiful tenor voice goes straight to the heart), arrives in the shop after just returning home from eight years of service in the military.
CJ, who Mike treats like a son, fervently hopes to reconnect with his high school crush, singer-songwriter Rose (the beautiful soprano Cecilia Violetta López). But she is now Garby's girlfriend, and about to perform at a local club and celebrate the release of her recording, leaving CJ emotionally crushed.
If there is one missing link in this opera it is the lack of any discernible suggestion of how CeCe, who was attacked and tased by the police who charged into the Master Kutz shop when she was alone and assumed to be a party to Garby's illegal operations, was ultimately released. Who made sure she was freed from this nightmarish entanglement? And shouldn't she have an aria about the trauma's devastating impact on her, and about her determination to move on with her life?
That aside, there is no arguing with the astonishing power and originality of this work, with its ideal cast, top-notch orchestrations (by Marcus Norris), and a team of excellent designers including Harlan Penn (sets), Devario D. Simmons (costumes), Jiyoun Chang (lighting), Roma Flowers (video) and Mikaela Fraser (sound).
The work also serves as proof that Will Liverman is, indeed, a man of many talents — a stellar example of a "factotum."
"The Factotum" has just three more performances (Feb. 8 and Feb. 10 at 7 p.m. and Feb. 12 at 2 p.m.) at the Harris Theater, 205 E. Randolph. For any tickets that might possibly still be available visit harristheaterchicago.org or phone 312-334-7777.
Follow Hedy Weiss on Twitter: @HedyWeissCritic
---