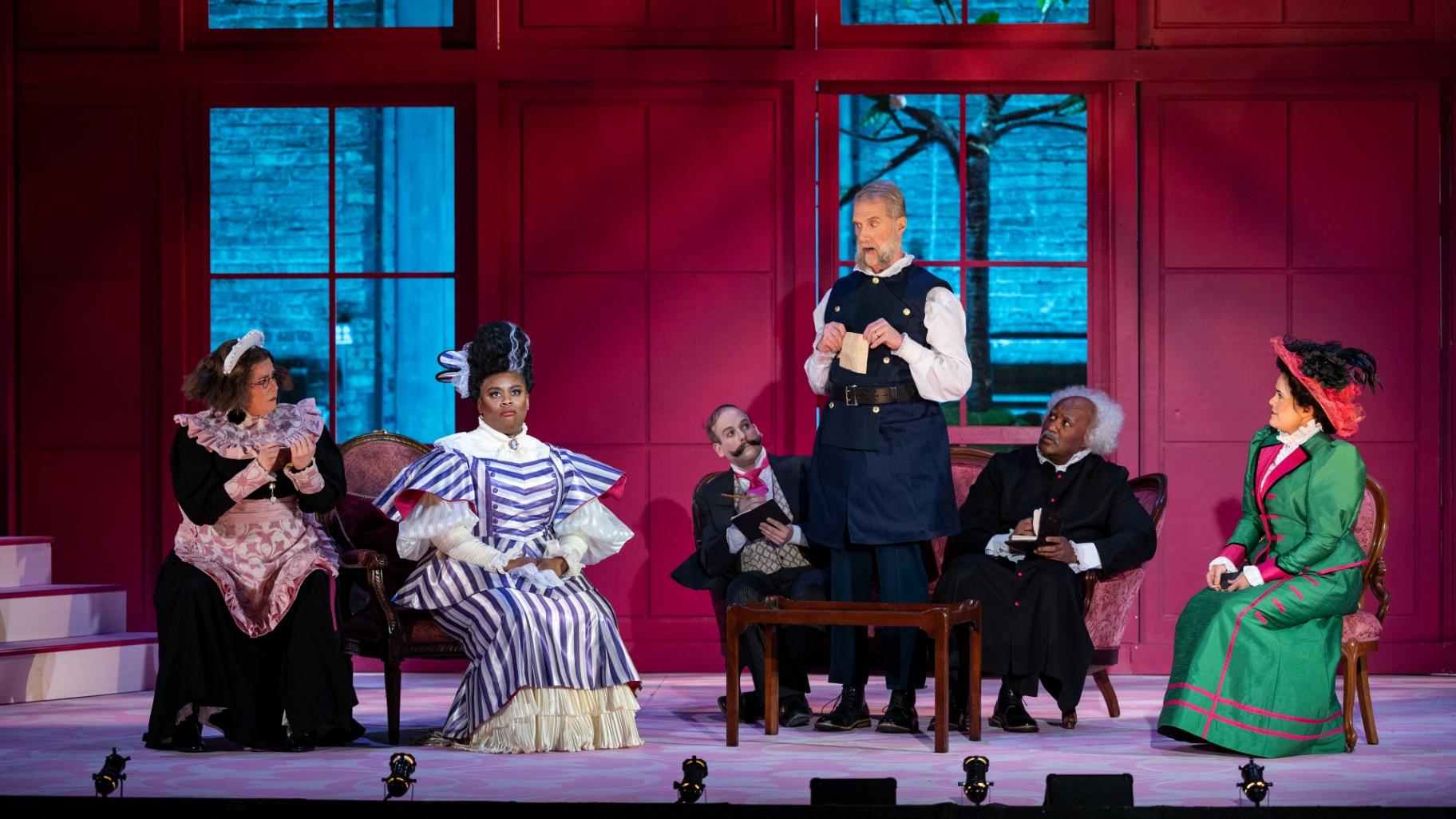 Cast of "Albert Herring." (Michael Brosilow)
Alternately amusing and heartbreaking, "Albert Herring," the 1947 opera by British composer Benjamin Britten and his frequent collaborator, librettist Eric Crozier, is now receiving an exuberantly performed and elaborately designed production by the Chicago Opera Theater (COT) on the stage of the freshly restored Athenaeum Center for Thought and Culture (until recently simply called the Athenaeum Theatre). To mark an early celebration of COT's 50th anniversary season, the ever-adventurous company has welcomed acclaimed British conductor Dame Jane Glover (DBE), whose interpretation of Britten's score is impeccable, as is the production's outstanding 13-person orchestra.
Though the opera is rather long (three acts in close to three hours), its exuberant cast has grabbed hold of the work's larger-than-life and very British, Victorian-era characters with great comic flair. The show spins the story of a most unusual choice of a virginal May Queen for the May Day Festival held annually in the provincial town of Loxford, England, circa 1900.
Overseeing the choice of May Queen is the wealthy, self-important Lady Billows (Whitney Morrison) and her frazzled, overworked housekeeper Florence Pike (Alissa Anderson), who has been charged with researching what must be the impeccable moral status of the many candidates for the honor. The title comes with an elaborate celebration dinner, as well as a financial prize.
As it happens, not a single young woman in the town meets the standards, so Lady Billows agrees to the quite radical suggestion of Superintendent Budd (Wilbur Purley) that a May King might be chosen instead. Her team of male judges (deftly played by Bill McMurry as the town vicar, along with Justin Berkowitz as the mayor) decide to tap the local shopkeeper, Albert Herring (Miles Mykkanen), as the only viable candidate.
A true fish out water, Albert is the totally repressed and morally spotless son of the grocery store's owner, Mrs. Herring (Leah Dexter), an overbearing widow. And much to his dismay, and horror, Albert is informed of the "honor" that is to be bestowed upon him.
Meanwhile, Sid, the shop's socially adept young butcher (played ideally by Vince Wallace), woos his pretty girlfriend, Nancy (in a lively, warm-hearted turn by Vern Akama-Makia), while Albert watches from a distance. As he observes the pair — and feels mortified by his new title — he becomes increasingly aware of how he has been totally repressed by his mother.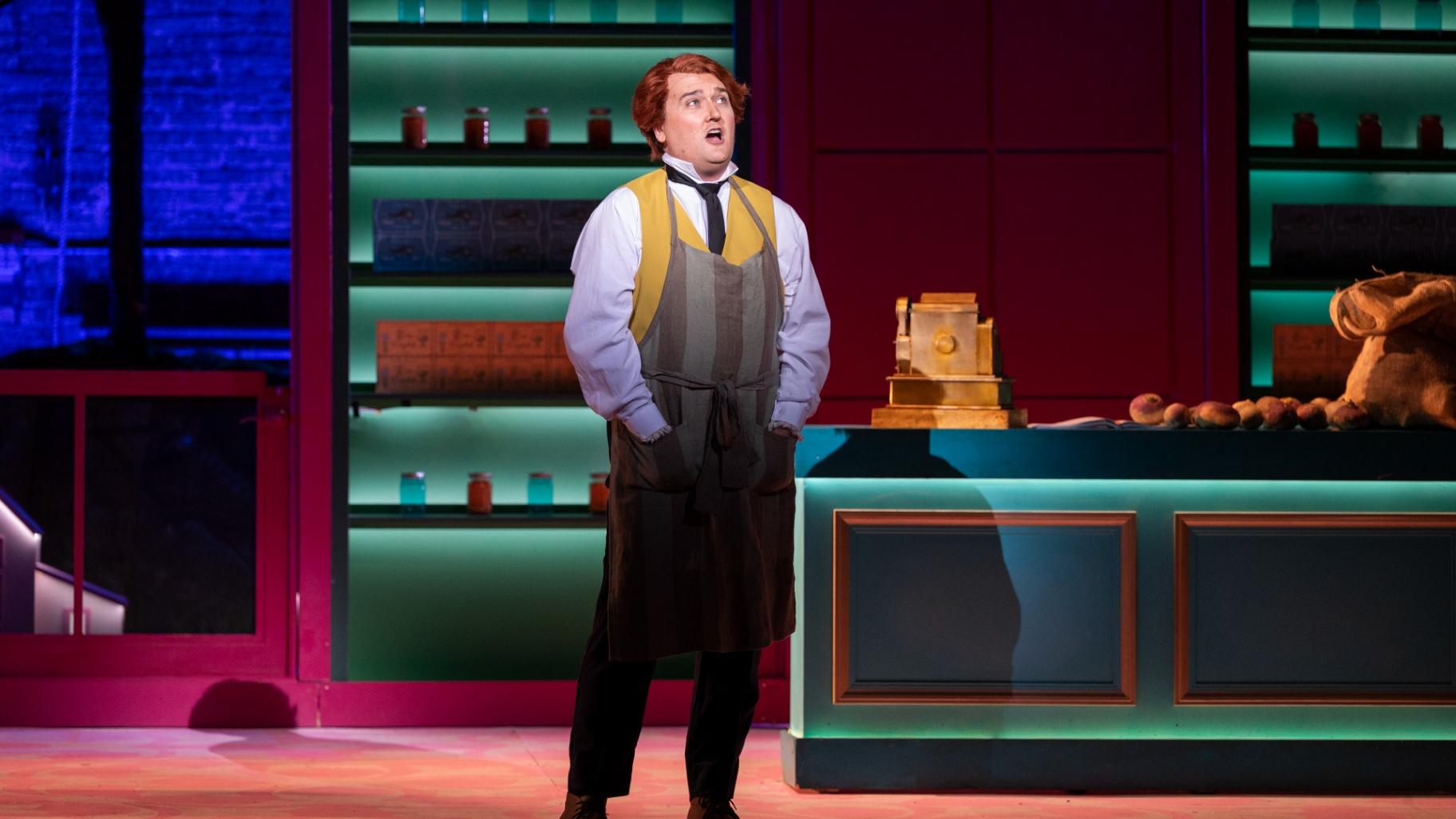 Miles Mykkanen in "Albert Herring." (Michael Brosilow)
It is at the May Day banquet that Albert's pouch of prize money and an infusion of rum into his lemonade finally embolden him to head out into the world and have some fun. His uncharacteristic disappearance that night spurs great fear in those who led the festival, but as it turns out, it was the evening of Albert's great liberation.
Throughout, British tropes of class status and hypocritical moral prudishness are at play. So is the potency of alcohol. And a trio of pre-teens (winningly played by Boya Wei, Corinne Costell and Casey Lyons) suggests how innocents observe the behavior of the adults around them.
Finally, of particular note is Irena Hadzi-Dordevic's rose-hued set that very cleverly shifts from Lady Billows' posh living room to the Herring grocery store to an elaborate banquet room.
Meanwhile, be sure to take note of COT's next production, "The Life and Death(s) of Alan Turing" (running March 23-25 at the Harris Theater). With music by Justine F. Chen and a libretto by David Simpatico, the opera captures the tragic life of Turing (1912-1954), a genius and pioneering computer scientist whose work helped save England from Nazi U-boats during World War II, but whose homosexuality led to forced chemical castration and what might have been suicide.
The last of the three performances of "Albert Herring" is at 3 p.m. Sunday, Jan. 29, at the Athenaeum Center for Thought and Culture, 2936 N. Southport Ave. For tickets, visit chicagooperatheater.org.
Follow Hedy Weiss on Twitter: @HedyWeissCritic
---