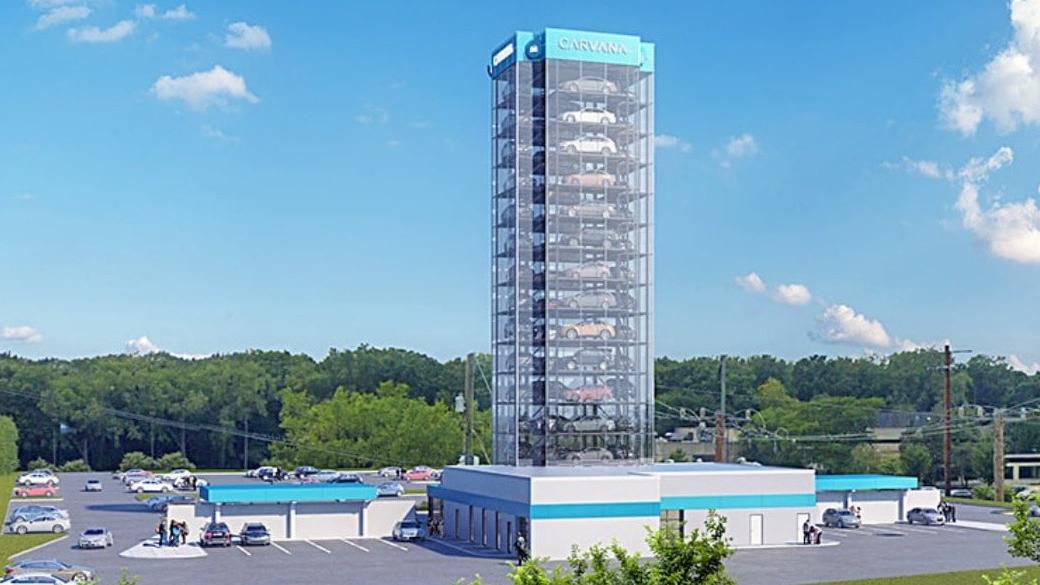 A rendering of Carvana's proposed 14-story tower in Skokie. (Facebook)
The Skokie Village Board of Trustees has repealed its approval of Carvana's 140-foot glass car vending machine.
In a letter sent to Carvana executives on Jan. 25, trustees stated that the approval, granted in February 2022, had expired.
"Since a period longer than 6 months has lapsed with none of this activity undertaken, the site plan approval ordinance has become invalid and will be repealed," the letter said. "A new request for site plan approval will be required at this time and the process to start anew."
Though the door is open for Carvana — an online retailer of used cars — to continue its pursuit of the Skokie site, trustees noted in their letter that ordinances passed in the last year would impact a new building permit application.
"Other Village Departments may have considerations with the project development including an assessment and demonstration of financial viability to perform and maintain the site," trustees added.
The decision by the Skokie board is just the latest setback for Carvana.
When the company originally applied in 2021 to build its tower in Skokie, Carvana was riding a wave of positive press and its future seemed bright. 
But the company hit a roadblock in Skokie.
Residents raised questions about Carvana's business practices, and environmentalists strongly objected to the location chosen for the tower — across the street from Harms Woods, a designated Illinois Nature Preserve situated along a key greenway for birds. A transparent high-rise, brightly illuminated 24/7, was a recipe for bird collisions, environmentalists said.
Despite overwhelming opposition, Skokie trustees ultimately approved Carvana's permit application, with multiple bird-friendly mitigations incorporated into the deal. But before the company could break ground, Carvana began to run afoul of regulators in several states, including Illinois.
Illinois suspended Carvana's license in May 2022, at which point, Skokie trustees pumped the brakes on Carvana's tower. No construction permits would be reviewed until Carvana resolved its issues with the state, trustees said.
On Jan. 24, Alexi Giannoulias, Illinois' newly sworn-in secretary of state, announced a settlement with Carvana, and Skokie trustees quickly followed with their notice of repeal.
Annette Prince, director of Chicago Bird Collision Monitors, told WTTW News the trustees' action was cause for cautious optimism.
"Hopefully all our hard work that went into opposing the Carvana tower design and developing bird safety standards will result in a good outcome," Prince said.
If Carvana does reapply for a permit, Prince said, "I am hopeful that Skokie will review such a request under serious bird strike mitigation considerations that either require the highest level of protection for birds from glass and lighting hazards or decide that the Carvana car vending tower does not belong in such an environmentally sensitive location in their village. Skokie has the opportunity ... to do the right thing for protecting birds."
Robert Kusel, the Skokie resident who first raised the alarm about the proposed tower's threat to birds, was cheered by the latest development.
"A 14-story all-glass and night-illuminated Carvana car vending machine tower across from the vulnerable Harms Woods Nature Preserve was always an odious and dangerous match, particularly for birds," Kusel said. "I'm delighted that Carvana's multi-state illegalities and financial peril offers Skokie's Board of Trustees a crucial opportunity to reconsider approval of the project."
Carvana did not immediately respond to a request for comment.
Contact Patty Wetli: @pattywetli | (773) 509-5623 |  [email protected]
---