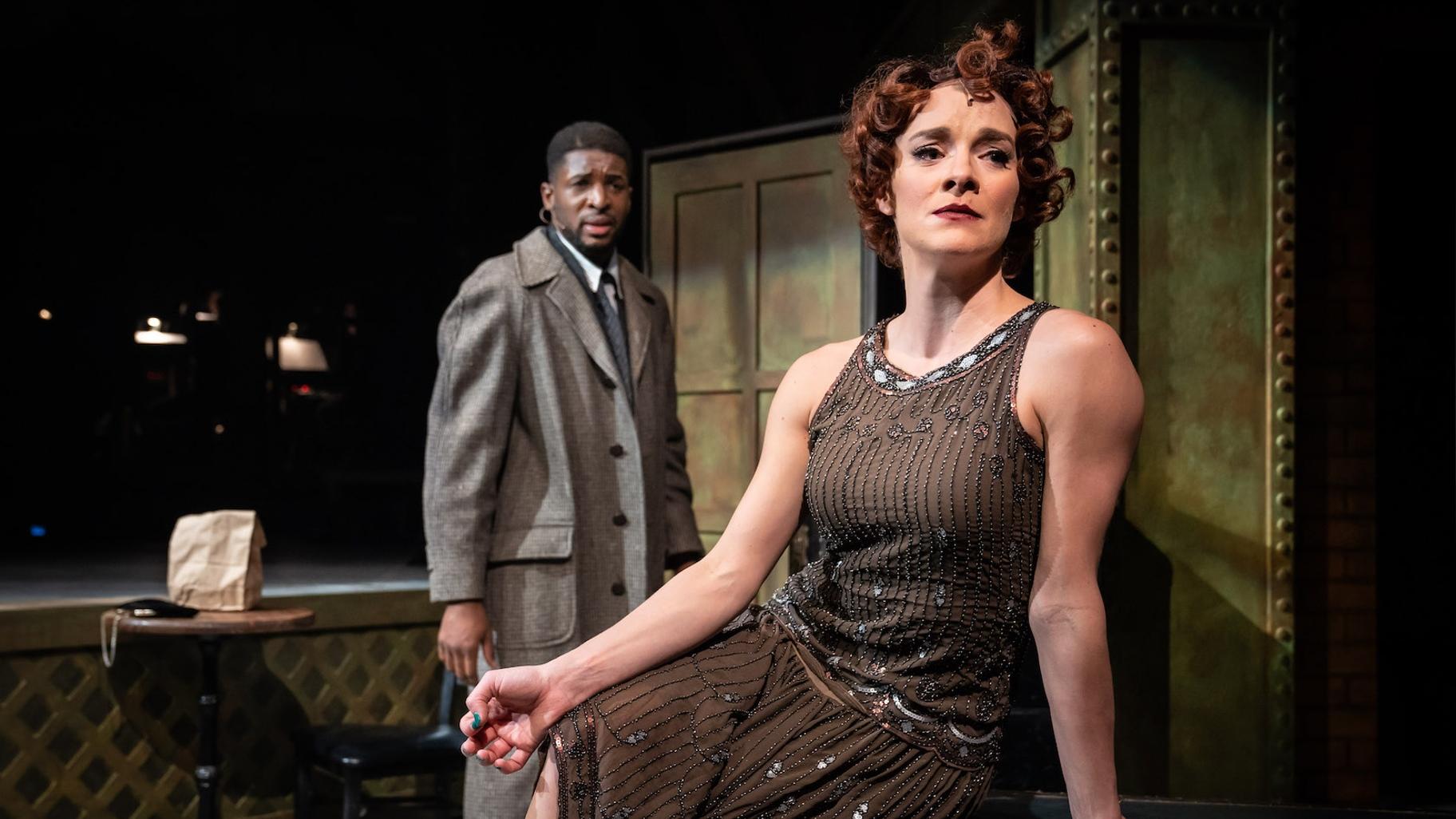 (Left to right) Gilbert Domally (Clifford Bradshaw) and Erica Stephan (Sally Bowles) in "Cabaret" from Porchlight Music Theatre. (Liz Lauren)
Read the headlines these days, and the sharply sardonic edge of "Cabaret," the stunning 1966 Tony Award-winning musical with an alternately blistering and heartbreaking score by John Kander and Fred Ebb, feels more chillingly ironic and on target than ever.
As Sally Bowles, the unapologetically free-spirited British performer at the center of the story, proclaims, "Life is a cabaret, old chum; come to the cabaret." Those lyrics suggest an escape by way of entering a world of decadence, debauchery and amusement. But, of course, life invariably rears its many ugly heads in the form of the most brutal warfare, rabid anti-Semitism, other forms of discrimination and a great deal more. And Porchlight Music Theatre's knockout revival of the show is an absolute stunner. It's driven by Michael Weber's razor-sharp direction, the highly charged choreography of associate director and choreographer Brenda Didier, the impeccable music direction of Linda Madonia and an altogether remarkable cast backed by a six-piece band.
What also drives this show is its sharply character-defining book by Joe Masteroff that was based on John Van Druten's 1951 play, "I Am a Camera." The initial source was "Goodbye to Berlin," Christopher Isherwood's semi-autobiographical 1939 novel, which captured the brashly free-spirited and short-lived Weimar Republic era in Germany in the years between the end of World War I and the rise of the Nazi regime.
At the musical's center is the sexually charged nightlife at the notably raunchy Kit Kat Klub in Berlin, where scantily costumed and suggestive women (some of whom work as prostitutes on the side) sing and dance along with a group of gay chorus boys. This also is where Sally Bowles (Erica Stephan), the adventurous English singer, is the star performer, and where a savvy, teasing master of ceremonies (Josh Walker) supplies just the right ironic edge to all the activity.
On the more domestic front there is Fraulein Schneider (Mary Robin Roth), a strong-willed German woman who runs a boarding house that she tries (in vain) to keep free of prostitutes. There she drives a hard bargain with a visiting American writer, Clifford Bradshaw (Gilbert Domally), who has come to Berlin in a desperate attempt to ignite inspiration for his novel. Meanwhile, Schneider is being courted by the gentlemanly Herr Schultz (Mark David Kaplan), a widower and fruit vendor who happens to be Jewish.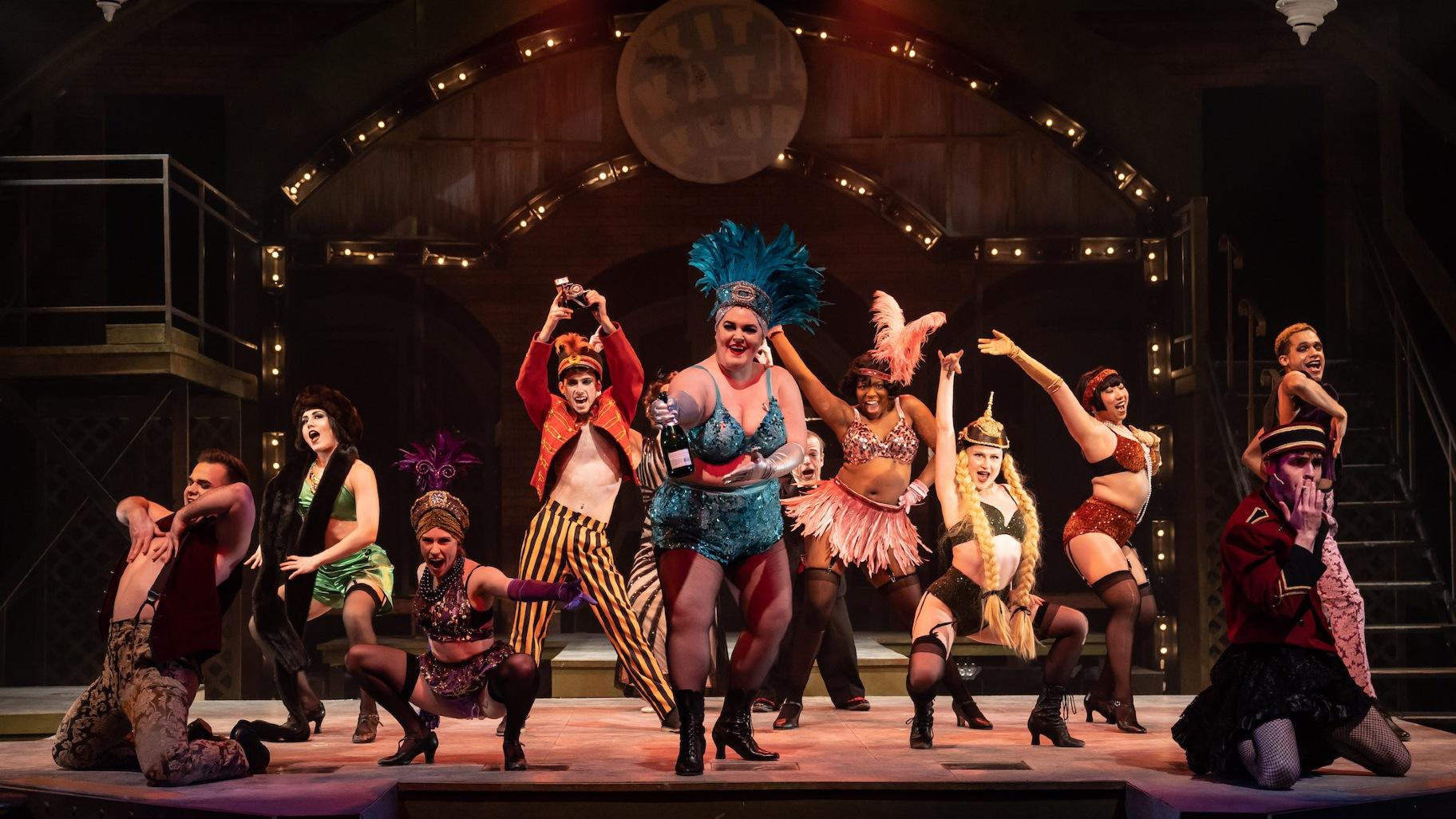 (center) Neala Barron (Fräulein "Fritzie" Kost) and cast members of "Cabaret" from Porchlight Music Theatre. (Liz Lauren)
Weber's casting of "Cabaret" could not be more ideal, with outstanding performances by Stephan as the power-voiced, strong-willed, opportunistic Bowles; the elegant Domally (who happens to be Black), as the sexually fluid Bradshaw, who ultimately sees the political writing on the wall; Roth as the fiercely self-protective Fraulein Schneider; Kaplan as her warm-hearted and determined suitor who doesn't quite see the full threat of the emerging Nazi onslaught; and Walker, the physically diminutive but immensely engaging emcee who brings just the right edge to the time and place and dangerous political change he is witnessing.
Didier's unabashedly sexually charged choreography for the chorus girls of all shapes and sizes (outfitted in Bill Morey's suggestive costumes), along with the acrobatic male dancers and singers, sets the tone of the Kit Kat Klub. And Angela Weber Miller's multi-level set deftly suggests the public and private worlds of the story.
One final note: If, like me, you have seen both the original Broadway production (with the amazing Joel Grey as the emcee and Lotte Lenya as Fraulein Schneider), as well as the film version (starring Grey, with Liza Minnelli as Sally Bowles), you will be fascinated by the powerful realism and intimacy of this Porchlight production. I definitely recommend that you come to this "Cabaret."
"Cabaret" runs through Feb. 12 at the Ruth Page Center for the Arts, 1016 N. Dearborn St. For tickets to the musical — as well as two special performances (Feb. 8 and 9) of Van Druten's rarely revived play, "I Am a Camera," to be directed by Nate Cohen — visit PorchlightMusicTheatre.org or call (773) 777-9884.
Follow Hedy Weiss on Twitter: @HedyWeissCritic
---