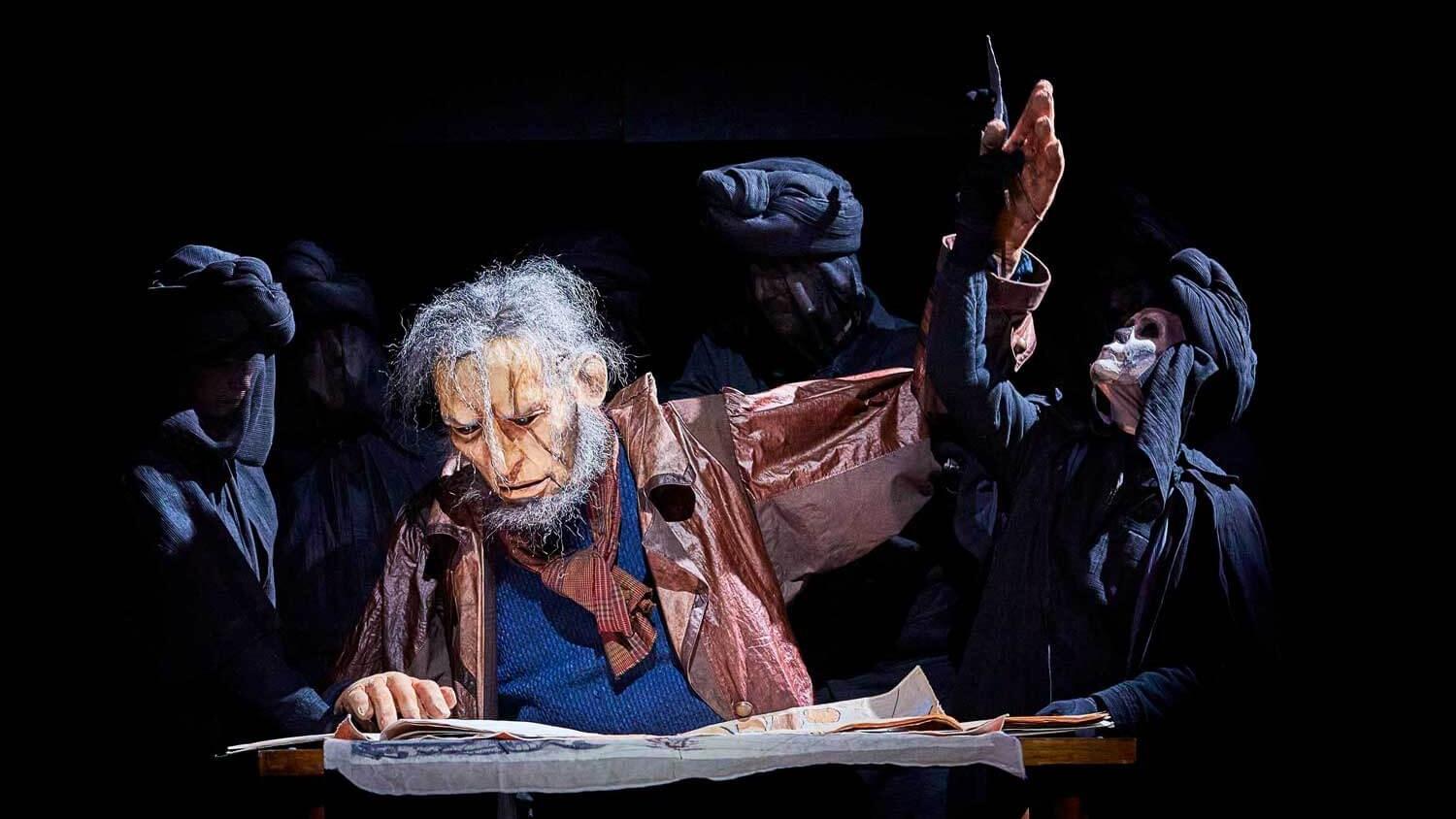 A take on "Moby Dick" opened the Chicago International Puppet Festival. (Credit: Christopher Raynaud deLage)
If you think of puppetry as simply an intimate form of theater in which several hand puppets or a group of marionettes manipulated by strings perform on a small, box-like stage, the Chicago International Puppet Theater Festival will unquestionably change your conception.
For not only does this grand-scale festival celebrate an ancient art form and pay homage to the past, but it also serves as a fascinating showcase of all that is new.
The many live productions, and a slew of other events and exhibits that comprise this year's festival, which runs through Jan. 29 at a variety of venues throughout the city, opened this past Wednesday to a sold-out house at the handsome Studebaker Theater in The Fine Arts Building. And it did so with a notably monumental, intensely dramatic, and elaborate multimedia take on "Moby Dick," the Herman Melville classic about Ahab, the aging sea captain who is wholly obsessed with heading back to sea to kill the great white whale that left him with an amputated leg.
Also on board for that journey is Ishmael, a younger man who serves as narrator of the story, and who confesses that he has signed on to the whaling ship as a form of escape from his deep disillusionment with life. He is joined by Starbuck, the ship's serious-minded first mate and a rather rag-tag crew.
This remarkable, grand-scale spectacle, created by director Yngvild Aspeli and her Norwegian/French theater company, Plexus Polaire, involves seven actors, 50 puppets (many life-size or larger), scenography by Elisabeth Holager Lund, an onstage trio of musicians, and the use of complex video projections (designed by David Lejard-Ruffet) that conjure a sense of the ocean.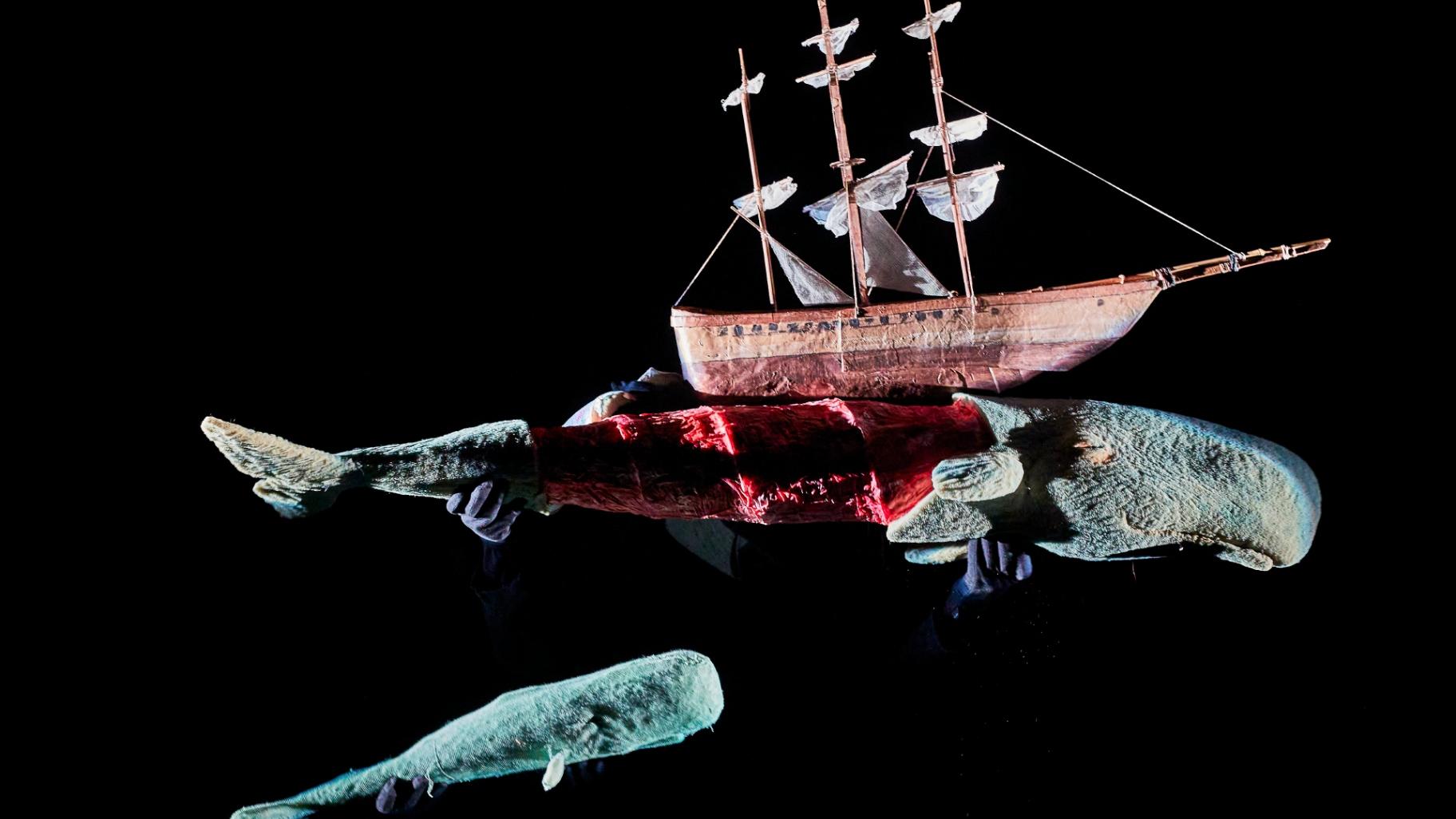 A take on "Moby Dick" opened the Chicago International Puppet Festival. (Credit: Christopher Raynaud deLage)
There is a seamless motion created by both the storytelling and the manipulation of the highly expressive life-size marionettes. And the arrival and brutal dissection of the reviled whale are powerfully conjured.
What was especially intriguing about this production was the way the actors and puppeteers so convincingly captured the existential drama that drives Melville's principal characters.
Blair Thomas, the artistic director of this festival he founded in 2015 (following a long history as a producer and creator of spectacles with his former collaborator, Frank Maugeri, the artistic director of Cabinet of Curiosity) makes no small plans.
If you attend some of the other shows staged at the Fine Arts Building, 410 S. Michigan Ave., be sure to visit the Puppet Hub exhibitions that have been set up in several rooms. They feature "American Puppet Theater Today: The Photography of Richard Termine;" "The Art of Basil Twist" (the puppet artist who contributed to the Joffrey Ballet's irresistible production of "The Nutcracker"), and "Motel," a small room-size "static puppet show."
For the full schedule of the more than 100 different productions and events at 11 different venues visit: chicagopuppetfest.org.
Follow Hedy Weiss on Twitter: @HedyWeissCritic
---