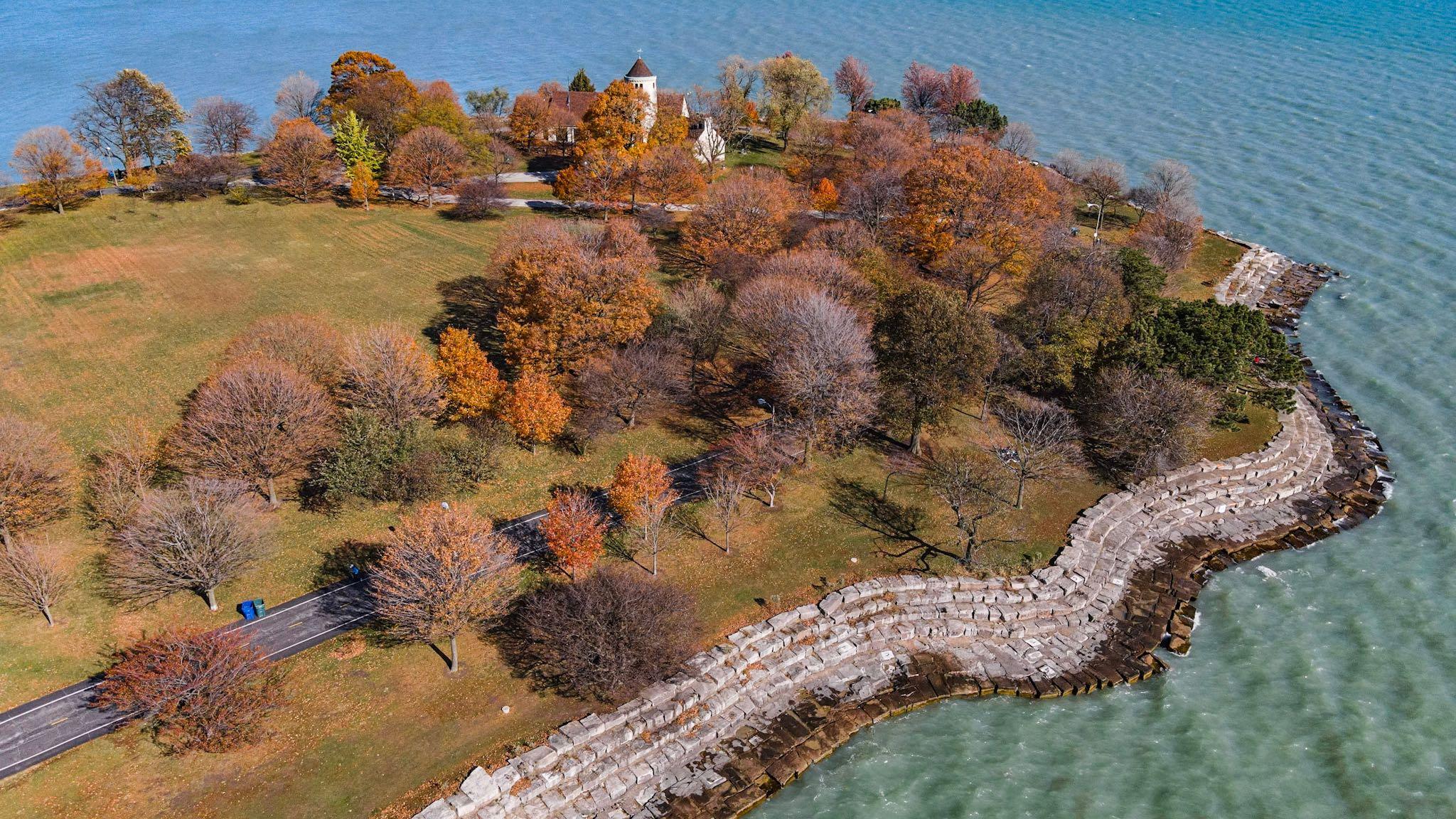 Promontory Point, on the south lakefront, is beloved for its natural aesthetic, designed by noted landscape architect Alfred Caldwell in 1937. (Preservation Chicago / Eric Allix Rogers)
Supporters of Promontory Point are inching toward greater protections for the lakefront peninsula's beloved rustic charm, having won a preliminary landmark recommendation hearing in front of the Commission on Chicago Landmarks.
The hearing, set for Thursday, is the first step on the road to obtaining city landmark status for the Point, which juts out into Lake Michigan between 54th and 56th streets. The designation would provide added safeguards against demolition of features like the Point's limestone stair-step revetment, built by the Works Progress Administration in the 1930s.   
Champions of the Point have spent more than 20 years beating back proposals to swap out the limestone for concrete. They've long argued that repair, restoration or rehabilitation is not only possible but is as effective a shoreline protection and less costly than the concrete solution the Army Corps of Engineers used elsewhere on the lakefront.
"The limestone, step-stone revetment still functions after 85 years and little maintenace. This tells us that the original design of the Point's revetment can remain the design for fixing and maintaining it and this design makes genuine preservation completely feasible," the Promontory Point Conservancy wrote in an email announcing the upcoming hearing.
In fall 2022, the Promontory Point Conservancy hired historian Julia Bachrach to prepare the preliminary recommendation report, which the commission has agreed to review.
The conservancy formed in 2001, when the prospect of removing the limestone first reared its head, and in 2017-2018, the group successfully spearheaded the listing of the Point on the National Register of Historic Places. 
Concerns that the Point's limestone might once again be at risk surfaced in the wake of record high lake levels and subsequent erosion of Chicago's shoreline in 2020 and 2021. The Army Corps received funding in early 2022 to undertake a fresh study of the lakefront's protections, setting preservationists on high alert.
The push for a hearing in front of the landmarks commission kicked into high gear in November. According to the conservancy, more than 600 people wrote to the commission on behalf of the Point.
Federal legislation passed at the end of 2022 mandates that a "locally preferred plan" for shoreline protection take precedence over the Army Corps'. While "locally preferred" encompasses groups like Promontory Point Conservancy and Preservation Chicago, it also includes input from the city of Chicago and the Chicago Park District.
Thursday's commission hearing will be livestreamed beginning at 12:45 p.m. The agenda is available online.
Contact Patty Wetli: @pattywetli | (773) 509-5623 |  [email protected]
---