Preservation Chicago has announced its annual list of the most endangered buildings and landscapes, each of which represents a piece of the city's history threatened with imminent erasure.
Some of that history is relatively recent, with buildings that contribute an understanding of Chicago's post-World War II growth beginning to disappear. Rather than lose these links to different points in the city's past, be it the 1870s or the 1970s, Preservation Chicago argues the buildings are deserving of a second act. 
"We have hope for our city that these places can be reused, repurposed and protected, making them a cornerstone to grow communities sensitively and holistically," said Ward Miller, executive director of Preservation Chicago, in a statement.
The list was begun in 2003 to sound the alarm and rally support for buildings in danger of demolition. Here are 2022's most endangered:  
1. Century Building, Consumers Building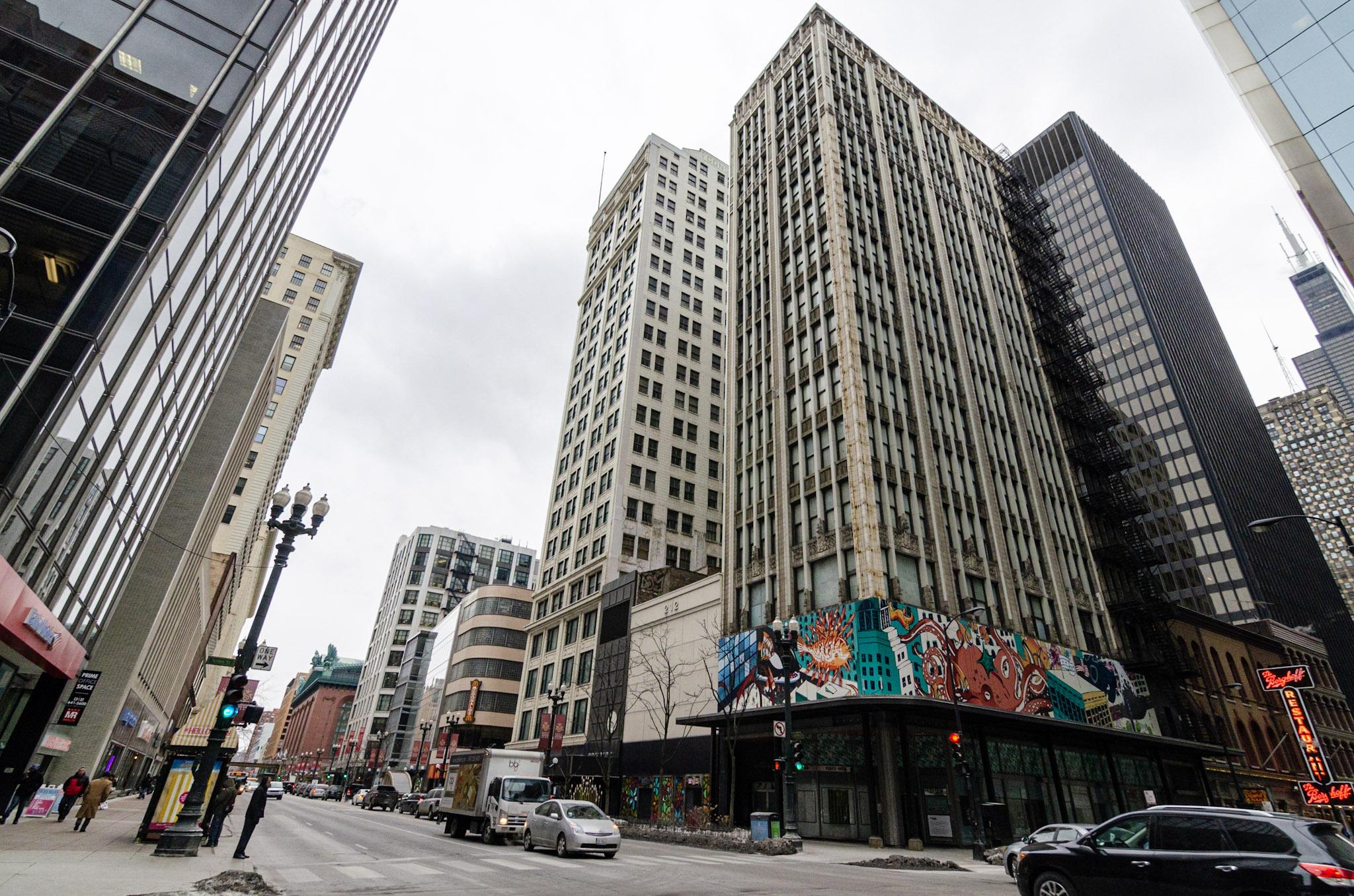 The Century Building, 202 S. State St., built in 1915, architects Holabird and Roche. Consumers Building, 220 S. State St., built in 1913, architects Jenney, Mundie and Jensen. (Preservation Chicago / Eric Allix Rogers)
Once home to small businesses, offices and showrooms, the Century and Consumers buildings were taken over, via eminent domain, by the federal government in 2005 due to post-9/11 security concerns related to their proximity to the Chicago Federal Center. 
Deferred mainenance and vacancy have led to slow deterioration, and funds to demolish the buildings have been earmarked in the federal infrastructure bill, according to Preservation Chicago. The aforementioned security issues have made it difficult to propose alternative uses for the buildings, but Preservation Chicago has pulled together a coalition interested in creating a national archive center to be known as the Chicago Archives Center.
---
2. Public Housing Sites
Altgeld Gardens "Up-Top" commercial building, Keck & Keck, 1946; Cabrini rowhouses; Lathrop Homes-South Campus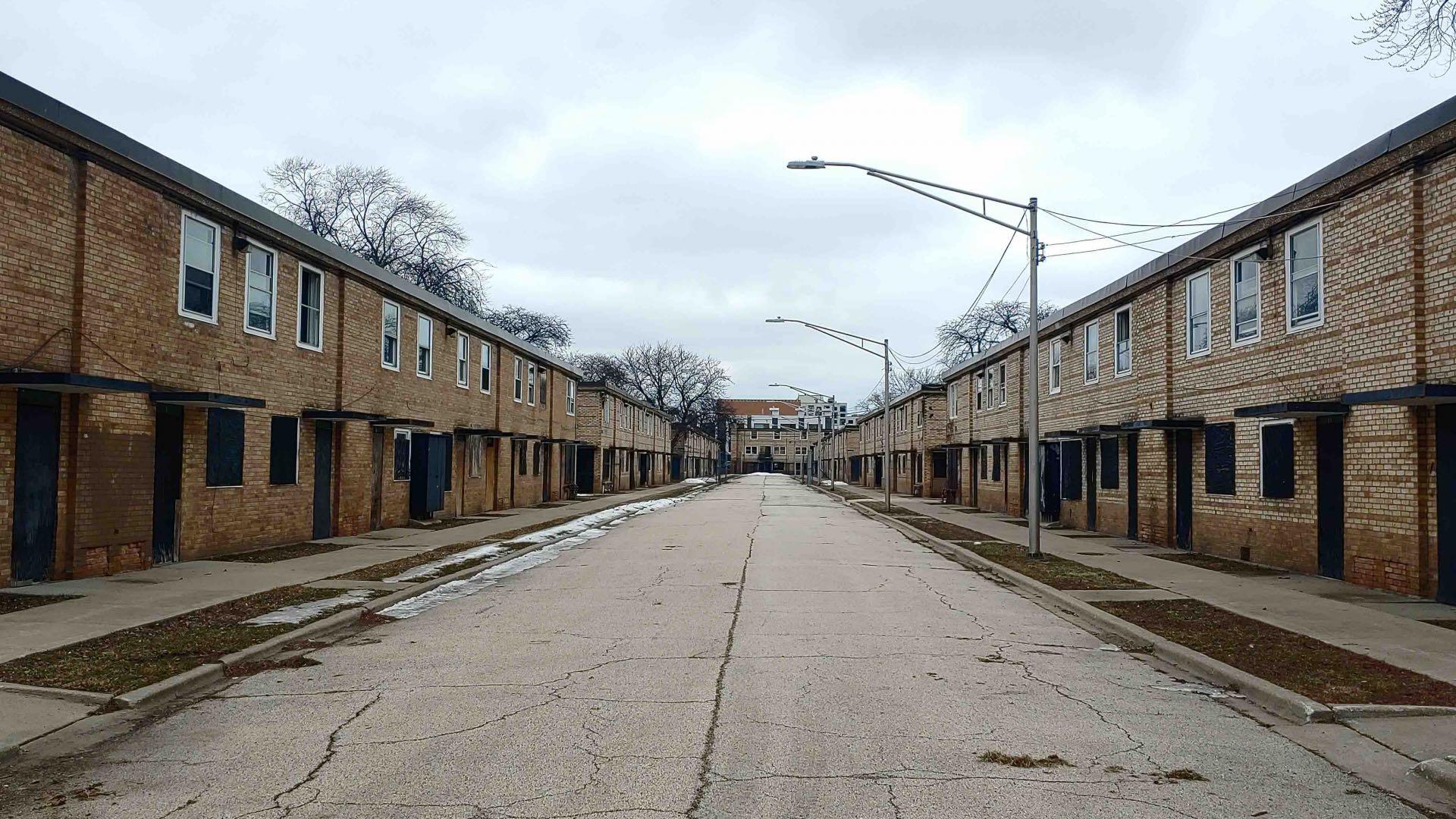 Cabrini rowhouses. (Preservation Chicago / Ward Miller)
The Chicago Housing Authority is neglecting some of its historic resources and developments, leaving much needed affordable housing units vacant and languishing, according to Preservation Chicago.
The organization is calling for the restoration of structures including: Altgeld Gardens curvilinear "Up-Top" commercial building; Cabrini rowhouses, fewer than 150 of which have been restored out of nearly 600; and Lathrop's south campus, where renovations have stalled.
---
3. St. Martin de Tours Church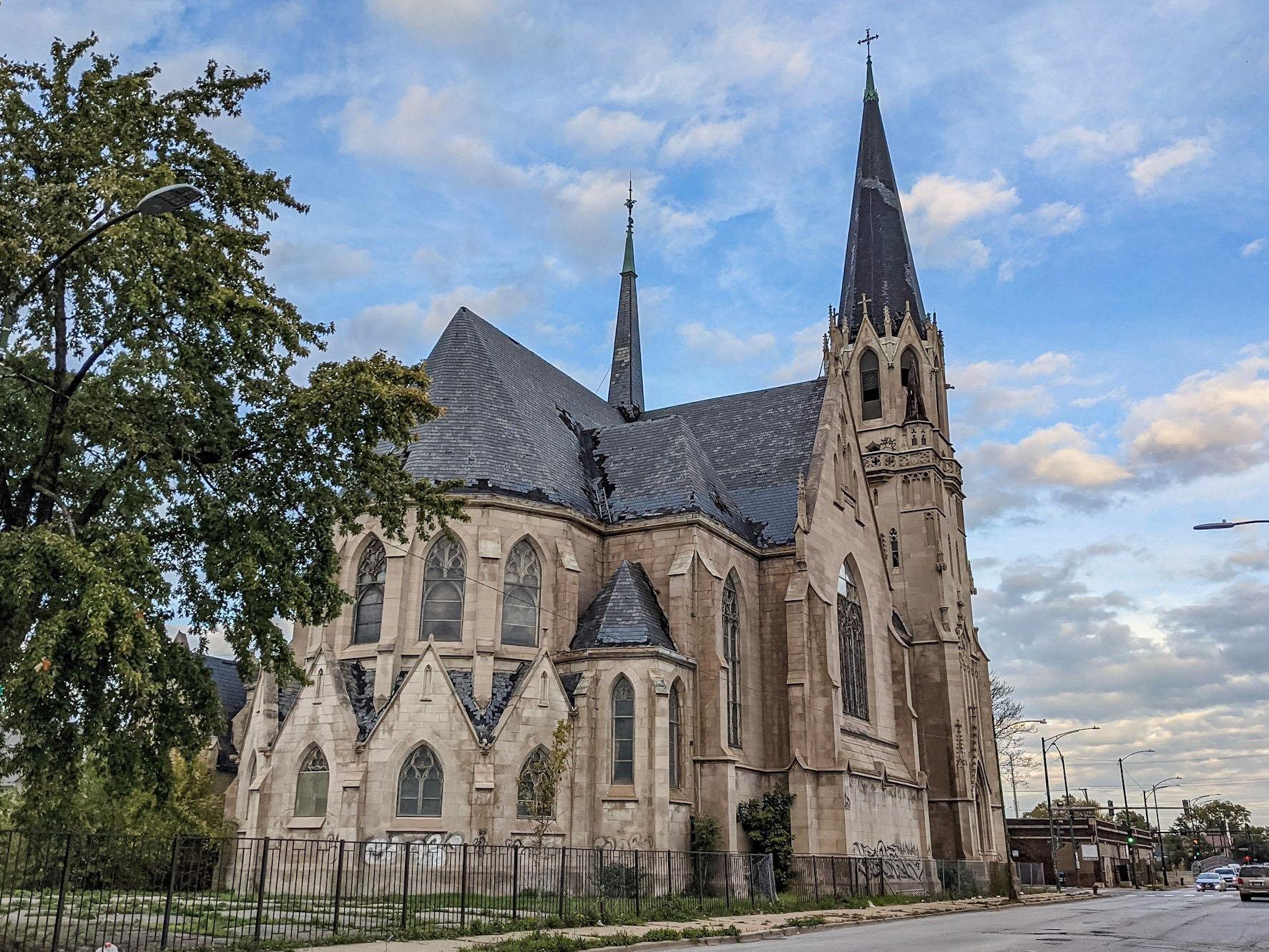 St. Martin de Tours Church, 5848 S. Princeton Ave., built 1895, architect Henry J. Schlacks. (Preservation Chicago / Eric Allix Rogers)
The church, built in 1895, first served a community of German immigrants in Englewood and later became a thriving Black parish before closing in 1989. The building has since deteriorated, but with intervention could become a creative incubator space, Preservation Chicago said. 
The organization envisions smaller-scale arts education, exhibits and performances, along with a retail space for local artisans and craftspeople. A parking lot could be turned into green space for native plants and community garden plots.
---
4. Peterson Avenue Midcentury Modern District
Between Pulaski Road and Oakley Avenue; c.1950 - c.1970; various architects, including Skidmore, Owings and Merill and Perkins & Will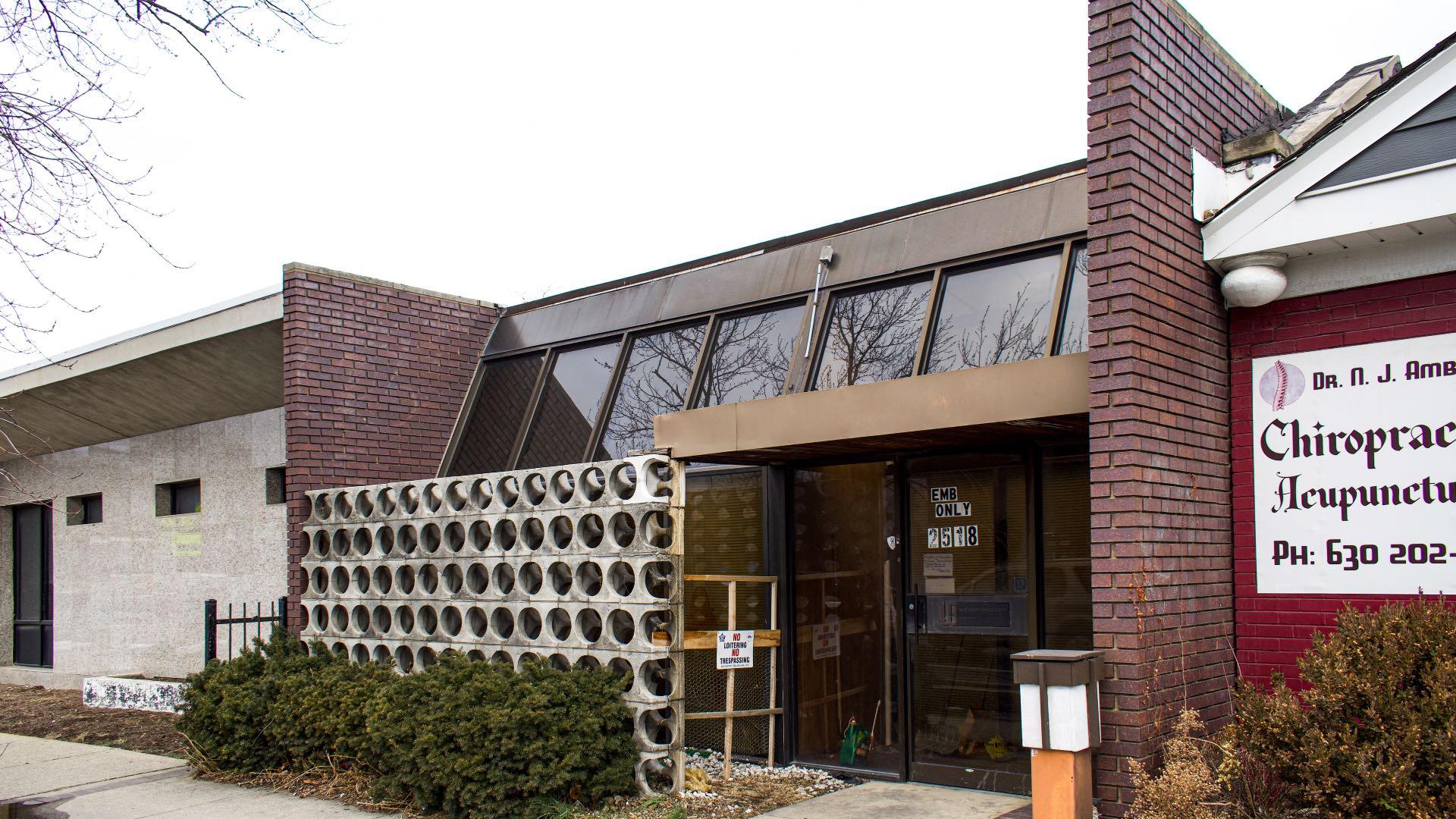 Built during a post-World War II construction boom, this two-mile stretch of Peterson Avenue on the North Side boasts one of the finest collections of midcentury modern architecture in the city, Preservation Chicago said. Yet some buildings have already been razed, while others suffer from neglect, abandonment or altered facades.
None of the buildings are protected by landmark status, nor are any listed in the Chicago Historic Resources Survey, which is the latest example of why the survey needs to be updated, Preservation Chicago said. The survey was completed in 1995 and only covered buildings constructed before 1940, leaving out not only midcentury gems but also representatives of architecture movements such as modernism, postmodernism, new formalism and brutalism.
"Over 80 years of Chicago's architectural history is deemed unworthy of historic consideration," Preservation Chicago said. "By updating the (survey), the city of Chicago can grant decades worth of Chicago buildings the ability to be placed on a 90-day demolition hold ... while also acknowledging that Chicago's architecture during the second half of the 20th Century is just as historic as that which came before it."
---
5. Promontory Point
Chicago lakefront between 54th and 56th streets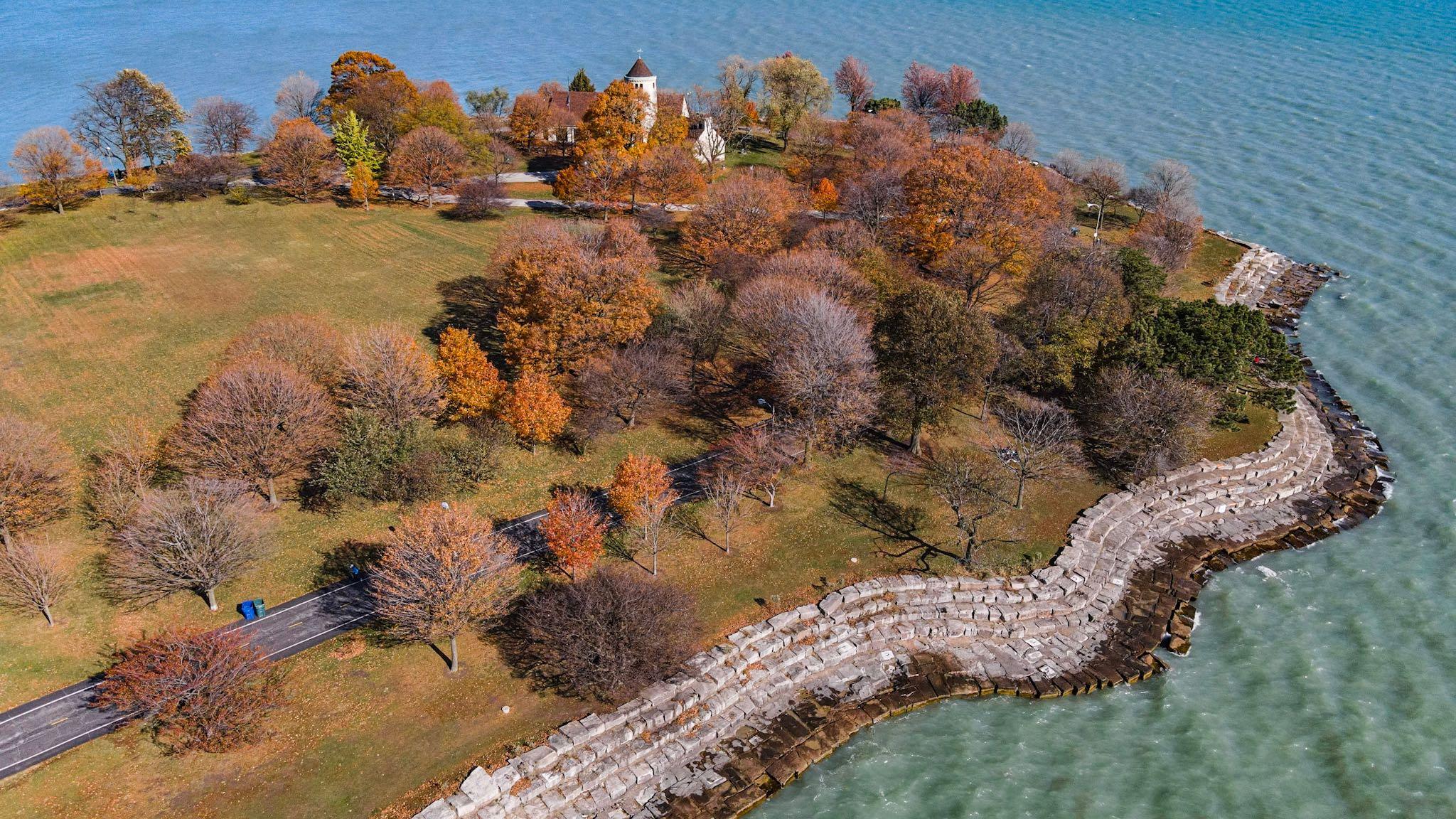 Promontory Point, on the south lakefront, is beloved for its natural aesthetic, designed by noted landscape architect Alfred Caldwell in 1937. (Preservation Chicago / Eric Allix Rogers)
A plan has once again reared its head to replace Promontory Point's historic limestone revetment with concrete.
Well-organized community members have beat back previous attempts to remove the limestone and are mobilizing again to protect the park's natural aesthetic. They've put forward their own proposal to repair and rehabilitate the limestone, which Preservation Chicago supports.
---
6. Central Park Theater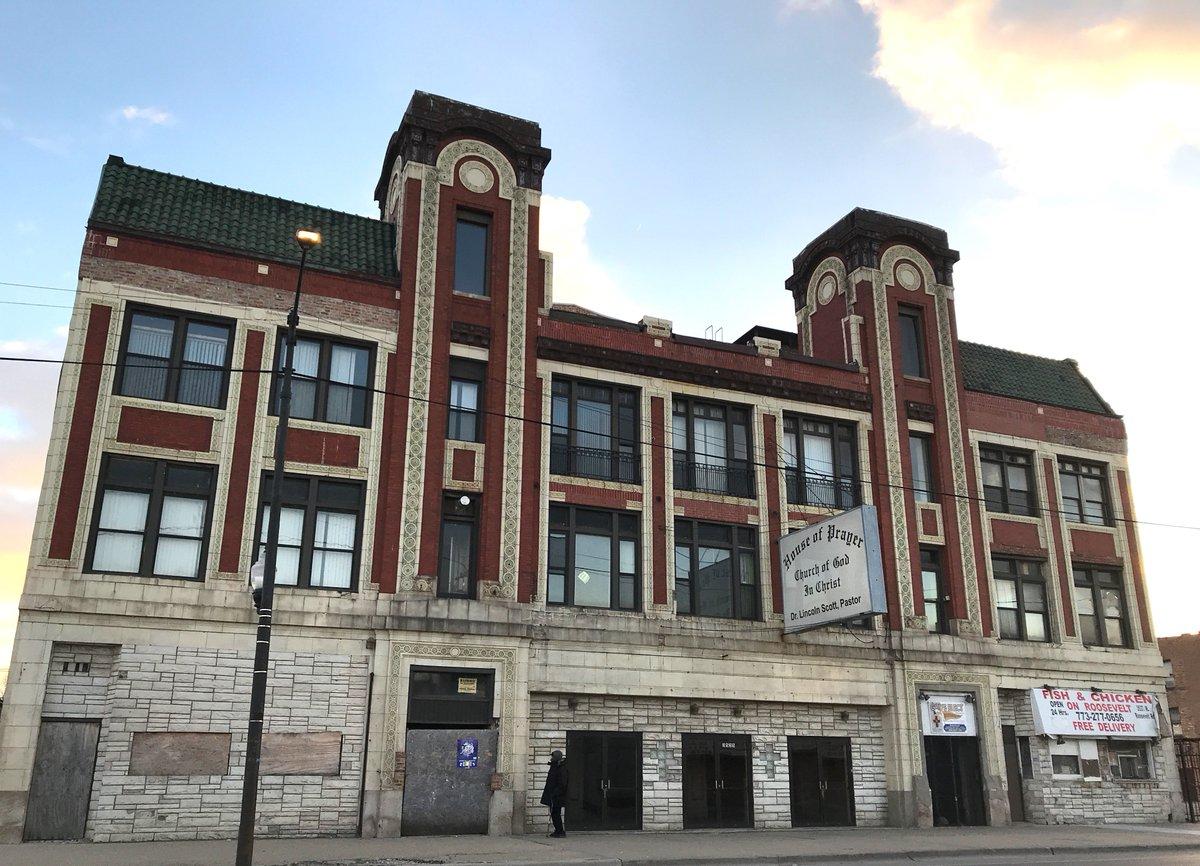 Central Park Theater, 3535 W. Roosevelt Road in North Lawndale. (Preservation Chicago / Deborah Mercer)
The Central Park Theater, built in 1917, represents the first partnership between famed theater developers Balaban and Katz and architects Rapp and Rapp, who would go on to collaborate on the Chicago Theatre and Uptown Theatre.
"It is logical and reasonable to landmark the one theater that precedes them all," said Preservation Chicago.
The theater closed in 1971 and has been cared for by the House of Prayer Church of God in Christ, but the amount of restoration needed is mounting. The community vision is for a cultural center with concerts and programs in the auditorium, cultural tenants and retail uses.
---
7. North DuSable Lake Shore Drive
Grand to Hollywood avenues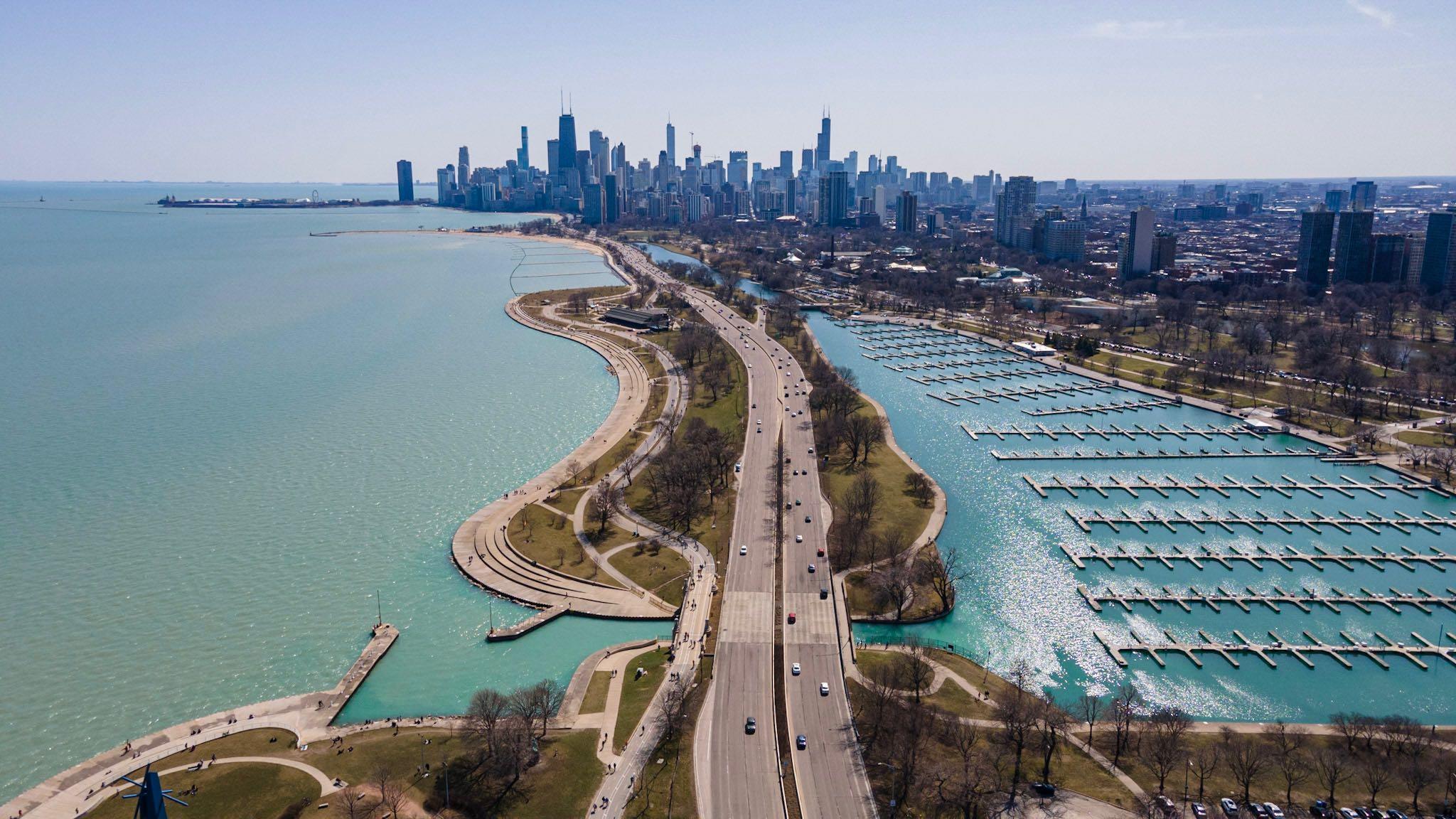 North DuSable Lake Shore Drive, already more highway than pastoral boulevard. (Preservation Chicago / Eric Allix Rogers)
DuSable Lake Shore Drive, as it exists today, is already a far cry from the pastoral boulevard it once was. A plan is afoot to further reimagine the north end of the drive, which Preservation Chicago has deemed "at its core, a highway project."
"To impose interstate highway standards on North DuSable Lake Shore Drive would fundamentally change the character of this important and historic parkway," the organization said. "Preservation Chicago would like to see no widening to the existing roadway. We would like to see the existing historic Art Deco bridges restored. We would especially like to see the existing green medians and mature trees protected and maintained."
---
8. Moody Triangle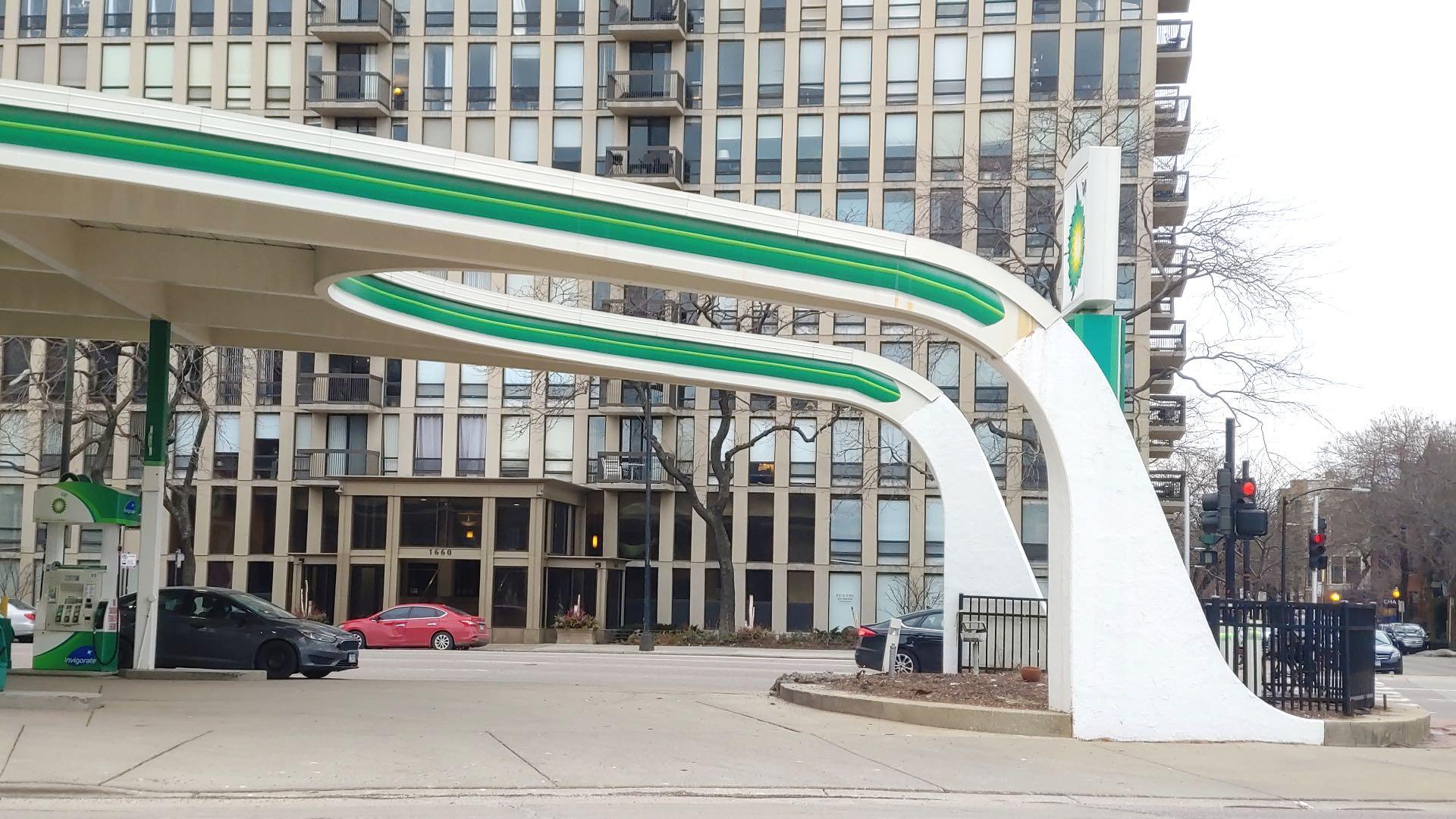 This unique BP service station in Old Town, dating to 1971, is threatened by potential expansion of the Moody Church campus. (Preservation Chicago / Ward Miller)
The triangle site, which fronts Lincoln Park and the Chicago History Museum, has recently been tipped for potential redevelopment by Moody Church.
A number of noteworthy buildings could face demolition, including the Moody Memorial Church, which dates to 1925, and a unique BP service station that's perhaps the least "Old Town" building in Old Town, with its sweeping space-age curve, built in 1971.
Contact Patty Wetli: @pattywetli | (773) 509-5623 |  [email protected]
---