Conductor Marin Alsop leads the CSO and soloist Awadagin Pratt in the Orchestra's first performance of CSO Mead Composer-in-Residence Jessie Montgomery's Rounds for Piano and String Orchestra. January 6, 2023. (Todd Rosenberg)
Clara Schumann, Fanny Mendelssohn and a good number of other gifted but rarely acknowledged female composers of centuries past might well have been smiling from afar Friday evening as the Chicago Symphony Orchestra, led by conductor Marin Alsop, performed a program of three works by immensely gifted contemporary female composers.
Opening the concert was "This Midnight Hour," a brief but brilliant work by Anna Clyne, a British-born composer who served as composer-in-residence with the CSO from 2010 to 2015. Its intoxicating 12 minutes is inspired by both a single line penned by the Nobel Prize-winning Spanish poet Juan Ramón Jiménez ("Music, a naked woman running mad through the pure night!") and "Evening Symphony" a feverish love poem by the French master Charles Baudelaire that ends with these words: "Your memory in me glitters like a monstrance."
The intense, high-energy opening of Clyne's piece draws on the beauty of the orchestra's lower strings and then expands into a stormy, high-energy riff that hints of impending danger. It generates a wonderful, sweeping sense of excitement and mystery with the addition of the brass, winds, drum and timpani, and overall, has the feel of a cinematic score full of high drama. The mood shifts are swift and seamless throughout, with a mournful, elegiac passage and sense of calm, the beautiful sounding of the brass and finally a great bang on timpani. Magic.
Next came "Rounds," a remarkable work for string orchestra and solo piano composed in 2022 by New York-bred Jessie Montgomery (the CSO's current composer-in-residence, who also happens to be a gifted violinist). It was driven by a breathtaking performance from the award-winning pianist Awadagin Pratt.
The piece also was inspired by poetry, drawn from a section of T.S. Eliot's epic "Four Quartets." And while Eliot's words are neither sung nor spoken (they appear only in a program note), Montgomery's piece captures the essence of these lines: "Neither ascent nor decline. Except for the point, the still point. There would be no dance, and there is only the dance." (By the time the piece was over, I could only fervently wish that a gifted choreographer and dance company might grab hold of this 15-minute work and bring yet another dimension to its wonderfully dynamic, mood-shifting, fiercely modern quality.)
"Rounds" opens with the piano at high speed and is then joined by the strings with a palpable urgency and great fluidity and dramatic intensity. Then there is a momentary pause and a delicate riff of otherworldly lyricism by both the piano and strings that soon grows darker, even more intense and more interior.
At one point, Pratt's somewhat improvised bravura work on the piano — fast and ferocious, with a brief teasing plucking on the soundboard under the lid — served as yet another element in his dramatic performance that, like Montgomery's score, alternated between the dreamy and the frantic before leading to a dramatic finale.
The second half of the concert was devoted entirely to "Her Story," a highly theatrical and politically charged 40-minute oratorio created last year by the American composer Julia Wolfe (winner of a Pulitzer Prize for Music in 2015).
Scored for a full orchestra, as well as electric guitars, "Her Story" featured 10 female vocalists of the Lorelei Ensemble, who were amplified and initially positioned on the terrace above the stage, then placed throughout the orchestra and finally gathered in a line downstage.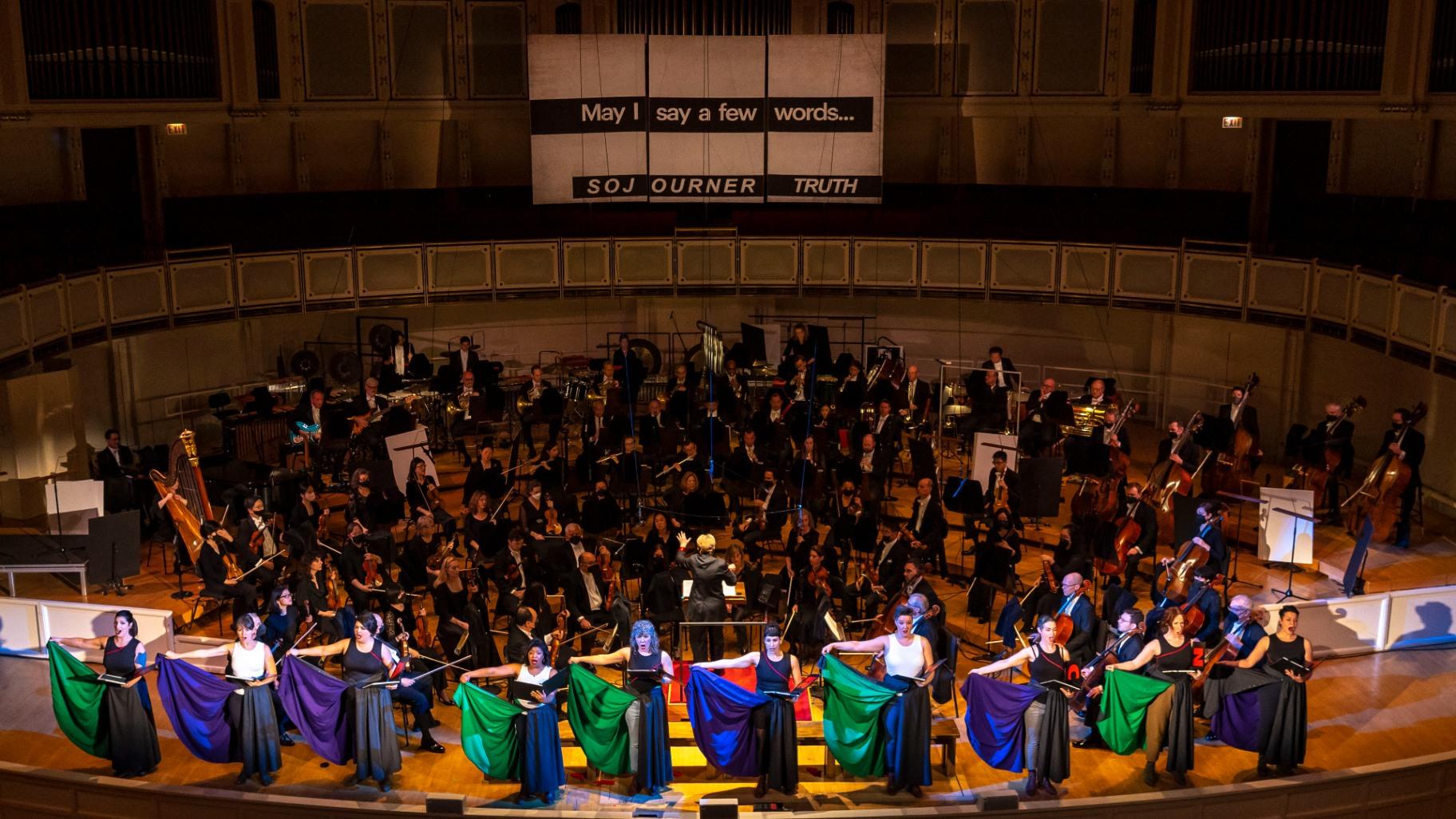 Conductor Marin Alsop led the Chicago Symphony Orchestra's first performance and the Chicago premiere of Julia Wolfe's Her Story featuring the Lorelei Ensemble. Her Story is a co-commission of 5 U.S. orchestras – the Nashville Symphony Orchestra, Chicago Symphony Orchestra, Boston Symphony Orchestra, San Francisco Symphony and National Symphony. The CSO's co-commission of Her Story is made possible through generous support of the Helen Zell Commissioning Program. January 6, 2023. (Todd Rosenberg)
The work draws on historical texts. First there is the letter that Abigail Adams sent to her husband, John, a founding father and future president who helped draft the Declaration of Independence, in which she advised him of the importance of assuring women's rights. Then there is the adoption of the better-late-than-never 19th Amendment to the U.S. Constitution that secured women's suffrage. And finally there are the winningly impassioned words of the slave-turned-suffragist, Sojourner Truth.
As dramatic and eloquent as all this might be, in the wake of a week of endless political bickering in Congress, plus years of political chaos and feminist outrage, "Her Story" was something less than revelatory. And I left Orchestra Hall thinking this is a work that would now be most effective were it somehow secretly streamed to the women of Afghanistan. (A dream, to be sure.)
All three works in this concert were met by effusive applause, with each of the three composers taking their bows while also paying reverence to both Alsop and the ever-brilliant musicians of the CSO.
Follow Hedy Weiss on Twitter: @HedyWeissCritic
---