Candles and other home products made by two local social enterprise organizations are among the goods that do good on offer at the Chicago Fair Trade pop-up holiday market through Dec. 24.
Chicago Fair Trade Executive Director Katherine Bissell Cordova says you can knock a lot off your list in one stop at their shop. "We've got 7,500 square feet of fair trade products – coffees, teas, chocolates, cookies, salts, clothing, jewelry, scarves, hats, mittens, gloves."
"Most trade is very unfair, 99% of trade, the bottom line is just to make as much money as you possibly can. With fair trade, it turns that upside down," she says. "Everyone along the supply chain is treated fairly and with respect."
Among the Chicago Fair Trade social enterprise vendors are Bright Endeavors and HHP Lift. Both organizations employ young people to make home goods while learning crucial employment skills.
"The moms that we serve are between the ages of 18 to 24, and for most of those young moms this is their first job," said Gabrielle Caverl-McNeal, director of workforce development at New Moms, which partners with the Bright Endeavors program. "They really get to come into a safe place to really expand their workplace skills, really learn about their executive skills, and build social capital with other moms. And they are paid to do that work and so that really advances our moms towards economic mobility and career growth."
"For me, they supported me a lot, and that support system, I call it my little motherhood, sisterhood, that's what you need to get going," said Bright Endeavors alumna Daja Reid. "You never know what no one's going through, but when you walk through the Bright Endeavors doors, it's like a ball of sunshine."
The Chicago Fair Trade pop-up holiday market runs through Dec. 24 at 1457 N. Halsted. (WTTW News)
Similarly, HHP Lift offers young men social-emotional support and skill development while also employing them to create home and self-care products.
"They get a chance to learn the process of actually making something from scratch with their own efforts, providing them opportunity to see that they are cared for, that they are thought of, that there are opportunities," said Samuel Davis, workforce manager with READI Chicago, which operates HHP Lift. "We talk about fair trade -- I think a lot of times the same things come into play, where we think about people being held back, opportunities being really and truly not available and so a lot of the gentlemen, if it wasn't for workforce programs like HHP, they wouldn't have these opportunities."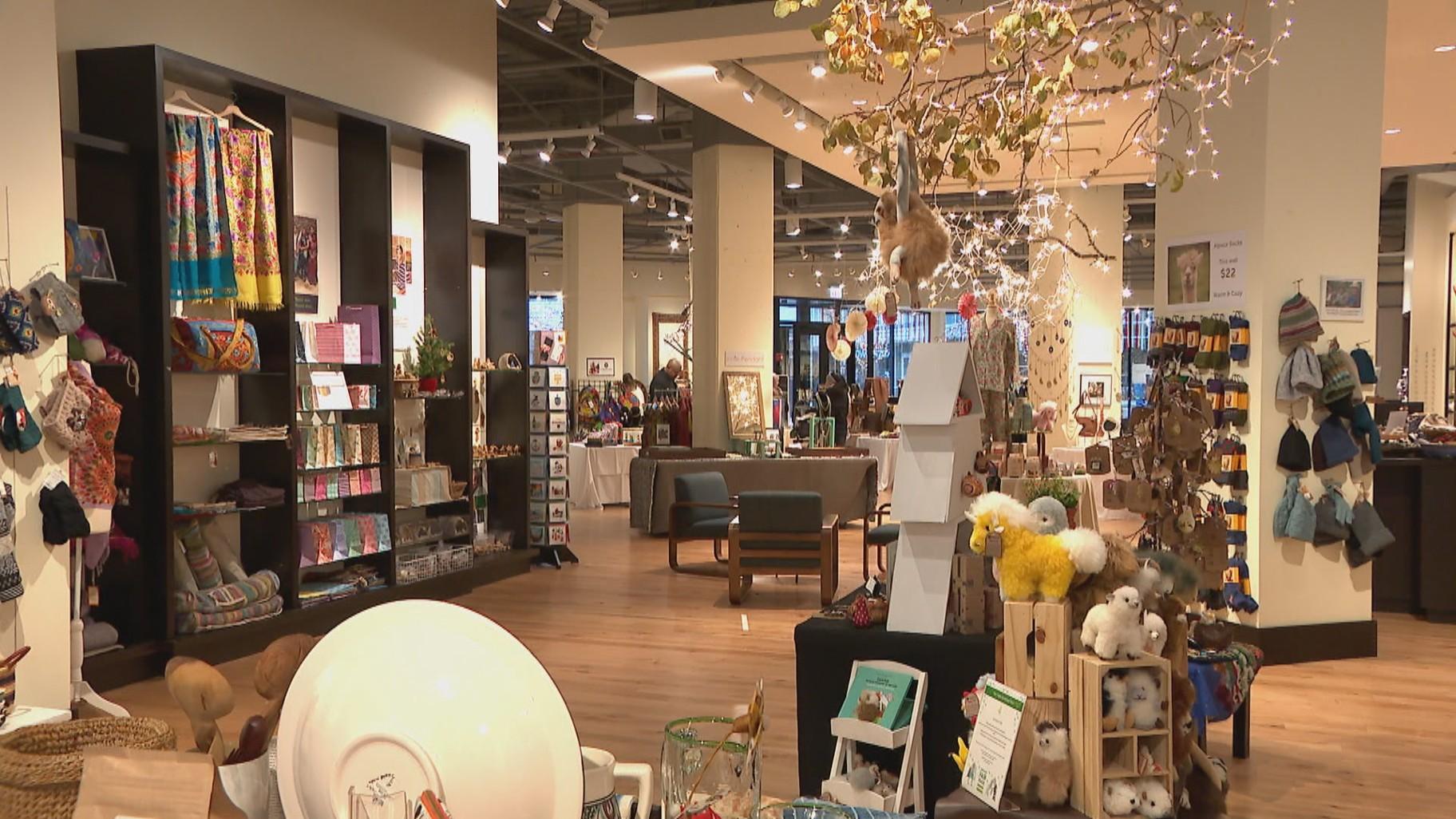 The Chicago Fair Trade pop-up holiday market runs through Dec. 24 at 1457 N. Halsted. (WTTW News)
And, Davis says, gifts that give back have a life well beyond the holidays.
"The products that they have are sustainable, they're well made, but more important than that is what they stand for," Davis said. "That may be just a simple bag to some, but it means so much more to others."
The Chicago Fair Trade holiday pop-up shop is open through Dec. 24 at 1457 N. Halsted. Validated $2 parking is offered at the shopping center.
---