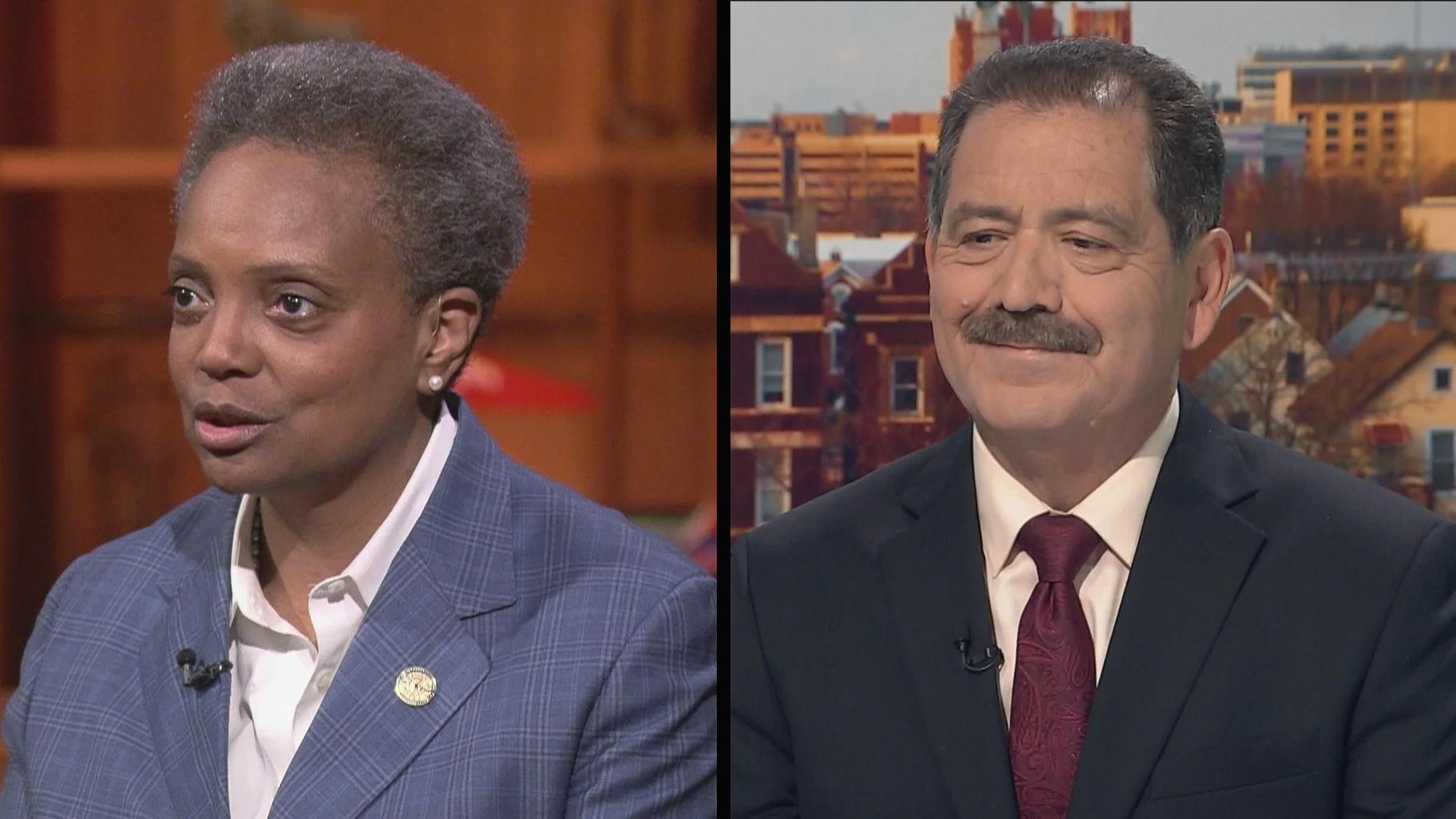 Mayor Lori Lightfoot and U.S. Rep. Jesús "Chuy" García. (WTTW News)
Mayor Lori Lightfoot and U.S. Rep. Jesús "Chuy" García – the frontrunners in February's election, according to a recent poll – are facing a barrage of criticism for their links to the now-indicted co-founder of crypto exchange FTX.
Sam Bankman-Fried spent millions of dollars to fill the coffers of Democratic candidates in this year's elections, both by directly cutting checks to candidates and through his Protect Our Future political action committee, which made independent expenditures to boost the campaigns of several Illinois Democrats.
But Bankman-Fried, who was arrested Monday, now faces an eight-count indictment that alleges he defrauded his firm's customers, lenders and the U.S. government and violated campaign finance laws. Bankman-Fried has yet to enter a plea to the charges, and as of Thursday night is being held in the Bahamas while awaiting extradition to the United States.
Bankman-Fried contributed $2,900 directly to García's congressional reelection campaign, while Protect our Futures spent $151,420 to send glossy mailers to residents of Illinois' newly redrawn 4th Congressional District touting García's bid for reelection.
Lightfoot said García would have to answer questions about his links to an "alleged fraudster."
"It is fair game," Lightfoot said. "I think the public deserves to have answers from him. It is not acceptable as a congressman, as a candidate for mayor that he will not answer any questions directly."
While Bankman-Fried did not contribute to Lightfoot's campaign, the mayor attended the May 10 opening of FTX's new office in the Fulton Market district and praised the firm's decision to donate $1 million to a Chicago nonprofit to fund a pilot to give low-income Chicagoans $500 per month for a year as part of a basic-income pilot program.
"Through this new FTX pilot, we will be able to ensure that residents from underrepresented backgrounds can access cash assistance, an innovative financial service, and financial education in one place," Lightfoot said in a statement released by the nonprofit, Equity and Transformation. "I thank FTX for partnering with EAT on this important initiative, which will ultimately make our post-pandemic recovery that much more equitable and inclusive."
In September, FTX announced it would move its U.S. headquarters from Chicago to Miami.
The collapse of FTX put the pilot program on hold, nonprofit officials said.
Lightfoot told reporters on Wednesday that "I have no connection" to Bankman-Fried or FTX.
Mayoral candidate state Rep. Kam Buckner said both García and Lightfoot should answer for their ties to FTX and Bankman-Fried.
Lightfoot's suggestion that cryptocurrency could help low-income Chicago residents shows she "is highly out of touch with Chicago's underrepresented communities and what we actually need to thrive," Buckner said in a statement.
Buckner erroneously said the now-bankrupt firm was connected to the city's effort to test whether a guaranteed basic income in Chicago could alleviate poverty. Bankman-Fried and FTX have no role in the city's pilot program, which launched in July.
Despite the mayor's charge, García has spoken to several news organizations about Bankman-Fried and his campaign contributions.
García told WTTW News on Nov. 22 that he donated Bankman-Fried's contribution to charity after FTX went bankrupt and was caught by surprise by the independent expenditure made by his political action committee.
"We had no control, no coordination, no knowledge of it until we saw that it was taking place in the district," said García, adding that he was intrigued by Bankman-Fried's focus on efforts to prepare for the next pandemic.
Mayoral candidate Paul Vallas called on García to return the funds that Protect our Futures spent to boost García's campaign in a statement released Wednesday. However, that is not possible because neither García nor his campaign ever controlled those funds, which were spent by the committee directly on mail advertisements.
"Are we supposed to believe that this contribution had nothing to do with his position on the congressional committee that sets federal policy on cryptocurrency?" Vallas asked in a statement.  "Chicagoans are tolerant people, but they are not stupid." 
While Vallas trained most of his fire on García, he also blasted Lightfoot for her appearance at the opening of the FTX office in Chicago, saying García was "not alone in his slow dance with the now defrocked king of crypto."
García told the Chicago Sun-Times that he spoke with Bankman-Fried shortly before Protect our Futures got involved in his reelection bid, which he won easily after facing only token Republican opposition.
Bankman-Fried was arrested hours before he was set to testify before the U.S. House Financial Services Committee. García is a member of that committee.
"I have a long history of being skeptical about cryptocurrencies. I think they ought to be regulated very closely," García told WTTW News. "I've been a fierce advocate of that. I have suggested that to the regulatory agencies that come before us periodically to report. I care about the financial system, protecting it."
Buckner said García's spot on that committee makes Bankman-Fried's contributions both to the congressman's campaign and to the political action committee that in turn boosted García's campaign an example of "pay to play politics."
"García is revealing himself as no different than a self-dealing machine politician who isn't suited to transparently run our city," Buckner said in a statement.
García was not the only Chicago Democrat to benefit from Bankman-Fried's largesse.
Protect Our Futures spent $500,065 for television ads that boosted Jonathan Jackson's bid to replace retiring U.S. Rep. Bobby Rush in Illinois' 1st Congressional District. Those contributions helped Jackson defeat the 16 other candidates hoping to replace Rush.
Representatives of Jackson, now the congressman-elect, did not respond to a request for comment from WTTW News on Thursday.
Contact Heather Cherone: @HeatherCherone | (773) 569-1863 | [email protected]
---