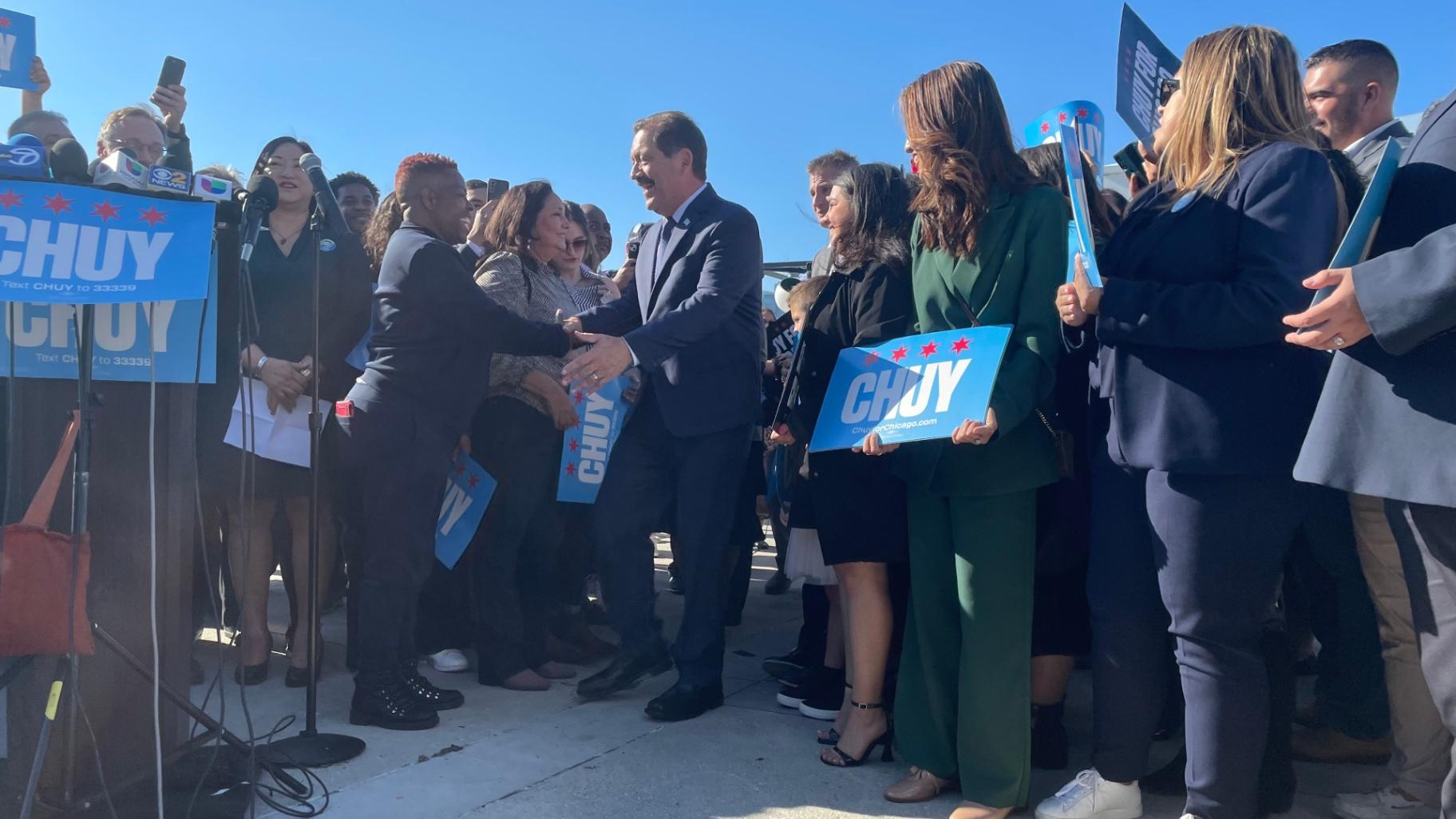 U.S. Rep. Jesus "Chuy" Garcia greets supporters before launching a campaign for mayor of Chicago. (Heather Cherone / WTTW News)
U.S. Rep. Jesús "Chuy" García is the "front runner" in the race for Chicago mayor, according to a new poll commissioned by the International Union of Operating Engineers Local 150 obtained Monday by WTTW News.
"Chuy Garcia is the frontrunner today in the race for Chicago mayor, leading Mayor Lori Lightfoot by 7 points in the first round and 31 points in the second," the poll concludes. "He is the most popular candidate for mayor and is the favorite to win."
The International Union of Operating Engineers Local 150 backed García in the mayor's race shortly after the poll was conducted, and has committed $1 million to García's campaign to deny Lightfoot a second term and defeat nine other candidates.
"Local 150 commissioned a comprehensive poll as an in-kind contribution to Garcia's campaign," said Ed Maher, the union's spokesperson. "The poll made clear that García has broad support across the city of Chicago and that voters understand all of the positives that he will bring as mayor."
The poll of 700 likely Chicago voters was conducted Nov. 10 to Nov. 17 by Impact Research, a firm that includes President Joe Biden and other prominent Democrats among its list of clients. The poll was conducted via multi-modal phone and text-to-web survey, with 75% or responses coming via cell phone. The margin of error was plus or minus 3.7 percentage points.
García would win 25% of the vote in the first round of voting, set for Feb. 28, followed by Lightfoot with 18%, sending the two candidates to an April 4 runoff. Lightfoot is followed by Paul Vallas with 14% and Willie Wilson with 10%, according to the poll.
All of the other candidates polled, which included Ald. Raymond Lopez (15th Ward) and former Gov. Pat Quinn who did not launch bids for mayor, registered less than 10% support. According to the poll, 14% of voters are undecided.
Lightfoot is deeply unpopular with Chicago voters, with 68% of voters rating her job as mayor negatively. Lightfoot, seeking to become the only woman to be reelected as Chicago mayor, is rated negatively by 84% of White voters and 72% of Latino voters. However, Black voters are closely divided on Lightfoot's record in office, with 50% of voters saying she has done a good job.
In a runoff, Garcia would win 55% of the vote and handily defeat Lightfoot, who would win just 25%, according to the poll. In a head-to-head contest, García is tied with Lightfoot among Black voters, leads by 52 percentage points among White voters and by 40 percentage points among Latino voters, according to the poll. 
García has electoral strength across the city, leading Lightfoot by 52 percentage points in lakefront wards and by 51 percentage points on the Northwest Side, according to the poll.
First elected in 2018 to represent Illinois' 4th Congressional District and reelected last month, García is seen favorably by a majority of Black, Latino and White voters, including those who describe themselves as progressive Democrats and moderate or conservative Democrats, according to the poll.
Cook County Commissioner Brandon Johnson, who has the backing of most of Chicago's progressive organizations, the Chicago Teachers Union and the Service Employee International Union Local 73 and SEIU Healthcare Illinois, is largely unknown. More than 70% of Chicago voters do not have an opinion on his candidacy, according to the poll. 
More than 70% of voters rated crime and public safety as their No. 1 or No. 2 most important issue, with no other issue coming close, according to the poll.
---
Contact Heather Cherone: @HeatherCherone | (773) 569-1863 | [email protected]