Video: Joining "Chicago Tonight" to discuss upcoming City Council votes are Ald. Byron Sigcho-Lopez (25th Ward), Ald. Pat Dowell (3rd Ward) and Ald. Walter Burnett Jr. (27th Ward). (Produced by Alexandra Silets)
---
Efforts to transform the home of the Chicago Tribune's printing plant and newsroom into a $1.74 billion Bally's casino and resort is one step away from winning final approval from Chicago officials.
After winning the endorsement of the Chicago Plan Commission on Monday and the City Council's Zoning Committee on Tuesday, plans to build Chicago's first casino on 30 acres of land in the River West neighborhood are set for a final vote by the Chicago City Council on Wednesday.
The proposal advanced with the support of Ald. Walter Burnett, whose 27th Ward will be home to the massive development championed by Mayor Lori Lightfoot, who is running for a second term in office.
Burnett, who is a member of both the Plan Commission and the Zoning Committee, said Tuesday he was confident that Bally's would fulfill promises to hire people from his West Side ward, which includes the former Cabrini-Green public housing complex.
"If they don't want to see me mad, they'll keep their commitment," said Burnett on Tuesday, 24 hours after he declined to vote for the proposal when it came to a vote during the Plan Commission meeting. "I think we're going to be OK."
The proposal still needs the support of the Illinois Gaming Board, which must license Bally's to operate the casino, before work can begin along the Chicago River near Chicago Avenue and Halsted Street.
Alds. Brian Hopkins (2nd Ward), Anthony Beale (9th Ward), Raymond Lopez (15th Ward) and Brendan Reilly (42nd Ward) voted against the proposal during the meeting of the Zoning Committee.
"We need to pause this train before it becomes a train wreck," Beale said.
In May, all four alderpeople voted against the proposal backed by Lightfoot to grant Bally's the right to build and operate the casino.
Reilly said he was "very frustrated" that he has not seen a plan detailing public safety efforts in and around the casino and blasted a recently completed traffic study as insufficient.
"I wish this process had been more transparent," Reilly said.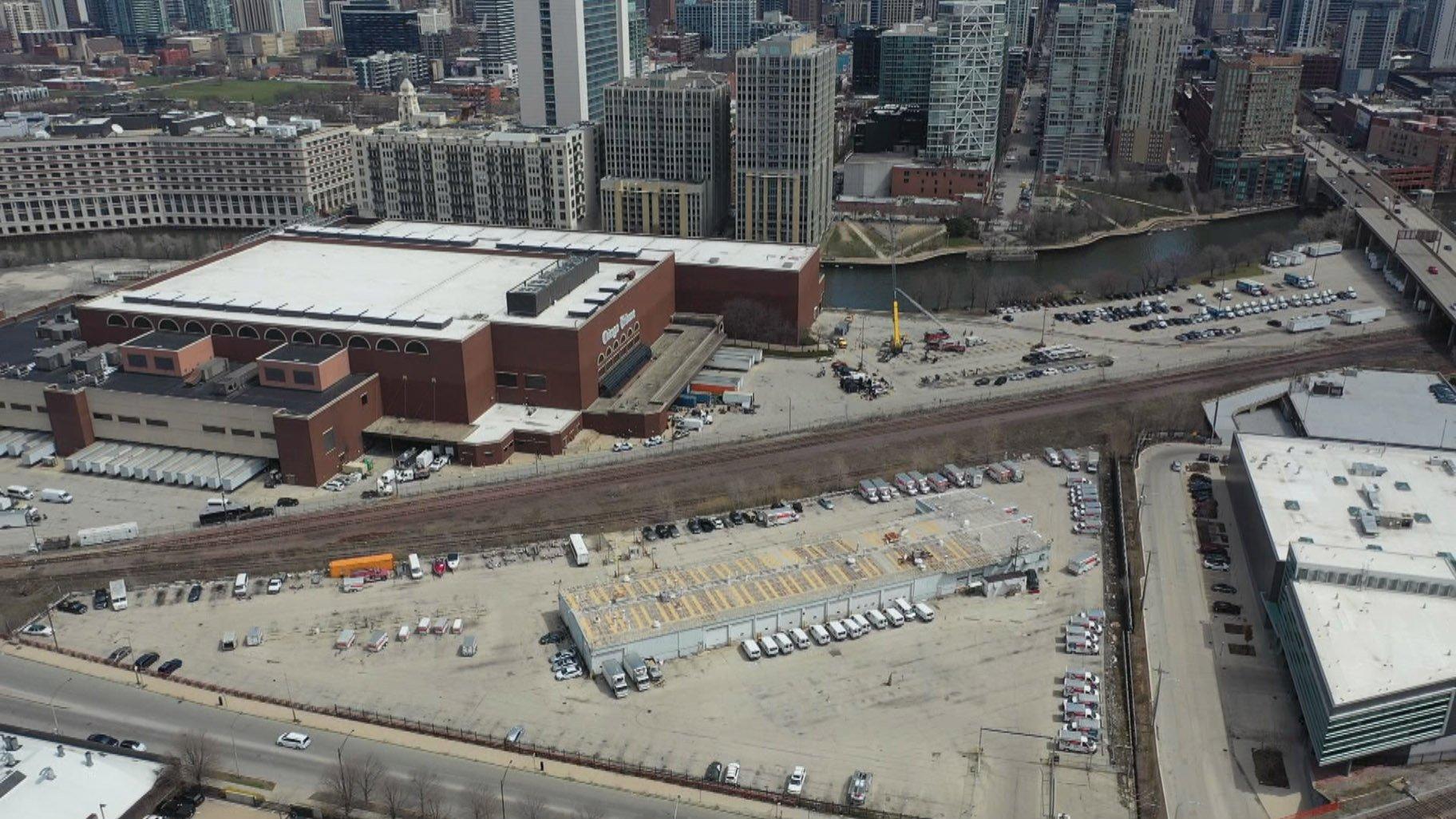 The proposed casino is set to be built on the Chicago Tribune printing plant and newsroom site near Chicago Avenue and Halsted Street. (WTTW News)
Bally's Chicago casino is set to have have 3,400 slots and 173 table games in addition to an exhibition hall, 500-room hotel, a 3,000-seat theater and 11 restaurants. However, the complex will not include an outdoor concert venue along the river, after that proposal drew intense criticism from nearby residents, and a pedestrian bridge.
Instead, the development will include a 2,100-square-foot park and walking path along the river and a three-level underground parking garage, according to the plans released by city officials.
City Council members have repeatedly heard impassioned pleas from representatives of Chicago's powerful labor unions, who said the 3,000 construction jobs the casino is expected to create every year and the 3,000 permanent jobs were desperately needed in the hospitality industry that has yet to recover from the economic catastrophe triggered by the COVID-19 pandemic.
Bally's inked an agreement with the Chicago Federation of Labor to ensure construction and casino workers are allowed to unionize. In addition, the casino firm promised that 60% of the jobs created by the casino will be filled by Black, Latino or Asian workers.
Bally's will also create a jobs program specifically targeting Chicago neighborhoods with the highest levels of unemployment and lowest income, according to the mayor's office. 
Bally's has put together a consortium — the Chicago Community Builder's Collective — of design and construction firms owned by Black, Latino and female Chicagoans to work on the project.
Bally's has told city officials they will meet the requirements imposed by city officials that 25% of the facility be owned by Black, Latino or Asian shareholders, 50% of its employees be from Chicago and at least 26% of the construction contracts go to firms owned by women or Black, Latino or Asian Chicagoans.
Lightfoot is counting on a casino to boost the city's economy and funnel approximately $200 million into its police and fire pension funds, significantly easing the pressure on the city's finances, while creating thousands of jobs and drawing tourists — and their fat wallets.
A temporary casino is set to open at the Medinah Temple in River North next year, while a permanent casino could open as soon as early 2026.
Contact Heather Cherone: @HeatherCherone | (773) 569-1863 | [email protected]
---