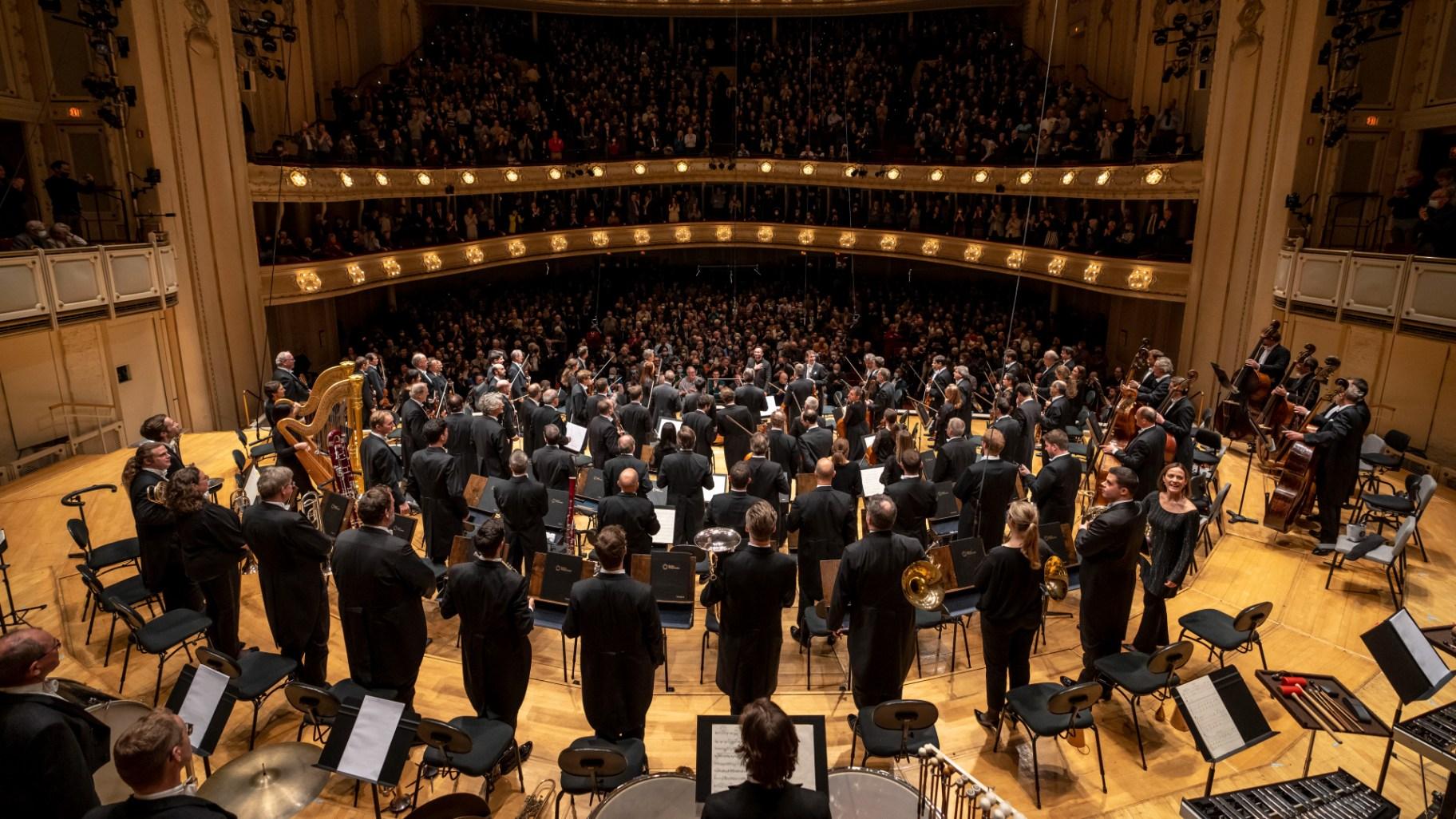 The Berlin Philharmoniker at Chicago's Orchestra Hall performed Mahler's "Symphony No. 7" on Nov. 16, 2022. (Credit: Todd Rosenberg Photography)
An aura of intense anticipation was palpable throughout Orchestra Hall on Wednesday evening well before the monumental Berlin Philharmoniker (more than 80 musicians strong) arrived on stage, followed by Kirill Petrenko, who was named its chief conductor and music director in 2019.
Every one of the theater's more than 2,500 seats had been snapped up for this one-night-only performance of Gustav Mahler's wildly innovative, emotionally stunning "Symphony No. 7." The piece is a monumental 85-minute work of great sonic magic and innovation that emerged out of a tumultuous period of composition that began in 1904, and culminated with its world premiere in Prague in 1908, conducted by Mahler himself.
Fiendishly difficult, wonderfully dramatic and continually surprising — with an ingenious use of traditional instruments, as well as such unusual additions as the mandolin and guitar — this five-movement work is invariably unpredictable, alternately feverish and lyrical, stormy and rapturous. And Petrenko, a superb conductor (working with an outstanding group of musicians) was at once wonderfully specific and richly but subtly expressive in his interpretations.
He captured Mahler's unique ability to shift the symphony's often radically different moods, while also making the entire masterpiece wonderfully cohesive and wholly mesmerizing.
The symphony opens with the intriguingly ominous sound of a tenor horn (played by trombonist Jesper Busk Sorenson) that Mahler claimed was somehow inspired by the sound of oars moving through water as he was heading home on a boat during the summer of 1904. More brass joins in, along with the wind section, and there are constant shifts in what might be described as "wildly musical weather." The horns then generate an unpredictable and enthralling calm. And an elegiac passage, beautifully played by two harpists, leads into a quiet passage before erupting into a great, thunderous cacophony as well as sequences of romantic rapture.
This first movement is almost a full symphonic work all by itself but it was only the beginning.
The second movement, which Mahler dubbed "Night Music," opens with the sound of a horn and its echo, with the flutes and other winds playing a hauntingly lovely melody that suggests a walk through a dark forest, and with lushly beautiful work by the strings. The full orchestra then joins in with the rapturous voices of French horns, flutes and other winds, and timpani. A thrilling deployment of each section, and then silence.
The Scherzo movement that follows opens with the subtle sounds of timpani, plucked low strings and winds, and a hint of high drama. And then comes a shift of moods and a wildly theatrical use of the orchestra.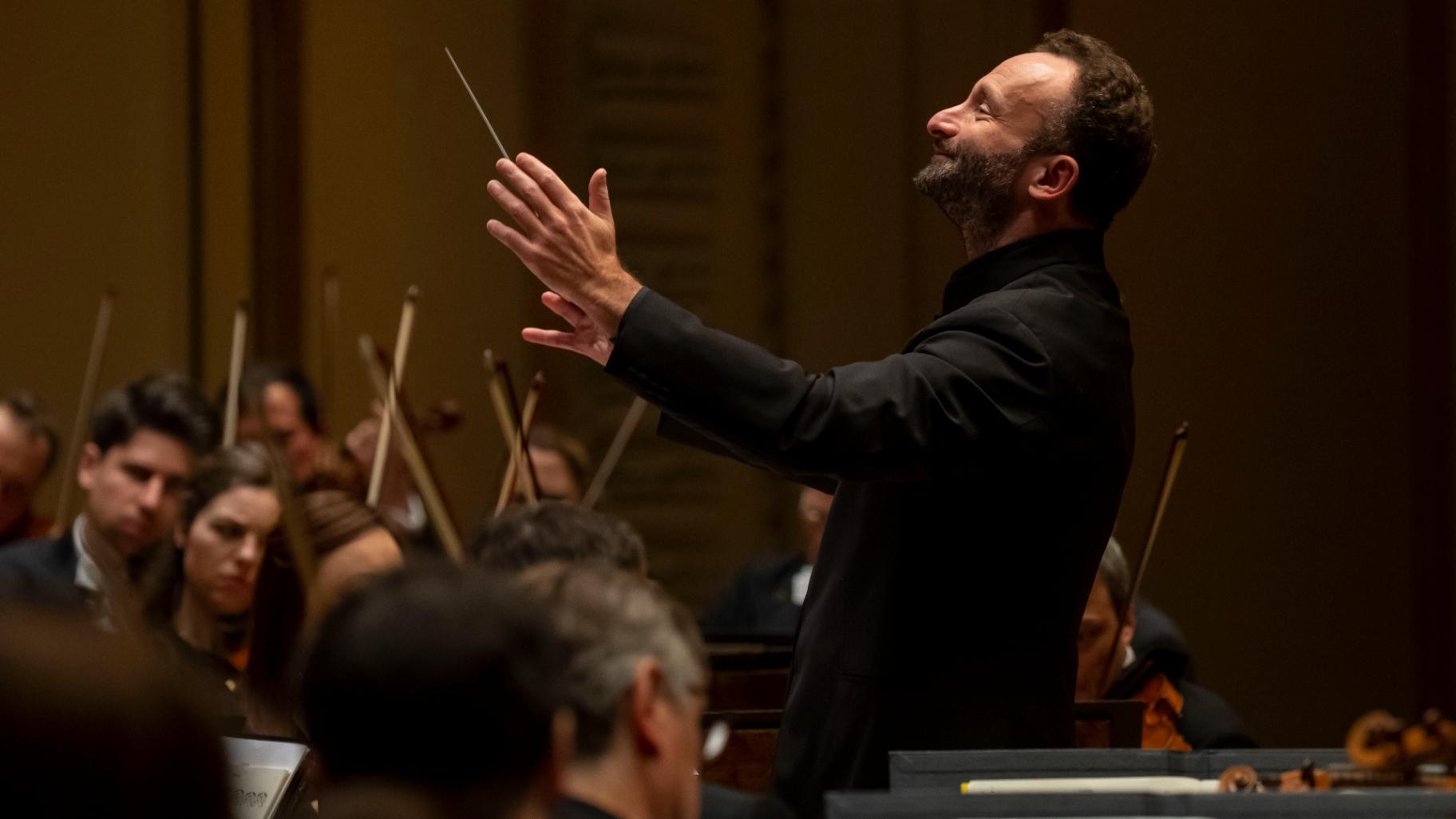 Chief Conductor Kirill Petrenko conducts the Berlin Philharmoniker at Chicago's Orchestra Hall on Nov. 16, 2022. (Credit: Todd Rosenberg Photography)
The second "Night Music" movement, with its lyrical opening, moves into what can best be described as a stream of consciousness series of moods — from a wonderful quietude, to alternating passages of darkness and light, and a certain sense of rapture that is pure poetry but gradually builds to a wild, teasing intensity.
The symphony's final movement comes with the sound of timpani, horns and a monumental sense of triumphal excitement as the orchestra goes into a mode of lush, sweeping motion and subtle playfulness. Mahler uses every instrument as if directing an ensemble of bravura actors who can shift moods almost instantaneously, creating a sense of grandeur and playfulness in the process, and ultimately generating a thrilling, monumental finale of immense power and beauty.
Not surprisingly, this extraordinary rendering of the work of a true musical genius — a composer capable of interweaving the classical vocabulary with daringly new ideas — generated an instantaneous standing ovation at Orchestra Hall that could not be easily put to rest.
Note: This Chicago concert was just one of several stops in the Berlin Philharmoniker's current U.S. tour. The visit that was originally slated for 2020, but was canceled because of the onset of the COVID-19 pandemic.
Follow Hedy Weiss on Twitter: @HedyWeissCritic
---