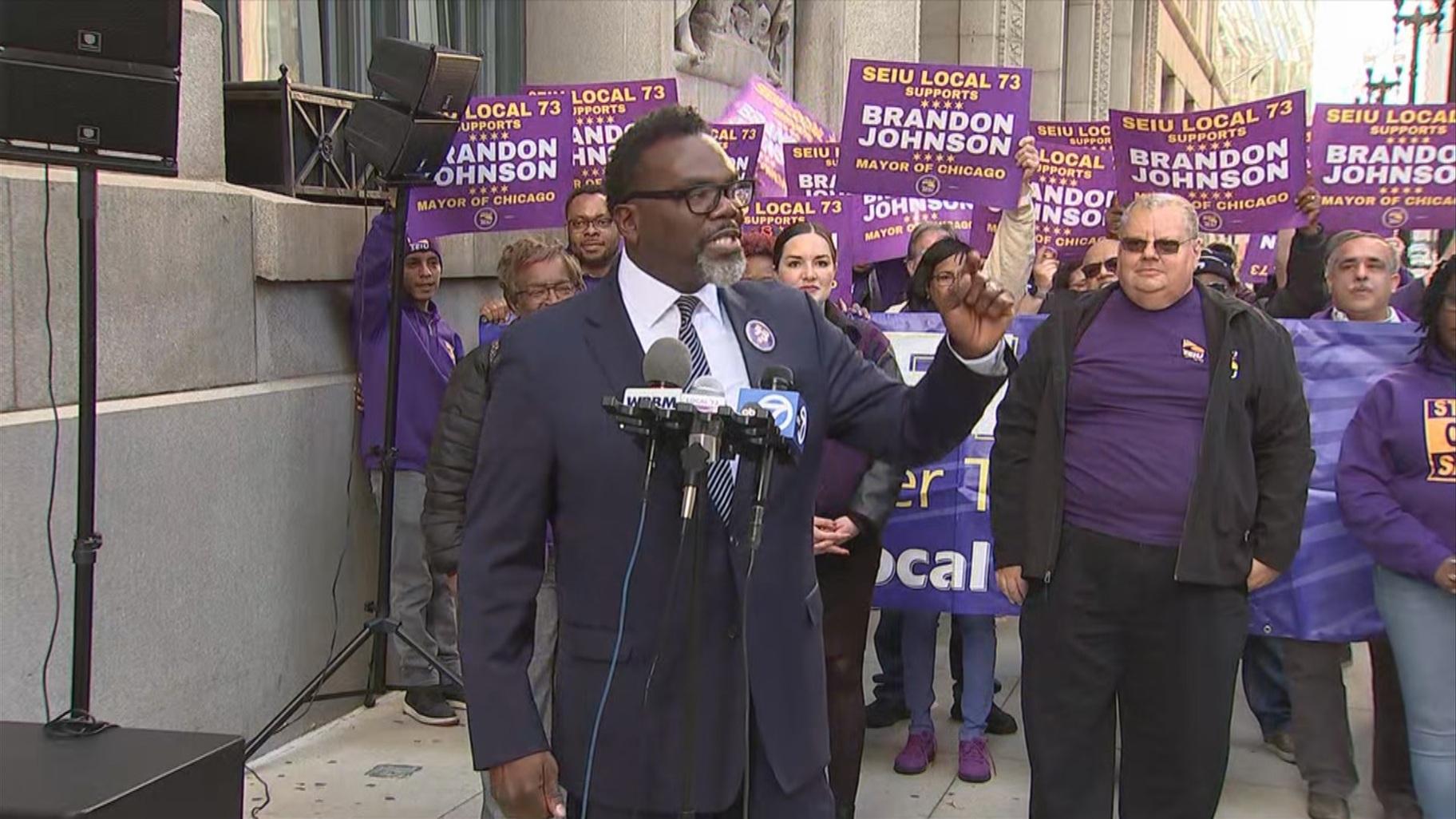 Brandon Johnson speaks after receiving the backing of SEIU Local 73 in his bid for mayor on Nov. 9, 2022. (WTTW News)
The Service Employees International Union Healthcare Illinois became the latest union to endorse Brandon Johnson in the Chicago mayor's race on Monday, solidifying his base of support among organized labor in Chicago for his bid to deny Mayor Lori Lightfoot a second term.
The 90,000-member union that represents hospital, nursing home, home care and child care workers throughout the Midwest backed Johnson, a Cook County commissioner, four days after U.S. Rep. Jesús "Chuy" García (D-Chicago) entered the race for mayor, scrambling the contest.
"It is a tremendous honor to have the endorsement of SEIU Healthcare Illinois, which serves our city's most vulnerable — children, seniors and individuals living with disabilities," Johnson said.
Johnson already has the backing of Service Employees International Union Local 73 — which counts 16,000 Chicago public sector workers among its membership —  and the 20,000-member Chicago Teachers Union. That ensures that Johnson will have a motivated base of well-funded supporters to take on Lightfoot, Garcia and the nearly dozen other candidates in the Feb. 28 election.
Read More: Race for Chicago Mayor: Who's In and Who's Out for 2023 Election
Johnson is a paid organizer for the teachers' union who was re-elected to the Cook County Board of Commissioners on Tuesday.
As a member of the Board of Commissioners, Johnson is best known for authoring a measure that sought to prevent landlords from refusing to rent housing to people with certain criminal records. Johnson said the measure was designed to help county residents returning from jail or prison rebuild their lives. 
Johnson also authored a nonbinding resolution in the summer of 2020 that called for county officials to "redirect funds from policing and incarceration to public services not administered by law enforcement that promote community health and safety equitably" after the police murder of George Floyd touched off a wave of social justice protests and unrest.
Progressive groups in Chicago worked for nearly a year to lay the groundwork to defeat Lightfoot by uniting behind a single candidate. Those groups endorsed Johnson, but that effort ran aground after García launched his bid for Chicago mayor.
García first ran for mayor in 2015, forcing then-Mayor Rahm Emanuel into a runoff. García also got into that race relatively late — taking the place of former Chicago Teachers Union President Karen Lewis after she was diagnosed with brain cancer. Lewis died in 2021.
In that race, García had the support of the teachers' union and much of organized labor in Chicago — groups that are now lined up behind Johnson.
Candidates for mayor and the City Council can file their nominating petitions with the Chicago Board of Election Commissioners starting Nov. 21.
Contact Heather Cherone: @HeatherCherone | (773) 569-1863 | [email protected]
---