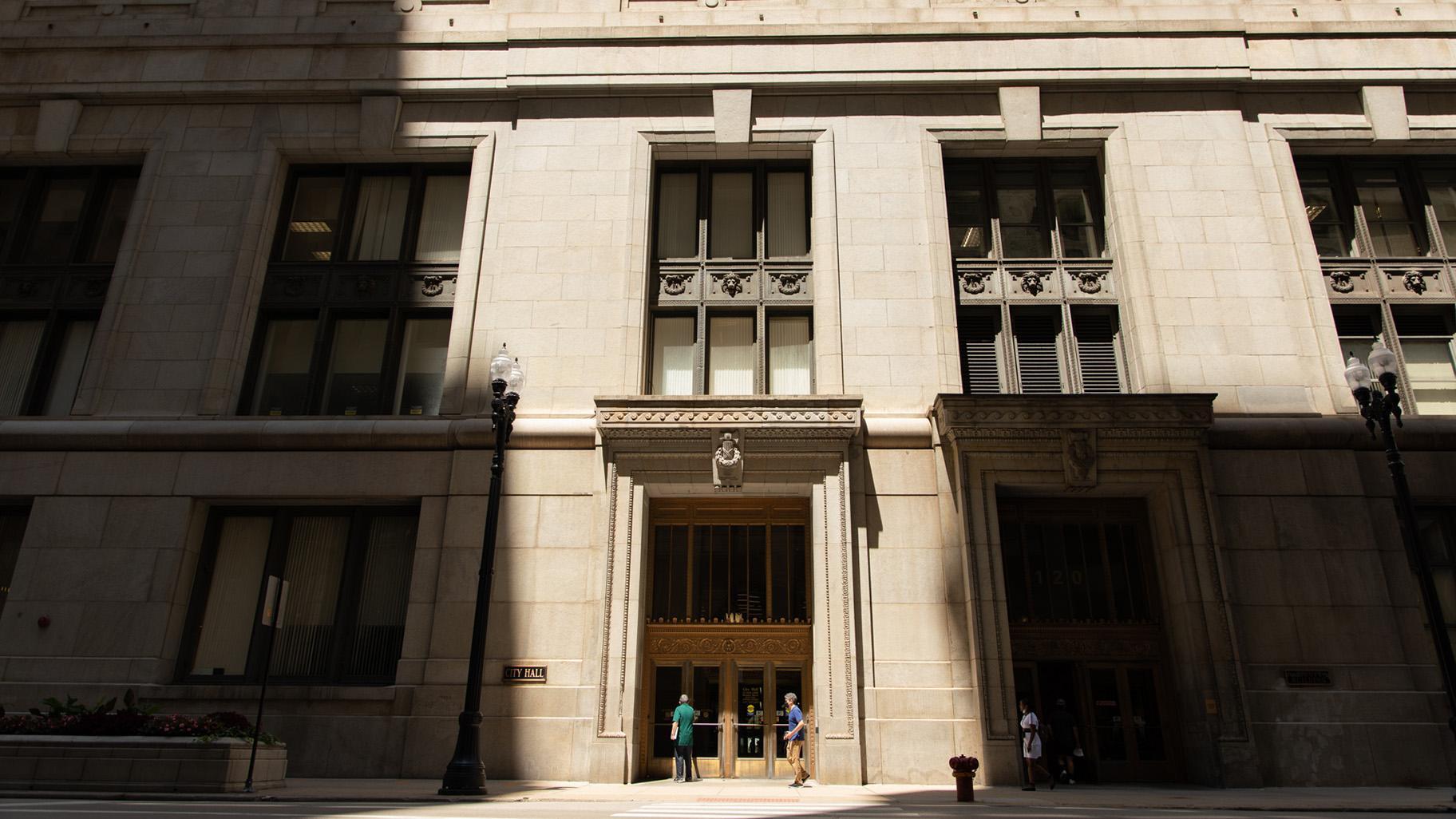 Chicago City Hall. (Michael Izquierdo / WTTW News)
With 10 days to go until candidates for Chicago mayor can officially file with Chicago election officials, the list of contenders has begun to solidify.
Ald. Tom Tunney (44th Ward) said in a statement Friday morning that he would not run for mayor and will retire in May after 20 years as a member of the Chicago City Council. Tunney was the first openly gay person elected to citywide office in Chicago.
Tunney thanked the supporters and volunteers who had been collecting signatures on petitions to make his campaign official.
"All Chicagoans deserve a mayor who will wake up every day with the energy to make Chicago the best place to live, work and raise a family," Tunney said. "Unfortunately, while my love of our city is as strong as ever, I will not be running for mayor."
Ten major candidates have already launched campaigns to deny Mayor Lori Lightfoot a second term. Tunney did not endorse any of them in his statement.
However, former Gov. Pat Quinn told WTTW News Friday that he is still weighing a run for mayor and planned to make an announcement on Tuesday.
"I haven't made my own mind up," said Quinn, who lost his bid for reelection as governor to Republican Bruce Rauner in 2017.
However, Quinn said U.S. Rep. Jesús "Chuy" García's entrance into the race would not sway his decision, even though he and García had been friends for decades.
"He's a good man," Quinn said.
---
Read More: Race for Chicago Mayor: Who's In and Who's Out for 2023 Election
---
Candidates have been circulating nominating petitions to make the ballot since Aug. 30. 
The fruits of that labor will pay off starting at 9 a.m. Nov. 21, when candidates will line up in the Pedway outside the Chicago Board of Election Commissioners office with a minimum of 12,500 signatures from registered voters in Chicago.
Savvy and well-financed candidates will have three times that amount on hand to ensure they can withstand a challenge from their rivals.
Everyone in line when those doors finally open will be entered into a lottery to get the first slot on the ballot, which could give them an advantage in what promises to be a very crowded race.
The deadline for candidates to file nominating petitions is 5 p.m. Nov. 28 — and everyone in line at that moment will be entered into a lottery, which could give them an advantage in what promises to be a very crowded race.
Early voting could start on Jan. 30, assuming that all of the petition challenges have been resolved and the ballot is final. 
Voters will finally have their say on Feb. 28 — unless no candidate gets 50% of the vote plus one. In that case, the top two candidates head to the runoff on April 4. 
The new term for the mayor, city clerk, treasurer and all 50 members of the Chicago City Council starts May 15.
Contact Heather Cherone: @HeatherCherone | (773) 569-1863 | [email protected]
---