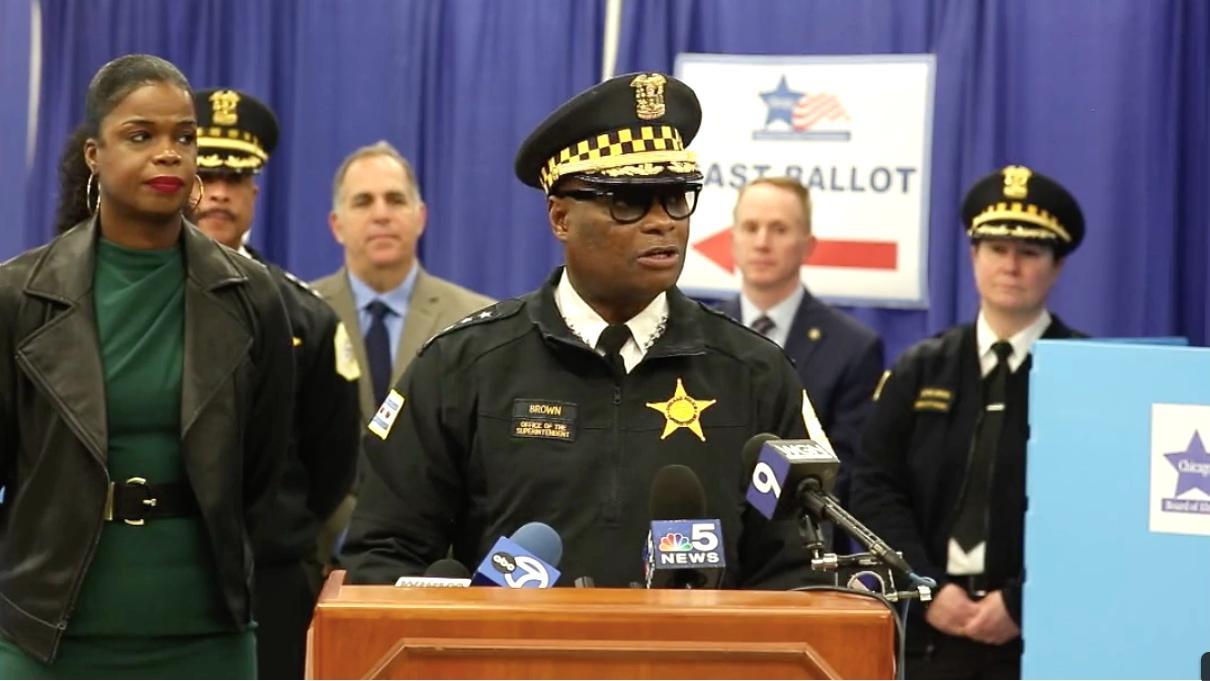 Chicago Police Superintendent David Brown, center, and Cook County State's Attorney Kim Foxx (l) discuss election safety measures, Nov. 4, 2022. (Chicago Police Department / Facebook)
As the U.S. approaches its first general election since the Capitol riots, law enforcement and election officials in Chicago and Cook County are taking additional measures to ensure the safety of voters and poll workers.
"Everything's changed since 2020," said Chicago Police Superintendent David Brown, speaking to reporters Friday morning.
On Election Day, officers will be paying "special attention" to the city's nearly 950 polling places "to ensure every resident can safely exercise their right to vote," Brown said. The department has also consulted with the Chicago Board of Elections to identify areas where officers will have fixed posts, he said.
Additional components of the safety plan include monitoring social media for threats and maintaining contact with candidates' security teams, particularly when it comes to election night party locations, the superintendent said.
"This basically is us making sure our election is fair," said Brown. "We're just being super cautious."
Law enforcement agencies across the country are on high alert following a series of high-profile incidents including the assault on House Speaker Nancy Pelosi's husband and, closer to home, a threat made against gubernatorial candidate Darren Bailey. Reports of voter intimidation, such as poll "monitors" in Arizona armed with guns, have shaken people's confidence in the process, said Kim Foxx, Cook County State's Attorney.
"I have an 80-year-old aunt who is afraid to go vote," said Foxx. "The rhetoric and the vitriol has seeped into the consciousness. We want to ensure here that ... anyone can cast their ballot without fear."
Anyone who uses weapons, words or their bodies to threaten or intimidate voters or poll workers could face charges of assault, she said. 
"There will be an urgent and immediate response," said Foxx.
---
Read More: Voter Guide to the 2022 General Election 
---
The Board of Elections will have 400 election "investigators" — retired or off-duty law enforcement officers — on hand as a safety net to respond to complaints and assist poll workers, according to spokesman Max Bever.
"We don't want any poll worker to feel like they have to fend for themselves," Bever said.
Anyone who feels unsafe at the polls or witnesses inappropriate behavior can call the State's Attorney's election integrity hotline at 773-674-3311 or the Board of Elections at 312-269-7870.
Polls open Tuesday at 6 a.m. and close at 7 p.m.
For a reminder of how ballots are handled once a vote has been cast, check out this explainer from WTTW News.
Note: The number of polling places in Chicago has been corrected from a previous version of this article. 
Contact Patty Wetli: @pattywetli | (773) 509-5623 |  [email protected]
---