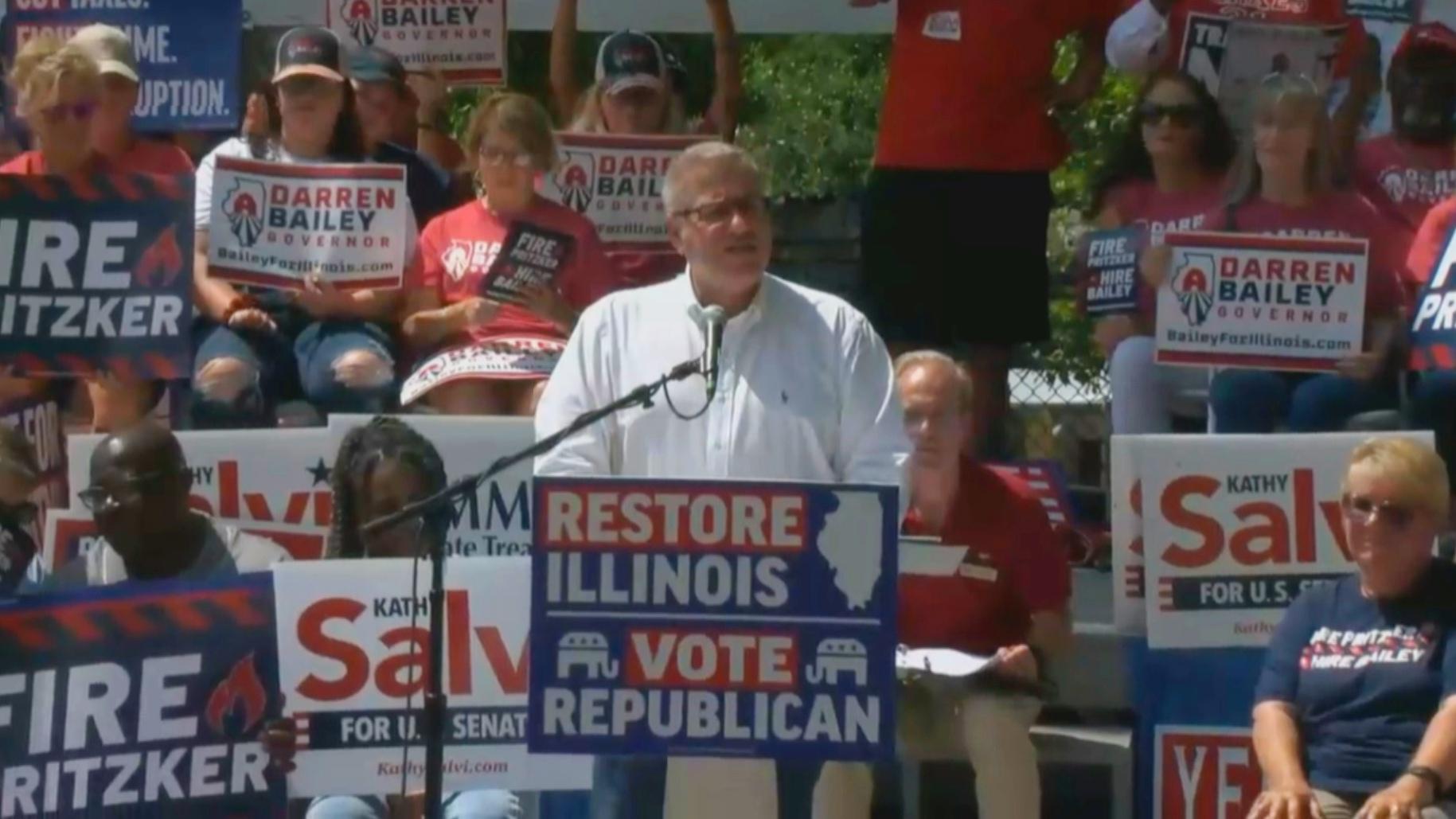 State Sen. Darren Baily, the GOP nominee for governor, speaks at the Illinois State Fair on Aug. 18, 2022. (WTTW News)
A man who later described himself as a "political terrorist" allegedly admitted to investigators that he sent a graphic voicemail to Illinois state Sen. Darren Bailey threatening to torture and kill the Republican gubernatorial candidate and his family.
Scott Lennox, 21, bragged to friends about sending the message, according to Cook County prosecutors, which led to Bailey requesting additional security for himself and his family and resulted in a soft lockdown at the school Bailey runs with his wife.
On Wednesday, Lennox, of Chicago, was charged with felony counts of threatening a public official and harassment. He was ordered held on a $75,000 D-bond, meaning he must pay $7,500 to secure his release from jail on electronic monitoring.
"It was a specific threat intended to cause alarm and fear, not only to the official, but to those around him," Cook County Judge Susana Ortiz said during the hearing.
According to Assistant State's Attorney Lorraine Scaduto, Lennox got into a heated argument with friends inside a bar on Oct. 28 after they saw one of Bailey's campaign ads appear on television.
Lennox, who had been upset about the candidate and his ads, allegedly proceeded to call Bailey's Springfield office and leave a voicemail in which he threatened to "skin Darren Bailey alive … and I'm going to feed his f--king family to him as he is alive and screaming in f--king pain."
Lennox went on to state that if Bailey didn't "kill himself, I will," before stating he knows where Bailey and his family live and the "f--king school he works at," according to Scaduto. He allegedly continued to make numerous more threats during the lengthy voicemail.
"I am going to make him scream, I am going to make him scream and suffer," Lennox allegedly stated. "So he better kill himself and if he doesn't, I am going to kill him."
A phone number registered to Lennox was recorded on the phone in Bailey's office, Scaduto said.
That message was allegedly left on a Friday night, and when one of Bailey's legislative assistants listened to it Monday, they notified capitol police, state police and Bailey himself.
Just a week out from the statewide election, Bailey was unable to make any public appearances due to the threat, Scaduto said, while additional security was requested from the Clay County Sheriff's Office and Illinois State Police for Bailey's family. Schools affiliated with Bailey and his family were also placed on a soft lockdown.
Bailey listened to the message himself, and agreed with the additional security measures for himself and his family, according to Scaduto.
Officers with the Illinois Secretary of State Police went to Lennox's home Monday, where he allegedly admitted leaving the message, though he was not immediately taken into custody because he was not deemed a "credible threat."
Lennox was later taken in for questioning by Chicago and state police officers. He unlocked his phone for investigators, showing that he had indeed called Bailey's office, Scaduto said, and additionally showed them Snapchat messages in which he allegedly bragged about the threat to friends.
"Dude, I'm a political terrorist," he allegedly wrote in one message to a friend. "I sent a super 'threatening' … message and now the cops are coming over to 'ask me some questions.'"
Lennox, in another message, indicated he knew of the additional security requested for Bailey and his family, which he followed with three laughing face emojis, Scaduto said.
"I don't feel bad about it at all," he allegedly wrote, later adding: "Dude his entire life is on lockdown, I feel so f--king accomplished."
Lennox again admitted leaving the voicemail, telling investigators he only did so for "shock value to his friends," according to Scaduto.
"While the defendant did not carry forward with his threats, there's no way to know what would have happened if the defendant was not found and stopped," Scaduto said. "These threats must be taken seriously as they were. … While the defendant may claim these were mere words, these words let forth a cascade of events that, again, must be taken seriously."
According to Lennox's public defender Suzin Farber, he has no previous arrests or criminal background and does not own any firearms. Farber also argued there was no "follow through of any kind" from Lennox to actually carry out any of the alleged threats.
"Divisive, inflammatory, and misleading rhetoric is driving hatred across our state as some attempt to label political opponents as dangerous threats," Bailey said in a statement Wednesday. "Whether we agree or disagree on policies, we are all Americans. I pray this young man gets the help he needs. We must bring our state together and fight for the safety and prosperity of every Illinoisan." 
His opponent, incumbent Gov. J.B. Pritzker, said in a statement Wednesday: "The violent rhetoric and division we're seeing across our country is unacceptable. Hatred in any form has no home in Illinois."
Lennox is due back in court for a hearing Nov. 23.
Contact Matt Masterson: @ByMattMasterson | [email protected] | (773) 509-5431
---