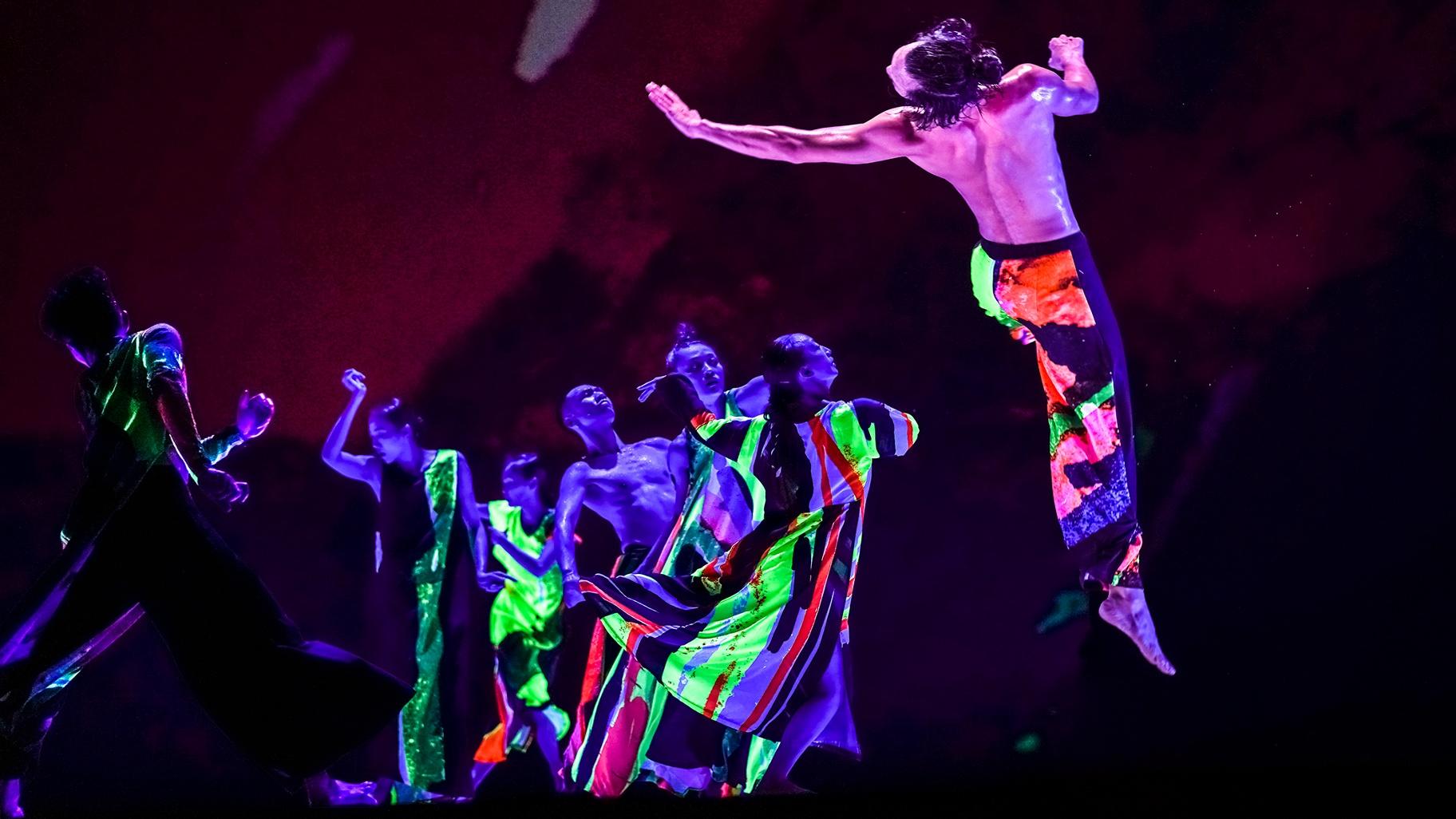 Cloud Gate Dance Theatre of Taiwan performs "13 Tongues." (Credit: Liu Chen-hsiang)
Should any further proof be needed that 2022 has lived up to its designation as "The Year of Chicago Dance," the performances throughout the month of October alone — whether by resident companies or international visitors — serve as evidence the title is fully deserved.
It all began with the Joffrey Ballet at its home on the Lyric Opera stage, and was followed by Ensemble Espanol at the Auditorium Theatre. Then came the onslaught: Cloud Gate Dance Theatre of Taiwan at the Auditorium; Giordano Dance Chicago at the Harris Theater for Music and Dance; Visceral Dance at its handsome new home in the Avondale neighborhood; and a dramatic remount of Pina Bausch's "The Rite of Spring" (involving a complex melding of presenters) staged at the Harris.
All of these companies had brief runs, but while their programs (which attracted impressively large audiences) were mostly "here today and gone tomorrow" they should not be forgotten. So, what follows is a highly condensed roundup of these four recent concerts, whose dancers were uniformly superb, and whose choreographic styles and subjects were radically different.
Cloud Gate Dance Theatre of Taiwan
This remarkable company of astonishing dancer/actors performed "13 Tongues," a 75-minute work of nonstop ensemble movement and vocalizing brilliantly choreographed by artistic director Cheng Tsung-lung, who drew on his childhood memories of the vibrant life found on the streets of the oldest district of Taipei.
The group dynamics of this seamless ensemble — dressed in fluid black costumes by Lin Bing-hau, with ideal lighting design by Shen Po-hung, and fantastic projections by Ethen Wang (in which giant fish flowed through water as gracefully as the dancers flowed through space) — were absolutely mesmerizing from start to finish. So was Lim Giong's score  — a mix of Taiwanese folk songs, Taoist chants and electronica.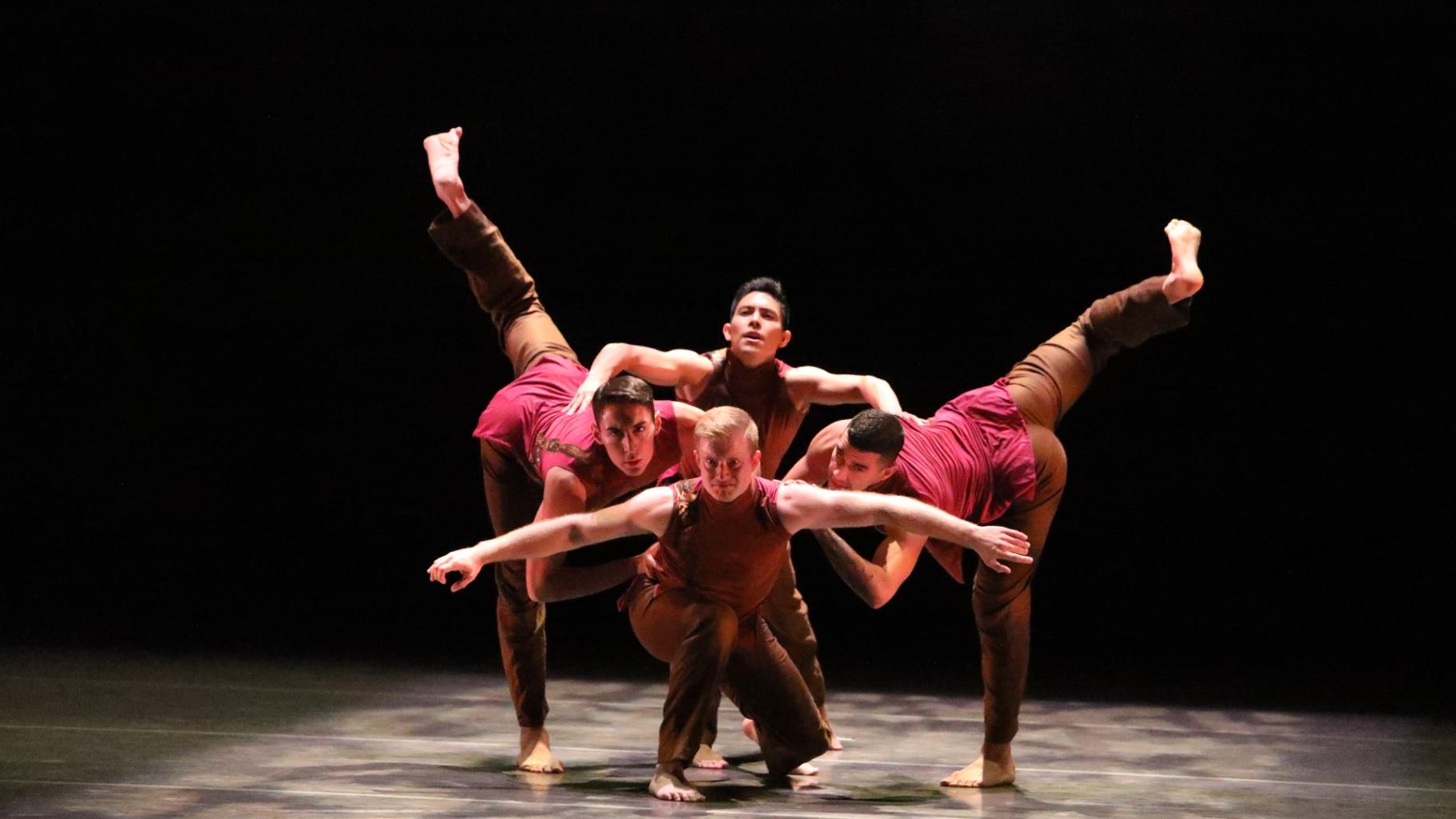 Rosario Guillen, from left, Eduardo Zambrana, Fernando Rodriguez and Ryan Galloway of Giordano Dance Chicago in "lub-dub." (Credit: Gorman Cook)
Giordano Dance Chicago
To celebrate the 60th anniversary of its founding by Gus Giordano, a pioneering force in American jazz dance, the company presented a powerful sampler of six works that suggested the evolution of the jazz style over the past two decades.
It opened with "Giordano Moves," set to exuberant music by George McRae and described as "a reconstruction" of Giordano's work that captured the classic moves, formations and partnering that marked his choreography. It then moved on to "commonthread," Autumn Eckman's sophisticated 2009 work for five dancers set to music by Dan Myers and John Novik.  It was marked by dramatic, propulsive moves and a beautiful use of the arms, and "Impulse," a highly acrobatic 2006 work for 10 dancers choreographed by Tony Powell and set to a wide-ranging mix of powerful percussive music including the sound of the Kodo Drummers of Japan.
The second half of the program opened with "Groove, in formed," Peter Chu's fascinating 2019 work set to an original score by Jake Kelberman performed by a six-man ensemble. The ingenious choreography was awash in a wide array of styles ranging from brassy jazz moves to sculptural forms and puppet-like partnering.
And then came the program's world premiere work, "lub-dub," choreographed for five dancers by Cesar G. Salinas, the company's newly-appointed associate director. Set to exuberant Afro-Caribbean music by Travis Lake and Medwyn Goodall, the dancers soared on the work's propulsive, richly dramatic music and movement. Finally, the evening came to a close with Ray Leeper's wonderfully exuberant 2018 work, "Soul," set to music by Gladys Knight and the Pips, Al Green and Tina Turner. A true celebration of the company's phenomenal energy and highly polished technique.
Visceral Dance Chicago performs. (Credit: MREID Photography)
Visceral Dance
If you want to see dancers up close and personal, a visit to the spare but ideally designed stage of the Visceral Dance Center is the theater to visit, with its brick back wall the canvas for richly evocative lighting. The members of Nick Pupillo's company are outstanding, including a notably strong lineup of men as ideally showcased in Autumn Eckman's infectiously playful and acrobatic "Chicken Scratch," set to a zippy song sung in Yiddish by The Barry Sisters and performed by dancers Brandon Barnes and Brandon Talbott.
Also on the program was "Changes," a fiercely emotional work for nine dancers by the Spanish choreographer Monica Cervantes. The cast was in fiery form, just as they were for the three richly dramatic works choreographed by Pupillo, including "Dark One" (set to music by Arvo Part, and evocative of the state of the modern world), "She Three" (a fluid work for a trio of women), and "Impetere" (a work for the full company that is true to its title — a word that means "the force at which a body moves").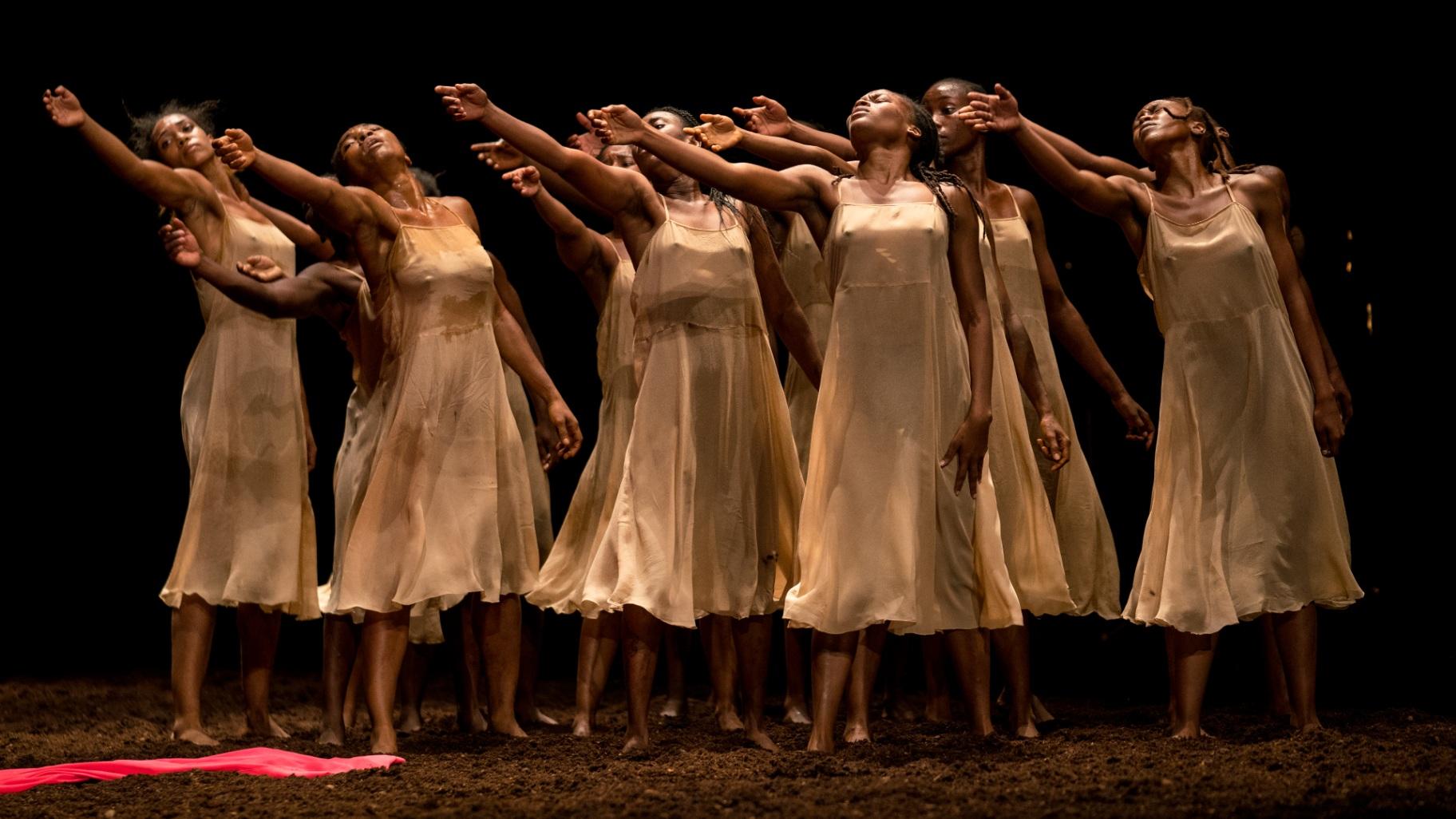 Ecole des Sables dances "The Rite of Spring." (Credit: Maarten Vanden Abeele)
Pina Bausch and Germaine Acogny + Malou Airaudo
Last, but by no means least, was the highly anticipated arrival of "The Rite of Spring," set to Igor Stravinsky's groundbreaking 1913 score. Originally choreographed by Vaslav Nijinsky and his sister, Branislava Nijinska (and performed in that early version by the Joffrey Ballet), this even more elemental (and literally "earthier") version was created in 1975 by the late German choreographer Pina Bausch. And it has now been revived as a co-production of the Pina Bausch Foundation, the Ecole des Sables and Sadler's Wells.
What was most notable was its cast — 36 stunning and powerful Black dancers assembled from across Africa, and led by Lucieny Kaabral, a petite but phenomenal female dancer as the terrified sacrificial "victim" (who danced in a blood-red dress with a bared breast for part of the work), and the intense presence of her male pursuer. The terror of sexual initiation expressed by the women was palpable throughout, as was the determination of the men.
Setting the scene for this work of primal intensity was a "performance" all its own as a large group of stagehands emptied five huge dumpsters full of peat moss over the entire surface of the stage on which its barefoot dancers would move.
Serving as a prelude to "Rite" was "common ground[s]," a most unusual work of dance-theater created and performed by Germaine Acogny and Malou Airaudo, a White woman and Black woman of decided middle age, and somewhat different temperaments. They captured the complex nature of a friendship in subtle movement and even with the occasional use of words.
An important note: For those who may have missed some or all of these performances there is still much to enjoy as the current dance season is far from over. Here are a few prime upcoming possibilities:
* On Nov. 5, Deeply Rooted, Chicago's African American contemporary dance company, will bring a mixed repertoire program to the Auditorium Theatre with works by Ulysses Dove (the late star of the Alvin Ailey company), as well as by artistic director Nicole Clarke-Springer and company co-founder and creative/executive director Kevin Iega Jeff. Also on the bill will be the world premiere of "Q After Dark," a work choreographed jointly by the company's artistic team and set to the music of the 89-year-old Chicago legend Quincy Jones. (Visit deeplyrooteddancetheater.org.)
* On Nov. 10, 11 and 12 the Joffrey Ballet will perform two world premieres (one choreographed by Cathy Marston and set to Wagner's "Siegfried Idyll," and the other choreographed by Annabelle Lopez Ochoa and set to music by Rameau), on the stage of Orchestra Hall. They will be accompanied by the Chicago Symphony Orchestra led by Harry Bicket.
The Joffrey will then return to the Lyric Opera stage with Christopher Wheeldon's stunning take on "The Nutcracker" (Dec. 3 - 27), set against Chicago's 1893 World's Fair, with the Tchaikovsky score conducted by Scott Speck. (Visit joffrey.org.) Speck also deserves immense belated praise for the brilliant concert by the Chicago Philharmonic he conducted at the Harris Theater on Oct. 13 that featured works by Black and Latino composers.
* On Nov. 18, 19 and 20, Visceral Dance will return to its stage with a program titled "Within" an evening of works "created by the company on the company." (Visit visceraldance.com.)
Follow Hedy Weiss on Twitter: @HedyWeissCritic
---