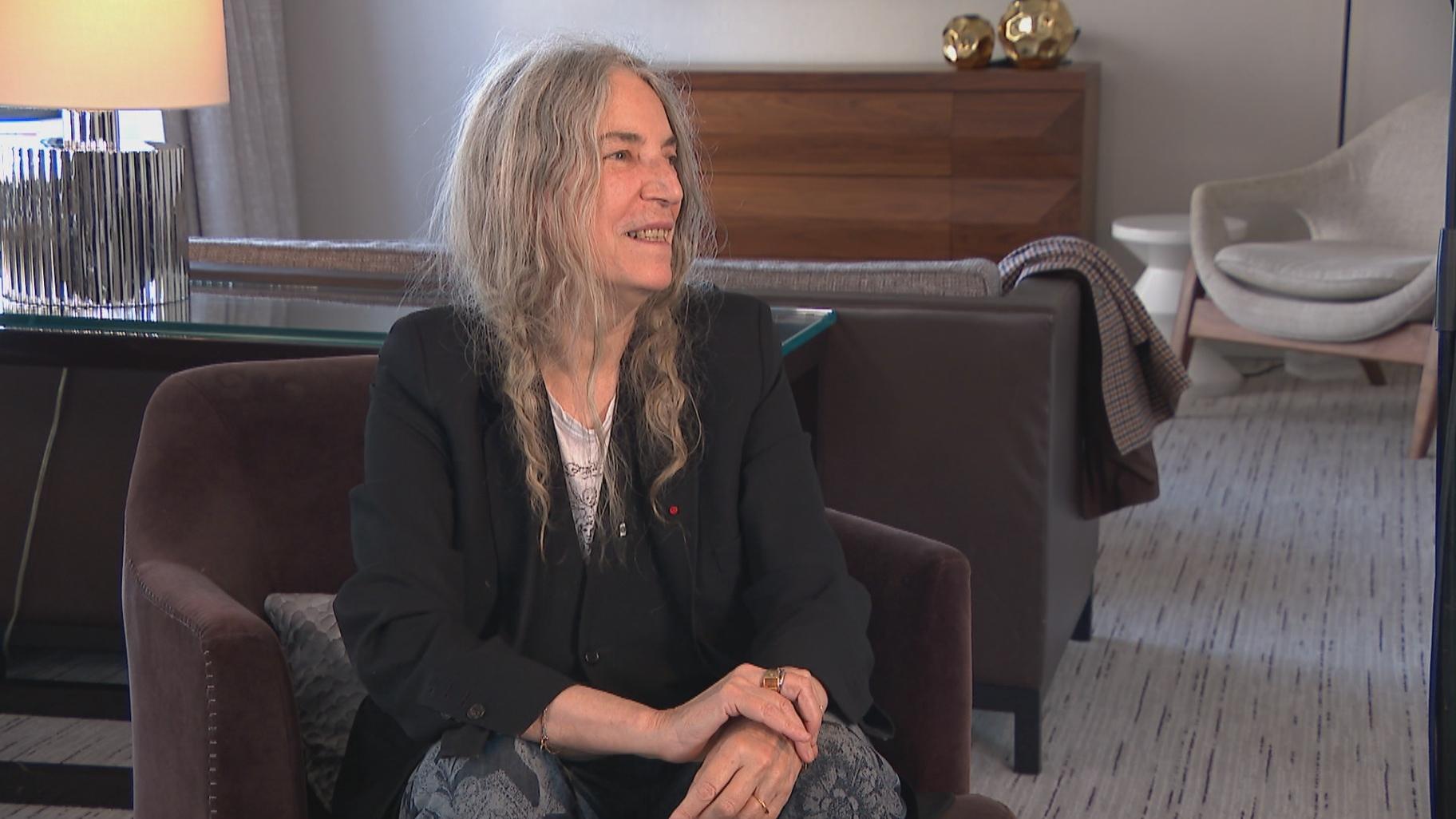 Patti Smith appears on "Chicago Tonight" on Nov. 1, 2022. (WTTW News)
Legendary musician, poet and writer Patti Smith joined "Chicago Tonight" to discuss her career and roots in Chicago.
Here's a look at a few things you might not know about the cultural icon:
1. Her favorite book as a young person was "Little Women" by Louisa May Alcott. She told "Chicago Tonight": "There was a girl [protagonist Jo March] who was a bit like me, sort of a tomboy, gangly, socially inept, and a bookworm. It almost gave me permission to write.
2. She likes TV detective shows and has singled out the British crime drama "Midsomer Murders," the BBC's "Wallander," and "CSI: Miami" as some of her favorites.
3. She finished her award-winning memoir "Just Kids" at Johnny Depp's house in the south of France. She told "Chicago Tonight": "Johnny used to bring my lunch on a tray and leave it on tray outside my door to not disturb me."
4. She collaborated with Doors' keyboardist Ray Manzarek in 1974 on the song "Wake Up Screaming," in which she recited Jim Morrison's words and was credited as "Poetess."
5. She contributed lyrics to several Blue Oyster Cult songs in the 1970s, including "Baby Ice Dog" and "The Revenge of Vera Gemini."
6. Two of her mentors were beat generation writers William Burroughs and Allen Ginsberg. She told "Chicago Tonight": "They really devoted a lot of time and supported me and gave me advice and invited me to perform with them."
7. She was friends Janis Joplin when she lived at the Chelsea Hotel. She also met Jimi Hendrix weeks before he died, and she later recorded at his Electric Lady Studio.
8. She visited the infamous penal colony in French Guiana to gather stones for the French writer Jean Genet.
9. Her late husband Fred "Sonic" Smith played guitar in the band MC5, which performed in Lincoln Park at the 1968 Democratic National Convention. It was the only band that showed up after Abbie Hoffman failed to secure a permit.
10. Fred "Sonic" Smith also wrote a well-loved song "City Slang," later covered by the Hellacopters. Patti Smith told "Chicago Tonight": "Kurt Cobain loved that song, and he was going to open his own record company and call it City Slang Records."
---