The life and work of a tough Chicago artist.  We take a closer look at painter Joan Mitchell, who expressed herself strongly during a macho era in American art on Chicago Tonight at 7:00 pm.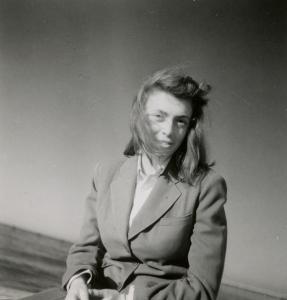 Joan Mitchell's artwork is on display in numerous public collections, nationally and internationally. The Art Institute of Chicago and the Smart Museum of Art both own canvases of the late painter. Read what the curators of the museums had to say about Mitchell's work.
Smart Museum of Art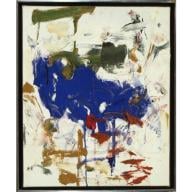 "The Joan Mitchell (painting) was among the first works of art given to the Smart Museum after the announcement of the founding of the Smart Museum, through a generous donation from the Smart Family Foundation to build The David and Alfred Smart Museum of Art, which is the first fine arts museum of The University of Chicago.  The donor, Katharine Kuh was, since the 1930s, an indefatigable advocate for modern art as an art dealer, museum curator, and corporate art collection adviser.  One of the four areas of concentration within the Smart Museum's permanent collection is modern art and design.  The Joan Mitchell was the first example of an American Abstract Expressionist painting to enter the collection, and is an excellent example of the gestural side of this New York-based school of abstraction.  After the opening of the Smart Museum, other works by central members of the group have been acquired, including: a large canvas by Mark Rothko, who represents another side of the art movement; two paintings by Norman Lewis, who was the only African American member of the original member of the first generation of Abstract Expressionist artists; an early gestural abstraction by the Color Field painter Kenneth Noland; and a painting by another female member of the group, Grace Hartigan." – Richard A. Born, Senior Curator, Smart Museum of Art.
Art Institute of Chicago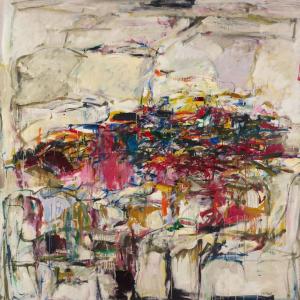 "The painting was acquired by the Art Institute in the 1950s. Joan Mitchell's "City Landscape" is among the artist's very best and is emblematic of gestural abstraction in painting at mid-century. One of the most important American art movements of the 20th century is Abstract Expressionism, hence her placement in dialogue with de Kooning, Pollock, etc." –James Rondeau, Curator of Contemporary Art, Art Institute of Chicago.