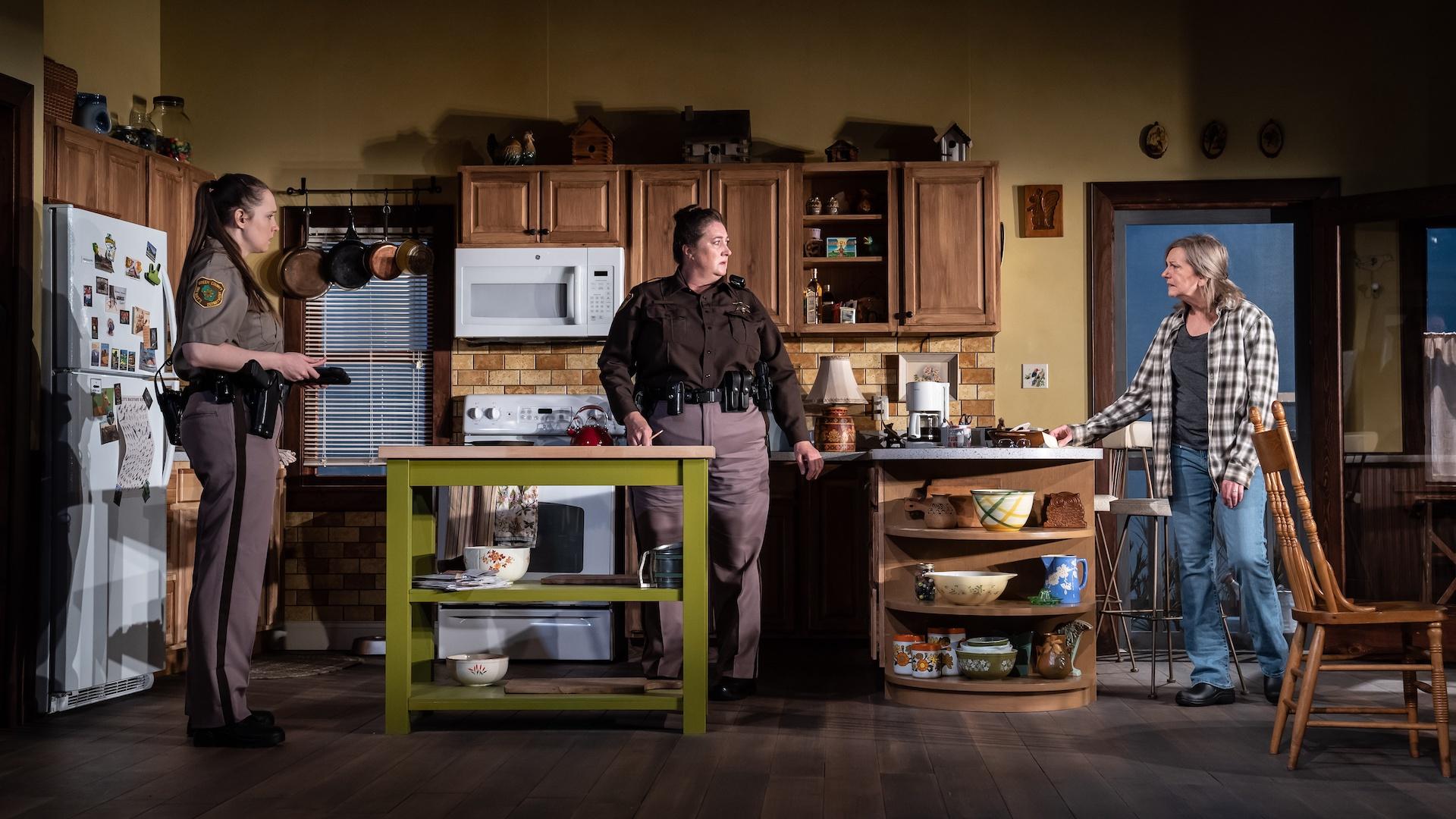 Anne E. Thompson, Kirsten Fitzgerald and Mary Beth Fisher in Rebecca Gilman's "Swing State." (Photo by Liz Lauren, provided)
Mental health breakdowns, profound loneliness and depression, thoughts of suicide, death from opioids, the pain of incarceration, the destruction of the environment, the tyranny of bad law enforcers, and yes, amid all that, even a few signs of compassion.
Yes, all that and more drives "Swing State," the 10th play by Rebecca Gilman to be staged at the Goodman Theatre in the past 25 years, and one of the last plays to be directed there by her long-time champion, Robert Falls, who is now working his way through his final season as the Goodman's artistic director, a role he has played since 1986.
Before going any further, a multi-faceted warning is in order. On the one hand, this is not a play for those suffering from depression. Yet on the other, it might just provide enough of the reassuring suggestion that there are still those with the desire to help turn things around. And on some level, it also might capture the alienation and emotional upheaval of the pandemic era years, even if that subject is never once mentioned.
Set in the summer of 2021, in the fictional rural town of Cardiff Township, Wisconsin, the play centers on the intersecting lives of just four characters. Chief among them is Peg (ideally played by the ever formidable Mary Beth Fisher), who lives in a house on a large plot of prairie land. A fervent protector of the environment, she is in a state of profound grief (with near suicidal thoughts) after the death of her beloved husband with whom she shared a passion for nature.
In a complex way, the only person who barely keeps Peg going is Ryan (Bubba Weiler, a young actor of exceptional talent), a deeply troubled twenty-something who has recently been released from several hellish years in prison and now works in a low level job. She mothers him to a certain extent. And as suicidal thoughts take hold of her at times, she wants to make sure he will inherit her house and part of her land. But he is clearly terrified to lose her. And in some way, shape and form they both attempt to keep each other alive.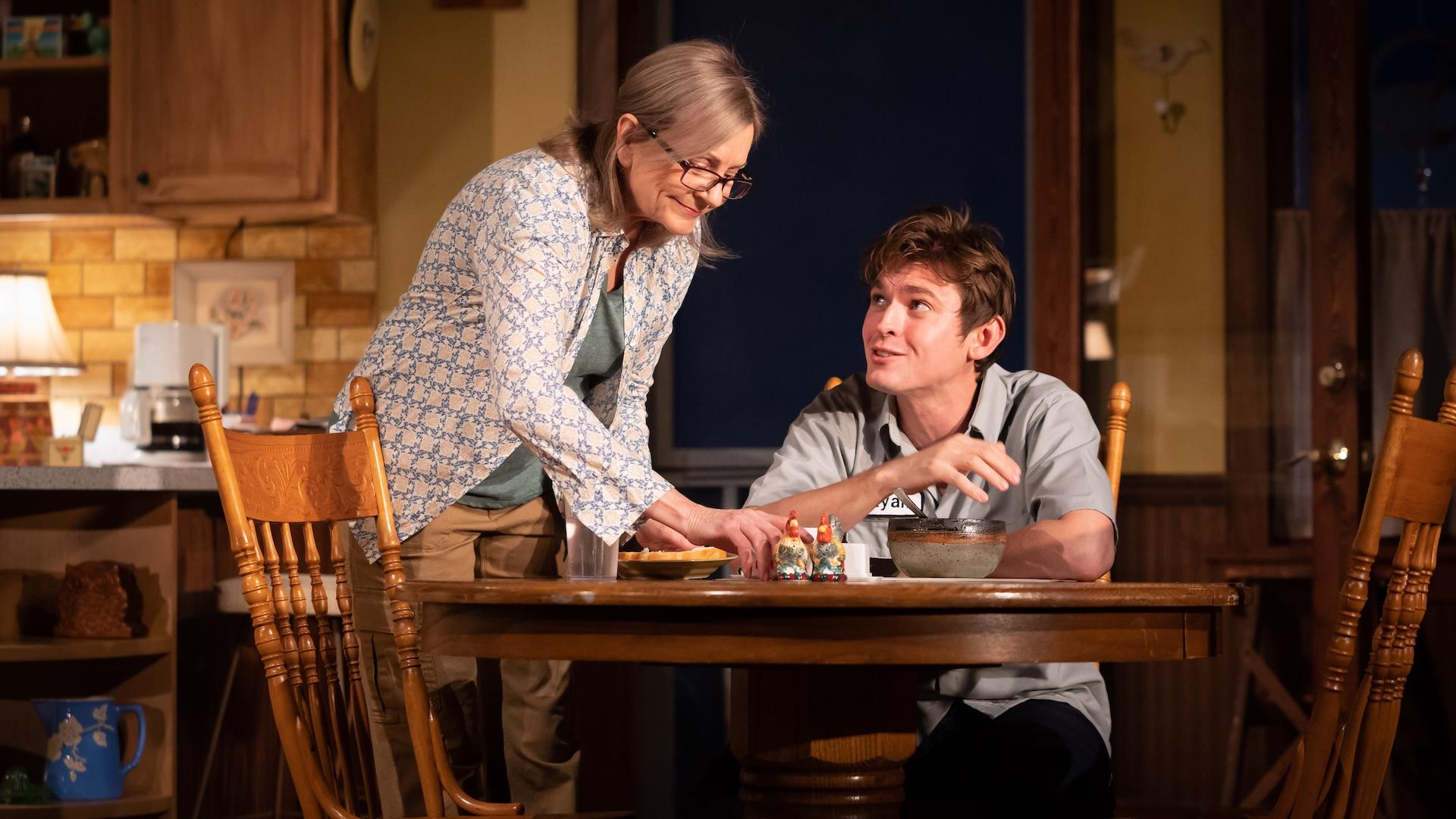 Mary Beth Fisher and Bubba Weiler in Rebecca Gilman's "Swing State." (Photo by Liz Lauren, provided)
Then comes trouble as Peg discovers that a trunk full of her husband's possessions, long left untouched in the garage, has been pilfered, and his vintage rifle (which she might have been considering pointing at herself) appears to have been taken. She reports the apparent crime to the town's rambunctious, aggressive Sheriff Kris (Kirsten Fitzgerald, in her most officious mode). And she is visited by both the sheriff and her new recruit, Dani (Anne E. Thompson, a superb young actress who deftly balances the naivete, compassion and insight of her character).
The acting and direction in the production are uniformly excellent. And, as ever, Todd Rosenthal's set design is ideal, with its decidedly lived-in, object-filled kitchen and den typical of a mid-20th century middle class house, complete with a classic water cooler emblematic of Peg's avoidance of chemically poisonous tap water.
Without divulging too much more it is enough to describe the play's denouement as tragic, yet laced with a slight suggestion of hope for a more humane world.
"Swing State" runs through Nov. 13 at the Goodman Theatre, 170 N. Dearborn. For tickets visit GoodmanTheatre.org or phone (312) 443-3800.
Follow Hedy Weiss on Twitter: @HedyWeissCritic
---