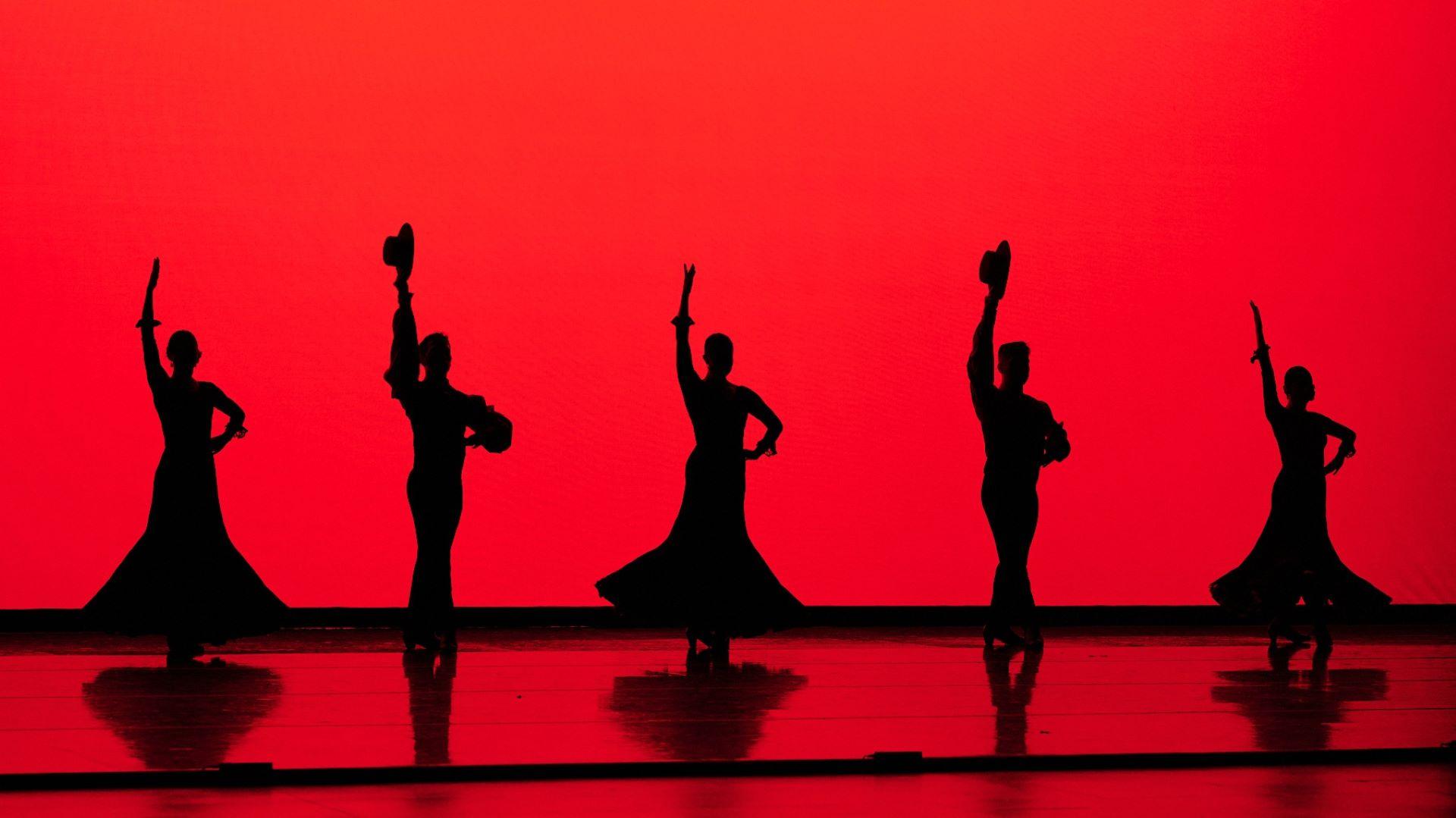 Ensemble Español Spanish Dance Theater performs at the Auditorium Theatre in Chicago. (Courtesy of Ensemble Español)
As any traveler will tell you, a trip to Spain is invariably a great treat. But an evening spent with Chicago's Ensemble Español Spanish Dance Theater — established by the visionary Dame Libby Komaiko in 1975, and now expertly guided by Irma Suarez Ruiz and Jorge Perez — is, unquestionably, an ideal temporary substitute.
For proof you need only have been at the Auditorium Theatre this past weekend for the company's lavish concert, "Flamenco Passion," that featured a bravura assemblage of dancers, sensational musicians, and impressive set, lighting and costume design. The performance also served as a vivid showcase of a wide range of Spanish dance styles as performed by distinctive personalities, and was the latest example of why this citywide Year of Chicago Dance celebration is a fully deserved honor.
Featuring a cast comprised of the company's principal dancers, apprentice dancers, Youth Company dancers, two guest artists (La Lupi and Jose Moreno), and a group of sensational musicians (flamenco singer/guitarist Paco Fonta, guitarists Curro de Maria and David Chiriboga, and percussionist Javier Saume-Mazzei), the concert served as an eclectic showcase of both traditional flamenco and modern riffs on the form.
Opening the program was Para.Mar, a Chicago-based contemporary ballet company formed during the pandemic. It performed "Dos Lados (Two Sides)," a richly theatrical, erotically charged work by Para.Mar's founder and director, Stephanie Martinez. An especially seductive and acrobatic spirit was displayed by the male dancers.
Ruiz and Perez, longtime colleagues, gave a most stylish performance of "Entre Dos Almas (Between Two Souls)," a work they jointly choreographed in 1998. Ruiz was in top form and Perez playfully suggested he was getting quite a workout.
Dancer Samantha Micklewright, dressed in a red sheath, and with a gauzy white curtain hung behind her, performed choreographer Carlos Rodriguez's haunting and mysterious solo work, "La Noche Sagrada (The Sacred Night)," set to music by Juan Parrilla. The piece, open to much interpretation, was described in a program note as "inspired by the process of metamorphosis."
The full company then joined forces for "Danza del Fuego (Dance of Fire)," Komaiko's beautiful 1979 work set to a wonderfully flamboyant "zarzuela" composed by Pablo Luna.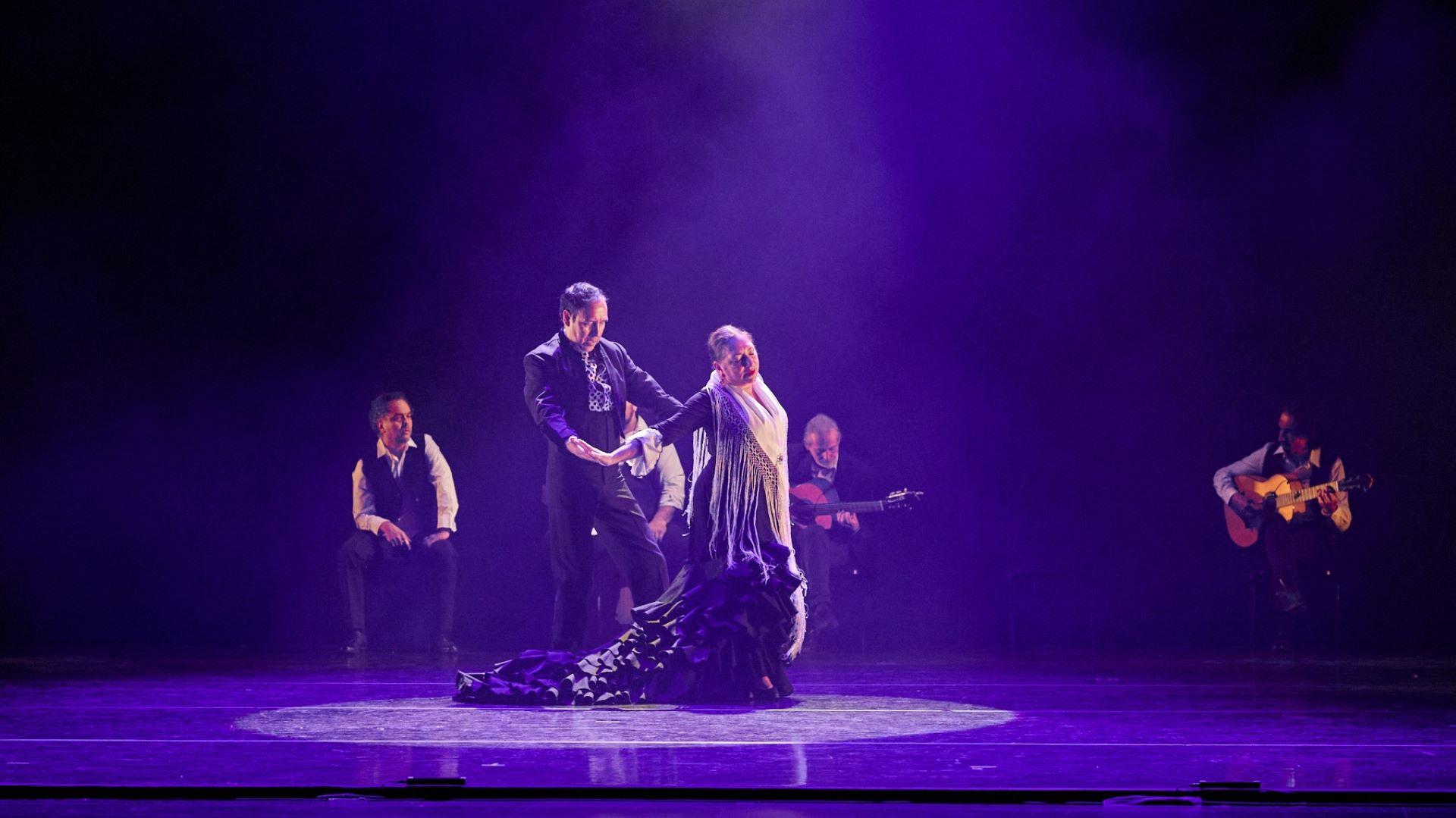 Ensemble Español Spanish Dance Theater performs at the Auditorium Theatre in Chicago. (Courtesy of Ensemble Español)
Contributing to the program, with what might best be described as pure footwork fire, was Jose Moreno. A solidly built fortress of a man — who, at first glance, one might not guess was a sensational dancer — he broke into a phenomenal solo, "La Resonancia del Alma (Resonances of the Soul)," and listening to his feet beat out amazing rhythms at the speed of light was absolutely riveting. An unforgettable tour de force.
Closing the first half of the evening was "El Baile de Luis Alonso," a grand scale production choreographed by Ruiz, and inspired by a late 19th century "zarzuela" (Spanish light opera) by composer Geronimo Gimenez. The company danced it beautifully.
Opening the second half of the program was "Dualia," an excerpt from a full-length ballet of the same title that was choreographed by Carlos Rodriguez and Angel Rojas and turned into this suite in honor of Libby Komaiko. Set to music by Jose Nieto, it was beautifully performed by Micklewright, Luis Beltran, Nalanie Molina and Jonathan Pacheco.
Then, arriving on stage for her extended flamenco solo was La Lupi, the powerhouse flamenco star dancing with fervor in the U.S premiere of "A Silverio," a bravura showcase of Flamenco Abandolaos and Serrana styles, set to music by Curro de Maria & Livio Gianola. La Lupi also choreographed "Pasos Largos (Long Steps)" for the dancers of Ensemble Español, and joined them for a final "Buleria," a dance designed to literally "make a racket."
Note: There is a great deal more dance, both local and global in origin, headed to Chicago stages during the 2022-23 season. Coming to the Auditorium Theatre alone will be Les Ballets Trockadero de Monte Carlo, Step Afrika!, Cloud Gate Dance Theatre of Taiwan, American Ballet Theatre, the Alvin Ailey American Dance Theater, and the Chicago-based companies Deeply Rooted Dance Theater, South Chicago Dance Theatre, the Trinity Irish Dance Company, M.A.A.D. Rhythms and the New York-based Dorrance Dance. For details visit auditoriumtheatre.org.
Follow Hedy Weiss on Twitter: @HedyWeissCritic
---