Faced with a surge of criticism at City Hall, Innovative Parking Solutions owner Michael Denigris did what Chicago business owners have done for decades — he hired a clout-rich lobbyist and poured tens of thousands of dollars into lawmakers' campaign accounts.
But it is not clear whether that expensive and time-consuming effort, which illuminates how wealthy interests get their issues in front of Chicago lawmakers, will pay off for Denigris and his firm. 
Chicagoans may soon find out the answer. 
A vote on a measure that would strip members of the Chicago City Council of their authority to ban commercial property owners from hiring a firm like Denigris' to patrol their parking lots and swiftly immobilize cars that are parked there illegally was delayed Sept. 21, and its future is uncertain.
Supporters acknowledged they did not have enough votes to pass the measure in September — but could try again Oct. 26. However, the measure has not yet been called for a vote as of Monday, an indication that negotiations are ongoing.
Denigris told WTTW News that booting a car is a kinder, gentler way of making sure businesses have enough parking spaces for their customers.
"They get booted and they never do it again," Denigris said. "I've never booted the same person twice."
But that means that Denigris is always searching for new clients — and new parking lots to monitor for scofflaws.
"We can't grow by having to have restrictions where we have to ask someone, 'Hey, can we now work in your ward?'" Denigris said. "And then when leadership changes and they know nothing about the business, you have to resell it. There's many obstacles with that."
Booting by ward
For more than 20 years in Chicago, it has been up to each ward's alderperson whether to allow business owners to slap a boot on cars parked illegally on their property, instead of calling a tow truck and having the car hauled away.
The boots can be installed faster than calling a tow truck, making it easier to punish owners who head to a neighboring business or make another stop, who must pay $170 to have the device removed. It could cost a motorist as much as $261 to get their towed car back, private booting backers say, a process Denigris calls "barbaric."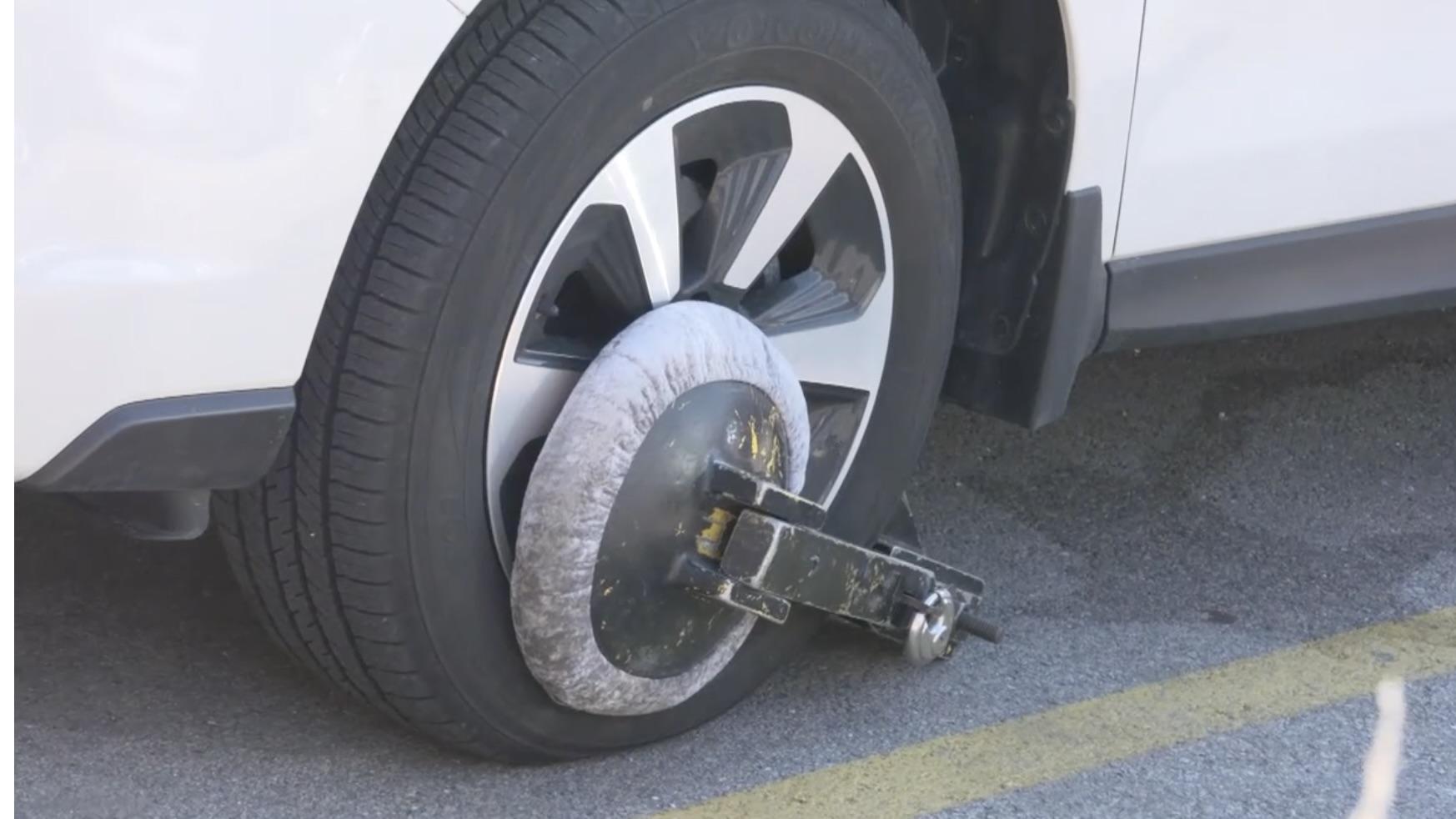 An Innovative Parking Solutions boot immobilizing a car in a North Side parking lot. (WTTW News)
The number of wards where private booting firms were allowed to operate has grown steadily from 25 wards in 2017 to 35 wards today, according to city records.
But that progress was threatened by Ald. Daniel LaSpata's decision in February 2021 to exercise his aldermanic prerogative and ban the firm from patrolling parking lots from the city's 1st Ward, which includes parts of Logan Square and Wicker Park. 
La Spata followed in the footsteps of Hyde Park Ald. Sophia King (4th Ward), who banned private booting in her South Side ward in January 2020. While King's measure flew under the radar at City Hall, and was not opposed by any of her colleagues, La Spata's proposal created a firestorm of controversy that continues to rage.
La Spata said he moved to ban private booting after getting dozens of complaints about Innovative Parking Solutions, and deciding that $170 was too steep a fine for such a small mistake. While Denigris acknowledges private booting isn't popular, laughing that "we're not handing out ice cream," he says the vast majority of complaints against his company aren't legit.
Eventually the ban on private booting in the 1st Ward took effect in April 2021 — after La Spata overcame opposition from his colleagues on the City Council.
Lobbying at work
The push to override La Spata and other anti-booting alderpeople was led by Ald. Ariel Reboyras (30th Ward), who has said he acted at the request of former Ald. Joe Moore (49th Ward), who lost his bid for re-election in 2019 and immediately began lobbying his former colleagues — often from the floor of the City Council.
Moore told WTTW News his presence on the floor is not for lobbying purposes, calling that "bad form."
Moore said he was proud to lobby for the firm, which he said offers a "consumer-friendly alternative to towing services."
The City Council should level the playing field and allow private booting firms to operate citywide, rather than on a ward-by-ward basis, just like towing firms, Moore said.
Moore is "much more convincing" when pressing alderpeople on this issue, Denigris said, which is why he hired the former alderperson to lobby for his firm.
However, leaving these sorts of decisions to the local alderperson is part of a long tradition at City Hall known as aldermanic prerogative that has come increasingly under fire by Mayor Lori Lightfoot as a source of potential corruption. 
Moore dismissed a suggestion that Innovative Parking Solutions hired him because of his clout at City Hall — and his access to the City Council chambers. Under the City Council's rules of procedures, former alderpeople are granted lifetime access to the chambers — unless they have been convicted of a crime.
"I think they hire me because of the knowledge I learned and relationships I've built over my 30 years in public office and I think I'm very good at what I do," Moore said.
However, Constance Mixon, an Elmhurst University political science professor and the director of the school's urban studies program, said the way Moore has represented Innovative Parking Solutions is straight out of the "old playbook" that has ruled City Hall for decades.
"This sure seems like the Chicago way to me," Mixon said. "That's what clout is."
Mixon said it defied logic to suggest that Moore's past status as an alderperson did not matter.
"It may not be illegal, but the optics aren't great and it doesn't pass the smell test," Mixon said. 
A measure designed to root out the corruption that has led to the conviction of 37 members of the Chicago City Council since 1969 took direct aim at Moore by banning former alderpeople who work as lobbyists from the floor of the Council Chambers.
Although Moore has been a frequent presence on the floor when the City Council meets, Moore spends most of his time in the room behind the chambers, known as the annex. That's where alderpeople retreat for a cup of coffee, give interviews and chat with friends.
Moore was lobbying on behalf of Innovative Parking Solutions in the annex recently as Sept. 21, handing out fact sheets and answering queries before heading on to the floor of the chambers after the meeting ended.
No other lobbyist has been granted access to the floor of the City Council chambers or the annex.
"This new rule that was put into place is prohibiting something that I never did," Moore said.
Campaign contributions
Moore began lobbying for Innovative Parking Solutions between January and March 2021, according to disclosure statements filed with the Chicago Board of Ethics. 
Since May 2019, the firm, its owners and connected businesses, and Moore have contributed $45,550 to members of the City Council and their campaign committees.
Denigris said most of the campaign contributions he makes comes in the form of tickets to fundraisers, which are "the best way for me to network."
The contributions are to alderpeople whose wards he operates in, not a form of quid pro quo, Denigris said.
"My small contributions could do nothing in that department of … convincing or anything," he said.
But Mixon thinks the campaign contributions made by Innovative Parking Solutions were more than enough to get an audience with critical alderpeople and make their case.
"It is concerning," she said.
Moore told WTTW News that there was nothing unseemly about making campaign contributions to elected officials who are doing a good job.
"It's part of the American process," Moore said. "I have a lot of good friends (on) the City Council that I liked to support."
Reboyras said he sponsored the measure to help businesses recover from COVID-19, and that getting a boot removed is less of a hassle than getting a car back from an impound lot for motorists.
Reboyras has long benefited from contributions from Innovative Parking Solutions and connected businesses and individuals, netting $4,450 since 2005, according to state campaign finance records.
Chicago's governmental ethics ordinance limits companies doing business with the city and lobbyists, like Moore, to contributing no more than $1,500 to elected officials every year. Those limits do not apply to Innovative Parking Solutions, because the firm simply holds a city license.
Reboyras said he had done nothing wrong by taking campaign contributions from Denigris. Reboyras is one of more than a dozen members of the City Council who will not run for re-election in 2023.
"We're not saying that's why we're doing it, because we're getting paid to do it," Reboyras said. "In my case, it doesn't matter. I'm leaving. I got about five months left."
Moore has been paid $17,500 to lobby for Innovative Parking Solutions, city records show.
The firm, its leaders, and their other companies have long been frequent contributors to Chicago officials, giving $115,105 to alderpeople, candidates for the City Council and ward political committees since 2003, according to records filed with the Illinois State Board of Elections.
While still serving as an alderperson, lobbyist Moore received $5,500 of that cash between 2006 and 2019. His wife, Barbara, a one-time candidate for Metropolitan Water Reclamation District, took in $500.
Ald. Maria Hadden (49th Ward), who ousted Moore in 2019, said the whole arrangement is "unethical."
Hadden said she remained determined to ban private booting in her Far North Side ward, calling the practice "predatory" and said it offers no benefit.
"I have my own personal judgments about whether this is the right way to use one's access or one's former status or whether it's a great way for companies to do business," Hadden said.
The entire issue will do nothing to increase faith in Chicago government, long derided as a cesspool of insider dealing and graft, Hadden said.
"I can see where (the contributions) could be misconstrued," Denigris said. "People want ... this information to be misconstrued (to) rid the neighborhood of this company."
Former Ald. Joe Moore (49th Ward) chats with Ald. Ariel Reybroas (30th Ward), left, and Ald. Lesiie Hairston (5th Ward) on the floor of the City Council chambers. (WTTW News)
Breakthrough at City Council
The measure to allow all commercial property owners in Chicago to boot vehicles parked illegally in their lots was introduced by Reboyras and Ald. Raymond Lopez (15th Ward) in April, only to stall immediately.
Opponents of the measure sent it to the City Council's Rules Committee, typically where controversial pieces of legislation go to die a slow, unremarkable death.
But Reboyras and Lopez managed to free their proposal from legislative limbo just a month later, sending it to the City Council's License and Consumer Protection Committee for a hearing.
When that hearing took place in September, it advanced on a vote of 12-6, sending it to the full City Council.
Eight of the 12 alderpeople who voted for the measure designed to help Innovative Parking Solutions took campaign contributions from the firm, Moore or both. That includes committee chair Ald. Emma Mitts (37th Ward), who reported getting $6,900 from the firm.
Mitts has so far refused to hold a hearing and vote on a measure introduced by Alds. Maria Hadden (49th Ward) and Rossana Rodriguez Sanchez (33rd Ward) to ban private booting firms from operating in their wards.
It is not clear whether the measure has the support of Mayor Lori Lightfoot. When a reporter from Block Club Chicago asked her about it on Sept. 21, Lightfoot said she supported an effort to allow abandoned cars from being removed from vacant lots that have become a magnet for crime and an eyesore from nearby residents.
Denigris said he's hopeful the measure allowing him to work citywide will pass.
"You can't turn around to a tow company and say, you can't work in that ward," Denigris said. "No alderperson can turn around to the city and say, I don't want booting in my ward. … Why should I have that restriction?"
Contact Heather Cherone: @HeatherCherone | (773) 569-1863 | [email protected]
Contact Nick Blumberg: @ndblumberg | (773) 509-5434 | [email protected]
---