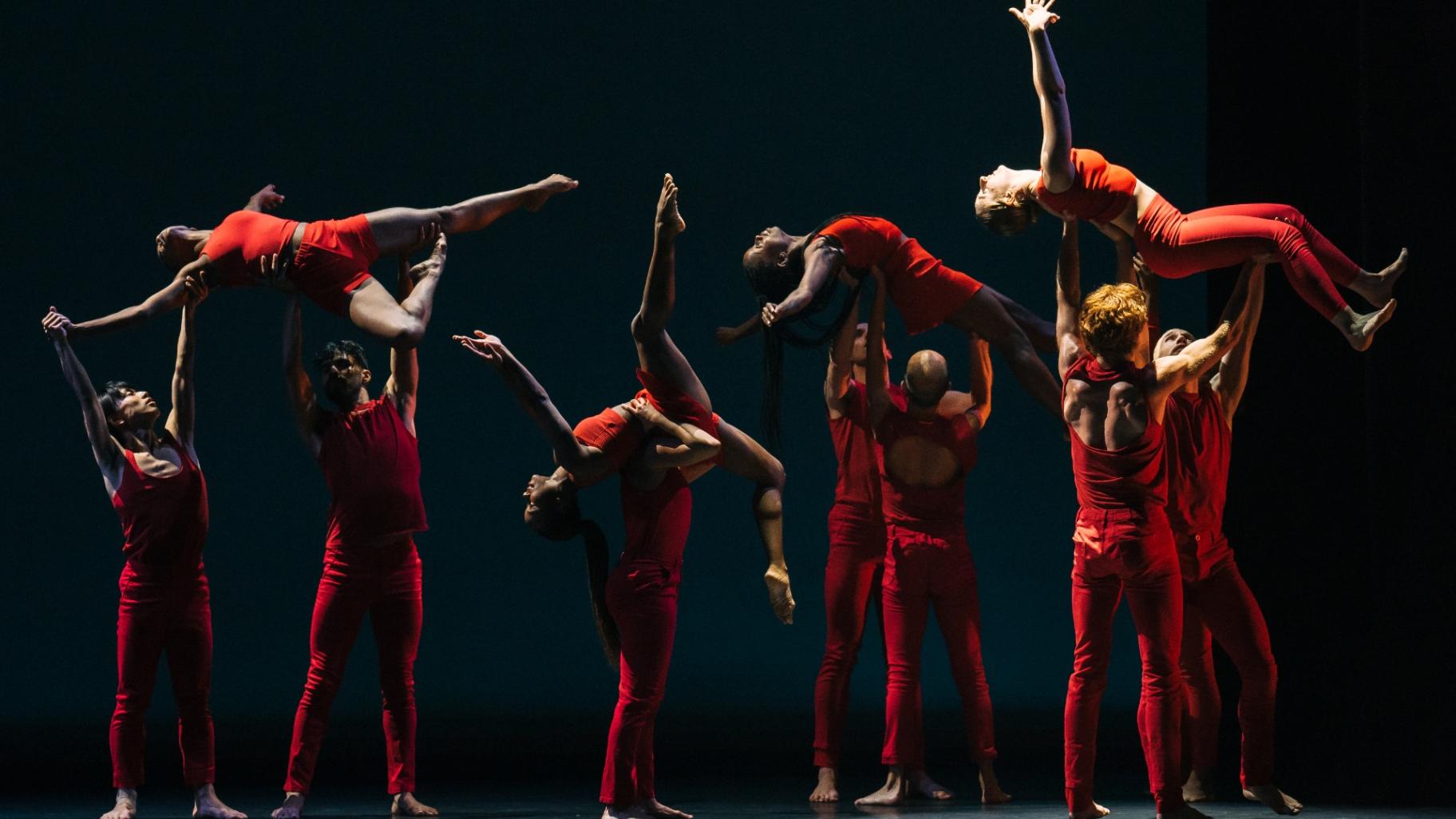 Hubbard Street Dance Chicago performs "Dichotomy of a Journey," choreographed by Darrell Grand Moultrie. (Credit: Michelle Reid)
"Refraction" is the all-encompassing title of Hubbard Street Dance Chicago's fall program at the Harris Theater for Music and Dance, and it marks the start of the celebrated company's 45th anniversary "Sapphire" season. It might be best to start by defining the word "refraction," which, in the realm of physics, is explained as "the change in direction of a light ray or energy wave passing from one medium to another caused by its change in speed."
In this case, it might be interpreted as a change in artistic focus and dancers (with the primary veterans of the company the always excellent Jacqueline Burnett and David Schultz).
While the makeup of the company has changed considerably since the pandemic, and new artistic director Linda-Denise Fisher-Harrell (who began her professional dance career with Hubbard Street at the invitation of founder Lou Conte, and went on to become a principal dancer with the Alvin Ailey American Dance Theater) joined, the one thing that has remained unchanged is the superb technique and feverish intensity of its dancers. But as this weekend's program of three expertly performed works by gifted choreographers demonstrated, too much of the same thing can be problematic.
Variety is the spice of life, and this lineup, with its similar themes of isolation, despair, and the complex nature of love (whether personal or global, joyful or painful), needed more spice. Had even one more stylistically and emotionally different work been placed on the program (even a chestnut from the company's widely varied archive) the overall impact would have been greatly heightened.
The concert, which I saw on Friday evening, opened with "The Windless Hold," choreographed by Osnel Delgado (who has deep roots in Cuba), and set to a wide array of music by modernist composers. Much of the action takes place in designer Manuel Da Silva's large rectangle of light, with Alysia Johnson (the standout throughout the evening) and Elliot Hammans as the lead dancers who were backed by the full ensemble. In a feverish, often despairing turn, Johnson, an intense actress, is the woman pursued by many different men, and is repeatedly approached and encircled until she finally connects.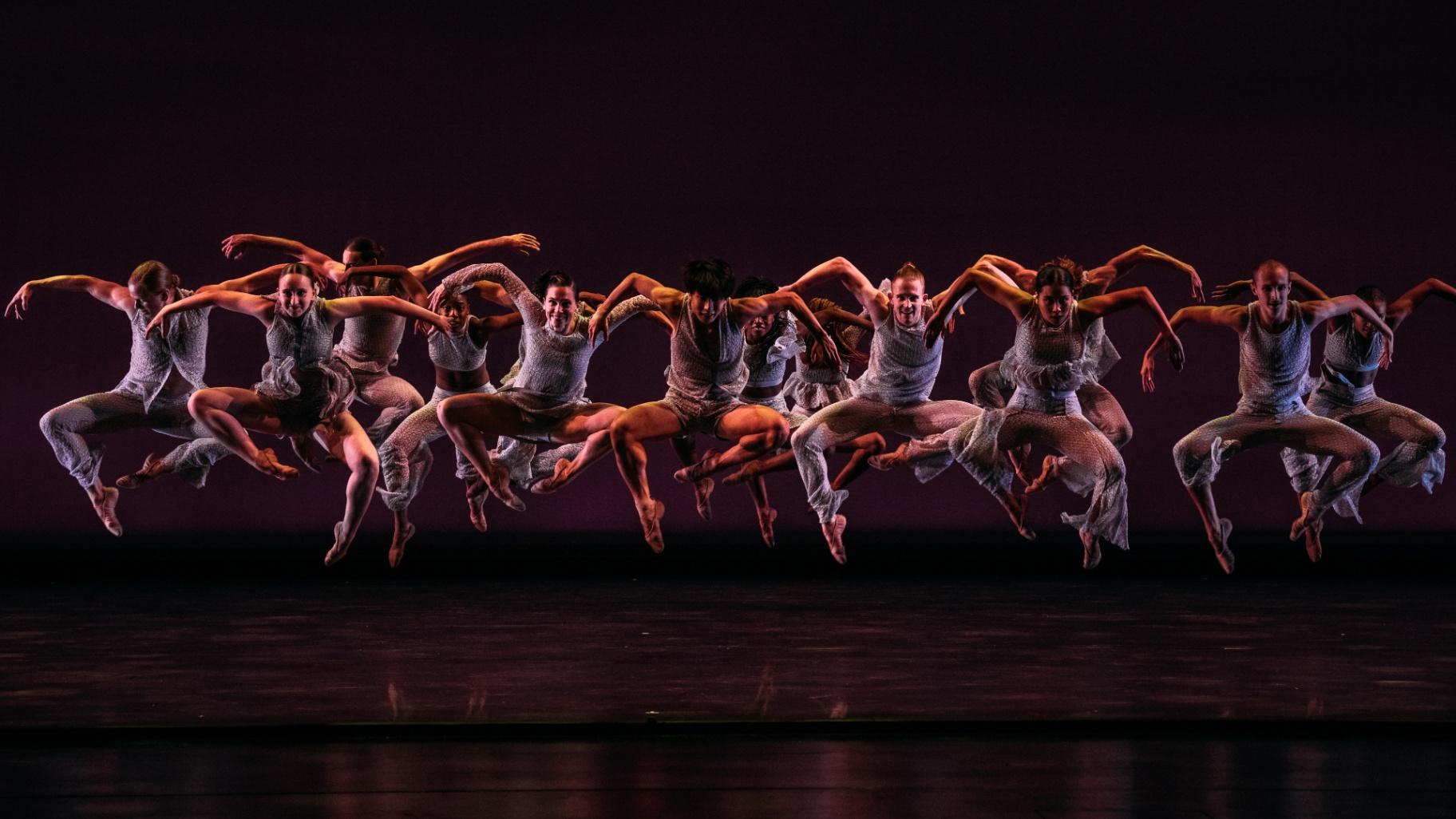 Hubbard Street Dance Chicago performs "Love Infinite," a work by Randy Duncan. (Credit: Michelle Reid)
Next came "Love Infinite," a work by Randy Duncan, the widely familiar Chicago choreographer renowned for his wonderfully exuberant pieces that artfully bring together a great cross-section of Chicago dancers for the Dance for Life gala every year.
Here, in another celebratory piece — with music by Ira Antelis, a composer with a long list of film and commercial credits, who has written songs for the likes of Patti LaBelle and Christina Aguilera — the ensemble of 14 dancers, dressed in subtly ruffled white costumes by Luis Razo, engaged in beautiful, seamless dancing set against a backdrop of continually changing colors (lighting by Dustin L. Derry). The uniformly technically superb dancers sometimes formed couples, engaged in some beautiful lifts and jazzy moves, and at one moment formed a great horizontal line across the stage. There also were inspirational words of spoken-word poet I sadat: "Love is the answer."
The final piece on the program, "Dichotomy of a Journey," is the creation of Darrell Grand Moultrie, a New York-bred choreographer who has created works for dozens of dance companies and theater productions. A grand-scale work in seven sections — it is set to an eclectic mix of music ranging from a string quartet by Ezio Bosso, to excerpts from a piano concerto by Shostakovich, to the fervent gospel music and recitation of Donald Lawrence's "Encourage Yourself." Again the standout among all the company's many notable dancers was the feverish Alysia Johnson.
For more information about upcoming performances, visit hubbardstreetdance.com.
Follow Hedy Weiss on Twitter: @HedyWeissCritic
---