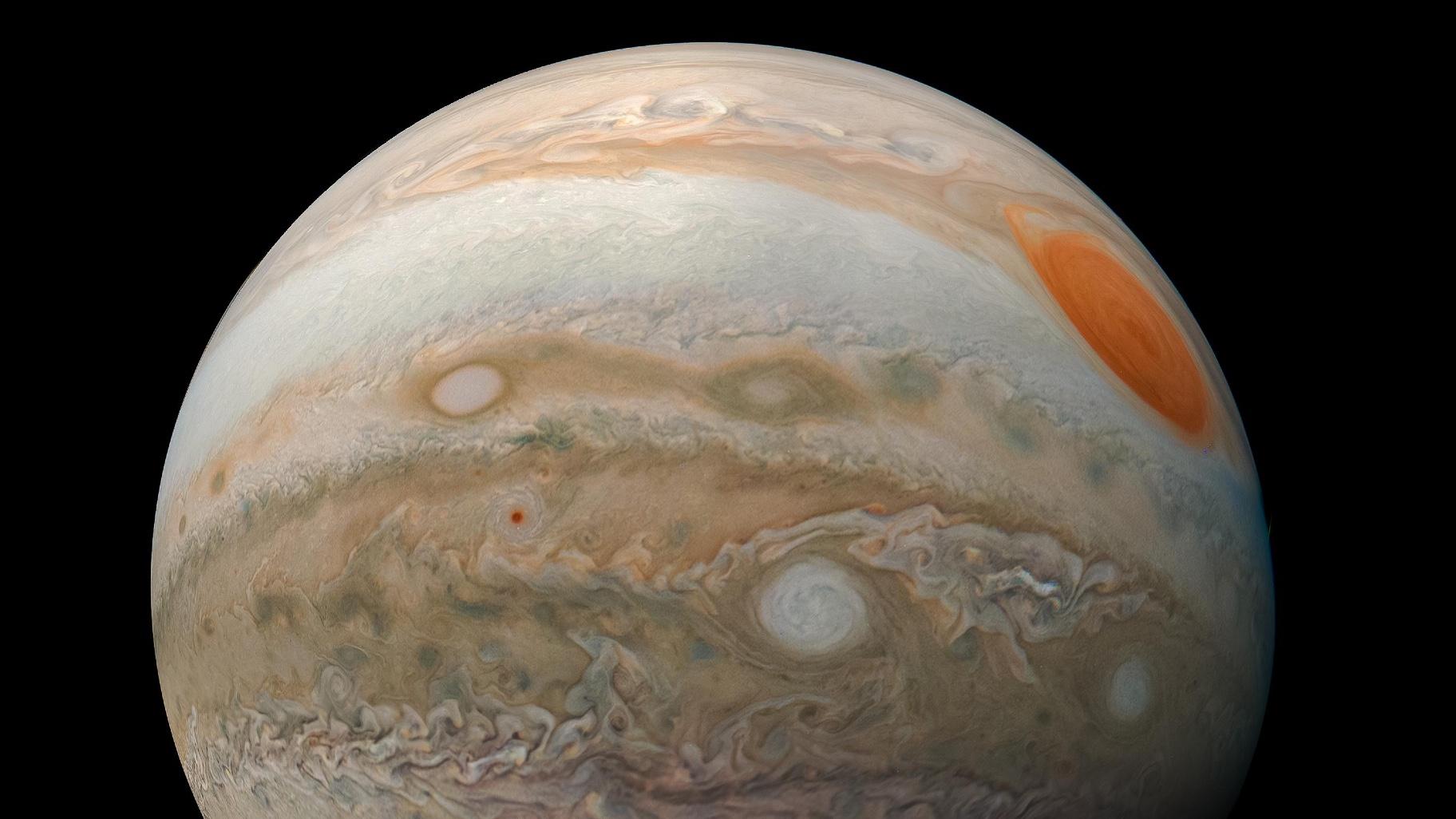 This view of Jupiter was captured by NASA's Juno spacecraft on Feb. 12, 2019, as the spacecraft performed its 17th science pass of Jupiter. (Courtesy of NASA / JPL-Caltech / SwRI / MSSS)
As the sun sets Monday night, another bright celestial object will rise in the east, lighting up the sky.
That's Jupiter, already brighter than normal because of its position to the setting sun, but looming even larger as it makes its closest approach to Earth since 1963. ("Close" is relative — Jupiter's still 367 million miles away.) This is the nearest the gas giant will get to our planet for another 100 years.
Jupiter itself will be plenty visible to the naked eye. With good binoculars, held steady, people should even be able to observe three or four of the planet's moons and some of the planet's banding, according to NASA. 
Not even Chicago's light pollution can dim Jupiter's glow, according to the Adler Planetarium.
If the cloud cover doesn't cooperate Monday, the views should remain excellent for the next couple of days, NASA said.
#Jupiter is in opposition on 9/26, so get your stargazing eyes ready for this celestial event, it might be one of the best views of Jupiter you will ever see! pic.twitter.com/nrBVmfeBRx

— AdlerPlanet (@AdlerPlanet) September 21, 2022
---
Stargazers: Jupiter will make its closest approach to Earth in 59 years! Weather-permitting, expect excellent views on Sept. 26. A good pair of binoculars should be enough to catch some details; you'll need a large telescope to see the Great Red Spot. https://t.co/qD5OiZX6ld pic.twitter.com/AMFYmC9NET

— NASA (@NASA) September 23, 2022
---
Contact Patty Wetli: @pattywetli | (773) 509-5623 |  [email protected]