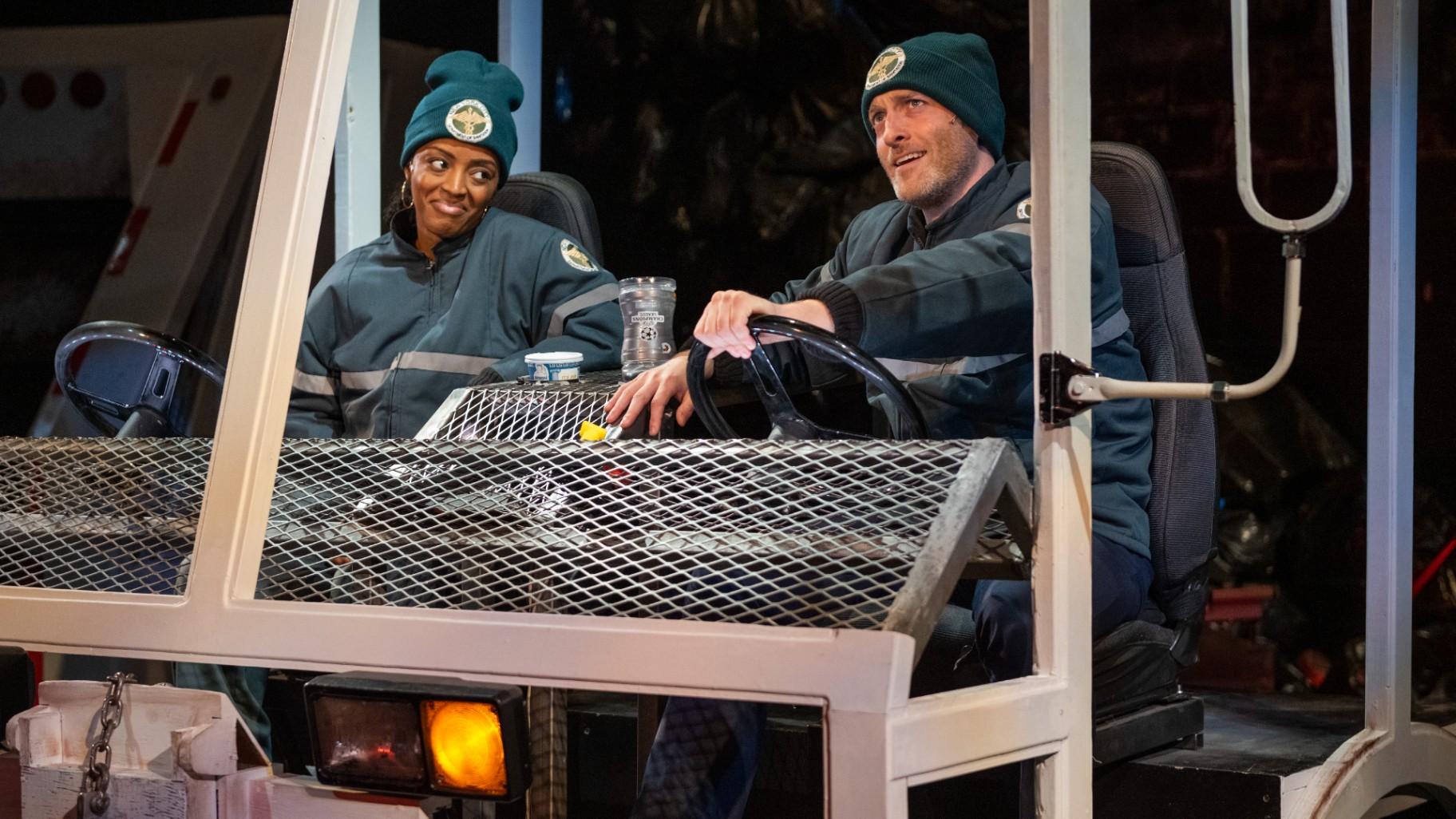 Tiffany Renee Johnson and Luigi Sottile in Lindsay Joelle's "The Garbologists" at Northlight Theatre. (Credit: Michael Brosilow)
It is a bit tricky to write about "The Garbologists," the engaging, sharply written, and cleverly titled two-character play by Lindsay Joelle now receiving its first professional production by Northlight Theatre. And the reason for that is easy to explain. For by revealing the personal problems of the experienced garbageman and the new-to-the-job woman who has just been assigned as his partner, is to give away a great deal of the story.
But before going any further there is this question: Whether you live in Chicago, or have spent time in New York City (where Joelle's play is set), how often have you seen a woman at work on a Streets and Sanitation Department truck? Not very often. I checked the statistics and here is what I learned: Of the approximately 7,000 uniformed city garbage collectors in New York City, only about 200 are women. Not really surprising, of course. It is dirty, backbreaking work.
So why has Marlowe (played by Tiffany Renee Johnson) — an attractive if somewhat haughty Black woman who has not only passed all the required tests for the job, but has also earned advanced university degrees in art history and more — taken her place in a garbage truck where she sits alongside Danny (Luigi Sottile), a White guy whose seniority puts him in the driver's seat?
As a newbie, she will have to do most of the heavy lifting, hauling everything from big, bug-infested plastic trash bags to king-size mattresses into the truck's grinder. She also is not at all happy about having to deal with her "boss."
Not surprisingly, both Danny and Marlowe have personal problems that only add to their uneasy alliance as they drive from one mountain of trash to another. He is separated from his wife and is under a temporary restraining order for missed child support payments, and his long-time co-worker on the truck, a good friend, has recently landed in jail.
Meanwhile, Marlowe is living with her parents in the wake of a personal tragedy about which I will divulge no more. And clearly both have something to prove to themselves and each other.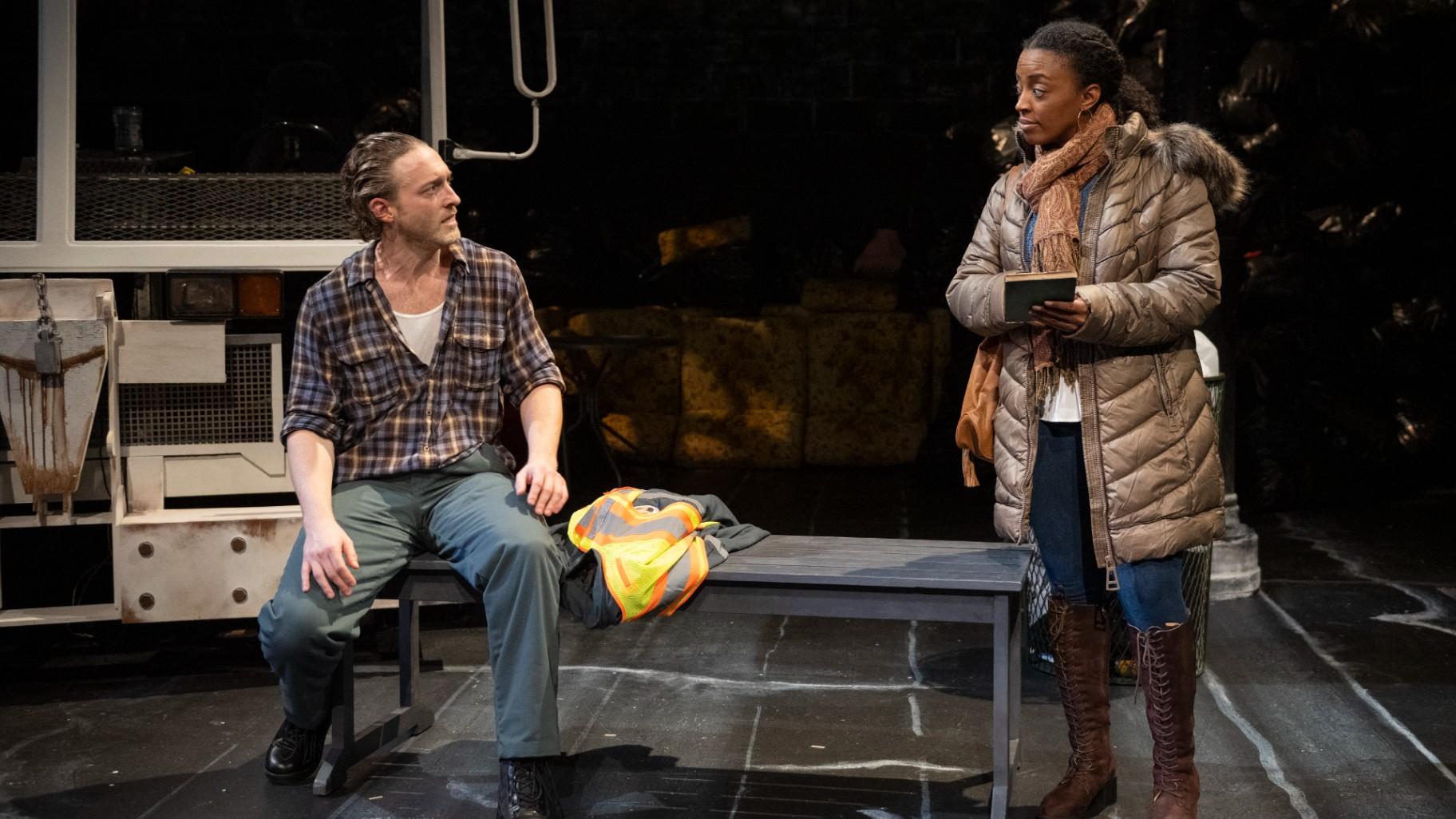 Tiffany Renee Johnson and Luigi Sottile in Lindsay Joelle's "The Garbologists" at Northlight Theatre. (Credit: Michael Brosilow)
Over the course of the play's fast-moving 90 minutes, Joelle very believably conjures the interplay between these two people as their initial animosity gradually mellows into a trusting friendship and perhaps something more. And along the way there are several revelations not to be given away here, as well as a delightful story of a valuable treasure found amid the trash. There also is the winning observation that garbage is in many ways an essential form of human history.
Johnson and Sottile, deftly directed by Cody Estle, skillfully suggest both the competitive tension and developing connection that develops between Danny and Marlowe. And as always, set designer Collette Pollard's grand-scale set is a terrific drama all its own in this play that undoubtedly will have you looking at both the dumpsters, and the next garbage truck that carries away your trash, in a different way.
"The Garbologists" runs through Oct. 2 at Northlight Theatre, 9501 Skokie Boulevard, Skokie. For tickets visit northlight.org or call 847-673-6300.
Follow Hedy Weiss on Twitter: @HedyWeissCritic
---