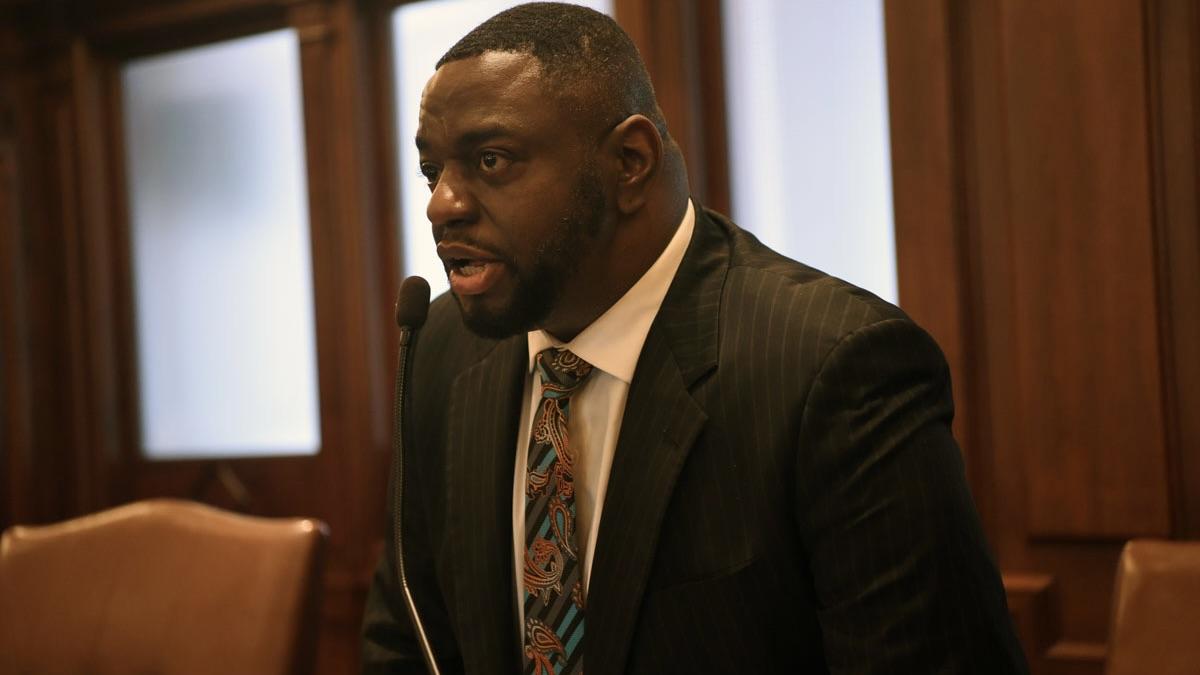 State Sen. Emil Jones, D-Chicago. (Provided: Illinois Senate Democrats)
Federal prosecutors charged state Sen. Emil Jones III, D-Chicago, with three felonies on Tuesday, alleging that he took a $5,000 bribe from a firm that installed red-light cameras throughout the state and lied to Federal Bureau of Investigation agents.
The charges against Jones were made public by the U.S. Attorney's Office in the Northern District of Illinois through an information, a court document that is typically filed in cases where the defendant has indicated they plan to plead guilty.
Jones did not immediately respond to phone or email messages from WTTW News Tuesday afternoon, and his attorney could not be reached.
Jones is accused of taking a $5,000 bribe in return for amending a bill he introduced in 2019 that would have required the Illinois Department of Transportation to study the red-light cameras in use across the state. 
However, after being approached by a former executive for Safe Speed, the red-light company, who was cooperating with law enforcement, Jones agreed to limit the scope of the bill to study red-light cameras only in Chicago, where the firm did not operate, prosecutors say. In return, the red-light camera executive agreed to pay Jones $5,000 and to provide a job to an unidentified associate of Jones, prosecutors say.
In August 2019, Jones urged the red-light camera firm executive to sponsor an event for him, so he could give him the money without triggering a requirement that Jones report the contribution to the Illinois State Board of Elections, according to the court document. 
When he was interviewed by FBI agents on Sept. 24, 2019, Jones lied about whether he agreed to protect the red-light camera firm from the proposed legislation in return for a job for his associate, whether he told the executive how to pay him the $5,000 without it being reported to state officials and whether he knew how much money the executive agreed to pay his associate, according to the court document.
"SafeSpeed remains both shocked and saddened that one of its former colleagues was engaged in criminal conduct and recruited outside individuals to help further his self-serving activities," the firm said in a statement to WTTW News. "Their actions were clearly in their own self-interest and done without SafeSpeed's knowledge and undercut the important work SafeSpeed does."
Court records show Omar Maani, who co-founded SafeSpeed and once led the firm, entered a deferred-prosecution agreement with federal prosecutors in 2020 that calls for a bribery charge to be dropped in return for his cooperation.
Jones, the son of former Illinois Senate President Emil Jones Jr., is the latest in a series of elected officials to be charged as part of the sprawling probe into whether elected officials accepted bribes as part of a push to install red-light cameras in the city and suburbs.
Senate President Don Harmon said in a statement he had asked Jones to resign from his leadership post in the party as well as his committee chairmanship.
"These are grave allegations," Harmon said. "Members of the Senate and all public officials need to hold themselves to a high ethical standard for the public to have trust and faith in our work."
Former state Sen. Martin Sandoval, D-Chicago, pleaded guilty in January 2020 to taking more than $70,000 from the red-light camera firm and agreed to cooperate with prosecutors. Sandoval died in December 2020 after being diagnosed with COVID-19.
In September 2020, former Cook County Commissioner Jeff Tobolski pleaded guilty to accepting more than $250,000 in bribes and resigned from the board and as mayor of suburban McCook. In addition, federal prosecutors charged Tobolski's chief of staff at the county board, Patrick Doherty, with three counts of bribery in connection to Doherty's position as a sales agent for Safe Speed.
Tobolski did not plead guilty to charges connected to the red-light camera probe.
In April 2022, former Crestwood Mayor Lou Presta pleaded guilty to accepting a $5,000 bribe from the Safe Speed executive and was sentenced to a year and a day in prison.
Matt Masterson contributed to this report.
Contact Heather Cherone: @HeatherCherone | (773) 569-1863 | [email protected]
---