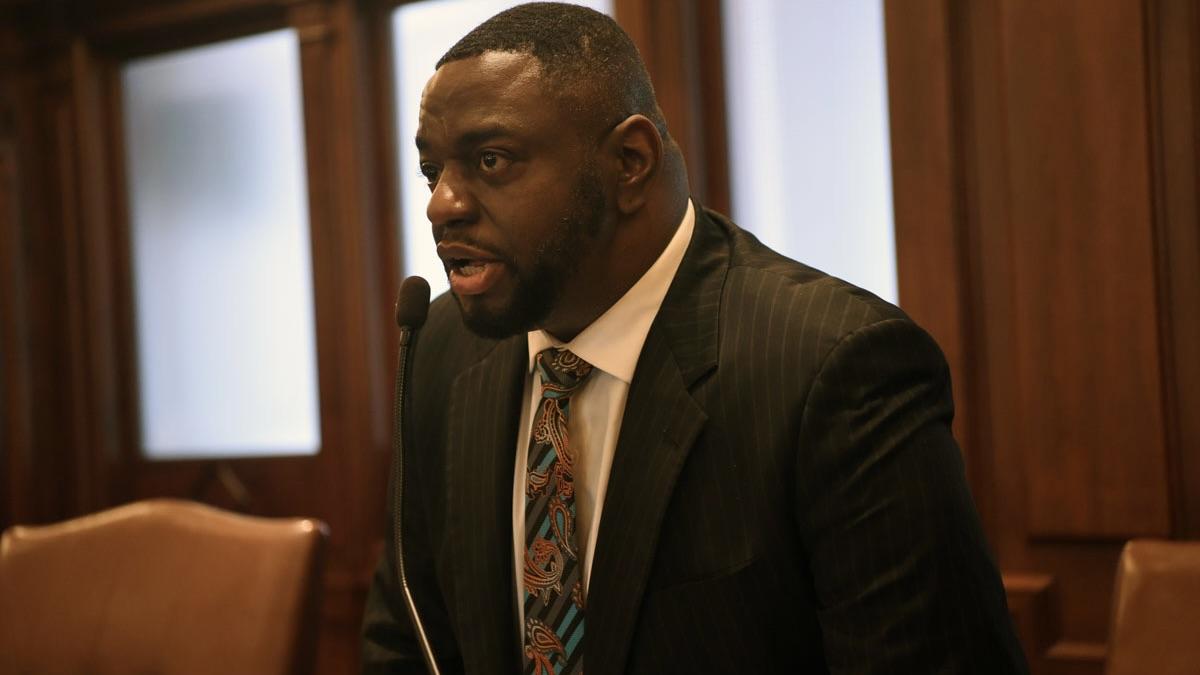 State Sen. Emil Jones, D-Chicago. (Provided: Illinois Senate Democrats)
State Sen. Emil Jones III, D-Chicago, pleaded not guilty Friday to charges he took a $5,000 bribe from a firm that installed red-light cameras throughout the state and lied to Federal Bureau of Investigation agents.
The charges against Jones were made public by the U.S. Attorney's Office in the Northern District of Illinois on Tuesday through an information, a court document that is typically filed in cases where the defendant has indicated they eventually plan to plead guilty. Jones waived his right to be indicted on the charges during the hearing, another indication that he does not plan to go to trial.
U.S. District Judge Andrea Wood ordered the lawmaker, who has been a member of the Illinois Senate since 2009, to be released on an unsecured bond of $10,000. Jones was ordered to surrender his passport to the court.
Jones, 44, entered his plea during a hearing conducted by telephone because of the COVID-19 pandemic and was represented by attorney Reggie Harris, a partner with St. Louis-based law firm Bryan Cave Leighton Paisner.
If convicted on all three charges he faces, Jones could face a maximum sentence of 20 years in prison and $750,000 in fines, said Assistant U.S. Attorney James Durkin.
In response to a question from Wood, Durkin said prosecutors planned to turn over a "somewhat voluminous" amount of evidence against Jones to his attorneys.
The next hearing in the case is scheduled for Nov. 4. 
Jones is running unopposed for another term representing the 14th Senate District, which includes Chicago's Far South Side and south suburbs, on Nov. 8.
Gov. J.B. Pritzker called Thursday for Jones to resign from office, saying it was not enough that Jones stepped down as a member of the Democratic Party's leadership in the state Senate and as a committee chair and vice chair.
Jones has not responded to repeated requests for comment about the governor's call.
Jones is accused of taking a $5,000 bribe in return for amending a bill he introduced in 2019 that would have required the Illinois Department of Transportation to study the red-light cameras in use across the state. 
However, after being approached by a former executive for Safe Speed, the red-light company, who was cooperating with law enforcement, Jones agreed to limit the scope of the bill to study red-light cameras only in Chicago, where the firm did not operate, prosecutors charged. In return, the red-light camera executive agreed to pay Jones $5,000 and to provide a job to an unidentified associate of Jones, prosecutors charged.
In August 2019, Jones urged the red-light camera firm executive to sponsor an event for him, so he could give him the money without triggering a requirement that Jones report the contribution to the Illinois State Board of Elections, according to the court document. 
When he was interviewed by FBI agents on Sept. 24, 2019, Jones lied about whether he agreed to protect the red-light camera firm from the proposed legislation in return for a job for his associate, whether he told the executive how to pay him the $5,000 without it being reported to state officials and whether he knew how much money the executive agreed to pay his associate, according to the court document.
Jones, the son of former Illinois Senate President Emil Jones Jr., is the latest in a series of elected officials to be charged as part of the sprawling probe into whether elected officials accepted bribes as part of a push to install red-light cameras in the city and suburbs.
Contact Heather Cherone: @HeatherCherone | (773) 569-1863 | [email protected]
---