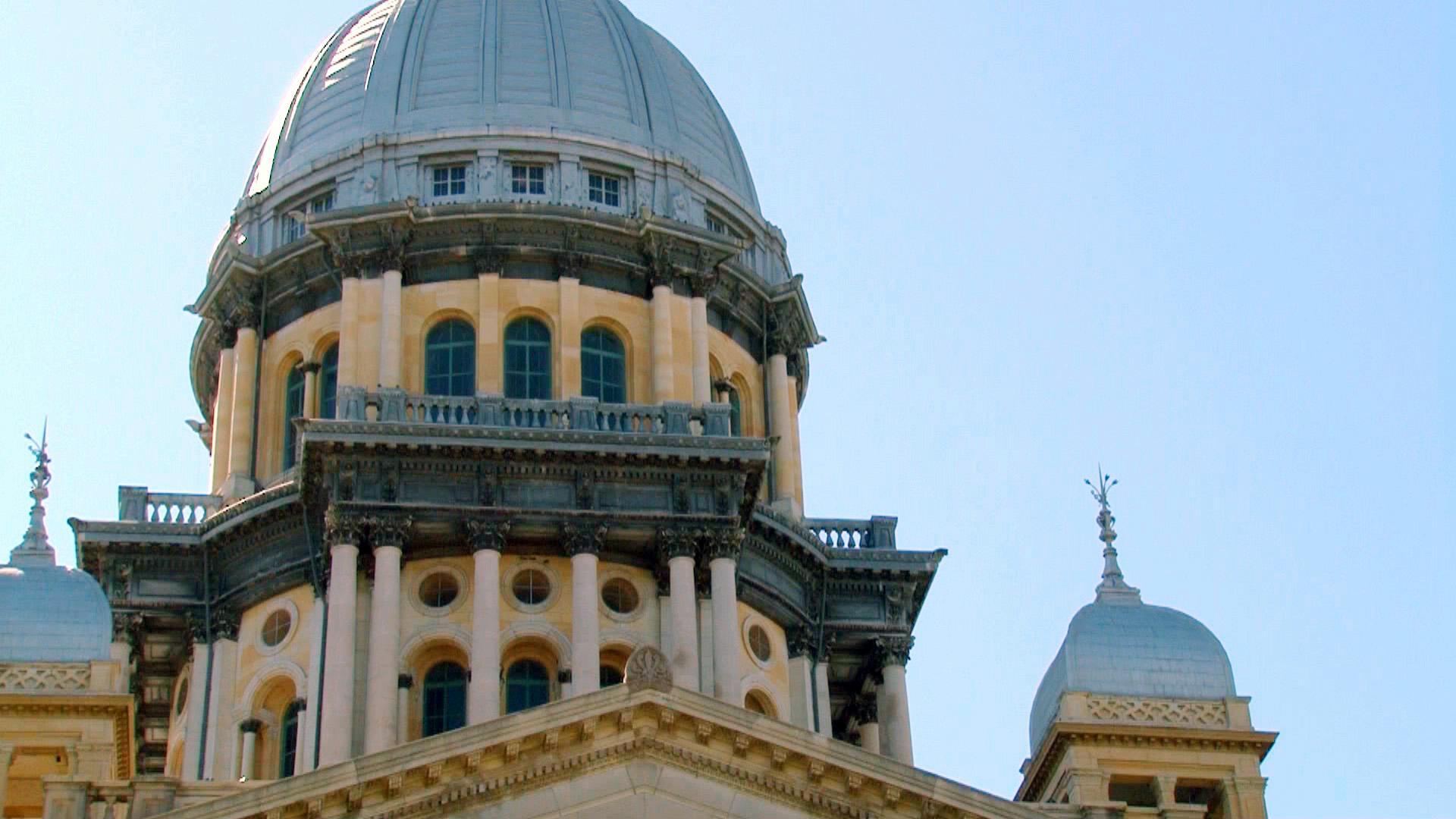 (WTTW News)
Illinois' legislative session is wrapping up in earnest, and Gov. J.B. Pritzker will soon face the task of deciding whether to crystalize legislators' ideas by signing them into law. 
That includes bills that prevent license plate reader technology from being used by other states seeking to extradite residents who travel to Illinois to have an abortion (HB3326), that require Illinois universities' major course credits to be transferable to other 4-year state public higher education institutions (HB2288) and a requirement that if a new drinking fountain is installed in place where the state requires them, a water bottle filling station must also be put in (SB1715).
In some arenas, the opposite is true. The General Assembly was unwilling or unable to pass packages updating the state's policy on legal marijuana despite applicants calling for fixes to the troubled social equity system. Illinois is also putting off next steps for Chicago's elected school board, and lawmakers rebuffed requests by the business community to reform a law regulating biometrics.
Here's a rundown of where some of the most significant, non-budget related measures stand.
CPS ELECTED SCHOOL BOARD
Advocates who fought long and hard to wrestle mayoral control of Chicago Public Schools got their way in 2021 with a law creating an elected school board. The conversion isn't simple, and that law left much to be decided before the transition is complete, such as determining the 20 districts that will comprise the board. The state legislature assigned itself the task of drawing the boundaries, with a deadline of this July.
Parent and community groups dissed legislators' initial two attempts to draw a map.
"After watching the districting process play out over the past few months, it's obvious what parents want — fair racial representation so the school board will look like and understand the students and the communities they live in," Daniel Anello, CEO of Kids First Chicago, said in a statement.
Instead of forging ahead, legislators are giving themselves more time to get their homework completed. They'll get an extra nine months — until April 1, 2024 — to draw the electoral districts. That's just seven months before the first school board elections, on Nov. 5 next year.
In a statement, state Rep. Ann Williams, D-Chicago, said legislators "remain on track."
"Over the past several weeks, we have solicited feedback and engaged in robust dialogue with community stakeholders about what the new CPS Elected School Board district maps should look like," Williams said. "… While the conversations have been extremely productive to date, we believe that in order to create the strongest possible map and ensure all Chicagoans are able to elect the candidates that best represent their values, our work must continue."
Also still undecided is which 10 of the 20 districts will be part of that election. Candidates in the other half of districts won't run for another two years, meaning that from 2025 to 2027 the board will be made half of elected members and half by mayoral appointees.
ELECTION LAW
The CPS change is but a line in a comprehensive election measure (SB2123) that creates a task force on ranked choice voting, a process in which voters don't just pick a single candidate; instead voters essentially make a preference list.
The elections omnibus measure also paves the way for 16-year olds who'd be able to vote if not for their age to pre-register to vote.
The final version before the legislature strips a provision that would have provided voter registration forms to new citizens after their naturalization ceremonies.
While non-public employees may well still need to go to work on Nov. 5, 2024, the measure makes it a state holiday.
The measure's next stop is the governor's desk.
RED LIGHT CAMERAS
Cameras that capture and ding drivers for running red lights have ensnared a handful of elected officials and Illinois lawmakers with more than mere simple traffic citations.
The former mayors of Crestwood and Oakbrook Terrace, a Cook County commissioner and his chief of staff were also each convicted of bribes or kickbacks. Former state Sen. Martin Sandoval, D-Cicero, in 2020 pleaded guilty to accepting $250,000 in bribes in return for blocking legislation that would hurt the red light camera industry, but died while awaiting sentencing.
Sen. Emil Jones III is currently fighting charges he accepted a bribe in exchange for working with an individual to protect red light camera company SafeSpeed. SafeSpeed though a spokesperson said it "had no knowledge of Sen. Jones' actions and was not involved."
Jones just voted for ethics legislation (HB3903) that would prohibit red light camera companies from contributing to any local or state political campaign.
Campaign finance experts say such a ban could defy First Amendment protections, but the measure passed the Senate last week and the House on Thursday without any opposition.
Should Gov. J.B. Pritzker sign it into law, any elected official in Illinois will also be prohibited from accepting a job or contract from a red light camera company for at least two years after leaving office.
CONSTITUTIONAL CHALLENGE LAWSUIT LIMITS
Lawsuits from gun-owners seeking to strike Illinois' law that classifies hundreds of guns as assault weapons and that since January has banned the sale of those firearms is a high-profile example of a court challenge to a state "statute, rule or executive order based on an alleged violation of the Constitution of the State of Illinois or the Constitution of the United States."
Should Gov. J.B. Pritzker sign the measure into law, such constitutional lawsuits in the future could only be filed in Cook or Sangamon Counties, the counties that respectively are home to Illinois' largest city and capital city.
The measure (HB3062) that would limit where plaintiffs can sue the state of Illinois was promoted by Democrats, at the behest of Attorney General Kwame Raoul.
Sponsor Jay Hoffman, D-Swansea, said critics seeking to halt Pritzker's COVID-19 executive orders requiring masking and restricting business operations shopped for beneficial court venues. Having cases in various Illinois counties, with sometimes conflicting rulings, at times led to confusion — something Hoffman said would be avoided by limiting where such lawsuits can be filed.
But Republicans, who voted against the proposal, said it's really an effort by Democrats to secure a legal advantage, in a way that will inhibit residents who don't live near Chicago or Springfield.
"In my community, if this body passes a constitutionally questionable piece of legislation — which we appear to do routinely — that results in a court challenge, people from my community will have to travel to Springfield to challenge that action," state Rep. Patrick Winhorst, R-Metropolis, said. "Where I live, I'm closer to the state capitol of Tennessee than I am Illinois', and I'm almost as close to Atlanta, Georgia as I am Chicago, Illinois. So … if this body passes an unconstitutional law, in order for me or another person in my community to contest that law, I've got to travel a great distance and bear the expense that comes with that. It is not fair to the individuals in these communities."
TOLLWAY
A package that amends Illinois' procurement policies includes language (HB2878) that paves the way for public private partnerships on transportation projects, despite concerns of opponents who fear a lack of proper oversight.
One particular project could be on the horizon.
A non-binding resolution (HJR23) adopted by both chambers encourages IDOT to pursue the public private partnership for a managed lane (a "highway lane that is administered via a management scheme, such as lane restrictions or variable tolling) on I-55.
BIOMETRIC PRIVACY
White Castle could be seeing red after a court case put the burger chain on the hook for $17 billion in damages for violation of Illinois' Biometric Information Privacy Act (BIPA). 
Just as a slider's relatively cheap (a "1921 slider with cheddar cheese" costs $2.39 in Chicago) on its own, but buying hundreds of "Crave Cases" would add up, White Castle's judgment ballooned because it was penalized with a $1000 BIPA violation every time an employee's fingerprint was scanned.
Illinois' business organizations said the case shows that Illinois' strict law makes the state inhospitable, and pushed lawmakers to rehash the law.
Democrats put forth a series of changes (HB3811), but business groups last week called it a "red herring" that would have resulted in a worse business climate.
Negotiations then came to a standstill, leaving the current BIPA statute to stand.
"The business regulation we have here in Illinois with our biometric privacy law, that is a litigation nightmare, and has cost businesses in Illinois billions of dollars in settlements involving cases that have never proven actually any harm," Senate Republican Leader John Curran said.
Note: This article was updated to provide additional comments on the elected school board map.
Follow Amanda Vinicky on Twitter: @AmandaVinicky
---