Video:  City council members have a month to reach a compromise over a new ward map that will shape the city's politics for the next decade. In addition, not everyone on the council supports the mayor's plan to use $12.5 million in taxpayer dollars to give out prepaid gas cards and CTA passes. (Produced by Blair Paddock)
---
Mayor Lori Lightfoot's plan to use $12.5 million in city funds to give away 50,000 prepaid cards that will cover $150 worth of gas as well as 100,000 passes that will cover $50 worth of CTA fares faces a key test Wednesday. Members of the City Council got their first look at the cards that could soon be in the hands of voters.
The cards, which look like a debit card from the bank of Chicago emblazoned with the city's iconic skyline, include Lightfoot's name — approximately 10 months and one week before she is expected to ask voters to reelect her as Chicago's mayor.
Ald. Gilbert Villegas (36th Ward) said during an interview Tuesday on "Chicago Tonight" he supported an effort to help Chicagoans cope with soaring inflation and rising gas prices, but did not think the mayor's name should be on the card.
"I don't think that's a good look," said Villegas, who was once Lightfoot's closest ally on the Chicago City Council but now finds himself often at odds with the mayor.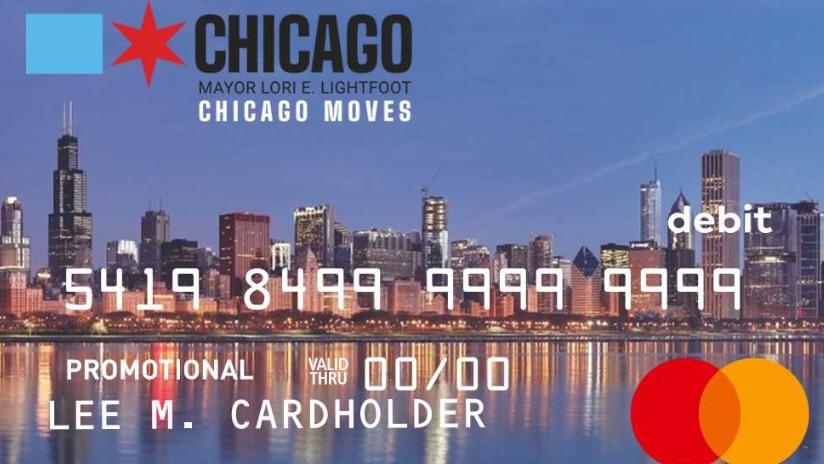 The proposed design of the the gas cards and CTA cards includes Mayor Lori Lightfoot's name. (Provided by Chicago Mayor's Office)
The proposal failed to advance April 6 after skeptical members of the Chicago City Council blasted the proposal as an election-year stunt that would benefit oil companies without offering Chicagoans real relief from the pain at the pump.
Lightfoot will try again to convince a majority of the City Council's Budget Committee at a hearing set for 10 a.m. Wednesday to send the proposal to the full City Council after revising the plan for a second time to make sure that the gas cards and CTA passes go to Chicagoans most in need. A final vote could come as soon as April 27.
To assuage concerns expressed by Black Caucus Chair Ald. Jason Ervin (28th Ward), $5.6 million worth of the gas cards will be earmarked for residents of the South and West sides — as well as $3.75 million worth of the CTA cards, under a revised measure of the proposal released by the mayor's office Tuesday.
In all, the proposal would use $7.5 million for the prepaid gas cards and $5 million for the CTA passes.
Originally, Lightfoot told reporters that the lottery for the gas and transit cards would be open to all Chicagoans who earn no more than 140% of the area median income — which is $91,000 for an individual and $140,000 for a family of four.
Video:  Earlier we discussed ward remapping and the proposed gas card giveaway. We're joined again by Alderpeople: Gilbert Villegas, Howard Brookins and Byron Sigcho-Lopez.
---
But alderpeople objected to that plan, and the current proposal limits the program to those who earn no more than 100% of the area median income, which is $65,300 for an individual or $93,200 for a family of four.
Lightfoot has also faced questions about whether the plan was developed in response to philanthropist and businessman Willie Wilson, who staged two high-profile events across the city that gave away $1.2 million in gas before announcing that he will run for mayor.
Wilson announced Tuesday that a third gas giveaway would take place Saturday.
The plan to offer prepaid gas cards and CTA passes is Lightfoot's second attempt to respond to the political pressure caused by rising gas prices, which have begun to level off during the past several weeks. The average cost of a gallon of gas is $4.48 in Chicago, according to AAA. A month ago, a gallon of gas cost $4.63. One year ago, a gallon of gas was $3.16.
Lightfoot initially proposed a plan to cut the city's $0.08 portion of the gas tax by three cents. That plan would have opened an $18 million hole in the fund the city uses for road maintenance — and potentially violated a 2016 amendment to the Illinois constitution that prohibits lawmakers from using transportation funds for any other purpose.
Contact Heather Cherone: @HeatherCherone | (773) 569-1863 | [email protected]